DuPont Sorona® – Wilmington, Del.-based DuPont's first polymer derived from a biological source –
recently received two awards in recognition of its environmentally sustainable benefits.
In China, Sorona beat out more than 1,000 other products to win the Most Visionary Innovation
in the sports and health category, presented by the China State Intellectual Property Office and
China Central Television.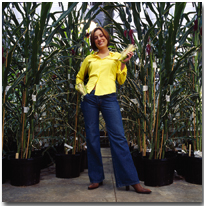 The Society of Plastics Engineers, Brookfield, Conn., presented Sorona with its 2005
New Technologies in Renewable Materials and Processes award at the Global Plastics and
Environmental Conference, held last month in Atlanta.
DuPont scientists have developed a new process to derive 1,3 propanediol, DuPont Sorona® 's key
ingredient, from corn. The key ingredient in Sorona, 1,3 propanediol (PDO), was derived originally
from petrochemical sources. DuPont scientists recently developed a new process to derive PDO from
corn. The new process consumes more than 40 percent less energy than conventional petrochemical
feedstock. Bio-PDO will be available commercially in 2006.
March 2005