T

he exploration of high-tech fibers continues, focusing on those closer to the raw
materials traditional to textile processing: polymeric, generally oil-based, built on – but not
necessarily limited to – the shortcomings of the major commodity fibers (nylon, polyester and
acrylic).
Textile World
has chosen materials that might be considered important in development and commercial
applications. Considerable input for this exploration has come from "High Performance Fibers,"
edited by JWS Hearle.
The selection process for high performance is based on the perceived ability of a fiber to
change textiles. Denier and length changes don't cut it; additives, if they change textiles,
do. Additives that add value to a business are important, but not change-focused: biocide additives
used to reduce perspiration odor – important, yes; a fundamental change, no.
John Hagewood, associate director of the Nonwovens Cooperative Research Center at North
Carolina State University, Raleigh, N.C., in describing strategic models for "value" fiber
materials, cited the following example: "Differentiated products … typically sell for one to
several times the cost of polymer and specialty fibers, which typically sell for over five times
the cost of the polymer." Implicit in Hagewood's definition is the vastly improved system-value
provided by specialty fiber characteristics. Both strategies are designed to increase revenue and
profit.
The materials discussed here contain the basic elements to become volume specialty fibers.
To date, the growth has been incremental, and in many cases more differentiated than specialized,
but with specialized pricing structures. How do these developments turn into true expansions of the
US textile industry?
Exact calculation of market shares is virtually impossible, as the proprietary nature of
these developments precludes revelation of market position. A best estimate at current levels puts
distribution of all high-performance polymeric fibers at no more than 250 million pounds –
approximately 2 percent of total world fiber (excluding glass) distribution/consumption.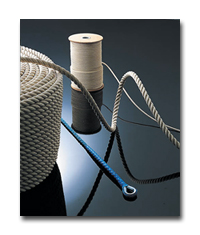 Kuraray Co. Ltd.'s Vectran® fiber is suitable for such markets as rope and cordage, among
others.



The Markets


As a general rule, from a development/innovation perspective, the list of end-uses for
high-performance polymeric fibers is rather monotonous and repetitive of market areas long
(under)served by the major commodity fibers. With some exceptions, virtually all high-performance
polymeric fibers feature properties at least similar to higher strength, lower weight, higher
modulus, heat resistance and wear resistance; and the fiber producers aim to place those fibers in
markets needing these properties – not terribly different from the distribution ambitions for
normal properties.
It is hoped high-performance polymerics may come to be viewed in the same light as appears
to be shining on glass, carbon and ceramic materials. In other words, how can material differences
be utilized in textile/textile-like constructions aimed at opening new markets? This probably means
development of non-traditional manufacturing technologies based on traditional textile processes –
such as weaving, knitting, braiding and others – and requiring capital investment.
The work done on ceramic, carbon and glass fibers – plus the work in extending traditional
commodity materials into specialized arenas – suggests the textile industry has not lost its
creative bounce and can pull together to raise the output of new, specialized, textile-formed
material for markets that extend beyond strength, elongation, stiffness and wear
characteristics.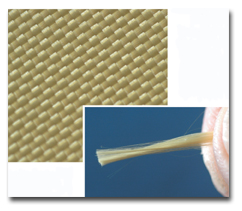 DuPont's Kevlar® aramid fiber may be used in tire reinforcement and mechanical rubber goods
fabrics, among other items.



Aramid Fibers


Aramid is probably the most widely known class of specialty fibers. Closely related to and
derived from nylon, aramids contain "85-percent amide linkages attached directly to two aromatic
rings." Familiar trade names include Wilmington, Del.-based DuPont's Nomex® and Kevlar®, plus
Japan-based Teijin Ltd.'s family of Twaron® fibers – materials quite similar to Kevlar. It is
reported that Kevlar demonstrates twice the strength and nine times the modulus of traditional
high-strength nylon fibers.
Kevlar has demonstrated the desirability of these characteristics in ballistic material,
composite support and crack propagation deterrents, tire reinforcement and mechanical rubber goods
fabrics for high-stress operations and ropes and cables requiring high strength meshed with low or
no elongation. Nomex differs from Kevlar in chemical composition – substituting an isophthalamide
structure for Kevlar's terephthalamide, yielding a different fiber with excellent heat resistance
and superior performance in high-temperature personnel or structural environments.
Market use will grow slowly with increased penetration into safety and strength markets, but
no magic volume bullet appears to be on the horizon. Questions must be raised regarding the
volume/price/value relationship issue. Based on the experience provided by the huge positive volume
response of spandex to competition and reduced prices, would aramid volume increase substantially
if fiber prices were reduced by 20 to 50 percent? This question is raised in an aramid context, but
it is appropriate to most materials discussed in this article.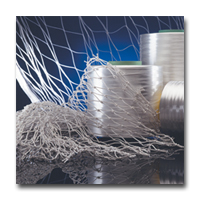 DSM Dyneema BV's Dyneema® fiber is up to 15 times stronger than quality steel and up to 40
percent stronger than aramid fibers, both on a weight-for-weight basis.



Melt-Spun Aromatic

Polyester And PVA Fibers


The major producer of melt-spun aromatic polyester and polyvinyl alcohol (PVA) fibers is
Japan-based Kuraray Co. Ltd. The two materials are quite similar, are aimed at similar markets and
provide marketing synergies for Kuraray.
Vectran®, Kuraray's brand for thermotropic liquid crystal polymer (TLCP), was acquired
earlier this year by New York City-based Kuraray America Inc., a subsidiary of Kuraray Co. Ltd.,
from Fort Mill, S.C.-based Celanese Advanced Materials Inc., which developed the high-performance
fiber in the '70s. Originally developed to penetrate the high-performance tire market, Vectran will
complement Kuraray's Kuralon family of PVA fibers. Like PVA materials, Vectran brings ultrahigh
strength and modulus, no moisture absorption, abrasion and puncture resistance, and low creep –
putting these two fibers in the middle of markets for rope and cordage, higher-pressure
inflatables, gloves and a growing series of composite reinforcement products.
PVA fibers also are water-soluble, a characteristic upon which Kuraray has not yet been able
to capitalize. Therefore, both Kuralon and Vectran currently are aimed primarily at markets
such as ropes, fish nets, tires and mechanical rubber – that require high strength and modulus and
good alkaline resistance.
PVA fibrous materials have been used for cement reinforcement, but suffer a severe cost
disadvantage. As with nylon's use in cement reinforcement, the value allowed by construction cost
considerations hovers in the cents-per-pound range, hardly a level that would appeal to a
sophisticated fiber producer.
Current volume of each is well under 100 million pounds; each needs a magic bullet.
Several mainland Chinese manufacturers are dipping their toes in the PVA fiber pond.

Gel-Spun Polyethylene Fibers


Seemingly exhibiting many characteristics that make good fibers, polyethylene (PE)
continually has lost the race to commodity status to materials less strong but more
temperature-resistant. PE softens and begins to melt at 150°C – a temperature too low for
traditional dyehouse processing. Thus, the fiber is relegated to a strength comparison against
other fibers, particularly Kevlar, and competition in many of the same markets. The fiber's
inherent characteristics of high strength and modulus, low density, high energy absorption,
abrasion resistance and chemical resistance are quite successful in ballistic cloths, ropes and
cordage, gloves, and super-performance floating fish line. Degree of temperature resistance and
susceptibility to oxidizing environments define some fiber limits.
A specialty fiber class closely related to PVA and TLCP includes Honeywell Spectra® and
Dyneema® in gel-spun polyethylene. Spectra is produced by Honeywell Specialty Material's Colonial
Heights, Va.-based Advanced Fibers & Composites business, a unit of Morris Township, N.J.-based
Honeywell International Inc. Dyneema is produced by the Netherlands-based DSM Dyneema BV, which
operates a plant in Greenville, N.C., as well. DSM also has an active working relationship with
Japan-based Toyobo Co. Ltd.
Producers of the family of PE fibers – high-performance PE (HPPE), high-modulus PE and
extended chain PE fibers – cite high strength (15 times that of steel, and 40 times that of aramid
fibers); a specific gravity of less than 1, meaning it floats; and resistance to moisture,
ultraviolet light and most chemicals. Not surprisingly, with these characteristics, HPPE fibers
penetrate markets for ballistic fabrics, ropes and cordage, fish nets, safety gloves and, with
fiber variants, ultrapure fibers for medical applications like high-strength sutures for orthopedic
and surgical implant procedures.
By investing heavily, the two major producers are enthusiastic about growth prospects for
HPPE fibers. Penetration of medical and medical device markets probably is a good move. One
wonders, however, whether the remaining traditional markets can absorb much new capacity without
opening the Pandora's box of price deterioration. In this turbulent world of high raw-material
costs, price wars are not necessarily the best strategy.

Other Specialty Fibers


The fringes of textile distribution play host to a myriad of developments in specialty
materials. Many are extensions of engineering plastics work, but some truly are textile activities.
It appears most of these are searching for a market. In today's world, the development effort may
be rewarded with a foothold market position if a fiber or fiber variant successfully outperforms an
existing material. Only with market interest can the producer ramp up to market production
quantities, a difficult decision in today's world of higher investment returns outside textiles.
Heat and abrasion resistance of poly(p-phelylene bensobisoxazone) and poly(p-phelylene
bensobisthiazole) support these fibers in several new end-uses. These fibers compete with Nomex in
firefighter and motorcycle apparel, heat-resistant felts to replace asbestos heat shields and
ballistic materials, as well as hi-fi speaker cones.
Chlorinated fibers – poly(vinyladene chloride) (PVC) – exhibit very low flammability but in
uncontrolled environments emit toxic and corrosive hydrogen fluoride, somewhat limiting their use.
Developed by Dow after World War II, PVC enjoyed a brief rise in automotive upholstery and cordage,
but market success has faded.
Fluorinated fibers include poly(tetrafluorethylene), poly(vinyladene fluoride), poly(vinyl
fluoride) and fluorinated ethylene. The most recognizable brands are DuPont's Teflon® and Newark,
Del.-based W.L. Gore & Associates Inc.'s GORE-TEX®. Major end-uses are braid for pump packing,
gaskets and filters in corrosive environments. In an unexpected touch, fluorinated continuous
filament fibers form the basis of a premium dental floss.
Poly(etheretherketone) (PEEK) fibers overcome some of the low-temperature constraints
characteristic of other specialty fibers. PEEK fibers are chemically inert, exhibit very good
abrasion resistance, low shrinkage, low creep with temperature change, and good thermal resistance.
Unfortunately, for all these good points, current manufacturing technology is unable to reduce
manufacturing costs to a competitive level. For the moment, PEEK materials will be used where
alternatives are unacceptable, but, unless a magic PEEK bullet appears, volume will be capped by
the cost structure.

Future Fiber Success?


The level of development aimed at substituting value fibers for the worldwide glut of
commodity materials is impressive. Some of the fibers discussed may have a promising future, while
some finally may die. Future research and prototypical development will determine if these fibers
can provide paths to new markets, ones not currently considered in the industry rush to commodity
tonnage.
September 2005