Teijin Ltd., Japan, and its Netherlands-based Teijin Twaron BV subsidiary will invest 140
million euros to expand production capacity by 20 percent for Twaron® para-aramid pulp and yarn at
two plants in The Netherlands. The expansion, expected to be completed in the second half of 2006,
will include monomer and polymer capacity in the Delfzijl plant, and spinning capacity in the Emmen
plant.
It will increase annual capacity to approximately 23,000 tons.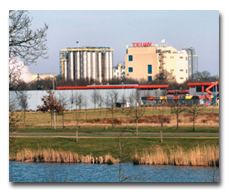 Teijin Twaron's plant in Emmen, The Netherlands

May 2005