Syscom Technology Inc., Columbus, Ohio, has developed a metalized polymer fiber for use in
electrotextile applications including aerospace, military, sports, miniature electronic and
healthcare instrumentation.
AmberStrand is produced using a patented process in which Japan-based Toyobo Corp.'s Zylon® poly
(p-phenylene benzobisoxazole) (PBO) fiber is metal-coated. According to Syscom, AmberStrand offers
lighter weight; and greater flexibility, mechanical strength and durability than conventional
conductive metal wires; as well as customizable electrical conductivity.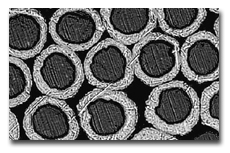 Cross section of Syscom Technologys AmberStrand metalized PBO fiber
Syscom received funding to develop AmberStrand from the Air Force Research Laboratory, Missile
Defense Agency, Office of Naval Research, National Aeronautics and Space Administration, and
private investors.
"Initial customer receptivity is unusually strong, and the product will enable novel and
surprising applications ," said Jar-Wha Lee, Ph.D., Syscom's founder.

January 2005