Montreal-based PTT Poly Canada Inc. has chosen Therminol heat-transfer fluid from St. Louis-based
Solutia Inc. for use in its polytrimethylene terephthalate (PTT) plant.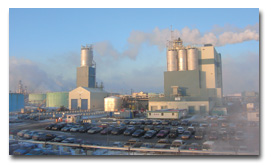 PTT Poly Canada's production plant

PTT Poly Canada, which is the first large-scale commercial continuous PTT production
facility, will use Therminol 66 and Therminol VP-1 in liquid-phase and vapor-phase environments.
The $100 million plant is a 50/50 joint venture between Shell Chemicals Canada and SGF Chemie,
Montreal. Proprietary technology developed by Shell Chemicals and Frankfurt-based Zimmer AG is used
at the plant to manufacture PTT, which is sold under the trade name Corterra®.

July 2004