Johnson City, Tenn.-based Fiber Innovation Technology (F.I.T.) Inc. has signed a master license
agreement with Cargill Dow LLC, Minnetonka, Minn., which gives F.I.T. permission to produce and
market Cargill Dow's INGEO fiber in the United States and parts of Asia.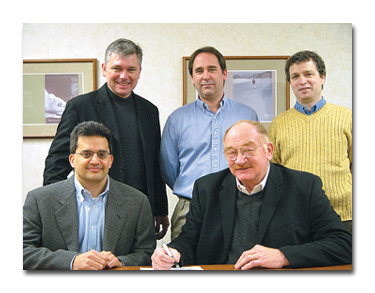 Front row (left to right): Snehal Desai, Cargill Dow; and Frank Harris, Cha Technologies

Back row (left to right): Vann Brown, Cargill Dow; Brad Willingham, F.I.T.; and Jeff Dugan,
F.I.T.

F.I.T., a Cha Technologies company, becomes the first manufacturer in North America to sign
such an agreement with Cargill Dow. "We value our role as a leader in delivering specialty fibers
that hold great value for current and future applications," said Frank Harris, CEO and president,
Cha Technologies. "We believe that Ingeo fibers hold great promise with their unique combination of
synthetic properties and natural origin.
"
March 2004