By John E. Luke Stretch ChallengeBattered but resilient, the spandex industry looks ahead. Several years ago, Textile World (then called ATI) looked at domestic spandex markets under the punned title, The Silent Spring, with appropriate approbation and deference to Rachel Carson (See The Textile Industrys Silent Spring, ATI, June 1998). Last year, TW (as Textile Industries) published an investigation and quantification of the current spandex market (See Spandex Revisited, TI, May 2001).In light of several recent developments in the U.S. market, i.e., strategic changes by several domestic producers, it seems appropriate to revisit spandex and explore the status of several of the major players. It probably is appropriate, also, to comment on growth opportunities for spandex producers and their textile mill customers.The domestic spandex industry is battered by global competition, hammered by inexpensive (read: cheap) imports of fibers, fabrics and garments and has had to suffer the bankruptcy and sale of one domestic competitor and the open-secret availability for sale of another. Despite these travails, the industry looks to better days and is investing in products and people to support increased fiber distribution.The MarketTable I details the history of world spandex distribution and the latest estimate of the current size and shape of the world spandex market. Upwards of 35 multi-plant participants in near and far-flung areas of the globe make up the global spandex industry. It should come as no surprise to even casual textile watchers that announced capacity additions virtually have doubled Asian capacity in the past five years.From the introduction of spandex fibers in the late 1950s, 30 years passed before world consumption exceeded 50 million pounds. By 1985, DuPont Lycra® controlled 80 percent of spandex distribution, and marketing focused on replacing scarce and expensive rubber yarns in lingerie fabrics, girdles and the cuffs of mens over-the-calf dress hosiery. Utility equaled use. In a first address to fashion, spandex was added to womens designer full-length support hosiery. Since the mid-1980s, profound changes have rocked world textile and apparel markets Third World labor costs, the Asian currency flu and forces unleashed by the Baby Boomer social revolution. Aging Baby Boomers, the oldest of whom turned 40 in the mid-80s, sought casual lifestyles supplemented by exercise to tone bodies confined to the office in a relentless pursuit of wealth. Exercise begat tights, T-shirts, biking shorts, sweatshirts and leotards, all of which were demanded in the latest styles and colors. Spandex/nylon combinations fit the bill, and previously utilitarian garments moved onto the fashion stage. Casual included exercise clothes in the supermarket, adding fashion to utility. Spandex usage rose at an 11-percent compounded growth rate to more than 150 million pounds in 1995, sliding to a 7-percent rate and 211 million pounds by 2000. Utility was overwhelmed by bright-fashion body-hugging tights, bike shorts, leotards, swimsuits or opaque/textured stockings under a short skirt designed to display well toned/exercised legs. Toddlers were clad in disposable diapers that included spandex leg and waist bands to eliminate/minimize leakage.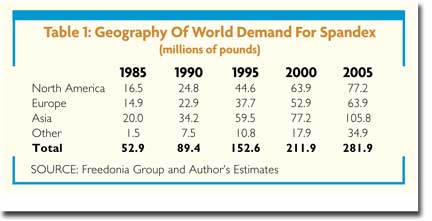 The Players: RadiciSpandexRadiciSpandex is practically a new player in the market. The turbulent history of Globe Manufacturing has been replaced by a lean, structured approach by the Radici Group, a major Italian fiber, fabric, chemical and machinery manufacturer. Among its diverse product offerings, Radici produces warp-drawn nylon for warp knits. The company considers spandex a natural addition to its current product mix. The former Globe dry-spinning plant in Fall River, Mass., has been closed and all products successfully transferred to either Gastonia, N.C., or Tuscaloosa, Ala. The company has installed a new management structure designed to be responsive to customer requirements. The new organization is fueled by two new operational groups. Product managers for fashion and performance uses are supported by a series of product performance groups that empower line employees. Performance groups include representatives from technical service, process engineering, maintenance, research and development, and product development, all of whom acquire external (customer) responsibilities in addition to daily in-house duties. The company feels this structure offers line managers accountability for product/customer performance and opportunities to learn the details of customer development and service.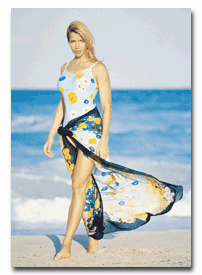 Several new products and services have been brought to market. In products, S-45 is a high-temperature-resistant yarn designed especially for use in polyester blends, particularly microdenier polyester, where the need for high-temperature dyeing has limited industry access to bright and/or deep shades. The company feels that S-45s 265°F stability will help make it the elastomeric of choice in active- and outerwear.Radici also is exploring expansion of its Supplier Managed Inventory (SMI) program, which assists customers in managing raw-material inventory. In this program, Radici and customer-coordinated just-in-time efforts ensure the customer never experiences a stock-out and Radici makes to schedule and delivers to the customer mill as needed. Scarce capital resources are saved at Radici and by the customer. DuPontWilmington, Del.-based DuPont still is the largest spandex producer in the world. It maintains a branded philosophy but with a new market-directed twist. In October 2000, DuPont recombined five decentralized fiber divisions into DuPont ApparelandTextile Sciences (ATS), putting apparel, home and related businesses into a single unit providing integrated marketing and technology platforms. New brand structures are replacing traditional brand strategies focusing on molecules. For example, no longer is Lycra® limited to elastane. In its new incarnation, Lycra sets standards of comfort, fit and freedom for customers. As DuPont said in announcing the new branding strategies, With this new model, DuPont brands [can] be sourced from a variety of fiber choices as long as the final product delivers on the brand promise and meets newly modified quality certification standards. The brands all registered trademarks of DuPont and their roles in the revised brand portfolio are:Lycra comfort, fit and freedom;Coolmax cool, dry comfort;Tactel fashion and style in ready-to-wear;Supplex cottony-soft and quick drying comfort;Cordura durability and resistance to wear;Thermolite lightweight warmth and comfort;Home Products Quality Seal customer home fashions assurance.DuPonts brand strategy is built on close relationships with direct customers to provide the proper material at the right time. To enhance the product side of the new brand model, ATS recently announced fiber T-400, a material combining stretch and recovery properties superior to textured yarns and adding dimensional stability, easy care and chlorine resistance. (See FW News, TI, November 2001). Companies using the new material and meeting performance standards for Lycra will be eligible to label the fabrics as containing the new generic designation, LycraDP0002.Products are in development and introduction at mills such as Burlington CasualWear, Burlington PerformanceWear, SAIC and Milliken.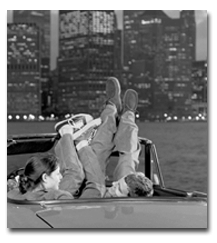 "What do you look for in a great pair of jeans" Dupont's new advertising campaign promoting Lycra® – includes this image featuring THEORY jeans made with 2-percent Lycra. Other PlayersCompetition in the United States is not among domestic producers. It is between the investment demands of industrialized economies and those of cash-hungry, surplus-labor-driven developing economies of Asia. As seen during the Asian currency crisis, once a developing economy decides to compete, market logic appears to evaporate. It is important not to lose sight of quality and service, but some prices are so low as to overpower standard defenses. No evidence points to reduced import pressure in the immediate future. It is obvious that several countries in Southeast Asia have embarked on a building binge apparently aimed at controlling world fiber/fabric/garment industries. Whether by accident or design, either scenario leads to the same conclusion. The gamble is so large and so demanding of cash that turning off the international spigot is virtually impossible.In the interest of broad market coverage, several offshore manufacturers were interviewed to gain a perspective on their plans for U.S. competition. Frankly, the last thing the domestic spandex market needs is another source, but given the choice, a programmed competitor is preferred to some of the opportunists that have demolished domestic price and product strategies. Fillattice, Italy, is a relatively new player in merchant yarn sales in the United States. Represented by an ex-Globe employee, the company announced it intends to become a permanent supplier in the United States. Historically, Fillattice among the top six world suppliers, according to the company sold merchant yarns into Europe and penetrated the United States with tricot fabric aimed at swimwear. The companys denier mix is quite broad, although it is much larger than the company needs to satisfy its primary target of apparel.Korea-based Hyosung, also represented by an ex-Glober, is interested in the U.S. market to expand distribution and gain entry into North American Free Trade Agreement (NAFTA) preferences. This comment is not intended to be critical but, rather, to point out an aberration in trade law. Under the NAFTA rules of origin, de minimis quantities (less than 7 percent by weight) of imported spandex in a fabric produced in a NAFTA country qualify for NAFTA preferences among NAFTA participants. This di minimis exemption does not exist in the legislation establishing the Caribbean Basin Initiative (CBI) (H.R. 434), thanks to serious objections by DuPont before passage of the bill. The CBI appears to be off-limits, but NAFTA is not for those fabrics that feature comfort properties with less than 7-percent spandex. Looks like the NAFTA door is open to Hyosung and other Asian importers. ConclusionSpandex presents opportunities for more than the producers of the fiber. Specifically, there are opportunities for the production of fabrics that address the new style/living paradigms of the aging Baby Boomer and his following generations, X and Y. Casual is in, comfortable and casual are style and utility cousins. Full-length hosiery and pantyhose are out, bare legs and half hose are in, T-shirts are the province of Asian production, sweats are out, dress-up casual is in. And so it goes. Casual Fridays are expanding to casual weeks but with a difference: it is a dressy/dress-down casual attitude lending itself perfectly to spandex-containing comfort fabrics and garments made on new wide looms by U.S. weavers, finished in U.S. plants and cut and sewn in NAFTA or CBI facilities for distribution in the largest market in the world. Editor's Note: John E. Luke is owner of Five Twenty Six Associates Inc., Bryn Mawr, Pa., a consulting firm specializing in strategic marketing and operations facing textile fiber and fabric manufacturers. He is also a professor of textile marketing at Philadelphia University, Philadelphia.January 2002