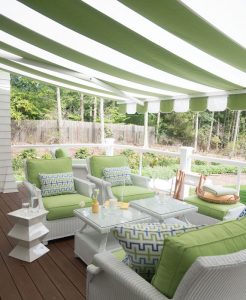 As the per- and polyfluoroalkyl substances (PFAS) debate continues, textile companies are taking action and moving towards a future without PFAS.
By Rachael S. Davis, Executive Editor
Per- and polyfluoroalkyl sub-stances (PFAS), commonly referred to as forever chemicals, have been in the news for years, but the number of news stories seems to have picked up in 2023.
PFAS in textiles extend the life-time of a product, and in some cases, impart properties currently impossible to offer with other products. But with data from the Centers for Disease Control and Prevention (CDC) showing that approximately 97 percent of Americans have detectable PFAS levels in their blood, and the U.S. Environmental Protection Agency (EPA) noting that "current scientific research suggests that exposure to certain PFAS may lead to adverse health outcomes," there is mounting pressure on legislators to regulate PFAS products, including their use in textile products.
Textiles Singled Out
Many industries utilize PFAS materials, and the textile industry consumes only a small fraction of the total PFAS products used. However, as noted by Hardy Sullivan in his article "PFAS — A Textile Perspective," published in the May/June 2021 issue of Textile World: "… stain-resistant fabric gets top billing as a PFAS source in consumer-facing news articles," and "Despite the tex-tile industry's role as a minor user of PFAS, negative press coverage has dented PFAS usage in textiles."
Sullivan also noted: "Challenges include the media spotlight, environmental persistence, confusion about the chemistries, customer perception, shrinking market attractiveness for fluorotelomer producers, ongoing safety studies and regulators' desire to target low-hanging fruit. The cards are stacked against performance textile producers and finishers."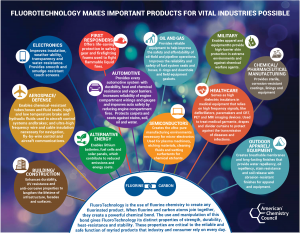 Legislation
There are no current federal bans on PFAS use in textiles, but a variety of state governments have passed legislation regulating PFAS in products including textiles.
California Governor Gavin Newsome passed bill AB 1817 late last year, which explicitly bans the use of PFAS in textile products including apparel, accessories and handbags starting in 2025. This ban represents the first U.S. ban on PFAS products used in textiles. One exception: Beginning in 2025, the state will require manufacturers to disclose the use of PFAS on outdoor apparel used for severe wet conditions, and the use of PFAS on such products must end by 2028. The new law also requires manufacturers to select the least toxic alternate to PFAS as they change their production processes.
Maine also passed legislation that adopts a phase-out plan. As of January 1, 2023, new carpets, rugs and fabric treatments containing PFAS may not be sold in the state, and the presence of PFAS chemicals in any product must be reported to the Maine Department of Environmental Quality (DEQ). By January 1, 2030, the law prohibits the sale of any products in the state that have intentionally added PFAS, except in the case of unavoidable use.
Other states have also restricted the use of PFAS on specific textiles such as apparel, carpet and upholstery, and more bans are likely in the coming years.
Of note, the federal government did phase out the use of long chain PFAS products such as perfluorootanoic acid (PFOA) and perfluorooctane sulfonate (PFOS) and eventually banned the use of such compounds in food contact applications. The federal government may eventually pass laws that impact PFAS use in textiles.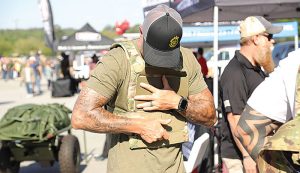 Fight For A "Not One Size Fits All" Solution
While textiles have earned a bad rap when it comes to PFAS products, people in the textile and chemical industries are urging legislators to learn and fully understand the issues surrounding PFAS as they consider legislation.
Brian Rosenstein in his opinion piece, "PFAS Regulation Challenges," published in the November/December 2022 issue of TW suggested that it is important to determine essential versus non-essential end-uses for PFAS before implementing across-the-board bans. A lack of alcohol or oil protection on coveralls used by fuel handlers on aircraft carriers or reduced moisture protection for Kevlar® body armor would put warfighters lives on the line. And unfortunately, the industry has yet to develop suitable non-PFAS chemistries to confer the needed protection in certain applications.
The American Chemistry Council (ACC) published a blog post recently entitled, "Overly Broad PFAS Restrictions Could Endanger Healthcare Quality and Cost." The ACC mentions many medical products that are protected by PFAS products including textile-based personal protective equipment that acts as a barrier against infections and disease transmission in hospitals.
"Accordingly, without an alternative that is both scientifically and economically feasible, overly broad restrictions on PFAS could have grave public health consequences for America," reports the ACC. The organization urges federal and state policymakers to avoid heavy-handed measures and consider the lifesaving applications of PFAS. It suggests instead that legislators can ensure the "responsible production, use and management of this diverse family of chemistries can continue."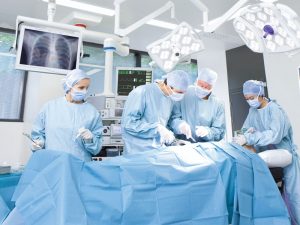 Understanding The Full Impact Of The Issue
The issue is most certainly complex. There are thousands and thousands of different PFAS compounds. All are environmentally persistent, but the state of matter as well as the size of the polymeric or non-polymeric substances impacts the ability of the compound to enter the body.
And while the U.S. Environmental Protection Agency (EPA) has been studying the environmental and human health profiles of PFAS chemistries since 2000, there is still much to be learned about the full human impact of PFAS.
It was announced earlier this year that Atlanta-based Emory University's Rollins School of Public Health has partnered with the Chemical Insights Research Institute (CIRI) of UL Research Institutes, Chicago, to study human exposure to PFAS to understand how exposure occurs and its potential health consequences. Food products, water and air contaminated with PFAS chemicals pose a risk, but studies are limited on the exposure risk posed by everyday consumer and occupational products that contain PFAS. The research will focus on firefighter gear as well as consumer wearables.
"Research emphasis will include identification of specific PFAS chemicals in the materials, their levels, and how they can potentially enter the human body," noted Dr. Dana Barr and Dr. Barry Ryan, professors in the Rollins School of Public Health and co-principal researchers. "To our knowledge, this study will be among the very first to focus on exposure to PFAS through contact with textiles. Knowledge of such exposures can lead to a better understanding of the role of such materials in aggregate exposure to these ubiquitous chemical compounds."
Industry Action
Despite uncertainty and an unknown future, recent news confirms textile companies are looking at a future without PFAS.
Spartanburg, S.C.-based Milliken & Company had announced in early 2022 that it would eliminate PFAS from its textile finishes and fibers port-folio by the end of the year. In February, Milliken reported that it had achieved its goal, becoming the first U.S.-based multi-market textile manufacturer to eliminate the use of PFAS.
"This is a tremendous accomplishment and tribute to our team who worked around the clock to develop solutions that meet our customers' performance requirements and reflect our purpose to positively impact the world for future generations," said David Smith, executive vice president, Milliken & Company, and president, Milliken's Textile Business.
In order to reach its aggressive goal, the company focus on three areas — durable water repellency (DWR), soil release and oil repellency. With many PFAS-free DWRs in the marketplace, Milliken was able to easily assess and implement alternatives in its production processes. Milliken's internal research team developed a new proprietary soil release technology that has been integrated into suitable textile applications, although it is not currently an alternative for every soil-repellent finish application.
Interestingly, Milliken — a company long associated with textile chemistry innovations — announced that after searching for an alternative oil repellent finish, none was found, and the company decided to exit that line of business.
"Our work was intricate, and our team, including research and development, sourcing, compliance, sales, and many other functions, approached this initiative thoughtfully and with great care for our customers," added Dr. Jeff Strahan, director of sustainability, compliance and research for the Textile Business. "We're thrilled to be leading the industry in taking meaningful action that will have an immediate impact."
Before Milliken's announcement, Polartec® — a Milliken & Company brand — had also reported it had eliminated PFAS in its DWR treatments used to manufacture its performance fabrics including Hardface®, Power Shield®, Power Shield Pro, NeoShell® and Windbloc®. "Achieving non-PFAS treatments within our product line is an important milestone in our commitment to sustainably made performance fabrics," noted Steve Layton, Polartec president. "It's the latest step on our journey to an even more sustainable Polartec."
Glen Raven Inc., Burlington, N.C., also recently announced it has begun to phase out the use of PFAS across its global fabric portfolio. The company has already begun the transition with a goal of moving to non-PFAS production by the end of the year. The company also reports any new products developed for its Sunbrella® brand will be specified as non-PFAS and will be manufactured using Glen Raven's new non-PFAS solution.
"Since 2015, our global research and development team has been working with accredited research laboratories and universities to evaluate and develop the best alternatives to PFAS-based finishes," said Dave Swers, president and COO of Glen Raven Custom Fabrics.
"We have invested significantly in this work and the solutions we're introducing will allow us to continue providing anyone who purchases our fabrics with the best-in-class performance they expect while minimizing our environmental impact as an organization. Our Sunbrella Contract fabrics have included non-PFAS solutions since 2019 and we look forward to implementing non-PFAS solutions across our portfolio."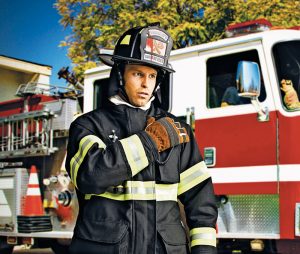 Brands Also Driving Change
Textile manufacturers are making changes and brands are too. Seattle-based outdoor retailer REI recently reported it will ban PFAS in all textile products and cookware from suppliers beginning in the fall of 2024. Apparel items include, but are not limited to, apparel, accessories, footwear, and packs and bags. Professional, expedition-level apparel was granted a two-year extension to eliminate PFAS, to the fall of 2026. The company came under pressure from REI members who staged rallies and signed peti-tions urging REI to eliminate PFAS from the products it sells.
It was also reported in the news that Seattle-based Dick's Sporting Goods quietly made a commitment ban PFAS in its own-brand textile products.
As of this spring, Patgonia reported some 66 percent of its materials made using water-repellent technologies are PFAS-free, and the company has committed to converting all of its water-repellent finishes to non-fluorinated versions by 2024. Patagonia notes that: "With no set industry-wide goal to eliminate the use of these chemistries, we see this as an opportunity to inspire others. By working within a shared supply chain and encouraging other apparel brands to utilize the solutions we've vetted and adopted, we hope to enable large-scale changes and success in more PFC-free products throughout the industry."
Issue Goes Much Further Than Textiles
Whether as a result of public noise and pressure, or scientifically backed sound decision-making, PFAS products will continue to be phased out. This broad issue, with implications that extend well beyond the textile arena, is not going away.
The North Carolina DEQ currently is developing standards for PFAS compounds in surface and ground-water in the state. "PFAS contamination is a state-wide issue, larger than one company or one compound," said DEQ Secretary Elizabeth S. Biser. "We are using every tool at our disposal to address these forever chemicals in a comprehensive way, reduce the amount of PFAS entering the environment and protect the health of North Carolinians."
Seismic Shift
In the decades following the discovery of PFAS chemicals, manufacturers have relied on them for their ability to confer a variety of properties such as repellency, and chemical-, temperature- and fire-resistance, among other properties. Fluoropolymers — just one type of PFAS out of the thousands that exist — are used in medical products and implantable devices and are considered to be safe.
With the knowledge that PFAS compounds persist in the environment, it is important to take action. But trying to fully understand the intricacies of the issue first is essential to legislation that makes sense.
As the issue is studied and more is learned, perhaps in some cases, the benefits will continue to outweigh the risks.
July/August 2023