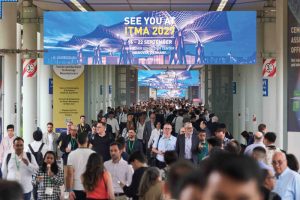 "Excellent," "outstanding," "more than positive" and "extremely successful" were just some of the words used by participants to describe ITMA 2023.
By Rachael S. Davis, Executive Editor
Apparently nothing — not even a pandemic, supply chain disruptions, and global banking crisis, among other issues — could keep the textile industry from showing up at ITMA 2023, the industry's quadrennial trade show owned by the European Committee of Textile
Machinery Manufacturers (CEMATEX).
Exhibitor numbers — 1,709 from 47 countries — came close to 2019's record-breaking number of exhibitors. Despite the slightly lower number of exhibitors compared to 2019, the net exhibition space increased by 3 percent to 118,300 square meters.
A total of 867 exhibitors, or 63 percent of the net exhibit space was occupied by companies from CEMATEX countries — Italy, Spain, the United Kingdom, the Netherlands, Switzerland, Belgium, Sweden, France and Germany. Italian exhibitors formed the largest contingent with 422 companies, and also occupied the largest amount of space at 30 percent. Germany followed with 198 exhibiting companies in 15 percent of the net exhibit space. The third largest group of exhibitors was from Turkey with 191 companies occupying 12 percent of the show floor space.
"Interestingly, we also welcomed new exhibitors from Tunisia, Estonia, Ireland, Norway, Ukraine, and as far as Panama, Peru and Honduras," said Ernesto Maurer, CEMATEX president. "Due to high demand, about 150 applicants were unable to be accommodated as some sectors were sold out after the space application deadline," Maurer added.
In terms of participation by sector, the top five sectors were: finishing with 329 exhibitors and 27 percent of exhibit space; spinning with 257 exhibitors and 13 percent of exhibit space; weaving with 161 exhibitors and 10 percent of exhibit space; printing with 146 exhibitors and 12 percent of exhibit space; and knitting with 128 exhibitors and 10 percent of exhibit space.
ITMA 2023's sustainability focus was wholeheartedly embraced by seemingly all the exhibitors. Innovations mostly seemed to focus on savings in energy, water and materials, as well as recycling and circular production. While not one of the top exhibitor sectors, exhibitors in the recycling sector increased to 31 total exhibitors and doubled exhibit space from 2019. Digitalization and Industry 4.0 also was a prevalent theme and the number of exhibitors showcasing software for the industry increased significantly compared to past editions.
"Digitalization and sustainability are twin drivers to build a better future for the industry," said Charles Beauduin, chairman, ITMA Services. "Research and development in these areas have resulted in many ground-breaking technologies. Hence, these sectors have gained greater traction and there is a healthy growth in the number of exhibitors."
Attendance
Some 111,000 visitors from 143 countries exceeded the number of attendees in 2019. Twenty-nine percent of the visitors came from Italy, followed by visitors from Turkey, India and Germany tied at 6 percent of the total, 4 percent traveled from France, and 3 percent of visitors were from Brazil.
"This edition has been a great success with the visitorship higher than the previous exhibition in 2019," said Ernesto Maurer, CEMATEX president. "At this ITMA, the transformation journey toward digitalization and sustainability has taken a huge leap for-ward. It has been a mega gathering with the presence of stakeholders of the entire textile and garment making ecosystem. CEMATEX associations and their member companies, as well as all other exhibitors, are delighted with the results as the exhibition has surpassed all our expectations."
"The results of Milan edition con-firmed ITMA as the most important showcase for world textile machinery," added Federico Pellegata, director of the Association of Italian Textile Machinery Manufacturers (ACIMIT). "It was a great success, judging from the quality of visitors in attendance, and many Italian exhibitors have secured contracts and sold their machines."
Quality As Well As Quantity
Speaking of the quality and number of attendees, Pellegata's observation was confirmed by most of the exhibitors at the show.
"We had good traffic at our booth in Barcelona, but visitors seemed like more tire kickers and fewer decision makers," said Roland Zimmer, vice president, North American Sales, Zimmer Austria Inc., Spartanburg, S.C. "But here in Milan, our booth has been very busy the first few days and we have seen lots of decision makers."
"We have had an amazing turnout," said Rolf Erik Schoeler, global head of sales and marketing for Switzerland-based Benninger Group. "We compared the number of visitors to our booth with Barcelona and they are 30 percent higher. People also seem optimistic despite the increase in power costs. Optimism is definitely there, and we have honestly been overwhelmed."
"I have been attending ITMA trade shows since 1991," said Rick Stanford, vice president, Global Business Development, Textile, St. Louis-based Baldwin Technology Co. Inc. "This ITMA has been crazy busy and blows all the others away. The first two days, our booth was so busy the only way to fit more people in was if they stood on each other's heads. It was impossible to fit any more people in the booth!"
"We are pleased to share that ITMA 2023 was an excellent event for Dornier," reported Oliver Meier, executive vice president, American Dornier Machinery Corp., Charlotte, N.C. "The introduction of the A2 air-jet weaving machine at the show sparked interesting conversations, new ideas and initiatives that will have a positive impact on Dornier's future business developments."
Brandon Reese, marketing, Measured Solutions, Greenville, S.C., said he noticed strong attendance from U.S. visitors. "The Textechno booth was much more active in Milan than four years ago in Barcelona," Reese said. "Visitors were interested in the topic of recycling and testing the fiber strength and length of recycled fibers. We also met with a number of customers who were talking about plant-based fibers."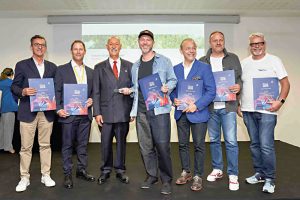 Awards
ITMA 2023 again conferred its Sustainable Innovation Award and 2023 Research & Innovation Award to finalists who were selected by a panel of industry experts assembled by show organizers. Finalists for the ITMA Sustainable Innovation Award were Italy-based Candiani S.p.A. nominated by FKgroup for its Candiani Custom microfactory project; Denim Moda S.r.l. nominated by Jeanologia for its Denim Moda Urban Factory; and Italy-based Limonta nominated by Navis TubeTex for the Bio-FREED dyeing system. Candiani was named the winner, which marked the second recognition for the company after also taking the top honor in 2019.
"Winning this award represents true recognition of the importance of research and development, as well as the investments and efforts required to make a positive change through better processes and products," said company President Alberto Candiani. "Candiani won the award in 2019, and this additional recognition has become a sign of consistency towards our commitment to continuous, tangible improvements."
"CEMATEX launched the ITMA Sustainable Innovation Award in 2015 to encourage and recognize the collaborative efforts of our exhibitors and their customers for the industry excellence category," CEMATEX President Maurer noted. "Today, we are pleased to see another outstanding collaboration, and I would like to congratulate both Candiani and FKgroup for their innovative partnership. As the textile and fashion industry trends toward sustainability and circularity, we hope the Award will inspire more innovative efforts that result in business success, as well as benefit both planet and people."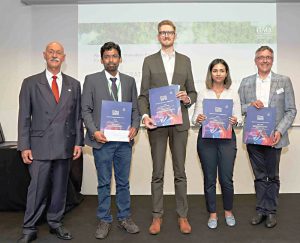 The Research & Innovation Excellence Award was implemented "to encourage academic institutions to embark on research work that contributes to the future of the textile industry. Philipp Benjamin Weigel was named the winner for his Master's thesis "Numerical Simulation of the Structural and Pull-out Behaviour of Parametrically Generated Profiled Carbon Polymer Yarns." He was nominated by the Germany-based TU Dresden, Institute of Textile Machinery and High-Performance Material Technology.
Eva Wingerath was named first runner up for her thesis titled "Life Cycle Assessment and Evaluation of Composite Pressure Vessel End-Of-Life Recycling." Maryam Sodagar was the second runner up for her thesis "Banana Fibre as a Sustainable and Renewable Resource for Reinforcement of Polylactic Acid." Both students were nominated by the Germany-based ITA Institut für Textiltechnik of RWTH Aachen University.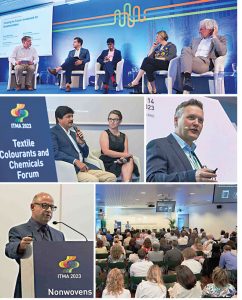 ITMAconnect
The event's new digital listing of textile and garment technology manufacturers, ITMAconnect, was launched to complement ITMA. Available to ITMA participants prior to the show, the platform now is available to those who were unable to attend the event in person. People interested in accessing the platform to source and network with the inter-national companies who took part in the Milan exhibition may register at itma.com/dashboard/visitor/login.
Optimism For The Future?
Some U.S. textile manufacturers had reported a downturn in business conditions in the first half of 2023 and general rumblings appeared to lean negative about the overall future outlook for the U.S. industry. Let's hope the positive energy and momentum from ITMA, along with the news that machinery exports to the United States increased in 2022 (see sidebar), point to a better second half of 2023 for the U.S. textile industry.
For a quick look on just some of the interesting technologies seen at the 2023 edition of ITMA, see "ITMA 2023 Edition — Just A Few Of The "Cool" Things On Display" in this issue of Textile World. TW will begin its traditional sector-by-sector technical coverage of ITMA innovations in its September/October 2023 issue. Also look for an Executive Forum style feature with exhibitor impressions in a future issue of TW.
---
---
Machinery Exports: Near- & Reshoring Effect?
Several machinery associations held press conferences during ITMA and shared data on machinery exports by country. The Association of Italian Textile Machinery Manufacturers (ACIMIT) noted that the United States was the fourth ranked destination for Italian textile machinery exports in 2022. The total value of the exports represented an increase of 31 percent over the previous year. ACIMIT President Alessandro Zucchi said it was too early to know if this is because of near- and reshoring efforts, but perhaps reshoring is a factor in the year-on-year increase.
The German textile machinery association, the VDMA Textile Machinery, also reported an increase in German textile machinery exports to the United States, moving to 266 million euros in 2022 from 231 million euros in 2021. The United States was the fifth largest market for German machinery exports.
Amazingly, the United States is the number one market for textile machinery exports from Spain. The Spanish Textile Machinery Manufacturers Association (amec amtex) reported a total value of exports to the United States in 2022 of $23 million.
As ACIMIT's Zucchi noted, perhaps these figures are a result of near- and reshoring efforts in the Americas, but only time will tell.
---
---
ITMA 2027 Location, ITMA Asia + CITME Changes Announced
During a press conference on the first day of the show, it was announced that Hanover, Germany, has been selected as the host city for ITMA 2027. It is the first time since 2007 that the show will be held in Germany and 36 years since the event was last held in Hanover. The event will take place at the Hannover Exhibition Center September 16-22, 2027. "The Milan exhibition has set the benchmark for ITMA 2027 in Hanover," said Dr. Janpeter Horn, chairman of Germany-based VDMA Textile Machinery. "We are eager and confident to continue ITMA's success story 36 years after it has been hosted there."
The owners of ITMA Asia + CITME — CEMATEX and its Chinese partners China Textile Machinery Association (CTMA) and the Sub-Council of Textile Industry, CCPIT (CCPIT-Tex)— also announced a new 2025 edition of the event to be held in Singapore. This is a change for the show, which has been held every two years in Shanghai since 2008.
Organized by ITMA Services and co-organized by Beijing Textile Machinery International Exhibition Co., ITMA Asia+ CITME 2025 will take place October 28-31, 2025, at the Singapore Expo.
"We have successfully held seveneditions of ITMA ASIA + CITME in Shanghai," said Ernesto Maurer, CEMATEX president. "As part of our strategy to support the aspirations of local manufacturers in South Asia, South East and the Middle East to modernize their operations, we are augmenting the series with a second location in Asia to better reach out to the
textile hubs in these regions."
"Asia is the world's biggest textile manufacturer and exporter," said Gu Ping, CTMA president. "We are delighted to extend our cooperation with CEMATEX to bring ITMA ASIA and CITME to other parts of Asia to support our members' marketing efforts."
"Singapore is an attractive MICE destination and well connected to the growing textile hubs in South Asia and Southeast Asia, as well as the Middle East," added Charles Beauduin, chairman, ITMA Services. "Its extensive airlinks and visa-friendly policies make it an accessible destination for these visitors. The exhibition also requires robust infrastructural and technical facilities to support live machinery demonstrations, which Singapore's exhibition venue can provide."
The next edition of ITMA Asia + CITME takes place in Shanghai November 19-23, 2023. So far, more than 1,400 exhibitors have committed to participate in the show, which was rescheduled from 2022 because of the COVID-19 pandemic. Moving forward, the show will continue to be held in Shanghai on a biennial schedule with the next combined edition to take place October 14-18, 2024.
---
---
July/August 2023