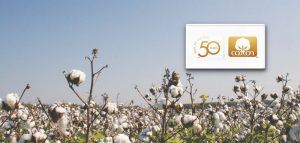 Today, the Seal of Cotton is embraced by more than 950 brands across nearly 70 countries, becoming a globally recognized symbol associated with fashion, durability, quality, and sustainability.
TW Special Report
Cary, N.C.-based Cotton Incorporated is commemorating the 50th anniversary of the Seal of Cotton trademark, an emblematic logo that revolutionized cotton from a basic agricultural commodity into a globally recognized symbol of natural comfort, trust and sustainability. This iconic seal serves as the distinguishing mark and common thread for cotton, becoming an emblem for all things #MadeInCotton.
The Seal Of Cotton
Unveiled in 1973, the Seal of Cot-ton quickly gained recognition as a symbol of trust, quality, sustainability and dependability among consumers, retailers and textile brands. The brainchild of Susan Landor Keegin, daughter of branding pioneer Walter Landor, the design incorporated the natural elements of cotton. Inspired by the sight of cot-ton plants in the fields, with their rigid stems and soft bolls, Keegin envisioned the word "Cotton" growing from the roots. This visionary concept gave birth to the Seal of Cotton, enabling easy identification of cotton fibers and differentiation from synthetic alternatives.
"The assignment was to find a way to stand up against synthetics," recalled Keegin of Landor Associates. "I was going to see relatives who lived in the area and saw cotton growing in the fields with the bolls puffed up. Something about seeing it in person, the rigidity of the stem and the softness of the boll, I had never seen that."
Today, the Seal of Cotton is embraced by more than 950 brands across nearly 70 countries, becoming a globally recognized symbol associated with fashion, durability, quality and sustainability. According to Cotton Incorporated's 2023 Seal of Cotton Consumer Research, nearly eight out of 10 consumers — some 78 percent — are aware of the seal, empowering them to make informed purchasing decisions in favor of a natural, sustainable fiber that is known and trusted. Furthermore, more than 80 percent of consumers express confidence in a brand and its product when featuring the Seal of Cotton, while 90 percent appreciate cotton fabric for its comfort and versatility.
In the current retail landscape, 46 percent of U.S. consumers are willing to pay more for a brand they trust. The Seal of Cotton fulfills this need for trust among consumers, brands, and retailers alike. When the seal appears on a product, four out of five or 79 percent of consumers believe that the brand is more trustworthy, 80 percent say it's more authentic, and 84 percent report the product is likely to be purchased. Over the past 50 years, this symbol has facilitated consumers' journeys by signifying reliability, transparency and high quality.
Understanding Consumer Focus
"The 50th anniversary of the Seal of Cotton is a celebration of a highly-recognizable icon that brings consumers a sense of emotional and physical comfort and familiarity," said Kim Kitchings, senior vice president, consumer marketing for Cotton Incorporated. "Cotton has been woven throughout the eras of American culture and is part of monumental moments in each one of our lives. Fifty years of marketing and innovation has earned consumer affection, with over 90 percent stating that cot-ton is a preferred choice because of its comfort, softness, and versatility. We're proud that the Seal of Cotton garners more than two times the awareness of other fiber logos and is a favored fabric."
The focus on a long-term understanding of the consumer continues to be critical to Cotton's focus.
"Brand recognition and relevancy is created by understanding the pulse of consumer's needs," Kitchings continued. "From the start, Cotton Incorporated invested in consumer research, listening to their voices, sharing it across the industry and weaving insights with quality fiber and products to transform a logo into an emblem of trust."
And Cotton Incorporated also brings clarity to the entire cotton supply chain. "In a world that only seems to turn faster, the importance of accurate and timely information has become even more critical for addressing uncertainty," noted Jon Devine, senior economist, Cotton Incorporated. "As a collaborator working with each stage of the sup-ply chain, Cotton Incorporated strives to build on the integrity of analysis established over the decades with the objective of enhancing profitability for all participants."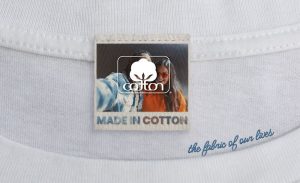 Manufacturers, Brands And Consumers
Throughout the years, the Seal of Cotton has made its mark and garnered preference among manufacturers, brands, and consumers. Its historical influence ranges from the "True Performance" advertising campaign of the 1980s, which show-cased the symbol on countless retail garments, to the establishment of the Blue Jeans Go Green™ denim recycling program in 2006, aimed at repurposing denim and reducing textile waste in landfills.
Cotton Incorporated celebrates the Seal of Cotton through the brand's latest ad campaign focusing on the power of nostalgia, reminding consumers how powerful memories and fashion styles over the decades have one common thread: cotton. The campaign runs on television, streaming services and through digital partners. Additionally, Cotton Incorporated developed an exclusive iteration of the Seal for the 50th anniversary and the celebration continues throughout the year with additional activities in the months to come.
Building On A Strong Foundation
Cotton Incorporated has achieved what almost every brand aspires to — a legacy and deeply ingrained feeling of trust and quality.
"The strength of a brand encompasses much more than the visual representation of an iconic logo," said J. Berrye Worsham, Cotton Incorporated's president and CEO. "It includes the collective spirit and unwavering dedication of the team behind it. Growers, spinners, brands, retailers and Cotton Incorporated's team of researchers and marketers helped build the Seal of Cotton legacy and are the custodians of its values, and the driving force that propels it towards longevity. It is in their commitment to excellence, innovation, and adaptability that this brand finds the resilience to transcend eras and inspiration for the future."
July/August 2023