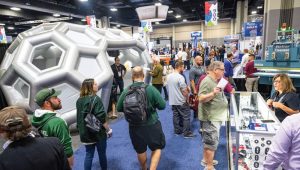 IFAI Expo formally adopts new Advanced Textiles Expo name for 2023 edition of the show, and will collocate with the Sun Shading Expo North America.
TW Special Report
The Roseville, Minn.-based Advanced Textiles Association (ATA) is gearing up to host its first Advanced Textiles Expo — the new name for IFAI Expo that reflects the organization's 2022 rebranding. The 2023 edition of the expo will take place in Orlando, Fla., at the Orange County Convention Center. Education sessions begin October 31 and the show floor is open November 1-3, 2023.
"We are delighted to be back in Orlando, Florida, for the launch of our newly rebranded Advanced Textiles Expo," emphasized Steve Schiffman, ATA president and CEO. "Along with a new name we are also adding new programming to enhance engagement and value for attendees and exhibitors. This programming includes a 'Next Generation' networking event on the show floor, reimagined Demo area with more hands-on demonstrations, demonstrations in exhibitor booths and two deep dive workshops on Emotional Intelligence and Mastering Leader-ship for the Modern Sales Team."
What To Expect
The show will again collocate with Messe Stuttgart's Sun Shading Expo North America to bring a whole new dimension of attendee and exhibitor value to Advanced Textiles Expo, according to Schiffman. The collocation of the events for these two complementary industries offers value in terms of connecting with customers, suppliers, end-product manufacturers, and industry counterparts, as well as providing growth opportunities. Attendees have access to both events including the combined show floor, show floor education, keynote speakers and networking receptions. The only exceptions are Advanced Textile Expo's classroom education, which is only open to Advanced Textile Expo registrants; and Sun Shading Expo classroom education, which is only open to Sun Shading Expo registrants. The show floor will feature the ATA Hub, which is a great place to learn more about ATA or join a member division open meeting. Also on the show floor, ATA announced the return of the Adopt-a-Puppy Fundraising booth, as well as the Demo booth — a hands-on educational space for makers and materials suppliers.
Advanced Textile Expo's Annual Fun Run/Walk will take place Thursday morning at 7:15 a.m. Participants will be led by experienced locals on a walk or run through Orlando. Runners can choose a pace group and distance and then enjoy the views.
Nighttime Fun
At the end of the first day, Advanced Textile Expo will host an official opening reception from 5-6 p.m. ATA invites all participants to mix and mingle while enjoying some refreshments and conversation to wrap up the first day of the show. The reception is included with all registration types.
Those who opt to purchase a separate ticket when registering can move from the opening reception to Industry Night, which this year will be held at the Blake Shelton's Ole Red starting at 7 p.m. As always, live music will be provided by ATA member band Hangin' by a Thread.
Education
Those who register for the basic show floor pass will have access to more than 10 hours of campfire education sessions that will be hosted on the show floor. The campfire sessions are broken into three categories —Emerging Technologies, Shade and Weather Protection, and Specialty Fabrics — and will be held in separate areas of the show floor.
The Expo Plus registration option covers the show floor with campfire sessions, as well as more than 15 hours of classroom sessions covering advanced textiles, specialty fabrics, shade/weather, marine fabricators and general business topics. Attendees who register for the All Access pass gain access to the Emerging Technologies Conference that starts one day before the show floor opens, in addition to the Expo plus classroom education and campfire sessions. The Emerging Technologies Conference begins with a luncheon and plenary session on October 31; followed by 50-minute-long sessions on topics such as e-textiles, advanced manufacturing and applications. The conference continues on November 1 and 2 with sessions held in the morning. A complete list of conference sessions will be available on the event website closer to the show date.
ATA also is offering Deep Dive Workshops, brought back by popular demand. There are two options in 2023 that will be held on Tuesday, October 31 from 1-4 p.m. Option one, Mastering Leadership for the Modern Sales Team, will be hosted by Toby Payne, a partner, sales trainer and consultant with Sandler Training. The session will cover understanding your sales people and unlocking their potential; streamlining the onboarding process; creating a culture of accountability to empower salespeople; and sustaining motivation.
Deep Dive Workshop option two on Emotional Intelligence Training will be hosted by Dr. Melissa Fur-man, owner/consultant with Career Potential LLC. The workshop is designed to provide participants with tools and strategies to enhance their own emotional intelligence to impact decision-making, teamwork, productivity, stress management and problem solving in a positive way; as well as tools to manage and develop emotional intelligence in others. The session includes an emotional intelligence assessment that needs to be completed prior to the session.
Keynote Speaker
ATA has selected Jeff Butler as this year's keynote speaker. This workplace expert's keynote, titled "Building and Effective Multigenera-tional Workforce," will focus on work with and managing various generations.
For more information about Advanced Textiles Expo and to register, please visit advancedtextilesexpo.com.
July/August 2023