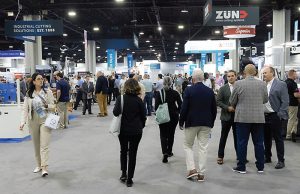 Techtextil North America and Texprocess Americas, held recently in Atlanta, presented opportunities for learning and networking through a variety of programs and comprehensive exhibit floor.
TW Special Report
Techtextil North America and Texprocess Americas, two well established textile industry exhibitions, were held recently at the Georgia World Congress Center in Atlanta. Organized by Messe Frankfurt Inc., the unified edition of these events attracted more than 350 exhibitors from 30 countries and witnessed the participation of numerous attendees representing the entire textile supply chain. This collaborative platform facilitated business development and showcased the lat-est innovations, products, and technologies in the industry. Techtextil North America is incorporated with ATME-I, and Texprocess Americas is coproduced by SPESA — the industry association for suppliers to the sewn products industry.
Highlights
Kristy Meade, vice president of Technical Textiles & Technology Shows for Messe Frankfurt Inc., expressed positive thoughts about the diverse exhibitors and attendees who participated in the show. "This year, we were excited to bring together a variety of exhibitors and attendees from across the industry spectrum," Meade said. "We were able to provide a space where they could not only showcase their innovations and learn about industry trends, but also develop new business relationships and find opportunities for growth in the market."
During the three-day event, visitors had the chance to explore products up close, witness live demonstrations, attend educational sessions, and engage with exhibitors offering cutting-edge solutions across the supply chain. This collaborative environment also provided exhibitors with the opportunity to connect with suppliers and strategic partners, leading to tangible sales opportunities.
Exhibitors praised the event for its ability to showcase their products and innovations to a global audience, while also facilitating networking and business promotion. Justin Hershoran, director of real-time analytics for Alpharetta, Ga.-based Aptean highlighted the positive outcomes of participating in the show. "The reason that we are here is to interact with new clientele," Hershoran said. "We actually see great results from this show. Every time we have done it, it leads to solid sales for us. It's not just the marketing, it's the real dollars that come in as a result."
Jacob Blackburn, in global marketing for Mount Holly, N.C.-based American and Efird (A&E), also expressed enthusiasm, emphasizing how Texprocess Americas provides a platform to showcase A&E's diverse line of thread products. "From staying up-to-date with the latest trends to learning about new innovations within the textile industry, Texprocess Americas supplies a great plat-form to network and promote our business," Blackburn noted.
Exhibitor Steve Bassetti, director of Global Marketing, Cincinnati-based Michelman, shared: "Michelman sees considerable potential for growth in the technical textile industry, and the energy we saw at Techtextil confirms that belief. The show was well attended and allowed us to network with many current and potential partners while learning more about the industry. And of course, it was a great opportunity to share how our solutions can improve textile performance in a planet-positive way."
"We found the traffic at Techtextil North America this year to be better than expected," said Rick Stanford, vice president of global market development, Baldwin Technology Co. Inc., Rock Hill, S.C. "Also, this is the first year that we exhibited with our new North American sales partner, Fi-Tech. In the few months that we have worked with Fi-Tech, we could not be more pleased with their connection and reputation to the textile industry. We had numerous visitors from engineers to senior leaders and decision makers who spent quality time with us discussing how they can lower their carbon footprint by transitioning from pad finishing to TexCoat G4's precision spray finishing, saving money on gas, electricity, chemistry and water."
Attendees also shared their positive experiences. "This is an excellent show to meet new suppliers and firm up some relationships from the past," commented Paul T. McCabe, owner, Marietta, Ga.-based McCabe Textile Co. "Now that COVID is in the back window, this show and similar fairs will hopefully get rebuilt and thrive. Several of my suppliers were very satisfied with the traffic, requests for samples and eventual follow ups. If there were additional mills and converters showing I feel the attendance would grow."
Associated Features
Notably, the 2023 edition featured symposium sessions, Tech Talks, Tech Zone, and introduced the new Career and Training Center. The Innovation Awards, another new addition to the collocated event, recognized outstanding achievements in new technologies, concepts and sustainability efforts.
The symposium sessions, held away from the show floor in a class-room setting, were a crucial component of the educational track. Sessions featured industry experts who delved into critical topics such as aerospace and defense, supply chain evolution, manufacturing innovation and sustainability.
Jennifer Guarino with the Industrial Sewing and Innovation Center (ISAIC) highlighted the importance of these sessions. "More than ever, these conversations are about real solutions," Guarino said. "We're talking vertically with big and small retailers and big and small manufacturers at the table. So, I thought [the discussions] were very inspiring and very challenging, which is exactly what we need at Texprocess Americas."
Attendee Rick Fowler of Youngone Corp. praised the symposium, expressing his satisfaction with the industry's commitment to tackling sustainability concerns that was evident from the sessions.
Tech Talks
The Techtextil North America Tech Talks, presented on the show floor, were hosted by the Hohenstein Institute America's Casey Strauch and Melissa Sharp with NC State's Zeis Textiles Extension. The complimentary presentations, demonstrations, and discussions on technical advancements and textile applications covered sustainability, technology-driven workforce development, and the future of technical design topics, among other topics.
Xochil Herrera Scheer of The Chicago Pattern Maker managed and moderated the Texprocess Americas Tech Talks. She commended the event's success and the positive interactions. "I had an awesome week of insightful conversations with industry leaders at Texprocess Americas," Scheer said. "I am so proud of this series. All the planning and preparation really paid off when I looked out into the full audiences — even standing room overflow — and seeing interest flow into side chats with speakers afterwards moving into exhibit booths. What a successful show!"
Career And Training Center
A new addition to this year's exhibitions was the Career and Training Center, which combined professional development with practical training. The Textile Technology Center at Gaston College provided valuable resources related to the industry's career landscape and networking tips. Furthermore, hands-on training sessions were conducted by Sewn Products Equipment and Suppliers of the Americas (SPESA) association members, facilitating machine repair and maintenance training, as well as the use of augmented reality tools for scalable growth in the industry.
Innovation Awards
The Innovation Awards recognized unique concepts and hard work in textile technologies across various application areas. The winners represented innovative technologies, concepts and sustainability approaches (see sidebar).
"We were thrilled to introduce the Innovation Awards to the American market this year and acknowledge the hard work each of our award winners has made to develop and implement new products, technologies, growth strategies and other remarkable contributions to this industry," Meade said.
Techtextil North America will take place next in Raleigh, N.C., August 20-22, 2024. The collocated Texprocess Americas and Techtextil North America will return to Atlanta from May 6-8, 2025. These future events promise to build upon the success of the 2023 editions.
---
---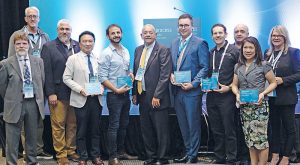 Techtextil North America And Texprocess Americas — Innovation Award Winners Announced
The 2023 Innovation Awards conferred at Techtextil North America and Texprocess Americas honored the industry's cutting-edge developments. The awards ceremony recognized textile technologies that exhibited new concepts, technologies, applications, sustainability approaches and digitalization.
Kristy Meade, vice president of Technical Textiles & Technology Shows for Messe Frankfurt Inc., expressed her pleasure that the awards were incorporated with the Atlanta editions of the collocated shows. "We are happy to bring the Innovation Awards to the U.S. editions of Techtextil North America & Texprocess Americas which will enable and encourage new market developments and is a testament to the ingenuity and vision of the brands participating at these shows."
Award winners in a variety of categories were announced during a press conference held on the first day of the event. Recipients were:
New Concept Winner —Henderson Sewing Machine Co. Inc. and Matsuya R&D for The Intelligent Robot Sewing Machine with Digital Image Processing System;
New Technology Winner —SPEC and Svegea of Sweden for the SVEGEA EC-450XF
New Application Winner —Pathfinder Cutting Technology for FabricPro: Revolutionizing Fabric Spreading with Innovative Safety Features and Improved Operator Ergonomics;
New Product Winner —Stratasys for the Stratasys J850™ TechStyle™ direct-to-textile 3D printer;
New Approaches on Sustain-ability & Circular Economy Winner — Henderson Sewing Machine Co. Inc. and Twine Solutions Ltd. for the Thread Digital Dyeing System TS-1800;
New Technologies on Sustainability & Recycling Winner — Germany-based Dürkopp Adler GmbH for the M- TYPE DELTA e-con; and
New Technology & Digital-ization Winner — SEDDI for SEDDI Textura: Real Fabrics Digitized Brilliantly with AI.
Michael McDonald, SPESA president, emphasized that the Innovation Awards aim to bring solutions to the forefront of the industry and create a market for new developments. "While the award-winning technologies will create market opportunities and boost business, the commitment to product excellence and market innovation that the award winners and everyone who submitted entries have shown is what will drive market impulses," McDonald noted.
---
---
May/June 2023