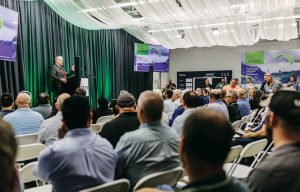 Itema America recently held an open house to share information about its expanded technical weaving capabilities.
TW Special Report
Itema America Inc., a wholly owned subsidiary of Italy-based Itema S.p.A., recently hosted an open house at its Spartanburg, S.C., facility. The U.S.-based company was established in 2005 after Itema acquired and combined the Somet, Vamatex and Sulzer weaving machine brands. Today, the company is a full-service location serving North America with weaving machine sales, spare parts, technical service, as well as an electrical and mechanical repair shop.
It was the first time since 2007 that Itema America hosted such an open house event. In recent years, the parent company expanded its offerings with the purchase of Panter, a small, Italy-based custom weaving machine manufacturing that specializes in machines for technical weaving. "With the exodus of apparel and home furnishing plants in North America over the past 25 years, the market that remains is profitable and focused on technical applications," said Itema America President Scott Malcolm. "With that said, we felt it was imperative to get the word out about the company's expanded capabilities by holding an open house."
More than 100 people attended the event to hear about the company's capabilities. The event invitation list comprised prospective customers as well as existing Itema customers and new players in the technical textiles market. "We wanted the entire textile market in North America to know of our expanded capabilities and expertise in technical applications," Malcolm noted.
Malcolm, along with Kemp Smith, after sales service manager; Doug Merritt, sales account manager; and Ugo Ghilardi, CEO of the Italy-based parent company, all gave presentations during the event welcoming guests and explaining the company's offerings.
Itema wanted to emphasize its biggest strength, which is its flexibility. The company now offers three of the four insertion technologies for weaving — air jet, rapier and projectile. With the Panter purchase and formation of the ItemaTech division, the company reports it now offers the largest and most versatile machine portfolio of all OEM weaving machine companies. "Whatever the fiber, whatever the fabric and whatever the future holds, Itema has a weaving solution," Malcolm emphasized.
With regards to the U.S. market, Itematech offers technologies for weaving carbon fiber and tape, carpet backing, heavy filter fabrics, automotive components, and parachute fabrics, among other products.
Visitors got to experience live demonstrations of some of Itematech's latest innovations including:
The UNIRAP rapier machine, weaving flat carbon tape for aerospace applications;
The A9500, a 430-centimeter (cm)-wide air-jet weaving machine with proprietary iLeno System, shown weaving polypropylene for agrotextiles;
The R9500 Dobby 190-cm-wide rapier weaving machine weaving aramid yarns for protective fabrics; and
The Hercules Dobby, 240-cm-wide positive rapier weaving machine, which was shown running heavy canvas fabric for the bag industry during the open house.
The company expects the positive market trend to technical textiles will continue for the foreseeable future and will continue to cater to this demanding segment of the weaving market. Itema notes thanks to the unique expertise and competence poured into Itematech, technical weavers should consider the company an excellent partner that can meet and exceed their needs when it comes to weaving a full range of technical fabrics for a variety of applications.
The Itema showroom is always open. Anyone interested in learning more about Itema's expanded technical weaving capabilities can reach out to make an appointment. Itema reports there will be more announcements to come. Stay tuned!
---
To learn more about Itema America's technical weaving solutions or to make an appointment to visit the showroom, con-tact Scott Malcolm, 864-316-4591, scott. malcolm@itemagroup.com; Doug Merritt, 704-813-7279, doug.merritt@itema-americas.com; or Kemp Smith, 864-494-2889, kemp.smith@itema-americas.com.
Itema will showcase its latest innovations at the upcoming ITMA 2023 in Hall 6, Booth B105.
---
May/June 2023