Following the company's ethos that fabrics should be beautiful, comfortable and functional, Sunbrella marine fabrics are designed and engineered to meet the needs of boaters today and tomorrow.
By Kirk Fitzsimmons
The post-pandemic surge in recreational boating activity reignited the marine industry with new opportunities for innovation and connection. Ongoing research from the National Marine Manufacturers Association affirms this momentum will continue, which is why it has become increasingly important for marine textile companies to understand evolving consumer habits and apply those insights to develop new marine products and enhance existing ones to meet the needs of boaters today and tomorrow.
From commercial yachts that require premier textiles with a soft and luxurious hand to consumer fishing boats, pontoons and catamarans with seating crafted to protect against challenges such as microbial pinking, there has never been such an exciting opportunity for textile companies that serve the boating industry. How can we help boaters with different desires create memorable experiences on the water? How can we best serve each of our stakeholders — from boaters to manufacturers to fabricators — based on their specific needs? These are some of the questions posed every day at Sunbrella since the company entered the market more than 60 years ago — but these words now have new meaning.
As the Sunbrella team approaches 2023 at full throttle, they also are taking time to reel it back and reflect on how far Sunbrella has come as a brand with a purpose and ethos the company feels proud to stand behind. For decades, the company's success has been centered on a legacy of complete performance, from fabrics that stand the test of time in demanding environments to the service and support that Sunbrella extends to customers. The company hopes that by sharing its knowledge, it can educate and inspire those that are part of the marine community because the future is bright for all.
Putting A Stake In The Ground
Sunbrella began in 1961 when the brand's founders identified an opportunity to develop an awning canvas with a substantially longer lifespan than cotton. The patented material that was created not only delivered on that longevity, but also offered an unprecedented resistance to fading. Sunbrella fabric was the first of its kind and the company quickly began to lead the awning market.
It wasn't long before Sunbrella realized that its performance fabrics could extend beyond shade structures. In the years that followed, the founders brought the innovative spirit of Sunbrella into several new environments and applications, including marine. From superyachts to speedboats, the state-of-the-art fabrics began appearing on vessels of all sizes around the world as a result of the protection they offered against the elements. The company feels proud to have redefined what consumers could expect from performance textiles in those initial years.
An Ongoing Commitment To Excellence
Ever since Sunbrella entered the marine market, it has been a priority for the brand to deliver premium fabric that gives boaters, manufacturers and fabricators the materials they need to create the extraordinary in textile design, whether that be a vibrant color palette or niche function. Sunbrella is founded on the belief that fabrics should be beautiful, comfortable and functional. For marine applications, this translates to a luxurious experience on the water with Bimini tops that provide comfort from the sun, soft seating and pillows that deliver worry-free performance and are engineered to stand up to everything from splashes to spills, and last but not least, durable covers that keep boats clean and free of debris when stored so boaters can leave the dock at a moment's notice. It also means producing fabric offerings in a wide range of colors and patterns to reflect a consumer's unique style. The expansive Sunbrella portfolio includes textiles that are all woven with careful attention to detail. The brand stand behind its textiles with industry-leading warranties. This has been critical to earn and maintain the trust of trade partners and consumers in the marine space.
Today, the term "performance fabric" is used broadly to refer to any textile designed to be easily cleanable and withstand wear and tear, but not all performance fabrics are created equal. Some rely on a sprayed-on topcoat or finish that wears away over time or after consistent exposure to ultraviolet (UV) rays from the sun. The proprietary performance of Sunbrella is engineered into the core of its fabrics with yarns saturated at the fiber level with exclusive UV-stable pigments. For example, Sunbrella marine canvas fabrics block 98 percent of harmful UV light. Sunbrella shade fabrics are further recommended by the Skin Cancer Foundation as part of a complete sun protection regimen alongside regular use of sunscreen to aid in preventing sun-induced skin damage.
Sunbrella continues to push the boundaries with its formulations to ensure the innovative fabrics exceed the expectations of modern life, including new products that work harder and smarter for boaters to combat marine-specific phenomena like microbial pinking or salt residue. From sourcing raw materials to manufacturing to distribution, the company adheres to strict standards to ensure its fabrics perform and the company's vertically integrated production process aligns with company values. All fabrics must pass an extensive combination of 33 rigorous in-house and third party-certified tests to ensure they provide exceptional quality and durability to perform in the harshest of environments. These tests gauge things such as colorfastness, flame retardancy, abrasion resistance, weathering and more.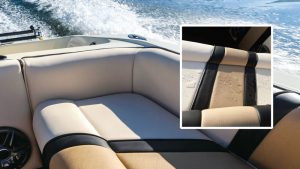 Most recently, the company launched Sunbrella Horizon marine vinyl — the company's first non-woven upholstery fabric. Horizon offers revolutionary resistance against microbial pinking, four-way stretch and recovery and lasting performance for years of worry-free enjoyment. It also features a knit-backed construction that prevents misshaping. This soft vinyl fabric is suitable for numerous marine upholstery applications, including captain's chairs, cushions, bench seating and sunpads, and is designed to complement and coordinate with gelcoat and Sunbrella marine canvas fabrics. Additionally, Horizon is weather-, mold- and mildew-resistant, resists cold cracking and is easy to clean — even with bleach — so boaters can spend more time on the water and less time on maintenance and care. Horizon also features highly UV-stable pigments for optimal color retention over time with strong protection against fading from sunlight. The product is now available in more than 30 styles, 25 colors and two embossing patterns, and is being used by a growing number of boat manufacturers.
Expanding The Sunbrella Footprint For The Long Term
Sunbrella customers always have been more than a purchase order to the company and over the years, the company has learned that by making a commitment to product excellence, it is investing in their success. Customers deserve the best for their customers — and everyone must work with the greater success of the industry in mind.
To keep up with early and ongoing success across a growing number of industries, the parent company of Sunbrella, Glen Raven, significantly expanded its manufacturing facilities over the past few decades to have a global footprint across three continents. While the Sunbrella headquarters and primary production facilities are located in the United States, there are additional manufacturing facilities in Lille, France, and Suzhou, China —two strategic locations that have enabled the company to deliver on the growing demand.
Today, these capital investments span new technologies such as B2B portals for customers to see inventory in real time, as well as a multiphase $250+ million capacity expansion plan — 75 percent of which is focused on Glen Raven's U.S. footprint — to continuing to increase production, warehousing and testing capabilities.
Getting Involved
In the marine industry, relationships are everything. Sunbrella takes a holistic approach to supporting the industry and by sharing more about its approach, the company hopes it can inspire other companies to consider similar tactics. The industry is a close-knit group of good people who trust each other. Word of mouth is an invaluable learning tactic in this industry, but more importantly, these conversations allow Sunbrella to better support its partners and understand their needs.
For decades, Sunbrella has partnered with regional, national, advocacy and trade associations that reach various sectors of the business and at all levels. These associations are central to the marine industry as they provide fabricators, distributors, manufacturers, companies and their customers with support and education to make informed business and purchasing decisions. This approach has brought immense value not only to the company's research and product development, but to its customer relationships as well.
Sunbrella also has benefitted from involvement with trade associations such as the Advanced Textiles Association (ATA) and Marine Fabricators Association. Through regional events, workshops and conferences, a longstanding partnership with ATA has helped Sunbrella build strong and lasting relationships with the fabricators that are critical to its business and the industry at large. The Marine Fabricators Conference each January is an annual highlight for the Sunbrella team.
The company also takes pride in its involvement with regional associations like the North East Canvas Products Association and the Chesapeake Marine Canvas Fabricators Association. These associations help Sunbrella reach awning and marine canvas dealers and fabricators in the places where they have operated for years. These connections give Sunbrella the opportunity to learn about its trade partners, hear feedback and determine how the company can continue to provide support and help them address their unique challenges.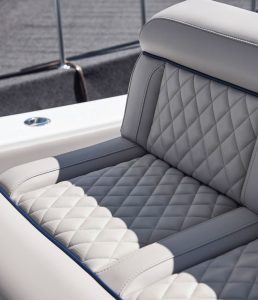 In addition to its relationships with associations, Sunbrella always has prioritized attending and exhibiting at boat shows across the country. These events are one of the most effective ways to promote brand awareness. The company sees the events as opportunities to demonstrate its category leadership for Sunbrella alongside other key players in the industry. From Seattle to Miami to Newport, in-person conversations at these shows with consumers and the trade help Sunbrella communicate important messages about the design excellence and top performance for which Sunbrella is known in a setting that promotes trust. This learning goes back to the idea that word of mouth and authenticity are critical in driving brand awareness for marine textiles. When consumers can pair the tactile feel of a soft vinyl fabric like Sunbrella Horizon with advice they're receiving in real time based on experience, they are more likely to walk away with trust in that product.
As individualization in design is increasingly sought after, consumers must start by understanding their fabric options to best personalize their boat. That understanding should also incorporate knowledge of the brand they are choosing and what it stands for. In the case of Sunbrella, the brand's goal is to support consumers with the education and tools they need to choose Sunbrella with confidence to enjoy their experience on the water.
Respecting The Planet
Being a good corporate citizen and steward of the environment has defined Glen Raven for decades. The company is committed to the greater good of its people, its communities and the planet. Sustainability practices are being increasingly evaluated and prioritized across industries, including marine, but these practices have always been part of the company's DNA.
The performance woven into Sunbrella fabrics allows them to maintain their color through wear and tear and in the harshest marine environments, delivering not only a superior product but also one that needs to be replaced less often, providing a more sustainable option and ultimately reducing waste over time.
In addition to longstanding sustainable practices, Sunbrella is passionate about two philanthropic marine partnerships. The first is with SeaCleaners, a nonprofit association that encourages coordinated joint action against plastic pollution in the oceans. The second partnership is with Bonefish & Tarpon Trust, a science-based organization with a mission to conserve bonefish, tarpon and permit species, their habitats and associated fisheries. By working with SeaCleaners, Sunbrella has been able to make a direct impact on preserving oceans and marine environments; and with Bonefish & Tarpon Trust, the company has been able to promote healthy fisheries and their marine environments for the long term.
Looking Ahead
The marine industry is dynamic, filled with a storied history and brimming with growth opportunities. Sunbrella has many exciting projects on the horizon and the company will continue to meet the needs of its customers while respecting the planet. Led by relationships and best-in-class textiles, Sunbrella looks forward to championing the growth of the marine industry in 2023 and beyond.
---
Editor's Note: Kirk Fitzsimmons is director of Shade & Marine at Sunbrella.
---
January/February 2023