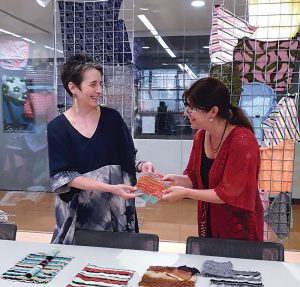 Two of the world's oldest textile universities partner to offer a joint Master's of Science in Global Textile Design
By Jim Kaufmann, Contributing Editor
Thomas Jefferson University (Jefferson), based in Philadelphia, and Heriot-Watt University (Heriot-Watt) based in Edinburgh, Scotland, together recently announced a partnership to offer an exclusive joint Master of Science (M.S.) degree in Global Textile Design.
"This program is being positioned to enlighten students about the opportunities and issues which this global industry is currently facing," said Marnie Collins, co-director of the Global Textile Design program and assistant professor, program director of Studies-Design for Textiles at Heriot-Watt. "We'll also support the students in navigating their own leadership pathway in the field."
"It is the first program of its kind in textile design that will offer joint masters degrees from each institution," added Marcia Weiss, also co-director of the Global Textile Design program and director, Textile Design Programs, at Jefferson's Kanbar College of Design, Engineering and Commerce.
Though the co-directors didn't know each other in college, Weiss and Collins — both graduates of the textile design program at the then Philadelphia College of Textiles and Sciences which is now part of Jefferson (See "A Study in Collaboration," TW, September/October 2020) — have followed similar career paths and passions. Each maintains a love of textile design, and both worked in various aspects of the textile industry before joining academia, albeit in different countries. "We've worked together for several years overseeing the longstanding international student exchanges between our Universities," Collins said. "We learned we had common interests beyond woven textile design and higher education in artisanal textiles and the heritage and provenance of textiles." A co-authored research paper, "The Role of Provenance in Luxury Textiles," that focused on cultural similarities and differences in the perceptions and importance of design origins between U.K. and U.S. consumers formed the basis for a mutual friendship and interest in finding other ways to collaborate.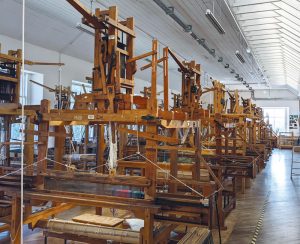 Ultimately, the women found themselves at what both Weiss and Collins agree "was the most enjoyable 'business' meeting ever!" "At various times, we'd have informal discussions on different ways to collaborate. Then in June 2016, Marnie was visiting family along the Jersey Shore and invited me out to Beach Haven, N.J., where we sat on the beach, looked out at the ocean, and inevitably started to piece together the program's general scope and structure," Weiss said. "I believe it was Marcia who came up with the idea of the joint master's program which led to the 'wouldn't it be great' question being asked quite often," Collins added. "With such an inspiring location, it was inevitable for us to day-dream about what the most amazing joint master's program would look like."
The Program's Structure
The first of its kind program for both universities has been finalized and will welcome its first class of students in the fall of 2023. "This program is structured to educate students about the opportunities and issues currently being faced throughout the contemporary textile industry and to support them in navigating their own leadership pathway in the field," Weiss said. "Textile design creativity, sustainability, artisanal heritage as well as entrepreneurship will be emphasized."
Structured as an 18-month-long master's program, all students in the class will follow the same program path. It will begin with a full fall semester held at Jefferson in Philadelphia. After the traditional holiday/New Year break, students will spend the first half of the spring semester at Jefferson and then collectively move to Scotland during spring break to complete the second half of the spring semester at Heriot-Watt.
A key aspect of the joint program is the incorporation of a credit-bearing summer internship that will provide students with unprecedented opportunities because of the quality of industry partners and potential placement options offered. Each internship could be completed at select companies literally anywhere in the world. "Marnie and I have both worked directly in the textile industry prior to joining academia and with various other segments through university and industry collaborations. We both are focused on our student's career opportunities and there are a high level of industry contacts and networks available that can be engaged specific to potential internships," Weiss noted.
The final fall semester will be completed in full at Heriot-Watt. According to Weiss: "The sequencing and location of semesters were chosen based on the proximity of textile industry tradeshows occurring throughout the duration of the program." A comprehensive tuition package will cover travel within courses, but not the back-and-forth between Scotland and Philadelphia. Students will need to be prepared for a considerable amount of travel as part of this global program which will also afford them the opportunity to visit and participate in a variety of international textile events both in the United States and Europe.
The program initially will be limited to a class size of 12 students. Because of the small class size, careful consideration will be given to the selection process ensuring a high quality of participants. Qualifications for those interested in enrolling will require a bachelor's degree from an accredited institution and a level of creative experience, which doesn't necessarily have to be specifically in textiles or textile design. "We are really looking for a demonstrated passion and interest in creative pursuits from the candidates," suggested Weiss. Prospective students will also be asked to submit a portfolio of their work, a resume or curriculum vitae, as well as letters of recommendation. Decisions on acceptance will be made jointly by both Universities.
Value And Appeal Of Two Historic Textile Institutions
"The textile industry is obviously global," Collins said. "There are aspects of the industry that have local challenges and concerns. However, the vast majority of modern-day issues facing the textile industry are shared across the world, including sustainability, ethical practices and artisanal skills preservation."
"We view this program in a similar way to the 'farm to table' philosophy found in the restaurant industry," Weiss noted. "People increasingly want to know the provenance of their textiles as well. So, the textile industry is pivoting towards thinking global, yet living local in order to meet the changing attitudes of consumers globally."
There are numerous similarities between Jefferson and Heriot-Watt and their textiles and design programs. They each represent two of the world's oldest textile institutions — The School of Textiles and Design at Heriot-Watt was formerly the Scottish College of Textiles, while Jefferson's textile program was founded in 1884 as the Philadelphia Textile School. "The heritage and reputation of both institutions are widely known and highly respected," stated Collins. "Both have expert staff who provide high quality support for their students for undergrad and post grad. And both have amazing facilities including textile processing labs and testing facilities, excellent historical archives and fantastic links with the industry. Graduates will find themselves with an expanded network and a much more varied experience to draw upon post degree."
Differences between the two are subtle, but significant. Jefferson has better digital facilities and industrial machinery, while Heriot-Watt has prolific analog facilities and hand-weaving equipment. Given the different environments where each university is located, students also will be exposed to a variety of not only different cultures, but also industry networks. "There are so many great textiles globally. We hope to build on the legacy of both institutions with the arrival of this program and the international community it will foster," stated Weiss.
Earning a degree from two of the world's most prestigious and respected textile institutions can only provide a major benefit to the program's graduates as they enter or re-enter the workplace. The plan was to introduce the program for the 2019/2020 school year, but the COVID pandemic hit and postponed its launch. On the bright side, this allowed for more discussions on and fine-tuning of the program details, the meshing of institutional regulations into one cohesive program, and additional time to attract national and international students. Now, both Weiss and Collins are ready to get this program off the ground. "We're super excited for the opportunities it will bring to the students and to further connect our two schools," said Weiss. "It's going to be great fun!"
January/February 2023