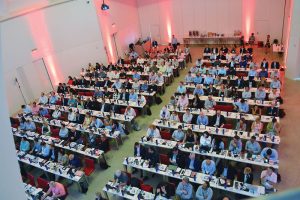 AAPN recently announced Lynsey Jones as transition advisor to assist Executive Director Sue C. Strickland and Managing Director Mike Todaro chart a course forward.
TW Special Report
First established in 1981 as the the American Apparel Contractors Association (AACA) by Don Strickland in Atlanta, today's Americas Apparel Producers' Network (AAPN) has adapted and innovated to become a significant network of diverse members that make up the apparel supply chain. Throughout its history, AAPN's leadership has acknowledged, adapted and led change initiatives facilitating the effectiveness of its members.
In One Word, "Change"
The evolution of AAPN, was, and is, largely driven by emerging technology, the changing structure of the industry, and the needs of its members. Technology was an early driver of AAPN's innovations.
"When I joined the association in 1987, there was a personal computer in the office without a hard drive, but we did have a really big floppy disk — about 8 inches square," said AAPN Executive Director Sue C. Strickland. "When someone called needing to know if we could give them the names of factories that made T-shirts, we fired up the computer, put the floppy disk into the A drive, typed in a lot of undecipherable characters in code form and we had a list!
"It wasn't too long before we could use another monumental breakthrough in technology — and actually fax this list to the caller."
Later in 1994, AACA members were listed on a dial-up database established in cooperation with Clemson University. That spring, Strickland started the "Fax On Demand Sourcing Hotline."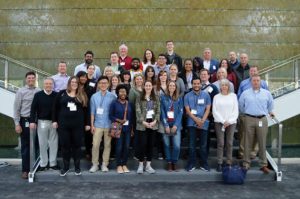 Enter Todaro
When AACA founder Don passed away unexpectedly in 1990, his wife Sue took over as the sole staff member. The organization was rapidly growing, and the demands quickly became more than one person could handle alone.
The future AAPN Managing Director Mike Todaro attended his first AACA meeting in 1994 in Perdido Beach, Ala. At the time, he worked for Manhattan Associates. In 1995, Todaro joined AACA staff in charge of marketing and technology.
The Emergence Of The Internet
AAPN's ability to leverage the latest technology at a pinnacle of technological change — the advent of the internet was significant.
In 1996, all AACA Members were listed on an internet-based network, which was an industry first, according to AAPN. "It gave customers immediate access," the association reported. "The internet was becoming as pervasive as the fax machine, at a much lower cost. E-mail began to gain acceptance, but it was a while before we could communicate with the entire membership using e-mail, but we made it clear that technology was a part of the AAPN."
NAFTA And The "Network"
In 1997, AACA changed its name to the American Apparel Producers Network (AAPN). Membership had dropped from 350 to 150 in two years largely because of the implementation of the North America Free Trade Agreement (NAFTA). According to AAPN, the name change was driven by committing to the internet, and taking hold of the word "network." It also felt the word "producer" was much stronger than "contractor." It meant factories, mills, spinning, trim and much more, including both brands and private label.
"We dropped 'contractors association' replacing it with the much more accurate and exclusive phrase 'producers' network,'" Todaro noted.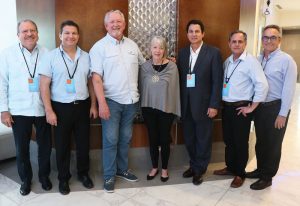 Continuing To Adapt And Change
AAPN needed to address the scope of change driven by evolving trade agreements and policy. In 2001, AAPN expanded its membership to include NAFTA, Caribbean Basin Initiative (CBI) and Americas producers.
According to AAPN: "We went regional. AAPN changed its mission from primarily 'sourcing' to 'networking' and extended full membership throughout the Americas to reshape the sourcing infrastructure of the hemisphere."
The early 2000s were prime time for developing meetings, roundtables and trips abroad. AAPN was holding meetings in Central America and the United States.
According to AAPN, by 2005, "AAPN became the first true global supply chain network. AAPN reached critical mass with one or more global players in every step and stage in the apparel supply chain 'from the dirt to the shirt.'"
Members' Needs
In 2013, AAPN became Americas Apparel Producers' Network, acknowledging the ties that had been built through the years throughout the Americas. Regional conferences, in addition to the annual meeting, grew in demand.
In 2018, the association launched the AAPN Carolina Mill Tour. Designed as a learning tour for brands and retailers, participants visit five Carolinas-based textile manufacturers over the course of a week to see the manufacturing processes up close and get some in-person education. "In April, we held our first ever AAPN Carolina Mill Tour in a packed bus," Todaro said. "The tour started and spent the day at Contempora Fabrics. Other stops included UNIFI, Parkdale, CCW [Carolina Cotton Works] and A&E. It was a spectacular success. We had several dozen staffers from a dozen brands and retailers."
The program continues to help demonstrate to brands and retailers a viable domestic apparel supply chain and the level of technology and investment domestic suppliers have made and continue to make.

Surviving COVID And Creating a Sourcing Center
The onset of the COVID impacted the industry tremendously. What was an essential worker, which businesses could stay open, and which needed to furlough workers? It was a confusing time. However, the country needed personal protective equipment (PPE) and textile companies wanted to help. AAPN wanted to help too, and launched an online Sourcing Center on March 22, 2020, available to its members. Within 10 minutes the center had its first post. By April 3, more than 10,000 users had viewed the center, with 3,500-plus registered users and almost 500 posts. AAPN opened its network to members and non-members alike to assist in sourcing PPE and PPE materials. Users were from every corner of the industry including members of other organizations serving the uniform, industrial fabric, nonwovens and equipment sectors, among other associations.
"In turn, word of mouth from AAPN members to their customers, articles posted in journals, and blogs and websites across the industry brought people into the exchange," Todaro reported. "Fortunately, AAPN was able to share a network that was already active with 200 industry organizations and some 1,600 people."
Todaro noted that the experience was one of the most ground-breaking validations of the power of trust-though-networking in the nearly 40-year history of the AAPN.
AAPN Looking Forward
AAPN adapted to the COVID and post-COVID environment — experimenting with virtual networking solutions and eventually organizing face-to-face meetings once again — and AAPN leaders Strickland and Todaro wondered what is next? They have decided this is an opportune time to chart a course forward for future AAPN leadership.
Finding the right person for the leadership role was no easy task. "AAPN is a unique 'no rules, no hours, no supervisor' radical business model," Todaro said. "We [Sue and Mike] are the staff. During our 28 years together, every project/event/ meeting/execution fell fully into our laps. So, we had to find someone tough, flexible, independent, always 'on', driven and passionate.
"Just as importantly, we needed a proven, respected, high profile industry veteran, with C-Suite experience, industry connections, a global perspective, supply chain savvy and street smarts  — in other words, someone smarter than us. We made a dream sheet list of potential candidates — all AAPN members of course — and began vetting them. We knew that the 'sum of the parts' of the two of us was unique, but we were also acutely aware neither of us had ever worked in the industry, had never 'walked the walk' of sourcing and production."
After this extensive search, AAPN was proud to announce that Lynsey Jones is AAPN's new transition advisor. She eventually will become the executive director of AAPN. "As Lynsey wound down her career at Carter's, taking time to transition out of Hong Kong and back on staff at Carter's with big plans and projects, we began to discuss her eventually replacing Sue and me," Todaro said. "The details quickly fell into place."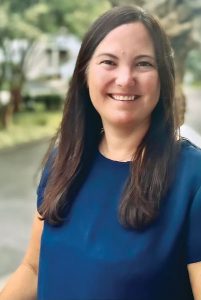 Lynsey Jones
Jones has had an extensive apparel career building on a formal education in textiles achieving a Bachelor of Science in Textile Technology & Apparel Management from NC State University. Jones also achieved a Master of Science in Textiles and became an ITT fellow.
Her career began at Abercrombie & Fitch, followed by 10 years in various positions at VF Corp. Jones' most recent assignment was as vice president, Global Sourcing Strategy & Transformation at Atlanta-based Carters Inc.
The Transition
A planned transition of two years will be supported by Strickland and Todaro who are excited to explore Jones' vision of membership growth, new unique value-add services, innovative programs, potential acquisitions and so much more.
"I am so humbled that Sue and Mike chose me to hand over the reins of their 30 years of hard work and dedication," Jones said. "Ever since I lived in Panama and concentrated on Western Hemisphere sourcing, I knew that it was a passion of mine to make the region a success. As a long-term member, I know that AAPN is the group that can make it happen because I've seen it time and time again! I am excited to blend my passion and vast experience to drive value for our membership."
"AAPN is not a job. It has been my life's mission for the past 32 years and I have been constantly amazed by our members' ability to roll with the punches and think about the good of the industry above all else," Strickland said. "Mike and I are beyond excited to have Lynsey coming behind us to continue our work. She brings new energy, expertise and some pretty exciting ideas with her. I can't wait to see what the future holds!"
September/October 2022