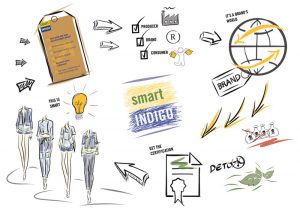 Nuevo Mundo selects Smart-Indigo™ technology from Sedo Engineering to reduce its environmental impact.
TW Special Report
Denim manufacturers in South America — the largest supplier of denim items to the Americas — are investing insustainable technologies. Peru-based company Nuevo Mundo is leading the way. The denim manufacturer will be the first South America-based manufacturer to abandon the chemical production of liquid indigo as it turns itself toward a sustainable technology.
Smart-Indigo™ is a disruptive new technology developed by Switzerland-based Sedo Engineering Ltd. The technology has a growing number of denim manufacturers counting on this unique technology to produce liquid indigo where the only waste product is oxygen. Smart-Indigo makes a huge difference in the denim world by using electricity instead of chemicals to produce liquid indigo for denim dyeing. The use of electricity instead of chemicals results in a process free of hazardous chemicals and one that emits 90-percent less carbon dioxide, and consumes 70-percent less energy and 30 percent less water at different stages of the process. This technology protects the environment, creates safer and healthier workplaces, and offers economical production. Approximately 20 installations are now producing sustainable liquid-indigo in countries like Pakistan, Bangladesh, Vietnam, China and Italy in addition to this first installation in South America.
"Until today the denim market and sales have been a price battle as you find in every country at least three to four big players, producing for the local market and as well for export," said Mr. Mayo, owner of Nuevo Mundo. "To enter the E.U. market and U.S. market so to improve exports we have to clean up the fabrics produced conferring a proper soul and history to be told to the brands and to the final users in order to differentiate and increase the real value of the twill we produce.
"Smart-Indigo is the technology that allows Nuevo Mundo to create a unique value starting from one of the two main components of the denim indigo twill — the indigo dye," Mayo continued.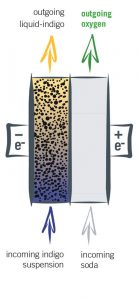 "Being cleaner, without using chemicals to dissolve it is the major step to decreasing environmental impact and the first step toward an ecological transaction that soon or later all the world will be forced to do, so being pioneers in adopting technologies confers more consciousness and more knowledge and experience having sooner return of investments and improving the sales," Mayo concluded.
The technology uses a completely new approach to liquefy the indigo powder. The electrochemical process consumes considerably fewer resources than existing methods. It uses only indigo pigment, caustic soda, water and electricity. In a fully automated process, the clean liquid indigo is produced, metered and fed directly into the dye bath. The Smart-Indigo solution is the most sustainable and independent way to dye denim, according to its developer and manufacturer Sedo-Engineering which comes from a group of textile and dyeing experts. Thus, in addition to the sustainability of the final product, the requirements of the manufacturer are also taken into account with many extras such as automatic washing processes and easy operation.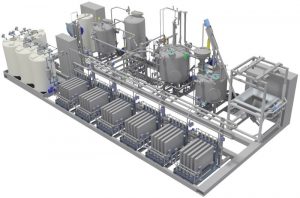 Producing denim items under such conditions gives every denim producer a key advantage in the continuously more sustainable textile world where consumers and thus, clothing brands, are driving the change towards sustainability. Additionally, these producers benefit from their own dye production on-site in a quantity according to their needs. This offers numerous advantages such as cost savings due to zero costs for chemicals or pre-reduced liquid-indigo, lower costs for water, energy and wastewater treatment, and of course independence from suppliers.
Today's consumers don't just shop anymore, they want to feel good about their choices. There is only one direction the textile world is heading, and that is towards sustainability. Brands, as well as manufacturers that change early in this direction, will be the winners of tomorrow. Thanks to pioneers like Nuevo Mundo who rely on new sustainable technologies, the change is being driven forward and the necessary interaction of planet, people, and profit is moving into the center.
July/August 2022