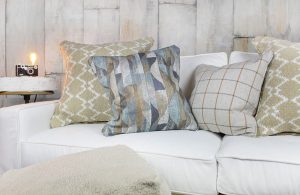 Staying up-to-date with predicted home furnishings trends allows Culp to make products that will be successful in the marketplace.
TW Special Report
Successful home furnishings textile companies understand that they are in a fashion-driven industry. It's an industry where designers must know what's trending in the world of fabric and décor. Additionally, they must also understand factors influencing the ways that homeowners utilize their living spaces. In business for 50 years, Culp Inc., High Point, N.C., is one such successful textile company.
Tammy Buckner, Culp Upholstery Fabrics senior vice-president of Marketing & Design for Residential Fabrics, and Donna Morrison, vice president and creative director, are closely involved with following trends to help inform the company's product decisions.
"We always stay up-to-date on the latest trends that are influencing consumer buying decisions and those are the catalyst for our innovation and product development strategy and direction," Buckner stated.
What follows is a look at spring 2022 trends.
Social Media Trend Predictions
With travel still limited, consumers are looking to social media for trend direction. Pinterest, Houzz, and even Tik Tok have become important sources for consumers looking to find new trends and styles.
With more than 400 million users, one of the biggest drivers of trends is Pinterest. Each season, Pinterest releases its design trend predictions. In 2020 and 2021, 8 out of 10 of Pinterest's predictions came true. Pinterest isn't just ahead of trends, it's also where trends grow the fastest and stick the longest. Pinterest trends increased about 56 percent in their first six months, while trends spotted elsewhere only grew about 38 percent during that same time.
Some of the trends Pinterest is predicting for 2022 include:
Curved Furniture — organic, flowing architecture with 360° views. It's not just the front of the piece of furniture that needs to be considered, but also the back and sides. Culp is working on fabric designs that feature one type of fabric on the inside and a second on the outside. This is in line with what consumers are buying right now.
Barkitecture — furniture for pets. This trend goes much further than pet beds. With people working from home during COVID, pets were in laps, in home office spaces, or beside their owners if they were working on the sofa. So, as consumers are redesigning their homes and buying new furniture, they are keeping this in mind. They want to make sure their furniture is pet friendly.
Biophilic Design — making the space inside the home feel like a retreat, an escape. This brings in everything from floral ceilings to live and artificial plants.
Lake it Till You Make It — nearby lakes are becoming more popular. People are choosing lake homes as second homes/vacation homes instead of beach homes because of the cost. In an effort to better manage their time, people are opting to travel closer to home for vacations and are choosing the lake instead of a long beach vacation. This is something Culp has kept in mind as it designs novelty and specialty fabrics. It's not all coastal, it's more vacation and escape oriented.
Approximately 40 million people per month use Houzz to search for renovation ideas. Some 90 percent of Houzz users are homeowners, and 72 percent are between 25-54 years old. Houzz is predicting three main trends for 2022:
Multiple window banks — people want to be able to see the outdoors. They want to let in natural light, and this goes along with the biophilic design trend noted by Pinterest.
Cozy outdoor areas — during the pandemic, people looked to make the most of their outdoor living spaces such as decks, patios and balconies.
Practical storage solutions — people are tired of seeing clutter at home and are looking for ways to hide the clutter. There is a surge in consumer demand for furniture with hidden storage solutions.
Tik Tok is a major predictor of trends, and the platform is growing at a fast rate. Whether or not someone is a Tik Tok user, the platform still has influence. Many how-to videos such as how to refinish a piece of furniture or a cooking demonstration, and many posts seen on Instagram — perhaps a showroom or home walk-through — are made on Tik Tok and released on other social media platforms, so much so, that it does influence how consumers are buying today. Tik Tok is predicting that it will reach 755 million users in 2022, with 60-percent growth in 2020 and 40-percent growth in 2021.
Tik Tok predictions for home furnishings include:
Sustainability — Users are discussing ways to reduce, reuse and recycle in many ways. Everything from buying used furniture at thrift stores, to buying items that are made from sustainable materials, and finding ways to reduce their carbon footprint.
Botanical — Similar to biophilic design, this trend pairs houseplants with soft textures in the home, incorporates natural woods and brings the outside in.
Grand Millennial — This term is a combination of grandmother and millennial. The trend focuses on younger people furnishing their first home who may have a collection of furniture that was given to them that they mix with more modern pieces of their own. Anthropology is a company that offers lots of spin on this style of decorating.
Cottagecore — Cottage style has not been seen much since the late 1990s, but the trend is reviving. Floral wallpaper, vintage furniture and natural wood are all becoming popular again.
Electric Nostalgia — A fun, upbeat trend where designers are using iconic textures and patterns from the 70s, 80s, and 90s.
A Trend Towards Casual
Home furnishings trends right now are going very casual. Instead of a lot of pattern, consumers are seeking more textures and mix-and-match in soft, relaxed, comfortable fabrics. There also is a desire that fabrics accent the natural elements brought into the home.
Some of the most important trends Culp is currently focused on include:
Curve Appeal — This trend is a result of growing interest from customers. It brings back some of the nostalgia of the past because these types of frames historically were seen in the 1980s and 90s.
Cozy — Now, more than ever, when choosing a fabric for Culp's line, it has to be soft and inviting. The hand has to be incredible. This trend is about naturals and layers of white-on-white, and bleached and natural woods for the pared-down home. It creates a modern and comfortable look that is growing. Much of Culp's current line was created knowing that this is something people are looking for right now.
Technology — There is a big technology trend seen in motion furniture, which includes frames with integrated workstations, Wi-Fi, surround sound speakers, remote controls, wireless charging units and lights, for example. All of this is combined with a movement toward a sleeker, more modern look in motion furniture. It's becoming more than just the over-stuffed recliners seen in the past. Hidden motion, where the frames don't look like motion frames, also is increasing in popularity. There are hidden footrests, hidden headrests, lumbar support and massage features. All of this combines so consumers can relax and watch Netflix as long as they want to.
Leather Alternatives — Culp produces many faux and vegan leathers. Consumers want material that will hold up to modern-day life with pets and activity. Culp's faux leathers are an ethical and sustainable option that performs better than leather. Faux leather also is much less expensive than real leather, making it a more affordable option for more consumers.
Pet Friendly Fabrics — Consumers are looking for upholstery fabric that can withstand pets, and also looks and feels good.
Performance Market Demand — Pre-COVID there was demand for performance fabrics, and the market was beginning to move toward that. But, COVID has exaggerated this whole movement. Culp has seen a lot of growth in this segment. Some consumers are remodeling, and some are buying furniture for the first time. There is demand for performance fabrics that are available at an affordable price. Previously, performance fabric was something obtained through a designer, or there was a $600 or $700 upcharge to obtain such fabrics. That's not really the case anymore, and consumers expect fabrics to work for their families.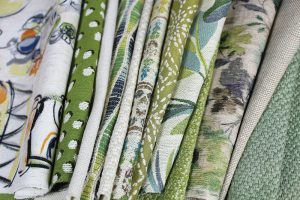 Fabric That Performs
The demand for performance fabrics is something that is driving a lot of innovations at Culp. The performance trend has given a huge boost to its LiveSmart® brand, which has been the company's premium brand for about five years now. Since its launch, the company has expanded different areas where it sees demand for performance fabrics. LiveSmart is cleanable, stain-resistant, water-repellent, and now also is fluorine-free. LiveSmart technology combines a performance fiber with a performance finish, so it gives the fabrics inherent durability and longevity. It's great for families with pets and children — people who use their furniture heavily every day.
The LiveSmart product line includes:
LiveSmart Washables — Keeping things clean became top-of-mind during the pandemic as most people stayed home. This is where the slipcover trend started taking off. Culp's LiveSmart Washables embraced this trend and many retailers are now adding slipcovers to their product lineup.
LiveSmart Outdoor® — Culp's LiveSmart Outdoor performance fabrics have become even more popular as outdoor living spaces become more important. The fabric can also be used indoors in areas such as dining rooms and children's rooms.
LiveSmart Evolve® — This is Culp's LiveSmart line with an added sustainability component. Fabrics are made using recycled water bottles. Sustainability is something Culp continues to focus on as a company, and the line continues to grow. The premise is to capture the water bottles before they enter landfills, before they enter waterways, and before they enter oceans.
Culp has offered LiveSmart Evolve fabric for more than three years now. Initially, there was some resistance. Some of retailers said it wasn't for them, that their customers didn't want to pay more for a "sustainable fabric" option. This attitude is something the company has seen a huge shift in lately. There is a bit of a disconnect going on between consumers and retailers. In the past, consumers liked the idea of sustainable fabrics, but they didn't want to pay more. Attitudes have now changed. Consumers are asking for sustainable options and are definitely willing to pay more.
The fact that 75 percent of people value sustainability over brand name is another big change. A lot of small companies, especially e-commerce companies focused on sustainability, are making a huge impact on customers, and customers want to spend their money with those retailers. Today, Culp sees consumers pushing retailers to be more sustainable.
One of the important factors Culp considered when creating its LiveSmart Evolve brand of fabric was traceability. Greenwashing is common — where companies say they are sustainable, but upon examination, they really aren't. Culp wanted to be sure it could trace the sustainability factor all the way through the supply chain. This traceability is something that Greensboro, N.C.-based Unifi Inc. offers with its Repreve® yarn. Each fiber is stamped with Unifi's U-Trust branding, which gives consumers and retailers a certifiable way to trace the fabric and prove that it is made with sustainable materials. This fiber enables Culp to certify every fabric it introduces.
Additionally, retailers now can include a certification number with their frames and anything they produce using these sustainable fabrics that the consumer can punch into the Unifi portal, and actually see the number of recycled bottles that went into their piece of furniture. This is a big step for the industry, and the consumer can really see the impact of their purchasing choice.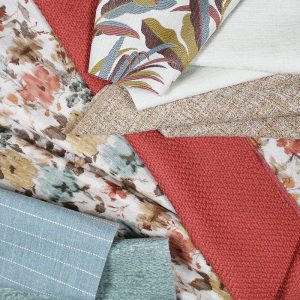 Making A Difference
To date, Culp has incorporated more than 86 million recycled plastic bottles into its LiveSmart Evolve fabric, which is an exciting innovation for the company and a step it is really proud of. Culp feels like this is a space where it can really make a difference and the company continues to grow its line.
Some Culp customers use exclusively recycled materials. They use recycled filling, biodegradable bags and recycled steel for the frames, for example. There are many manufacturers who focus on sustainability from beginning to end, from the process to the product they are making. Culp offers its LiveSmart Evolve fabrics in multiple price points to open up the marketplace and make its products available to consumers in all segments of the market.
"It has been a period of time in our business where there have not been many new products introduced at retail," said President and CEO Iv Culp. "You can see from our designers' perspectives that there is a lot of opportunity for us with new products. Sustainability and performance will drive the day, but what our designers can do with texture, color and merchandise packages there is a lot of upside to us as we look into some new roll-outs into retail. People have been so busy and so backlogged, that they haven't been focused on launching new items, but there is a nice trend of that heading forward that we're certainly motivated by."
May/June 2022