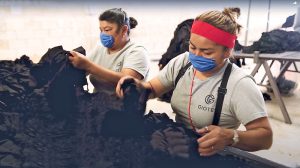 Accelerating Circularity is engaged in research and trials with the goal of making textile-to-textile recycling possible to reduce textile waste.
TW Special Report
Accelerating Circularity is a non-profit organization formed to transition textile supply chains from linear to circular to reduce textile waste and its detrimental impacts on the environment. The mission is to design and implement commercial systems where textile waste is repurposed as raw material through reuse and recycling and therefore no longer sent to landfills and incineration. Accelerating Circularity believes that spent textiles are too good to waste.
Accelerating Circularity Inc. was founded in 2019 by Karla Magruder with GAP Inc., Giotex, Gr3N, Lenzing, Target, Unifi Inc., and VF Corp. as founding members; and with funding from Gap, Target, VF Corp. and a grant from the Walmart Foundation. The Accelerating Circularity community believes it will take the cooperation of the entire industry to make meaningful change. The initiative is unique in its focus on developing the entire system required for textile-to-textile recycling. Investment in circular systems will be one of the tools allowing companies to meet their commitments on recycled inputs and greenhouse gas (GHG) reductions. In addition to founding partners, and trial team participants, Accelerating Circularity also convenes the Collaborating Organization's Group which includes:
American Apparel & Footwear Association;
Fashion For Good;
United States Fashion Industry Association;
Apparel Impact Institute;
Fashion Takes Action;
Secondary Materials & Recycled Textiles;
Textile Exchange;
Outdoor Industry Association;
Retail Leaders Association; and
Circle Economy.
Accelerating Circularity's vision is a world where textiles are in continuous use, the adoption of virgin materials is based on strategic limits and the industry has lowered environmental impacts.
Solving A Problem
Today, the textile industry generates enormous waste — the United States' municipal solid waste stream alone contains 16.9 million tons of textiles annually.1 Clothing under-utilization and lack of recycling are responsible for annual global economic losses of $500 billion.2 Less than 1 percent of used clothing is recycled into new materials.3
To mitigate these issues, the textile industry must become circular. The need to eliminate waste and reduce the need for virgin raw materials is essential to reduce planetary impacts in the areas of energy, chemicals and water. Textile waste must become the industry's new raw material.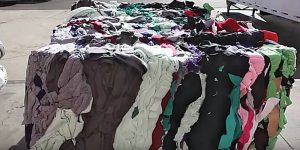 Focus And Process
Accelerating Circularity's initial focus has been on developing trials in the United States as well as the manufacturing belt in Mexico and Central America targeting and engaging textile networks used by U.S. brands and retailers. There is a separate Accelerating Circularity project for Europe.
The organization's process has been to:
RESEARCH existing systems for textile feedstock generation, collection, sorting, preprocessing, recycling, apparel & product development, and brands and retailer targeted circular products;
MAP existing systems and identify gaps;
MODEL new circular supply chain systems for textile-to-textile supply networks;
LINK the newly identified supply chain systems;
PILOT textile-to-textile supply networks at scale levels of approximately 10,000 units;
REPORT on all findings from research through piloting; and
DEVELOP TOOLS to facilitate future trials and expedite circular systems.
Research has revealed significant gaps and opportunities in the sorting and preprocessing of post-consumer textile waste in preparation for recycling. Post-industrial materials are typically sorted at the generating facilities.
Currently, a large part of post-consumer textiles in the United States is collected by the three largest thrift operators — Goodwill, Salvation Army and Savers/Value Village — along with collection bin operators.
Other collection channels include clothing drives, brand/retailer takeback programs, and online thrift operators using mail-in collections such as Thredup. Clothing not collected typically winds up in landfills through the municipal solid waste (MSW) stream. Because MSW collectors already handle so much of this material, they — along with the municipalities and local governments they serve — must play a future role in diverting it from incineration and landfill into our new textile recycling pathways.
The next step, sorting, has challenges that demonstrate a serious gap. Today, spent textiles are manually sorted into fractions tailored for reuse markets. Non-reusable items are sorted into grades for shoddy, wipers and mechanical recycling. Reduced sorting costs and increased accuracy of fiber detection are prerequisites to scaled circular supply chains for textile-to-textile recycling. This requires commercialized, automated sorting solutions as well as some workforce development opportunities.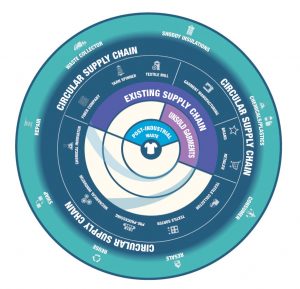 The fiber content and volume of collected material vary by season and location. Since individual recycler processes are specific when it comes to fiber and volumes there is a need for aggregation to meet each recycler's unique requirements. Because the capability for this step currently exists in some form by various actors already collecting and sorting spent post-consumer textiles, aggregation could scale quickly once there is sufficient demand.
Preprocessing of spent consumer textiles into recycling feedstocks includes hard part removal, print removal, sanitizing/laundering and right sizing. Today, little preprocessing is done for textile-to-textile recycling. It is a key gap and opportunity for development in order to scale spent textile recycling.
Studying The Issue
To focus on the social aspects of the circular economy, Accelerating Circularity commissioned research and prepared a white paper to define where more workers will be needed to collect, sort and process recyclables.
The Accelerating Circularity study indicates that the textile-to-textile recycling workstream may offer some longer terms strategic advantages that the reuse/resale marketing does not. For example, potential support for onshoring and growth of the existing workforce.4

Sorting is a critical function although today it is generally considered an entry-level, unskilled job with minimum compensation. At the same time, it is physically demanding. The reuse/resale market relies on intense sorting to generate income through the grading of reusable items. While some technologies are in development and can automate specific parts of the sorting process, they are not fully functioning. Many of those interviewed for the workforce study believe sorting will remain a combination of automated and manual labor.
Post-consumer textile collection has a workforce and an infrastructure development opportunity — to make the consumer donation of unwanted clothing more convenient and to maximize the diversion from landfills. Policy and legislation are critical to empowering job creation through the establishment of a circular economy. A 2020 study by the European Apparel and Textile Confederation (EURATEX) estimates that about 20 jobs can be created for every 1,000 metric tons of textiles collected, sorted and recycled in the European Union.5
Next Phase Of Trial Development
After extensive work mapping, modeling and linking potential circular value chains, Accelerating Circularity embarked on the next phase of trial development in the fourth quarter of 2021. The objective is to utilize post-consumer and post-industrial feedstocks for circular textile-to-textile processes available today at scale and in pre-commercial stages with output to fiber, yarn, fabric, and ultimately into products under the categories of fleece, towels, workwear, tees and denim. Targeted outcomes include the demonstration of the feasibility of circular textile-to-textile systems, collection of data on quality/aesthetic metrics and economic/environmental impact versus the production of virgin materials, and tool development to expedite the move to circular systems.
The scope and scale of the U.S.-based project trials include 12 unique recycled products in multiple yarn combinations and fabrics with the aim of manufacturing into a minimum of 10,000 product units per trial or through a combination of brand partners. Newly collected and presorted textiles, namely, post-consumer and post-industrial cotton and polyester feedstocks, have gone to recyclers and will be chemically and mechanically transformed into newly recycled fibers. These new recycled fibers will then be spun or extruded into cotton, polyester, poly/cotton, and Tencel™ Refibra™ blended yarns. Throughout, data will be collected on quality, aesthetics, and performance and detailed in future Accelerating Circularity reporting.
Moving Towards Circularity
These trials are at the forefront of the industry's move to circularity. It is the first time for a group to develop circular products at scale. Having the entire value chain from collectors, sorters, pre-processors, recyclers through to brands and retailers is critical to success. Everyone is pulling together with the goal of making textile-to-textile recycling possible.
"We are constantly learning as we move ahead with each stage of these trials," said founder and CEO Magruder. "Stay tuned for future Accelerating Circularity reporting as we intend to share the collected information and data from these scaled trials. The trial participants are essential to making this a successful endeavor. "
---
References:
1 U.S. Environmental Protection Agency. "Advancing Sustainable Materials Management: 2017 Fact Sheet." EPA website, 2017, epa.gov/sites/production/files/2019-11/
documents/2017_facts_and_figures_fact_sheet_final.pdf. Accessed March 10, 2020.
2 Ellen MacArthur Foundation, 2017, A New Textiles Economy: Redesigning
Fashion's Future, ellenmacarthurfoundation.org/assets/downloads/publications/
A-New-Textiles-Economy_Full-Report_Updated_1-12-17.pdf. Accessed 2020.
3 Ibid.
4 Organization for Economic Cooperation and Development (OECD),
Labor market consequences of a transition to a circular economy (2020)
5 EURATEX, ReHubs: A joint initiative for industrial upcycling of textile waste &
circular materials (2020)
---
May/June 2022