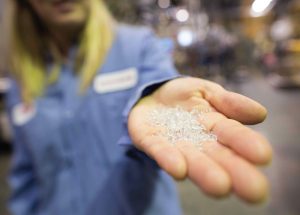 The textile industry continues to expand with new products, plants, equipment and activity in mergers and acquisitions.
TW Special Report
Following last year's textile investment roundup feature story, continued industry investment and merger and acquisition activity is still filling the news. A quick count of press announcements on TextileWorld.com's "New Plant and Equipment, M&A" news section yielded almost 300 postings over the past 12 months. Sectors including apparel, bedding, floorcovering, traditional textiles, nonwovens and technical textiles all saw investment, expansion and innovation activities — with sustainability and interest in Central America featuring heavily in the investment activities.
Hot Topic: Sustainability
Building on its January 2021 announcement of a $250 million investment in plastic-to-plastic molecular recycling facilities at its site in Kingsport, Tenn, Eastman Chemical Co. announced the company's plan to invest up to $1 billion in a material-to-material molecular recycling facility in France. According to the company: "This facility would use Eastman's polyester renewal technology to recycle up to 160,000 metric tons annually of hard-to-recycle plastic waste that is currently being incinerated. This multi-phase project includes units that would prepare mixed plastic waste for processing, a methanolysis unit to depolymerize the waste, and polymer lines to create a variety of first-quality materials for specialty, packaging, and textile applications."
"The plan to build the world's largest plastics recycling facility in France is an important part of our overall circular economy strategy," said Eastman Board Chair and CEO Mark Costa. "Today's announcement is a key milestone towards our commitment, and we expect to achieve additional milestones in the coming months, including agreements related to securing the plastic waste that will be raw material supply, securing government incentives, and the site location decision."
West Sacramento, Calif.-based Origin Materials Inc. announced plans to invest at least $750 million to develop a biomass manufacturing facility in Ascension Parish, La. According to the company: "The plant in Geismar will utilize sustainable wood residue — sourced partly from Louisiana's timber mills and managed forests — to produce plant-based polyethylene terephthalate (PET) used in packaging, textiles, apparel and other applications. Hydrothermal carbon, which can be used in fuel pellets, also will be produced at the site."
Textile innovations company Evrnu, Seattle, raised $15 million in its Series B financing to scale and meet the surging demand for its fiber regeneration platform, NuCycl — a depolymerization technology for textile waste. "Over the last few years, we have iterated and fine-tuned NuCycl technologies to meet and exceed the quality and performance demands of the luxury industry," said Stacy Flynn, CEO and co-founder of Evrnu. "We are now proving these technologies at scale, with short-term plans for global expansion."
MycoWorks — an Emeryville, Calif.-based biotechnology company that specializes in mycelium-grown materials for use as sustainable leather alternatives — announced plans to establish operations in Union County, S.C. The $107 million investment will create 400 new jobs. MycoWorks' products, such as Reishi™, mimic the performance and luxury quality of animal leathers, while reducing the environmental impact. According to the company, its patented Fine Mycelium™ process produces materials that offer creative solutions and new design possibilities for fashion and luxury brands.
Well-Established Firms March Forward
In early 2022, Mount Vernon Mills announced that it agreed to acquire Wade Manufacturing Co.'s yarn spinning and weaving facility located in Rockingham, N.C. With the acquisition, Mauldin, S.C.-based Mount Vernon Mills will be vertically integrated from yarn production to finished fabric in certain products. "The Rockingham facility is a modern, cost-efficient operation with an experienced and stable workforce, making it a great fit as we increase the amount of control that we have over our yarn supply, weaving operations and overall costs," said Bill Duncan, CEO, Mount Vernon Mills. "We are also proud to expand our footprint in the U.S. and build upon our made in America commitment and heritage."
Also in early 2022, polyester staple fiber manufacturer Fiber Industries LLC announced plans to invest $30 million to expand its operation in Darlington, S.C. The investment includes increased capacity through upgrades and modernization of production lines such as the addition of state-of-the-art control systems, as well as increased warehouse space. "We are excited about the continuing growth of our facility which is now even better positioned to serve the needs of the American textile industry," said Fiber Industries CEO Don Bockoven. "We also are proud to be part of the wider effort to reshore jobs and bring textile manufacturing back to the USA."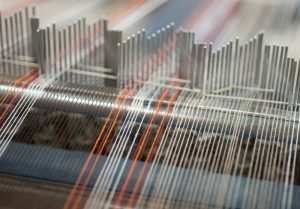 Glen Raven, N.C.-based Glen Raven Inc. continued its multi-phase investment program with the announcement of an expansion of its Custom Fabrics operations with an investment of up to $82 million in Norlina, N.C. Glen Raven later announced a $70 million investment plan to expand operations for its custom fabrics division in Anderson County, N.C. Glen Raven has operated in Anderson County since 1986, and is widely recognized for its global brands including Sunbrella® and Dickson®.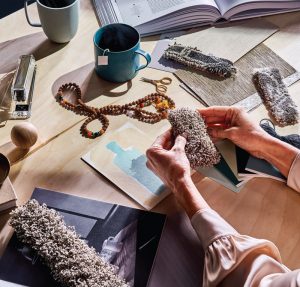 Focus On The Home
Multiple floorcovering operations expanded in the recent past. Dalton, Ga.-based Shaw Industries Group Inc., a global flooring provider, announced plans to expand its operations in Aiken County, S.C. The approximately $400 million investment will create more than 300 new jobs at the manufacturing facility which creates fiber used to manufacture residential carpet. According to the company, this location currently employs more than 600 associates and the expansion will increase the company's manufacturing capacity and support future growth for new products.
Sherrill Furniture Co., a manufacturer of high-end furniture, will invest $2.9 million to open a new custom upholstery production facility in Conover, N.C. Founded in Catawba County in 1945, the company has maintained its legacy of manufacturing high-quality custom furniture in America for more than 75 years. According to Sherrill, its custom upholstery and case goods portfolio includes nine furniture brands for retailers and interior designers in all 50 states. "Backlogs within the furniture industry are at an all-time high," said Sherrill President Thad Monroe. "We are 100-percent focused on substantially reducing lead times for our customers and are willing to invest heavily to more quickly fulfill orders of our USA-made products."
Investing In Central America
In December 2021, Vice President Kamala Harris announced significant multimillion-dollar investments by Parkdale Mills and six other companies into Central America.
According to a press release from the Washington-based National Council of Textile Organizations (NCTO): "Vice President Harris, who is overseeing diplomatic efforts with El Salvador, Guatemala, Honduras, and Mexico, announced several private sector commitments to strengthen economic opportunities in the Northern Triangle … Gastonia, N.C.-headquartered Parkdale Mills, one of the largest manufacturers of spun yarn and cotton consumer products in the world, will make a multi-million-dollar investment in a new yarn spinning facility in Honduras and make an additional substantial investment to support existing operations in Hillsville, Va. This investment will help customers shift 1 million pounds of yarn per week away from supply chains in Asia and China and enhance U.S. and CAFTA-DR co-production resilience and increase regional product offerings. Parkdale's announced investment will create hundreds of jobs in Honduras and further support hundreds of employees in Parkdale's Hillsville operations."
"Parkdale's investments will support good paying jobs in the United States and in the Central American region and significantly increase our extensive product offering and capacity, including the production of sustainable specialty yarns," noted Parkdale's Chairman and CEO Anderson Warlick.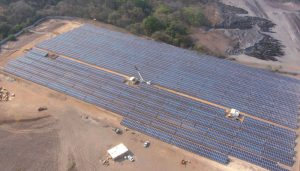 Miami-based Intradeco Holdings announced investments of more than $100 million in Central America to make the most of the CAFTA-DR and nearshoring opportunities, advance full circularity, and expand solar power with three major projects. Its first project is the Central American Spinning Works, a state-of-the-art ring spinning mill in Honduras that began operations earlier this year. The second project is the creation of a manufacturing plant in El Salvador that uses 100-percent recycled yarns — both cotton and man-made fibers. A third project will allow the company to expand its solar energy power to attain 30 megawatts by the third quarter of 2022. "[Our] announcement is consistent with our 40 years of innovation and service which comes with being an integral part of the textile, apparel, and retail industries," said Intradeco Chairman Felix Siman. "With our comprehensive distribution channels and state-of-the-art supply chain, we can reach our customers in an efficient and cost-effective manner in the shortest time possible. Intradeco is a founding member in The HUGE (Honduras, USA, Guatemala, El Salvador) Business and Investment council. Through these investments, our company is helping to create more than 1,000 jobs in Central America, while contributing to the region´s environmental sustainability objectives."
Investing In Sleep
Sleep products saw tangible interest in the recent past with much of the new investment focused on South Carolina. Somnus Mattress International LLC, a manufacturer of hybrid memory foam mattresses, announced a $13 million investment with plans to establish operations in Blacksburg, S.C. The operation will manufacture mattresses to serve clients across the United States.
Founded in Turkey in 2006, BRN Sleep Products, a premium manufacturer and supplier of bedding products, announced an investment of more than $4.3 million to establish operations in Orangeburg County, S.C. The company specializes in manufacturing and assembling mattresses and bases; as well as marketing, distribution and sale of bed products. "We are beyond excited for the opportunity to invest in both South Carolina and the United States," said BRN Sleep Products Owner Berna Gözbaçi. "We look forward to growing with Orangeburg and the surrounding communities." S.C. Secretary of Commerce Harry M. Lightsey III stated, "Foreign direct investment is a crucial element of South Carolina's business environment, and we are excited that BRN Sleep Products has joined the roster of international firms that have decided to call South Carolina home."
Columbus, Ohio-based wholesale mattress company Solstice Sleep Products Inc. announced plans to establish operations in Marion County, S.C. The facility — its sixth new manufacturing facility opened in the past 10 years — will increase the company's capacity to meet growing demand for its Jamison brand mattress and foundation sleep products throughout the Southeast. "We are proud to work with the state of South Carolina and Marion County to expand our base of operations throughout the Southeast!" said Solstice Sleep Product President Dennis Straily. "Marion, S.C., will help us secure our long-term growth plans with our dealer base and meet their growing business demands."
Established in 2021, APEX Mattress Manufacturing Inc. announced an investment of more than $1.9 million to establish its first manufacturing operation in Walterboro, S.C. "APEX Mattress Manufacturing Inc. is delighted to announce the presence of our first U.S. mattress manufacturing facility in Walterboro, S.C.," said President Jack Hung. "Through our comprehensive strategic planning and study, South Carolina offers the best climate for new business, and Colleton County offers the best location for being close to both the Charleston and Savannah ports."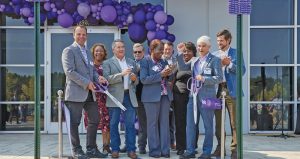 Lehi, Utah-based Purple Innovation Inc. recently celebrated the grand opening of its newest manufacturing facility in Henry County, Ga., located just 27 miles south of Atlanta. "Georgia has been our second home since we chose the state to build our largest manufacturing facility," said Purple's CEO Joe Megibow. "We're thrilled to mark this occasion … and celebrate the success we've accomplished thus far in already bringing more than 400 jobs to Georgia." Purple's ribbon cutting comes on the heels of the company's recent joint announcement with the State of Georgia to expand operations in the area and add more than 500 new jobs over the next two years. This expansion will also include a customer care center slated to open in the spring of 2022.
Mattress manufacturer and retailer Brooklyn Bedding officially broke ground on a new state-of-the art manufacturing facility and corporate headquarters in Glendale, Ariz. The 648,165-square-foot building will be located on 42.8 acres. The new manufacturing facility and corporate headquarters will merge the capacity of both the company's current factory and warehouse. The investment of more than $72 million is intended to make Brooklyn Bedding almost 100-percent vertically integrated.
Waterford, N.Y.-based Soft-Tex International, a producer of bedding and home comfort products, announced that it has opened a new facility in Sugar Land, Texas, which will double the company's production capacity for fiber-filled products. Soft-Tex Principal, Mark Smiderle, remarked on the opening of the Sugar Land and the company's commitment to domestic supply chains noting: "As promised, Soft-Tex has delivered and now continues to expand upon its commitment to growing its domestic footprint. These efforts will continue to improve Soft-Tex's, and in turn, our partners' overall service quality, speed, and costs, which we recognize is critical to driving continued growth." Soft-Tex launched initiatives to shift volume for many other bedding product categories back to domestic and/or nearshore supply chains.
Technical Textiles And Nonwovens
Avgol® America Inc., an Indorama Ventures Ltd. company, recently announced a partnership with YanJan USA LLC to deliver exclusive apertured nonwoven product offerings to the North American market. "This is an exciting partnership for our companies," said Ronnie Batchler, vice president Americas Region at Avgol. "The spunbond 'precursor' material will be specifically designed to meet customer specifications and deliver optimum performance. Aperturing of the spunbond will then give the nonwoven material additional unique attributes, such as improved physical performance and aesthetic appeal."
North Chesterfield, Va.-based Verdex recently reported that it has secured financing to scale its proprietary nanofiber technology and complete a commercial manufacturing facility located in Richmond, Va. According to the company, the investment follows 10 years of development activities for its unique functionalized production technology capable of producing a wide range of advanced nanofiber products. "One of the most unique abilities in The Verdex Process® is our ability to customize and functionalize our nanofibers," said Damien Deehan co-CEO at Verdex. "This allows Verdex to incorporate particles into the fiber matrix to target specific challenges and problems in multiple industries to create game-changing products."
Spunlace products manufacturer Fibertex Nonwovens Inc. announced an investment of more than $49.5 million to expand its operations in Grey Court, S.C. The expansion, which will add 39 jobs, includes a second spunlace production line for rolled nonwoven fiber products. Fibertex also acquired an 84-acre industrial plot adjacent to the company's existing facilities. The expansion is expected to be completed by 2023.
Mountainside, N.J.-based Gusmer Enterprises Inc., a manufacturer of filtration and fermentation products, announced $26.5 million investment to build a production facility in Hickory, N.C. A family-owned company for almost 100 years, Gusmer's products are used in a variety of industrial and commercial applications. The new 135,000-square foot manufacturing facility is Gusmer's third plant, and it will support the production of filtering devices for liquids including COVID-19 treatments.
Emigsville, Pa.-based Herculite Products Inc., a manufacturer of high performance and custom fabrics, announced it has acquired the Laminated Fabrics Division of Burlan Manufacturing LLC. According to the company, this acquisition strengthens Herculite's position as a global leader in high performance reinforced textile composites. Later in the year, Herculite announced it completed the second phase of a multiyear strategic investment into its facilities adding significant additional capacity. Herculite's multiyear, multi-million-dollar investment is focused on strengthening its position as a global leader in high-performance reinforced textile composites by increasing production capabilities, expanding manufacturing capacity, and improving organizational efficiency. The recently completed phase was specifically focused on increasing manufacturing capacity at its Emigsville, Pa., facility. This additional capacity has allowed Herculite to further grow its U.S.-based workforce, achieve record fabric production levels and respond to the historical and unprecedented demand across all Herculite product lines.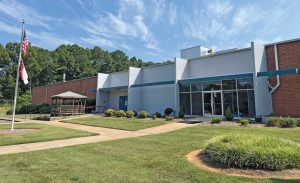 Totowa, N.J.-based Precision Textiles made several significant announcements in the past year. The company signed a lease for a new 160,000-square-foot, 25-acre campus in Troy, N.C., which is its first domestic manufacturing facility outside of its New Jersey headquarters. The new plant is expected to be operational by September 1 and will employ 100 people, all from the local area. It will double the manufacturer's needlepunch nonwovens production and boost its high-loft quilting fiber output by 50 percent "Demand for these products has risen to the point where we are near full capacity at our home facility in New Jersey," said Scott Tesser, CEO of Precision Textiles. "In addition to keeping pace with current demand, this investment positions us for future growth as we continue to expand our customer base in the bedding and automotive industries." Precision also recently signed a lease for a 50,000-square-foot manufacturing and distribution center in Phoenix, Ariz. that employs 35 associates and serves its customers throughout the western United States.
Apparel Investment
Cincinnati-based TSC Apparel relocated its Fullerton, Calif., operation to a larger, state-of-the-art 125,000-square-foot distribution center in Moreno Valley. The new facility is the latest development in an expansion effort that began in 2017 with a 100,000-square-foot distribution center in Houston and 135,000-square-foot DC in Philadelphia. In 2018, TSC also added a 200,000-square-foot distribution center in Cincinnati.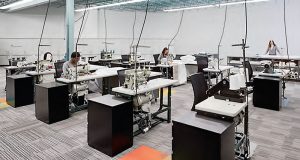 Cincinnati-based based Standard Textile Co. Inc. announced an investment of more than $15 million to expand operations in Union County, S.C. "In addition to meeting growing demand, this expansion allows us to create a state-of-the-art rapid prototyping center for the development of innovative products and a showroom to share the company's innovation history and unique products," said Bradley Fry, COO and CFO. The company partners with industry leaders to create products and services that solve the unique needs of the healthcare, hospitality, interiors and home markets.
Denver, Colo-based VF Corp. announced the investment of $10.2 million to grow its Martinsville, Va., operation. The company will use its 500,000-square-foot facility in Martinsville to increase distribution capacity to deliver products to its consumers faster. "VF Corporation has thrived in Henry County for nearly 20 years, and we are thrilled to see the company continue to invest in the Commonwealth," said Governor Northam. "Virginia's strong outdoor recreation economy supports the growth of companies like VF Corporation. We look forward to the company's continued success here in the Commonwealth as our ecotourism industry grows." "We've proudly operated our distribution center in Martinsville for 18 years and we know that continuing to invest in Martinsville is the right choice given its location and committed employees," said Cameron Bailey, executive vice president, Global Supply Chain, VF Corp. "The planned investments in this facility, from enhanced technology to improved distribution equipment, as well as the 82 new full-time positions, will help deliver our products to our consumers in a more efficient and prompt manner."
Through one of its wholly-owned subsidiaries, Montreal-based Gildan Activewear Inc. acquired 100 percent of the equity interests of Phoenix Sanford LLC — the parent company of Frontier Yarns — for a total cash consideration of approximately $168 million. Frontier produces 100-percent cotton, polyester, and cotton-blend yarns primarily manufactured on open-end and vortex spinning technology. Gildan acquired four Frontier facilities located in North Carolina that employ approximately 800 employees. During 2021, approximately 40 percent of Frontier's production was dedicated to yarn sold to Gildan for textile manufacturing in Central America and the Caribbean. The Frontier acquisition will allow Gildan to build on its global vertically integrated supply chain by further internalizing yarn production. In addition, the purchase will support yarn availability for Gildan's textile capacity expansion plans in Central America and the Caribbean.
Charlotte, N.C.-based clothing and apparel company Citadel Brands LLC announced an investment of more than $7.5 million to establish operations in Kingstree, S.C. The company specializes in promotional clothing and apparel. Citadel Brands' new operations will increase distribution capacity and promote future growth for new products and brands. The Kingstree facility is expected to be operational in June 2022.
LT Apparel Group announced an expansion of operations in North Carolina with an investment of at least $57 million in Greensboro, N.C. Headquartered in New York City, LT Apparel designs, sources, manufactures, and markets children's apparel. The company's family of brands includes adidas Kids, Carhartt Kids, and its own brand French Toast — a prominent schoolwear brand for kids. The company will maintain its design center in Greensboro as it adds new capacity and warehousing space in the city.
New York City-based Ferrara Manufacturing — a family-owned apparel manufacturer that partnered with Ralph Lauren to create the U.S. Olympic and Paralympics uniforms from 2014-2022 — recently announced the launch of Ferrara Uniform. Ferrara Manufacturing produces garments worn on the runways of New York and Paris, as well as clothing worn by American Olympians and the U.S. military. Located in Manhattan's Garment District, Ferrara Uniform is a new division of the company focusing specifically on uniforms made in the USA, and led by Gabrielle Ferrara, the COO at Ferrara Manufacturing and daughter of founders Carolyn and Joseph Ferrara. The mother-daughter team of Gabrielle and Carolyn aim to be an innovative force in the industry and have developed a proprietary custom-fit technology designed to dress women of all shapes and sizes. The company continues to grow, and with a recent expansion to a facility in Long Island City, Ferrara Manufacturing plans to continue increase in capacity and hiring more employees.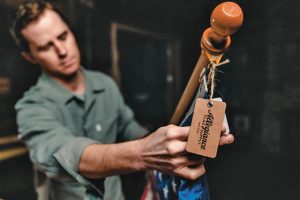 Editor's Choice
Not every investment in U.S. textiles needs to be in the tens of millions of dollars to be impactful or symbolic of what it means to be a member of the U.S. textile industry. When reviewing the many investments made over the past year, one stood out. Allegiance Flag Supply, a producer of American flags, announced plans to expand operations in North Charleston, S.C. The company's $1.2 million investment will create 25 new jobs. Founded in 2018, Allegiance Flag Supply utilizes American-sourced materials and seamstresses to produce high-quality flags that can withstand outside elements. The company's expansion will consolidate its operations to include a self-sustainable sew shop and distribution center which packages and ships products across the country.
March/April 2022