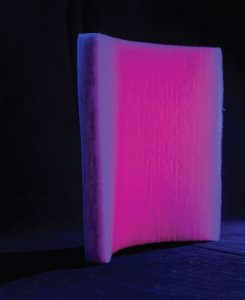 The strength of 440 years of history at Piana Technology inform and support the company's future.
By Rachael S. Davis, Executive Editor
Piana Technology is owned by the Piana family — a family that got its start in the textile business in 1582 and is recognized in Italy as the oldest textile family.
In 1995, the family established a dyehouse in Cartersville, Ga., named Tintoria Piana. The business focused on dyeing cotton apparel for U.S.-based producers. As garment manufacturing waned in the United States in the early 2000s, so did Tintoria Piana's business. Realizing the company needed to take a different path, the company's CEO Andrea Piana worked with some technology partners and began producing fire-retardant fibers for the bedding industry. "With patented ecological manufacturing technology, the company initiated a path as an R&D company by adding value and performance to fibers," said Andrea Piana. "The shift toward focusing on sustainability and becoming a technology company as much as a textile company guides a lot of our work today."
This shift lay the groundwork for a period of rapid growth for Piana in the United States. One fiber treatment facility in Cartersville has grown to four facilities, and the company also operates a plant in San Luis, Ariz. Piana Technology comprises two fiber treatment facilities, two nonwoven facilities and one digital printing facility for nonwovens that are all privately held by the Piana family.
"Our rich history as a family business, which we continue to be, is a driving factor in our ideals and values," Piana said. "We know that continued innovation is the key to our growth. As a company, we have the strength of 440 years of history behind us, and the road to becoming a powerhouse ahead of us."
Today's Product Portfolio: Fiber Treatment
As an advanced performance fiber treatment business, Piana's original U.S. dyeing company now specializes in dyeing and applying chemical treatments to all types of natural, man-made, and regenerated and recycled fibers. Fire retardant, dyed, bleached, cationized, antimicrobial and scoured are just some of the current fiber treatment capabilities offered by Piana.
Sustainable manufacturing is important to the company, and it owns patents for environmentally sustainable application methods. Piana's FR application process was developed to allow the FR chemistry to fully penetrate the fiber for even distribution. The chemistries used are non-toxic to humans and the environment, and chemistry is recycled so none is released into the environment during manufacturing. Piana also developed SaveDrop® cotton dyeing technology — a process that reduces energy consumption by up to 75 percent and water consumption by up to 90 percent. Piana reports that the cationic cotton absorbs the anionic dyestuffs in the SaveDrop process almost completely, and rinse water can be used for the next dye bath.
"Our ecological, closed-loop fiber treatment process was the key to our transition from textiles to technology, and allowed us to shift focus wholly to smart, sustainable technology," Piana said. "The technologies we're debuting now — upgradeable, circular-economy-driven textiles, digitally printed molecular chemistries, embedded biomarker detection — have the potential to change how we view our relationship with the environment around us, from mattresses to smart cars to yoga mats and everything in between."
Today's Product Portfolio: Nonwovens
At its nonwoven plants, Piana produces fire-retardant fibers and barrier fabrics for bedding using carded and thermal bonded nonwoven technology. The company also offers vertically lapped and crosslapped products.
The Piana Vertical Technology process laps a fiber web vertically instead of in the traditional horizontal format using crosslappers. According to the company, this process is unique and offers a true upright fiber orientation in the nonwoven, which provides benefits such as higher compressional resistance, greater thickness, and the potential to produce lighter nonwovens with properties equivalent to heavier traditional crosslapped products. Other benefits of the process include:
Flexibility and composite formation;
Superior acoustic performance and thermal dynamics;
Precise and repeatable fabric uniformity;
Excellent moldability;
Structural integrity.
According to Piana, this vertically lapped nonwoven material behaves in a way that is similar to memory foam, changing shape to match an object it comes into contact with. This differs from a conventional nonwoven, which typically concentrates pressure at the center of the contact point (See Figure 1).
The process can accommodate a variety of natural and man-made fibers as well as high-tech and luxury fibers; and the products are marketed under two brands — IsoActive™ and V-Smart™. Applications for Piana Vertical Technology nonwovens are wide. IsoActive applications include apparel insulation, agricultural mats, filter media, and burn gauze and bandages; while V-Smart applications focus on automotive acoustic material, bedding tops and polyurethane foam replacement, seat cushions, and interior sound proofing and design applications.
Piana Cross Lapping Technology stacks single or dual carded layers of fiber web to produce a nonwoven available in a variety of thickness and basis weights depending on the application. The process may also incorporate Piana's high-performance treated fibers to add flame retardant or antimicrobial properties in a unique and inexpensive way.
New Discoveries
Most recently, Piana Technology introduced E/SMART nonwovens. This entirely new vertically oriented high-loft nonwoven fabric is made using a new molding technology developed by the company. "This technology was discovered as much as it was developed by 'accident' in house while we were experimenting with how to best utilize our steam molding technology," Piana said. "Now, we believe it is the future of sustainable molding and we're on the road to replacing polyurethane foam entirely, with a sustainable, accessible and reusable alternative. The innovative fiber molding technology represents one of our greatest technologies of the future and will be exploited across many verticals and markets.
"There is no future without building sustainability into all of our products — it's a core part of why we exist," Piana continued. "With our new molding technology, we want to ensure all E/SMART products sold will eventually come back to us at the end of their life so we can recycle and upcycle them. None of this material should ever see the landfill, there is no need to dispose of it. The process must be fully circular and traceable, otherwise we're not making a positive impact. People deserve to know — and are increasingly interested in — what steps companies are taking toward truly sustainable practices."
Research & Development, Team Effort
As Piana Technology shifted towards technology and sustainability, the company understood the value and need for high-level, nimble research and development efforts. Often, new product ideas are generated by the companies need to solve problems, as well as Piana Technology's creative and flexible nature. "We spend more on R&D than most companies several times our size, as we know this is how we will bring uncommon solutions to common problems," Piana said. "We believe that our customer's problems will be solved by our innovations. Most work is done under non-disclosure agreements, and a lot of folks who haven't heard of Piana or the technologies we're creating are using the technologies in day-to-day applications."
The company's team also contributes in a large way to the company's past and future growth. Piana noted that the distinctive backgrounds of its team members keep the team open to ideas and ensures the company always delivers. "We are a very diverse family at Piana and we believe in inspiring the best talent to perform at peak," Piana said. "We always strive to provide people the opportunities to do things they never thought possible and because of that, we've assembled a team who have been able to grow and change with the company over time.
"New technologies don't get developed in a vacuum and the myth of the genius founder is exactly that, a myth," Piana said. "Input at all levels of the company influences the work we do and is the reason we've been able to discover new materials and processes over the years."
New innovations are also moving Piana Technology closer to the business-to-consumer space. "Currently, we aren't actively promoting any other brands — we've focused on partnerships where we can introduce sustainability and groundbreaking technologies where you least expect it," Piana said. "We announced our technology at the CES® trade show this year, talking about it publicly really for the first time. We've been advancing textile technology for years behind the scenes, but we're gearing up to launch a sustainable,, interactive customer-forward platform that has been in development for years."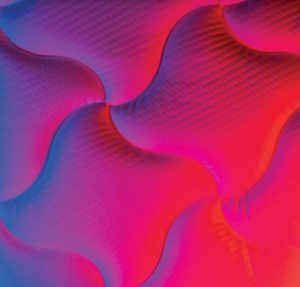 Future Outlook
The U.S. market is critical to Piana and represents more than 95-percent of its total revenue.
According to Piana, the COVID-19 pandemic exposed U.S. manufacturing as a great need that has been neglected and undervalued. "If we do not start building our manufacturing capabilities again, shame on us as we may not be so fortunate next time we encounter such dire circumstances," he said. "The COVID-19 pandemic has taught all of us some lessons. It does not matter that there are supply chain issues, there is always a way to work through every issue we face. We struggled with COVID-19 cases, labor issues and supply issues, but we never stopped iterating and making progress. Despite setbacks, we hit some major milestones in 2020 and 2021, during a time that could have easily been disastrous."
Transformed into a technology company with sustainability and research at its core, Piana Technology looks to continue its success as a family business. "While we have our hands in a lot of different sectors, our core value proposition is simple: Eliminate polyurethane foam from all consumer products," Piana emphasized. "Most manufacturing companies are concerned with product creation above all else, but we start with sustainability and work backwards from there; if we're not improving our daily lives while saving our planet, why focus on new technologies at all?"
Piana Technology looks forward to the proliferation of E/SMART materials in the marketplace — both in new products set to debut soon, and also embedded as technology in existing products such as smart car seating and mattress toppers.
Piana concluded: "Our vision is to create a circular economy platform, and the work we're doing that we can't quite talk about yet … it's all very exciting!" Very exciting indeed.
March/April 2022