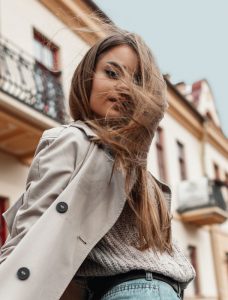 A recent report compiled by Lectra used Retviews automated benchmarking solution to examine successful strategies in a changing fast-fashion industry.
TW Special Report
In a changing fashion industry, consumer expectations and priorities are shifting, and new opportunities are emerging, driving leading brands to innovate. Factors such as the growing prominence of digital channels, supply chain disruptions and increased social and environmental mindfulness, are shaping the industry's future. Taking this into consideration, how are leading brands keeping up with the evolving industry and staying ahead of the competition? Two giants, ZARA and H&M continuously lead apparel retail and have successfully bounced back following the global pandemic.
Zara's parent company Inditex recorded net sales of 11.9 billion euros ($13.2 billion), nearly 8.5 billion euros ($9.4 billion) of which originated from Zara alone, in the first half of 2021. The Spain-based company's most recent collections even showcased a sales increase 9-percent higher than its 2019 pre-pandemic levels during the same period.
H&M Group, parent company of H&M also moved towards a return to pre-pandemic levels in 2021, with a fourth quarter sales increase of 8 percent in comparison to the same period during the previous year, standing at a sales value of over 5.5 billion euros ($6.1 billion).
Considering both brands' continued success within an industry where "fast fashion" is widely criticized and where consumers are increasingly concerned about the sustainable aspect of their purchases, how have ZARA and H&M adapted their strategies?
Investing In Quality
ZARA has differentiated its strategy in the past year and has ventured into the introduction of higher end, premium collections such as its Studio Collection or the launch of "ZARA Origins," its premium concept collection. Partnerships have also been a part of the brand's strategy this year with its popular limited-edition collaborations with Dutch collective Kassl Editions and South Korea-based streetwear brand ADER Error.
As consumers are gravitating towards investing in timeless and versatile pieces, the Spanish brand increased the share of premium collections and pieces in its assortment by 17 percent throughout 2021, far more than H&M, whose existing premium collection grew by only 2 percent throughout the past year. Placing an emphasis on premium pieces this year, ZARA is leading the growth in higher quality apparel.
Moving Towards Premium Fabrics
Looking at the fabrics that are most prominent in each brand's assortment, there is an evident similarity between the two, both ZARA and H&M placing the largest emphasis on cotton and polyester, including recycled versions of both fabrics, each making up between 20 percent and 30 percent of the brands' fabric mix.
However, as the two brands have amped up their higher quality collections, premium fabrics have also gained momentum within both brands' assortments, namely cashmere, wool and leather. Although H&M has a higher share of products containing cashmere in its assortment, ZARA is close behind, and is significantly increasing investments in premium fabrics, thus solidifying its move towards a more premium positioning.
Sustainability
H&M has kept its focus towards increased sustainability and has developed new initiatives such as its "Innovation Stories" with innovative textiles and design, the Looop recycling system as well as its Circular Design Tool. In 2021, the giant's sustainable conscious collection made up 21% of its total assortment, whilst ZARA's Join Life collection represented 16 percent of its total collection. Conveying ambitious goals, the brands are moving towards increased circularity and sustainable innovation, with H&M taking the lead.
However, will this be sufficient to stay ahead of competitors or will the brands need to make more significant changes to put behind the negative connotation of being deemed a "fast fashion" brand?

Premium Pricing Evolution
The mass market giants have both increased the size of their premium assortment and with that, these same collections have become more expensive. The use of higher quality fabrics and the collaboration with high-end brands have evidently contributed to an increased price point, with ZARA's premium pieces being 19 percent more expensive than the previous year. H&M's premium collection growth has taken a slower pace, and its pricing has only gone up by 3.2 percent throughout the past year. ZARA, quickly expanding its collection of premium quality pieces and collaborations this past year, has seen a major change in pricing for the segment.
How Much More Expensive Is Premium?
Where does premium quality stand when compared to non-premium collections and is it significantly more expensive? H&M showcases an average price for its premium collection of over three times the price of its regular collection. ZARA's premium collection stands at a lower average price than H&M, at 83 percent more expensive than its regular collection, which itself has a higher average price than H&M's regular collection.
With regards to maximum prices, ZARA holds a higher price point for both its regular and premium collections than H&M. Unlike H&M, whose maximum prices do not differ between premium and regular collections, ZARA has a higher maximum price for its premium collection. Within its regular collection, ZARA continuously keeps its prices higher than its Swedish competitor.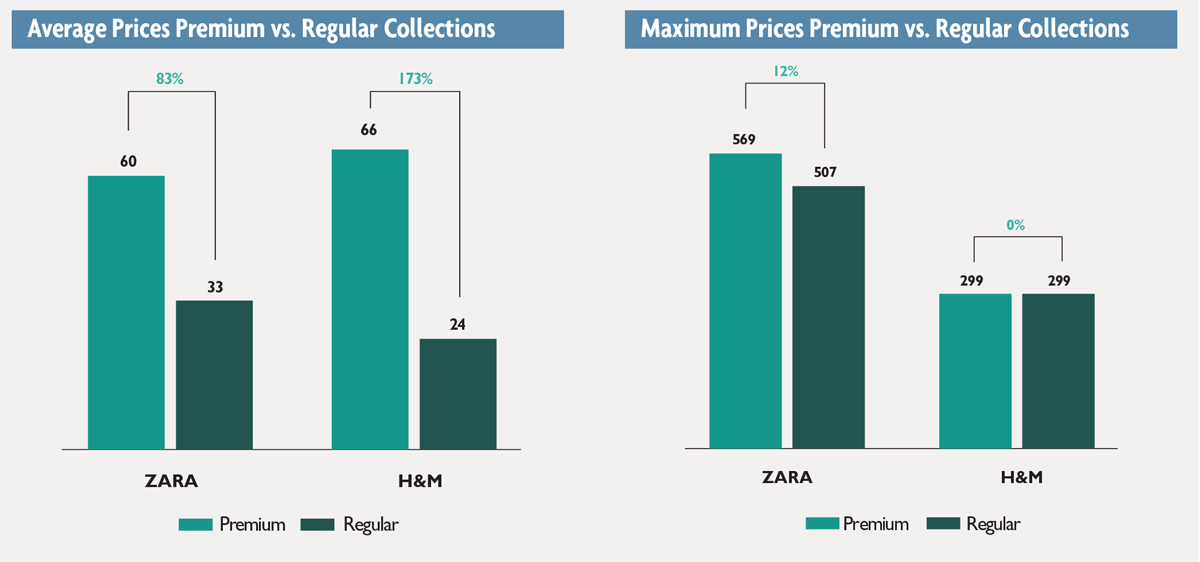 The Effect Of The Supply Chain On Prices
Considering the pandemic-driven supply chain disruptions that have started to take a hold of the fashion industry, ZARA and H&M have significantly increased prices throughout the past several months. However, the two brands have very different business models. Zara matches consumer demand with small production numbers, thus bypassing heavy supply chain struggles and allowing the brand to stay on the cusp of each emerging trend. H&M, sourcing a large part of its products in Asia, has been faced with supply chain disruptions and delays, and indicates an overall 13-percent increase in average price, within the past five months.
In ZARA's case, the increase in its average price was a strong 23 percent, as the brand significantly increased its share of premium fabrics — a major contribution to its price increase, further driven up by the raw material price increase for textiles such as cotton, wool, and recycled fabrics.
A Digital Future
There was a strong pivot towards the digital realm throughout the past year, with an increased prominence of the metaverse in the fashion industry. Key brands like ZARA and H&M are venturing into the metaverse with their digital collections and collaborations. ZARA launched its digital collection with South Korean brand ADER Error, and H&M launched its own sustainability-focused digital collection within the popular game, Animal Crossing.
Considering the current change in consumer behavior, pandemic-induced logistic issues and the increased need for sustainability, market leaders ZARA and H&M are staying ahead of the curve and adapting their strategies, allowing them to outpace competitors. Where ZARA has shifted focus towards a more premium positioning reaching a wider consumer base, H&M has upped the ante on its sustainable initiatives.
Understanding what lies behind the apparel giants' strategies allows brands to stay on top of the industry. Thanks to Retviews data, fashion retailers can monitor competitors' assortment, pricing and discount strategies in real time and take the lead in the changing fashion industry.
---
Editor's Note: Retviews is an automated benchmarking solution that allows fashion brands and retailers to monitor competitors' data on assortments, pricing and discounts in real-time. It helps them pinpoint the perfect retail strategy with the right product at the right time and price, save time on competition analysis and make decisions based on accurate, actionable data.
---
March/April 2022