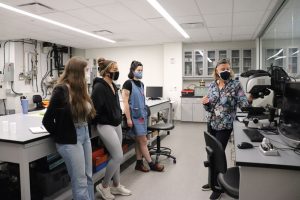 Part two of Textile World's two-part feature on textile education focuses on alternatives to the college and university offerings
By Jim Kaufmann, Contributing Editor
The need for well-trained men and women to meet the demands of a growing textile industry…" are the first words of a Textile World article published some 20 years ago (See "Making the Grade," TW, January 2002). If written today, that sentence likely would conclude with words reflecting a heightened awareness and fast-growing urgency for training options in order to generate viable candidates to fill the numerous textile industry job openings. As both the United States and global textile industries re-emerge from the COVID-19 pandemic with an invigorated economy, but faced with an aging workforce (see "What Do We Do When All the Old Guys and Girls Are Gone," TW, September 2017) coupled with what some are referring to as the "great resignation," human resource and plant managers are scrambling to find, hire and train able bodied workers for their locations. As a result, affirmed by Sam Buff, vice president and general manager at the Manufacturing & Textile Innovation Network (MTIN), Gastonia, N.C., "training is getting hot!"
Training needs are indeed getting hotter specific to today's textile industry. This realization has prompted many of the colleges and universities referenced in part I of this feature (See "A Textile Education, Circa 2022, TW, Jan/Feb 2022), as well as several textile industry organizations to build upon their current program offerings specific to textiles. What follows is a brief discussion of alternatives for gaining a targeted knowledge of textiles and the industry without the need to acquire a formal textiles degree.
So Many Types And Options
By definition, training relates to the act of teaching people a particular skill set. Perhaps reflecting the ever-growing breadth of the textile industry, today's iterations of training can range in scope from how to properly drive a forklift to a basic introduction of the textile industry or more detailed specifics of how to operate precision equipment such as complex spinning or high-speed knitting machines.
The variety of topics and training available can accommodate someone who is completely new to the textile industry, someone looking for a refresher on one aspect of the industry, or someone knowledgeable about the textile industry who is looking to learn about a different industry sector or piece of equipment. As alternatives to a formal textile degreed program, these offerings include casual programs or presentations at trade shows; training courses offered by industry organizations; classes offered by colleges or universities; and highly detailed operator and technician training offered by major textile machine manufacturers. Most training is offered in the form of webinars, online tutorials, workshops, formal classwork ranging from a one-hour class to multiple several week-long courses, and apprenticeships and hands-on lab work with personalized trainers and mentors.
Government Interest
The U.S. Government, and in particular the Department of Defense (DOD) — a major customer and consumer of untold amounts of textile products — has in recent years taken an interest in maintaining and even upgrading the U.S. textile industry. The Berry Amendment — a statutory requirement restricting the DOD from purchasing textiles produced outside of the United States — certainly invigorated segments of the textile industry. More recently, the DOD through numerous Small Business Innovative Research (SBIR) grants and by providing grant funds to establish the Cambridge, Mass.-based Advanced Functional Fabrics of America (AFFOA) organization in 2016, has worked to advance textile technologies as well as revitalize U.S. textile manufacturing.
AFFOA's charge involves building a rather complex, yet collaborative ecosystem "across academia, industry and government partners" that addresses the many "grand challenges" presented to the U.S. textile industry. Segments of focus include developing systems-level solutions, rapid prototyping and transitioning technologies, many geared towards developing advanced e-textiles products. An important component of these endeavors includes "inspiring, preparing and growing the future advanced textile workforce pipeline in the U.S." As a result, AFFOA is developing programs specific to education requirements, working with the textile industry and establishing partnerships with various universities — including NC State, U Mass – Lowell, Drexel, Cornell and MIT — to align educational opportunities and industry recognized credentials.
College, University Non-Degreed Offerings
It is fair to say that most colleges and universities currently offer some form of training specific to textiles, fashion, design and engineering. "Jefferson does offer a more traditional 'textiles 101' type class, but the bulk of our training requests currently are more customized to a company or group's specific needs," offered Marcia Weiss, director, Textile Design Programs at Thomas Jefferson University. "Because of our history as a textile institution and our on-campus lab facilities, training courses can be patterned to include weaving, knitting, nonwoven and jacquard design and execution, digital printing and physical testing elements." These offerings are mostly non-credit courses focusing primarily on the skill sets and technologies targeted for learning.
According to Weiss, the COVID-19 pandemic and ensuing restricted access to college campuses temporarily impacted the extent of textile training. "With COVID, a lot of in-person trainings were slowed, cancelled or moved on-line," Weiss noted. "There are on-line training apps that span all facets of textiles, but it's really just not the same as hands-on, in-person training. There's truly no substitute for hands-on learning when it comes to textiles."
While expanding on different resources available at Jefferson and possibly of potential interest to those involved in biomedical textile applications, Weiss referenced Jefferson's Institute of Bioprocessing (JIB). "JIB is also a full-service development and training organization for biotechnologies. It offers product development, testing and evaluation capabilities as well as training and credentialed programs. And we can certainly complement it from a textiles perspective or vice versa."
The Zeis Textiles Extension (ZTE), an element of NC State's Wilson College of Textiles, offers an assortment of training and certification classes in textiles and Lean Six-Sigma methodologies. It also provides prototyping and pilot production services through the school's textile laboratories, which include spun yarns, knitting, weaving, nonwovens, dyeing and finishing, and physical testing.
"We also are developing a new textile fundamentals course consisting of 16 micro courses broken down into different modules that is expected to launch formally in the fall," noted ZTE Director Andre West. "We've seen some gun-shyness throughout the industry due to employee turnover during present times. Companies are asking, 'Do we invest in an employee's training knowing they may shift to another position or leave the company?' So, we're breaking this program down into component parts because you may just need specific areas, which will make it faster and easier to obtain with a reduced commitment of time and investment."
A big impediment continually facing the textile industry is labor and identifying new population segments to tap into for new employees, which directly affects training efforts. ZTE, through a research grant funded by a DOD/AFFOA, is working to build workforce development ecosystems in order to increase employee counts and commitments. "We're being driven by industry needs which directly feed into DOD needs," said Melissa Sharp, ZTE's associate director. "Through this grant and working with Gaston College's Textile Technology Center, we are employing gap and needs analysis techniques to identify non-traditional labor pools. After identifying these segments, we'll be able to broaden who we reach out to and better understand their needs towards providing stable employment foundations, an element of which will likely include building more flexibility into our training methods."
Gaston College recently introduced the Textile Academy, which along with its Textile Technology Center, is revamping all textile-related programs and training classes. "Initially, the curriculum will be driven by our 'champion companies' and their pain points, but as we progress, we'll be able to adjust the curriculum and content thru feedback from the participating companies and individuals to make sure we're addressing their collective needs," said Emily Hansley, Gaston's director of Customized Training. "Textiles require rather specific skill sets and the demand for training is certainly there. Our goal is to provide a feeder system for better trained, more qualified talent to the industry." College track programs kick off in June and the general training options with a variety of class offerings, available through the Textile Academy, are slated to begin in the fall.

In addition to its training activities, Gaston College also offers a unique alternative — the Apprenticeship 321 program. Established in 2015, the program's goal is to "cultivate highly skilled workers for small to large companies who can enter the workforce immediately upon completing the program." To date, 108 individuals have completed the program. There are currently 68 apprentices and 25 youth apprentices in training at Gaston, ranging in age from 18 to 62. The youth apprentices are typically high school juniors and seniors who gain exposure to companies looking to hire while also learning specific skill sets.
"The program really offers the best of both worlds," suggested Jill Hendrix, Gaston's director, Apprenticeships and Work-Based Learning. "The company selects the individual, hires them and enters them into our apprenticeship program, also identifying a 'mentor' for the employee to 'keep them safe.' Collectively, the program is selected with related instruction, then we manage it through completion including handling the paperwork, associated standards and documentation." Successful apprentices can qualify for nationally recognized certifications, academic credentials from Gaston College and a National Career Readiness Certificate. A variety of occupations are currently being offered and a textile-based occupation track is in development.
It should be noted that for many of the options mentioned, costs can vary depending on the content and complexity. There may be scholarships, grants, financial assistance and possibly company sponsorships available to lessen any tuition concerns.
Industry Organization Offerings
Several industry organizations also have established a variety of branded offerings specific to their membership's interests. The Research Triangle Park, N.C.-based American Association of Textile Chemists and Colorists (AATCC) is involved from both the academics and professional/industry perspectives. AATCC sponsors student chapters at several universities, which provide members with access to digital labs, discounts for conferences, scholarships and grants. On the industry side, AATCC hosts a variety of conferences, workshops and other textile events, each of which provide avenues for education and training activities.
Offerings include digital labs focused on textile and color technologies, processing equipment, quality systems and testing standards. Workshops are more in-depth programs and target those looking to learn something new or refresh their knowledge. Formal conferences tend to be topic specific, which include its annual conference and participation in other organization's conferences. Also, in 2020, AATCC held its first Textile Discovery Summit, an annual event covering a broad range of textile related topics. The next summit will be held in Charlotte, October 4-6, 2022.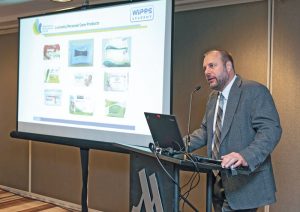 The Cary, N.C.-based Association of the Nonwoven Fabrics Industry (INDA) also offers an assortment of training and education offerings to  those interested in learning more about nonwovens. "Education and training in general are critical to textiles and nonwovens," said Chris Plotz, INDA's director of Education and Technical Affairs and an Adjunct Professor at MIT. "We offer on-demand, virtual and in-person training options on topics specific to nonwovens technologies and applications. Onsite classroom training is conducted at our Cary, N.C., location and we partner with the Nonwovens Institute (NWI) at NC State for hands-on training options."
INDA, AATCC and other related organizations are basically full-service development sources with subject matter experts and a real world understanding of industry segments. These organizations, as well as the colleges and universities involved in textile industry segments, are generally able to provide a great source of industry knowledge, trends and opportunities through their conferences, white papers, professional services, education/training and apprenticeship offerings. "We're all always looking to expand interest in the textiles and nonwovens industry and coursework that can spur your senses is always better!" concluded Plotz.
March/April 2022