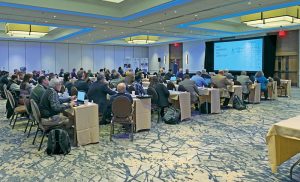 After hosting a successful fall conference — SYFA's first in-person event in two years — the association looks to 2022 and its 50th anniversary.
TW Special Report
After back-to-back-to-back cancellations of its 2020 meetings and also its spring 2021 meeting because of "continued effects of the Covid-19 virus," the Synthetic Yarn and Fabric Association (SYFA) was excited to gather in person for the fall 2021 meeting held recently at the Sheraton Charlotte Airport Hotel, Charlotte, N.C.
The event focused on the industry's current supply chain challenges under the title, "Identifying Solutions for Growth Amidst A Disruptive Supply Chain." Presenters came from companies including Kuehne + Nagel International, Accelerating Circularity, Gap Inc., Hire Dynamics and Wood Mackenzie, as well as the Hohenstein Institute, Manufacturing & Textile Innovation Network and Kennesaw State University.
While attendance was slightly lower than for a typical SYFA conference, overall turnout was good and things look promising as SYFA looks to 2022 when it celebrates its 50th anniversary.
"It was encouraging to see the strong in-person attendance, and so good to be back together as a group," said SYFA President Daniel P. Sistrunk. "Think of what we've all been through over the last 18 months — a global pandemic, labor issues, a shipping crisis, supply chain disruption and more! Yet we, the SYFA and its members, are still going strong, which is a testament to the value of the organization and its importance to the industry. As we prepare for our next conference and the 50th anniversary of the organization in 2022, we are positioning ourselves to provide even greater value through our publications and conferences and continue to move forward in support of our members and the textile industry."
Conference sponsors included Gold Sponsors Premiere Fibers Inc., Unifi Inc. and Jomar Softcorp International Inc.; Silver Sponsor Pulcra Chemicals LLC; and Bronze Sponsors Goulston Technologies Inc. and Polyspintex. Patrons included Avient, the Association of the Nonwoven Fabrics Industry (INDA), Milliken & Company, Measured Solutions Inc., and the Furniture Manufacturing Expo.
SYFA will hold its next conference April 21-22, 2022, at the Sheraton Charlotte Airport Hotel.
November/December 2021