Quality control instruments, software and test methods all play an important role in the textile supply chain.
TW Special Report
Quality control and advanced testing have never been more important throughout the textile supply chain. Solid quality management is important on multiple levels — in-plant, between suppliers, and ensuring safety and quality for brands and consumers. Meeting established standards and specifications with universal test methods — like those established by ASTM International and the American Association of Textile Chemists and Colorists (AATCC) — and utilizing the latest in testing equipment provides consistency in the supply chain among multiple manufacturers. Whether the focus is on apparel and consumer goods, technical textiles or advanced materials like composites, quality control and testing is at the heart of today's textile supply chain.
Air Permeability And Hydrostatic Instruments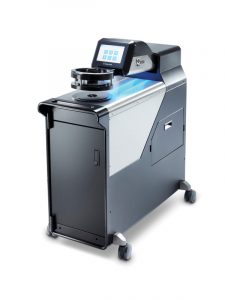 James Heal recently expanded its Performance Testing product range with the addition of the AirPro air permeability tester. The company reports it is an innovative alternative to similar testers available in the market. Some key features of the AirPro include:
TestWise software — James Heal's in-house, proprietary system for simplified operation with preloaded standards and a "quick test" function;
A large, illuminated test bed to accommodate a variety of materials and large samples;
Quick change test heads ranging from 5 to 100 square centimeters; and
A wheeled base for easy movement around the lab or factory floor.
"What differentiates James Heal's AirPro is that there is no requirement for compressed air," said Paul Montalto, Technical Knowledge manager. "This makes changing of test heads efficient, as there is no requirement to disconnect the air supply or change air pressure during the testing procedure, something which is commonly seen in alternative air permeability testers. This takes up valuable testing time. James Heal's focus is to make testing simple, fast and intuitive; for greater throughput, and accurate, consistent and reliable results."
James Heal also recently introduced the HydroView hydrostatic head tester. The unit can test at pressures ranging from 0 to 10,000 mbar making it well-suited to testing medical textiles, outerwear and performance apparel, and geotextiles and nonwovens. HydroView features an innovative safety guard arrangement that allows a user to hold a test specimen in place while keeping hands away from the pneumatic clamps. Like the AirPro, the HydroView comes equipped with James Heal's TestWise software.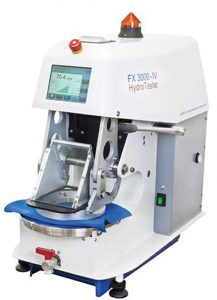 ATI Corp. of North America, Greer, S.C., represents a variety of quality control testing companies including Switzerland-based Textest AG. The Textest FX 3000-IV HydroTester automatic hydrostatic head tester is one of the most popular models sold by ATI Corp., according to Alex Ziegenfus, president of sales. The unit can measure pressures up to 5 bars or a 50 meter water column. According to Textest, low pressures are precisely controlled when they are required such as when testing nonwovens. Optional features include an Automatic Drop Detector, which enables automatic test termination so an operator is not required to manually terminate the test; an Automatic Level Control that fills the water tank prior to the first test and can automatically compensate for any water loss between measurements; and an integrated data evaluation program for flexible data management.
Textest's fourth-generation FX 3300 LabAir IV air permeability tester is another popular testing machine sold by ATI. The company touts a robust design and sturdy clamping arm; custom-built test heads and adapters for special applications; and optional Sequence Module for programmed pressure or velocity sequences for research and development work as benefits of the machine. The FX 3300 LabAir IV also has the capability to measure pressure drop and specific air flow resistance in addition to air permeability.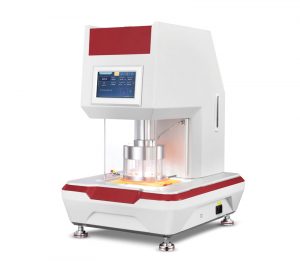 SDL Atlas, Rock Hill, S.C., just launched a redesigned HydroPro hydrostatic head tester. New features include video recording and image capture; new pneumatic sample clamping; a Fast Test function to rapidly determine failure point and other tasks in 80 percent of the typical test time; automatic water filling and water level detection; full color touchscreen controller; LED-lit testing area; and clear safety shield. The HydroPro tests at pressures up to 5 bar. With optional fixtures, the unit also can perform a pore size test and blood penetration test.
SDL Atlas' Vortex M6 commercial grade top loading washing instrument was designed to meet the M6 Monograph requirements developed by the American Association of Chemists and Colorists (AATCC), as well as alternate conditions of AATCC's LP1-2018 requirements. The device, recognized by sportswear apparel retailers for testing against AATCC wash standards, is fully programmable, may be calibrated to ISO 17025, and offers a testing cycle of up to 100 hours.
Understanding and measuring the amounts of microfibers during home laundering has become a hot topic in the textile industry. SDL Atlas' accelerated washfastness instruments — such as the Rotawash and the Launder-Ometer® — may be used to test for microfiber release, or shedding.
Fiber And Yarn Measurement
Measured Solutions Inc., Greenville, S.C., provides testing solutions for the fiber and yarn industry. The Fibrotest, from Germany-based Textechno, combines fiber length and strength testing in one machine. The tests are performed in succession on the same fiber bundle. The mass of the sample is then determined so tenacity also can be calculated. The instrument does not require any calibration cotton and may be used to measure man-made fibers and blends as well as cotton. Fibrotest also is suitable for measuring recycled fibers.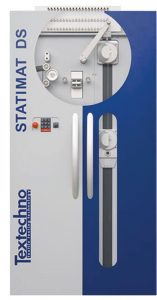 Textechno's Statimat DS is a traditional tensile tester that also incorporates yarn evenness and yarn count testers, combining the three tests into one instrument. The Statimat DS features the PC-based TESTCONTROL system for test control and data evaluation.
The MDTA-4 and Quick Spin Unit from Textechno is unique in that it is a typical microdust and trash analyzer but with added NT-DA neps and trash digital analyzer, fiber length measurement, and the ability to measure fiber cohesion. The sliver produced by the MDTA-4 can be spun into an open-end sample yarn using the optional Quick Spin unit. The MDTA-4 is suitable for cotton and man-made fibers.
The Covamat automatic capacitive evenness tester for filament yarns from Textechno offers a state-of-the-art quality control system for a filament yarn testing lab. The instruments novel capacitive sensor design; self-threading, high-speed yarn twister; and testing speeds of up to 800 meters per minute provide an opportunity to quickly detect irregularities in the production process. Covamat also is available in a model for spun yarns, the Covamat S.
Color Measurement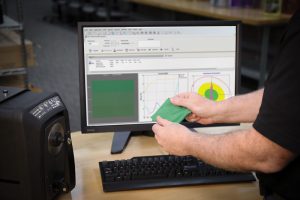 Grand Rapids, Mich.-based X-Rite Inc. offers key products for a textile digital workflow including spectrophotometers, color formulation software, software to help with virtual materials and lightbooths for visual evaluation. The company offers many different spectrophotometers depending on the application, but the Ci7800 is a top choice for textile manufacturers. The spectrophotometer can measure opaque, translucent and transparent samples using up to five reflectance and four transmission apertures. Various accessories may be used to measure a wide range of materials including textured samples. Ultraviolet filters also can be used to control optical brighteners found in textiles. The Ci7800 is compatible with X-Rite's Color iQC quality assurance software. If samples are found to be out of tolerance, the software provides direct feedback to get the color on target. X-Rite offers its Color iMatch color formulation software, which uses multi-flux technology to provide optimal color matches, thus reducing wasted formulation attempts. X-Rite's lightbooths offer a controlled lighting source for color evaluation. The company offers a variety of models — including the SpectraLight QC, Judge QC and Pantone 3 Lightbooth — to accommodate different manufacturing needs.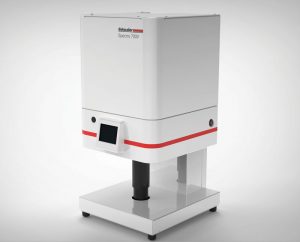 Lawrenceville, N.J.-based Datacolor launched the Spectro 1000/700 series of benchtop spectrophotometers earlier this year. The family of instruments was designed to be efficient while ensuring uniform color assessments across various instruments in multiple locations in the supply chain. The units feature internet connectivity.
"Heightened by the pandemic and remote working trends, the need for digital exchange of color data has increased," said Albert Busch, president and CEO, Datacolor. "Datacolor set out to develop a family of high-efficiency spectrophotometers designed to meet the industry needs of today while also staying ahead of tomorrow's trends. With the Spectro 1000/700 series, users can feel confident their instruments are ready to take advantage of future product enhancements, allowing for remote service and data analytics thanks to internet connectivity."
Datacolor also offers the SpectraVision, a solution for objectively measuring multicolored, textured, small, or irregular-shaped materials including textile prints, yarns, lace, trims and accessories.
In addition, Datacolor TOOLS is the company's color quality control application suitable for color specialists in the textile industry. Using Datacolor Tools, an operator can analyze, report, communicate and visualize accurate color results. Pass/fail tolerances may be set to remove subjectivity and ensure consistent color quality.
Software Solutions For Lab Management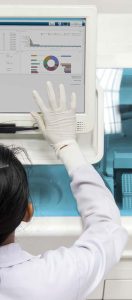 Accelerated Technology Laboratories Inc. (ATL), West End, N.C., offers Laboratory Information Management Systems (LIMS). The company is active in many industries and believes its software is a great fit for the textile industry.
According to the company, its Sample Master® LIMS is an ideal solution for both large and small textile organizations. Sample Master features an intuitive user interface, Master Query functionality, scheduling, integrated calculations, configurable captions, automated alerts and reporting options. All functions are customizable based on a customer's specific needs.
The company reports it has seen an uptick in popularity for its Software as a service (SaaS) option that allows a customer to use the LIMS without having to worry about performing backend maintenance tasks because ATL hosts the application for the customer.
ATL also offers a web portal solution named Result Point® that allows a company to provide other departments outside of the laboratory access to data and key reports. This solution can be useful to textile manufacturers that often have decision makers located in different global plants and offices.
No Shortage Of Solutions
Advances in quality control and testing have a significant effect on standardizing and improving today's textile supply chain. Many vendors are developing technologies to improve the quality control process. Test methods and standards also are in constant development (See sidebar). In today's demanding manufacturing environment, textile testing and quality control are at the center of making high caliber products to tight specifications that meet the performance and aesthetic promises made to brands and consumers.
---
AATCC: Articulating The Efficacy Of Odor Control Technologies
The American Association of Textile Chemists and Colorists (AATCC) has long been a leader in developing test methods. All of its test methods, procedures and monographs are developed by research committees. These groups research, test and discuss a method — sometimes for several years — and it must also be approved by the committee and the Technical Committee on research before a standard can be published in the AATCC Manual of International Test Methods and Procedures.
Recently, AATCC developed an objective test method — AATCC TM211-2021 — that can articulate the efficacy of odor control technologies in as little as 48 hours. It was always assumed that reducing bacterial populations would eliminate odor in textiles, but with no quantifiable way to measure odor elimination, it was hard for companies to make true odor control claims related to antimicrobial textile technologies. The highly sensitive test gives real-time and visual depictions of ammonia levels on a colorimetric scale and as a percentage of reduction compared to untreated fabric, in under 48 hours. The straightforward method of inoculating the test material in a sealed flask, allowing the bacteria to grow for 18-22 hours, and then collecting the ammonium gas in a Drager gas detector tube for a following eight hours, has been approved by the AATCC and can be adopted by labs worldwide.
Read an in-depth article about AATCC's new test method here.
---
November/December 2021