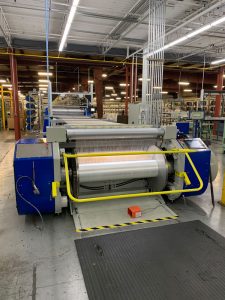 Weaving is a complex process requiring technology beyond the weaving machine for the highest-quality fabrics.
TW Special Report
The weaving machine is the star of the weaving room. It's the largest, most obvious piece of technology on the plant floor turning out fabric at high rates of speed. Weaving auxiliaries in most cases, don't particularly stand out. But they are just as important and as high tech and innovative as the weaving machines they support. The weaving process is finely controlled from warping and beaming through to finished fabric and the auxiliary processes add value and quality to the finished fabrics.
Read on to learn about some of the latest auxiliary weaving developments and high-quality equipment available for the sector, as well as companies providing technologies.
Warp Preparation
McCoy Machinery Co. Inc., Monroe, N.C., has produced warp preparation machinery for the past 57 years. Its portfolio includes creel tension control technology as well as high-volume warping systems for weavers. All its machinery is produced at its facility in Monroe.
"The very first place people look in most weaving factories is at the looms," said Kevin S. Ahlstrom, McCoy president. "They marvel at how the fabric is so uniform and quickly produced. What they don't understand is that without proper tension control in warp preparation, this beautiful fabric would not look so pretty."
According to Ahlstrom, proper fabric formation begins in the warping room. "Without proper tension control on, let's say 1,320 ends of 30 denier nylon, you will probably see streaks, ridges and tapered beams, and thus poor fabric formation as well as inefficiencies in loom performance," Ahlstrom noted.
Ahlstrom reports the Model 300 Direct Warper is the battleship of McCoy's product range. The warper is capable of producing 21-inch, dual 21-inch, 42-inch, 54-inch and 72-inch warp beams all on one machine. The M300 combined with the Model 370 S-Roll with its circumference control capabilities, is a perfect solution for high volume/high-quality warping customers.
McCoy's M101 warper is its industry standard for spun yarn warping customers. The company also continues to offer its Whorl™, Magnatense™, Dual Powerdisc™ and Post/Disc tension devices.
According to Ahlstrom, its triple threat of manufacturing, service and support all provided in the United States is its strength. "From the fiber package to the warp beam, McCoy manufactures and supports every component in between that helps our domestic textile manufacturers perform at the highest standards," Ahlstrom said.
In addition to its knitting and technical textiles innovations, Germany-based Karl Mayer Textilmaschinenfabrik GmbH also offers a variety of warp preparation solutions for weaving. Most recently, Karl Mayer introduced the PROWARP® high-performance sectional warping machine supplied with communication, measuring and control technologies. Prowarp is suitable for all material types and combinations for both technical and traditional weaving applications. The HT machine configuration is designed for warp beams needed for technical fabrics; and for apparel and home textiles applications, the Prowarp can produce warp beams needed for detailed patterned and colored fabrics. To satisfy this wide range of applications, the Prowarp has a working width of up to 5.6 meters and offers pulling forces of up to 40,000 Newtons. The machine can reach speeds of up to 1,000 meters per minute (m/min) for warping, and up to speeds of up to 500 m/min for beaming. According to Karl Mayer, Prowarp's layer regulating system results in 30-percent higher performance in warp preparation, and an increase in efficiency during weaving of up to 5 percent.
Karl Mayer's MULTI-MATIC® 32 fully automatic, single-end sample and production warping machine is designed for short running lengths and operates most efficiently at run lengths of 200 to 400 meters. The 32 in the name references the number of bobbins, which allows for a smaller creel that can be configured and arranged depending on the yarn quality. The Multi-Matic also is available in a 64 and 128 bobbin version.
Drawing on its experience over three generations combined with its current technology and marketplace demands, Spain-based Construcciones Mataro Servicios y Asistencia Tecnica S.L. (COMSAT) designed the Tecmat warper to be versatile while maximizing productivity. The warper features:
automatic warp section tension control to guarantee identical length and tension of the yarns independent of the bobbin diameter and warping speed;
automatic feed system, which combined with an evener roll ensures warp sections with identical diameters;
automatic beaming tension control that allows speed changes and machine stops while maintaining constant tension; and
intuitive software, touch-screen controls, and an ethernet connection for remote diagnostics and software updates.
COMSAT is represented in the United States by Lang Ligon & Co. Inc., Greenville, S.C.
Drawing-In & Tying
Switzerland-based Stäubli Group has been active in the North American textile market since the 1950s, but has been engineering textile weaving solutions for 125 years. The company specializes in jacquard heads for individual warp yarn control, but also enables mills to increase production speeds with its pre-weaving automated solutions for leasing, drawing in and tying. According to the company, the SAFIR S60 automatic drawing-in machine enables the repeat-specific distribution of the warp yarns into drop wires, heddles and reed in a single cycle and features state-of-the-art Active Warp Control (AWC) technology. Stäubli also now offers initial Conditions Settings (ICS) for handling specific yarn properties efficiently. Stäubli reports all its weaving preparation solutions support perfect warp production, which enhances downstream weaving processes for larger volumes of first-quality output.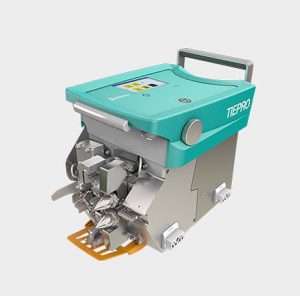 Stäubli also offers a collection of warp tying machines — the TIEPRO, TOPMATIC and MAGMA. "Today's tying equipment requires a simple and fast set up," said Oliver Meier, Textile director, North America, Staubli. "Customers demand high reliability with very limited maintenance, and Stäubli strives to provide our customers what they are looking for."
The Tiepro is suitable for knotting all standard staple-fiber yarns from warp sheets with or without a 1:1 lease. The Tiepro is controlled by a touchscreen, which also displays information to the operator such as tying rate and number of knots.
Tiepro features an advanced sensor for double-end detection. If a double end is found, an auto-reverse process kicks in and restarts the separation process without operator intervention.
Topmatic, engineered for knotting fine yarns, can tie almost any staple-fiber or filament yarn in single or double knots at a rate of up to 600 knots per minute. The machine monitors double ends mechanically as well as using a piezoelectric sensor to detect double ends in a warp sheet.
Stäubli's Magma tying solution was developed for weavers of technical textiles and was designed to work with yarns on the coarse side. The machine can tie single or double knots in polypropylene tapes, aramid yarns, coarse multifilaments, and monofilaments up to a diameter of 0.5 millimeters. Four miniature cameras on the Magma monitor the separation process as the yarns from the bottom and top warp sheets are separated from a 1:1 lease. If an error is detected, the machine stops prior to cutting any yarns to reduce double end fault repair. Stäubli reports the Magma also handles different types of yarns within the same warp with no issue.
All three models create short knot ends for optimal pulling through on the weaving machine.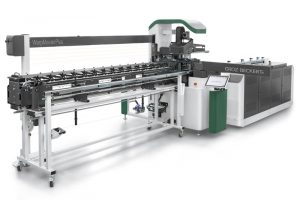 Germany-based Groz-Beckert KG — a provider of industrial machine needles, precision parts, tools, and systems and services for textiles manufacturing — recently expanded its weaving preparation portfolio with the addition of the WarpMasterPlus — a system based on its established WarpMaster concept but designed to speed up the drawing-in of warp beams. Individual lengths of yarn from a single bobbin are used to automatically draw in the drop wires, heddles and reed components off-loom. The individual lengths are secured so that the harnesses can be loaded into the weaving machine when ready. Then a standard tying-in process is implemented to tie-in the new warp beam quickly and efficiently, greatly reducing machine downtime related to beam or style changeovers. WarpMasterPlus can draw in up to 150 threads per minute. The machine is built in a modular fashion to increase the ease of maintenance and service, as well as realize customer-specific machine lengths if a customer requires a length other than the 2.4 meter and 4.0 meter standard lengths offered.
Spain-based Titan Textile Machines S.L. — a manufacturer of warp tying machines and reed drawing-in machines and systems, represented in the United States by Lang Ligon & Co. Inc., Greenville, S.C. — offers the Challenge drawing-in system. According to Harrell W. Ligon, president, Lang Ligon, the semi-automatic Challenge system is a cheaper alternative for smaller mills on a budget allowing them to double production without investing in expensive, fully automated machinery. The Challenge also simplifies the drawing-in process for inexperienced personnel. A modular system, Challenge may be configured to suit every company's needs. Ligon reports a U.S. customer has installed a Challenge in its mill after seeing the machine in production in France.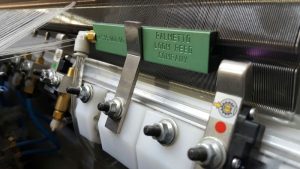 Reeds, Combs And Heddles
Palmetto Loom Reed Co., Greenville, S.C., is a locally based, family-owned business with current President and CEO Gladys Richardson the fourth generation owner. The company manufactures reeds and combs for the U.S. market, but also makes specialty parts mostly for air-jet looms. "We have a fully functioning machine shop that allows us to make custom-fabricated parts," said Director of Sales Philip Gilliland. "We pride ourselves on our service and even help our customers solve weaving problems. We engage in research and development with our customers to make new reeds for particular fabrics, as well as other machine and loom parts as required."
Inconsistent pick insertion, or slack picks, can turn back into the woven shed creating a defect in the finished fabric. Gilliland reports that Palmetto Reed supplies stretch nozzles that create a high centrifugal force to pull each pick as tight as possible as an alternative to standard nozzles on air-jet weaving machines for improved overall quality. The company also offers a Dynamic Pressure Gauge kit to check a reed's air flow and relay nozzle settings right at the machine.
Established in 1938, Carolina Loom Reed Co. Inc., Greensboro, N.C., is a family-owned business specializing in flat reeds for rapier, projectile and fly shuttle looms, as well as combs for warping, slashing and beaming. Owners Ken and Steve Yarboro have a combined 75-plus-years of reed making knowledge. According to Ken Yarboro, "Only the best raw materials and workmanship goes into every reed providing our customers with the accuracy and durability required for today's modern weaving looms."
In addition to its WarpMasterPlus, Groz-Beckert offers many accessories for the weaving process — all high-quality and engineered for long, useful lives. Stainless steel Rondofil and Jacquard mono wire heddles are made of a single wire for a perfect surface to handle the even finest warp yarns. The thread eye is glued into the heddle rather than soldered to ensure a smooth finish that is gentle on warp yarns and prevent damage from material fatigue or corrosion. Rondofil and Jacquard heddles may be made to customer specific specifications. The Jacquard heddle also is available with an Antabra mail eye surface finish. This is a Groz-Beckert exclusive finish that increases wear resistance, resilience and stiffness; and imparts good sliding properties.
Groz-Beckert also offers a complete line of reeds including air-jet reeds, flat reeds, and slashing/warping reeds; and pin combs and expansion combs. All its reed and warping products are custom-tailored to customer specifications.
Yarn Feeding
Italy-based LGL Electronics S.p.A., represented in the United States by Lang Ligon, specializes in designing and manufacturing electronic yarn feeders for weaving and knitting applications. Among the company's latest innovations are new braking systems equipped with electronic sensors that enable real-time tension monitoring and reduce stress on the yarn.
The Eco Smart yarn feeder/weft accumulator, suitable for use on rapier or projectile machines, can be equipped with either the Attivo or Tens electronic brakes. Attivo decreases the average tension of the yarn during every insertion, while Tens keeps the average yarn tension constant. The Tens load cell is not technology required by every weaver, but it offers the option to set the tension at the feeder for applications requiring such monitoring. The Eco smart is smaller and lighter than previous generation feeders, uses less power, and can handle yarns ranging from 5 to 1,400 denier.
Quality Control And Monitoring
The highest-quality yarns and equipment sometime fail. Possibly preventing the failure, or knowing when and where a failure occurred during weaving is necessary to fix problems to avoid downstream processing issues.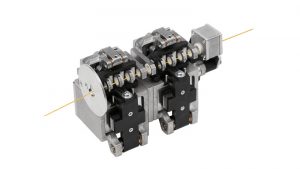 Switzerland-based Loepfe Brothers Ltd. offers weavers weft-control solutions for all weft insertion systems, as well as yarn break solutions for demanding weaving applications. The WeftMaster SFB weft thread brake controls the weft tension for all yarn types on rapier and projectile weaving machines. According to the company, an optimized, electronically controlled late braking start by the projectile sensor produces a uniform weft thread tension over the entire width of the fabric.
According to Loepfe, when running filament yarns on air-jet weaving machines, up to 90 percent of machine downtime is a result of weft faults caused by irregularities and defects in the yarn such as fibril breaks, filamentation and fluff. In applications where perfect fabric appearance is a must — such as in ambient lighting, sun and light protection products, precision fabrics, and filtration products — flaw detection is key to avoid defective fabrics and customer complaints. Loepfe offers the Falcon-i yarn defect sensor, which is mounted in front of the weft feeder. Weft yarns are guided through the optical defect sensor's measuring field using yarn guides before and after the sensor in a virtually contact-free way. The Falcon-i triggers a stop if a defined fault is detected. According to Loepfe, the color and polymer of the yarn have no influence on measurement reliability; and the sensor is insensitive to vibrations making it suitable for even conductive materials.
The WeftMaster SFB and Falcon-i air-jet and rapier solutions are complemented by Loepfe's piezo-electrical knot detectors KW-1R and KW-DIGI designed as knotless weaving solutions.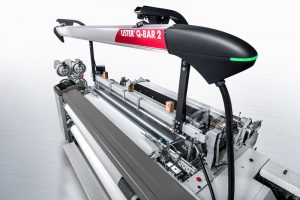 Switzerland-based Uster Technologies AG, long synonymous with quality control systems for fibers and yarns, also offers the Q-BAR 2 for on-loom fabric inspection. Uster notes that "the best way to avoid off-quality is simply not to make it." The Q-Bar 2 smart vision system identifies defects, stops the machine and then records and categorizes each defect for tracking. Alarms and stop signals notify the operators who can react quickly as soon as a defect appears to reduce long running or repeating faults, which in turn reduces material loss and second-quality goods. The Q-Bar 2 creates a defect map for each fabric roll that can be used as a quality tool for analysis, and all data may be viewed on-line in real time.
"Formation monitoring is the answer to market requests," said Michelle Salg, product manager, Fabric Inspection, Uster. "Weavers demand zero defect standards, increased sustainability by waste reduction and they want to produce the fabric meeting specific quality requirements," says Michelle Salg, Product Manager Fabric Inspection at Uster.
September/October 2021