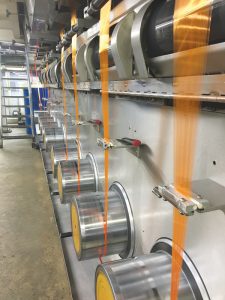 An advocate of green and sustainable production methods within the fiber industry, Palmetto Synthetics focuses on a range of environmentally-friendly products.
TW Special Report
Palmetto Synthetics LLC was established in 1997 in Kingstree, S.C., by founders Henry Poston, Benjie Tanner and David Poston. With an initial focus on coarse denier fiber extrusion for the abrasives industry, Palmetto quickly expanded into fine denier solution dyed polyester (PET) production.
"As the landscape of the textile industry evolved, we adapted to become an agile, customer-focused, custom-solutions supplier and have become the largest independent specialty fiber producer in the United States," said Palmetto's President David Poston. Today, Palmetto operates a 350,000-square-foot manufacturing facility at its Kingstree location, and has regional sales offices in China and in the United Kingdom.
Custom-Designed Solutions
Through the years, Palmetto has focused on adding value by providing custom designed solutions. "From solution-dyed polyester for the automotive industry, Palmetto Synthetics moved into apparel with finer-denier products," Poston said. "As customer demand warranted, we began experimenting with various other thermoplastic polymers, which led us into composites, sustainable fibers and performance apparel markets."
For Palmetto, creating custom fiber solutions means drawing from a broad pallette of options. "We welcome the opportunity to work with our customers to explore other polymer solutions," said VP Nik Casstevens. "Along with polyester, nylon 6 and nylon 6,6, we can produce staple fibers from PLA [polylactic acid], PCT [polycyclohexylene-dimethylene terephthalate], PBT [polybutylene tereph- thalate], PC [polycarbonate], CoPET [copolyester], and thermoplastic elastomers."
When asked about building custom products, Executive Sales Director Bart Krulic described Palmetto's binder fiber. "Palmetto Synthetics' binder fiber is made from recycled polymer, and it is unique in that it is amorphous and melts completely clear, which has the advantage of not affecting the color of a nonwoven fabric," Krulic said. "When a heated calendar roll is applied to the finished fabric, the binder fiber melts and migrates to the heated side, creating a latex-like backing that makes the fabric completely recyclable compared to a coated material made using latex."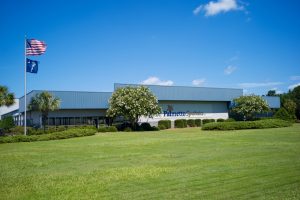 Adding Performance With Additives
Palmetto's custom products included designing performance with a full range of additives. "We are able to dialogue with our customers to find additive solutions," Casstevens said. "It's not only pigments. We can insert a multitude of additives that can make the fiber antimicrobial, flame-retardant, and sustainable to the environment; in particular, those additives can increase biodegradation. Also, Palmetto Synthetics can incorporate additives to enhance personal micro-climate."
Range Of Capabilities
Palmetto Synthetics offers a broad range of production capabilities and can dedicate more than 85 million pounds of fine denier staple fiber — from 1.5 to 45 denier — and coarse denier staple fiber — ranging from 45 to 200 denier — on three and two spinning lines respectively in a variety of cross section options including round, trilobal, hollow, ribbon/flat, and dog bone. "We specialize in precision color matching and our additive feed system affords us exceptional accuracy and flexibility in color matching and color control," Casstevens said. Palmetto can also accommodate customers with a wide range of cut lengths, from 6 millimeters (mm) to 152 mm. In terms of finish, "Palmetto Synthetics can apply any finish to match the customers' processing needs, from yarn spinning, needlepunch, spunlace and wet-laid, to name a few," Casstevens added. The company also offers a range of U.S. Food and Drug Administration (FDA)-compliant fiber finishes."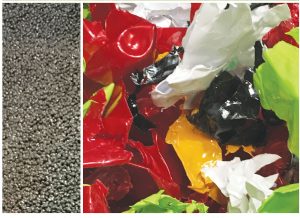 Sustainability Focus
Palmetto Synthetics has multiple recycling lines capable of repelletizing material that may include recycled bottles, internal waste, and customer waste.
"For the entire history of Palmetto Synthetics, we have believed in 'zero waste,' and that has motivated us to install the equipment necessary to convert waste into staple fiber," Poston said. "While the sustainability message has ebbed and flowed over time, this generation has made it clear that we need to be good stewards of this planet, and our process and products demonstrate that this goal is achievable."
"To demonstrate our commitment to the environment, we solution-dye our staple fiber, which is the cleanest way to produce colors, since there is no effluent released into the environment," Casstevens added.
Palmetto Synthetics specializes in precision color matching with exceptional accuracy and flexibility in color matching and color control, which makes this green solution a valuable quality for clients with a sustainability focus.
Palmetto Synthetics' Future Outlook
When asked about the future, Poston stated, "The Palmetto Synthetics Team and I embrace the challenges of the future and partner with our customers to provide the highest quality fiber and service to enhance our mutual products."
Palmetto has come a long way from an extruder of coarse denier fiber for the abrasives industry to today's full service, independent specialty fiber producer providing custom solutions that add engineered performance for its clients.
May/June 2021