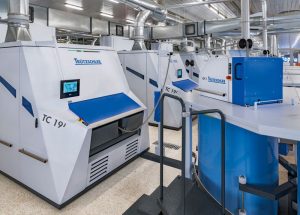 Despite a difficult business climate created by the pandemic, spinning technology companies continue to innovate.
TW Special Report
Spinning operations still thrive in the United States, in part, because the process lends itself well to automation therefore making competition from low-cost labor markets less of an issue compared to some other more labor-intensive steps in the textile processing chain (See "Spinning Automation: Development And Progress," TW, this issue).
According to the new "Spinning Machines – Global Market Trajectory & Analytics" report from Dublin-based market research company Research and Markets, for the 2020-2027 period, the global market for spinning machines is predicted to grow from $5 billion to $7.3 billion at a 5.5 percent compound annual growth rate. In the United States, the value of the spinning machine market in 2020 is estimated at $1.4 billion.
Sustainability and circularity concepts are a new focus for the spinning industry as textile manufacturers look for creative ways to save textile waste from landfills. The desire to use recycled fiber in yarns is increasing and technologies need to be refined or created to handle such fiber in a cost-effective way, while producing a high-quality product for downstream processing.
Here, Textile World presents a look at some of the latest technologies introduced to the spinning market. Despite the COVID-19 pandemic, which resulted in a decline in overall textile machinery shipments, it is clear the interest and investment in new innovations from technology producers has not diminished.
Trützschler Spinning
Germany-based Trützschler Group's Spinning business unit focuses on spinning preparation technologies for cotton as well as the man-made fiber sector. This includes blow room, carding, drawing and combing equipment.
Trützschler's newest card, the TC 19i, is billed by the company as the "first intelligent card." The machine can perform important settings independently in a more precise manner than a human operator for an unprecedented level of quality, according to the company.
The optimal gap between the cylinder and flat clothing for cotton carding is 0.075 millimeters, which is so small even an experienced technologist cannot set the machine when the card is cold. Temperature changes and centrifugal forces during operation also influence these settings. The TC 19i card features Gap Optimizer T-GO technology to ensure an ideal carding gap at all times. Once the gap is set initially by a Trützschler machine specialist, the card responds automatically to changes in material properties, production level, cylinder speed and environmental changes such as room temperature.
Optical sensors on the TC 19i card monitor waste in the suction. If too many good fibers are detected in the waste, the system automatically adjusts the mote knife setting on the WEBFEED using a servomotor. The company also offers as an optional feature Trützschler Nep Sensor NCT, which monitors the web on the doffer using a camera to detect neps, trash particles and seed coat fragments. Data is displayed on the card and also shared with Trützschler's My Mill monitoring system to help immediately recognize any deviations.
Jürgen März, carding specialist at Trützschler, reported hearing positive feedback at ITMA. "By talking to our customers about problems in their mills, we learned about their dependence on skilled staff," März said. "The precision of the flat setting is highly influenced by the operator, but reliable and well-trained personnel is difficult to find today. Customers were very impressed by the fact that very narrow settings can be set completely independent. The carding gap is no longer set by a technician, but by an intelligent system."
Processing post-industrial or post-consumer recycled fiber is one such problem that spinning companies are working to solve. Such recycled fibers tend to be short and may contain unwanted yarn or fabric particles that make processing difficult. For such applications, Trützschler offers the TC 19i for Recycling.
"At Trützschler, we are always seeking solutions to the latest market trends, and we are passionate about sustainability," said Thomas Schmitz, head of development, Fiber Preparation. "The TC 19i for Recycling empowers our customers to make the most of recycled material by optimizing opening and cleaning processes. It also offers a gentle, but effective treatment of short fibers and ensures no unnecessary waste is produced."
Trützschler reports the TC 19i for Recycling combined with the IDF 2 integrated draw frame and Trützschler's blowroom and carding solutions present a complete solution for direct spinning of rotor yarns from recycled materials.
"By producing high-quality sliver from recycled fibers for new yarn, our customers are able to make progress toward their targets for sustainability, while also staying ahead of rising regulatory pressure and increasing consumer demand for eco-friendly products," said Markus Wurster, head of Global Sales. "The TC 19i for Recycling is an intelligent card that helps companies in the textile industry to embrace sustainability and turn this megatrend into a mega opportunity."
Other new technologies offered by Trützschler include the Portal Bale Opener BO-P, Autoleveler Draw Frame TD 10, and its digital solutions My Mill and My Wires. The Portal Bale Opener allows more bales to be placed side-by-side to be processed in parallel using two opening rolls for improved blending and increased production speed of up to 3,000 kilograms per hour. The TD 10 draw frame is based on the previous generation TD 8, but with new advantages including a compact structure, energy-saving suction system, individual sliver sensors in the SMART CREEL, and modified drive concept. In keeping with Industry 4.0 themes, Trützschler's My Mill and My Wires offer digitized mill solutions for production and quality, as well as maintenance and card clothing management. The digital offerings allow plant managers to make "informed, data-based decisions and generate quick wins as of day one," according to the company. My Wires provides an automatic digital tracking method for clothing wear and can notify users of important events such as wire replacement.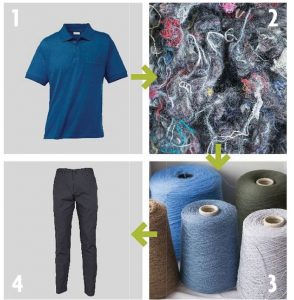 Rieter
Switzerland-based Rieter specializes in machinery for short-staple fiber spinning. The company currently is focused on technologies for recycled fibers in rotor and ring spinning processes. It recently undertook a study that showed it was possible to use Rieter systems to spin both rotor and ring yarns of different qualities using a "considerable amount" of recycled material inputs despite the presence of very short fibers found in post-consumer recycled fibers.
Using its rotor spinning system, Rieter reports it is possible to spin yarn up to Ne 20 using a blend of 75-percent post-consumer material with 25-percent virgin fiber; or a yarn up to Ne 30 with a blend of 87.5 percent pre-consumer material and polyester.
According to Rieter, recycled yarns are rarely manufactured using ring spinning lines because of the short fiber content. However, the company's system is designed to produce ring-spun yarns up to Ne 20 using a 60-percent post-consumer material and 40-percent virgin cotton; or yarn up to Ne 30 using a blend of 60-percent pre-consumer material and 40-percent polyester that are suitable for weaving and knitting applications.
Rieter recommends the following machinery from its product line for manufacturers wishing to process recycled yarn content: the VARIOline blowroom line; C 80 carding machine; double-head draw frame SB-D 26; autoleveler draw frame RSB-D 26; autoleveled draw frame module RSB-Module 50; the fully automatic roving frame F 40 and semi-automated roving frame F 20; and ring spinning machine G 38.
The company also has established the Rieter Recycling Classification system to help spinners determine what targets may be reached based on the recycled input material. The system looks at short fiber content, mean fiber length and the 5 percent fiber length — which are important parameters after the tearing process — to determine the best spinning process to use and what quality and fineness can be achieved. According to Rieter, the rotor spinning machine is well-suited for processing fibers with a high short fiber content of more than 30 percent and up to 75 percent, and will produce a more even yarn. The more intensive fiber integration of the ring spinning process results in the highest yarn tenacity, which increases options for using the recycled-content yarn especially in the weaving mill.
Marzoli Textile Engineering
Italy-based Marzoli Textile Engineering, part of the Camozzi Group, offers solutions for preparation and short-staple-fiber spinning for both the woven and nonwoven sectors. Marzoli recently introduced a Trash Analyzer for online analysis of waste during fiber preparation. A weighing pan provides weight analysis in conjunction with the visual analysis of sample images to produce a performance index of the overall efficiency of trash removal for the opener or card in question. The system can be employed anywhere there is material flowing through a pipeline and sampling does not require any machine downtime.
At the end of April, the company will launch an updated version of its TAOMApp, an application developed to analyze trash inside cotton bales quickly and easily using photo scanning technology. According to the company, the new version is more user friendly and precise when identifying and defining the trash level in the bale, among other improvements.
The company also recently contributed its technologies and experience to a recycled yarn project with the Egyptian cotton industry (see sidebar).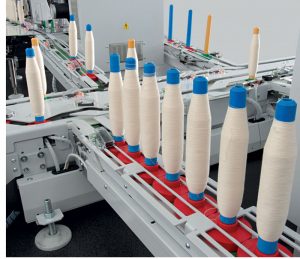 Savio Macchine Tessili
Founded in 1911, Italy-based Savio Macchine Tessili S.p.A. is a machinery company specializing in yarn finishing operations including automatic winders, two-for-one twisters as well as rotor spinning machines. Recently, it was announced that the Belgium-based Vandewiele group has reached an agreement to acquire Savio from Itaca Finance S.A, a company controlled by Alpha Private Equity. The transaction is expected to close this spring.
"Receiving such strong interest from important players in this challenging period is a recognition of Savio's strategic value," said Alexander Zschokke, who will continue in his role as chairman of Savio Group. "In the long term, being part of the Vandewiele Group will preserve our entrepreneurial culture focused on innovation, operational excellence and commercial development.
"We are extremely proud to welcome the Savio Group with its strong tradition and technology in our group," said Charles Beauduin, CEO of Vandewiele. "The joining of our technological capabilities, R&D and industrial operations will allow us to grow strongly in the next few years".
Savio's latest spinning innovation is the Multi Link, which connects multiple ring-spinning frames to one Savio winder. The company created the technology in response to demand for increased integrated automation in the spinning process to improve quality and productivity. According to Savio, the solution optimizes space, and reduces energy consumption and production costs. Contact-free material flow is ergonomic with a shortened patrolling path for machine operators. Savio also offers bespoke systems tailored to fit the exact need of the customer. Winders may be prepared to process two or three different yarn counts.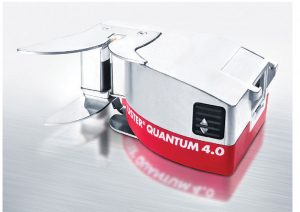 Uster Technologies
Last year, Uster's Quantum 3 yarn clearer, engineered by Switzerland-based Uster Technologies AG, marked its 10th anniversary. This third generation of Uster's clearing system was the first yarn clearer with automatic clearing limit proposals based on the Yarn Body concept — an outline of a "normal" yarn with its expected and tolerable natural variations made possible by powerful processing electronics.
This year, Uster launched the Quantum 4.0, the next generation in Uster clearing systems. The Smart Duo system combines both capacitive and optical sensors in one for intelligent yarn quality control and optimized profitability, according to the company. The two sensors operate intelligently in tandem using Uster's Cross Clearing innovation. This technology locates and eliminates hidden defects in double checks using a main sensor and an assistant sensor. Issues such as unseen fluff events that may cause breaks in downstream processing, are caught.
A density feature prevents sub-standard cops caused by ring spinning malfunction, as well as quality issues that arise in compact spinning. "No matter where density variations originate, be it compacting, different twist levels due to slip spindles or otherwise, Uster Quantum 4.0 takes care of it — and this is a real technical innovation," said Katrin Hofer, product manager, User Technologies.
Quantum 4.0 also features the Blend Mix-up option enabled by improved hardware and software. This option detects any incorrect raw material in greige and white yarns, preventing the unwanted barré effect in woven fabrics. An enhanced Continuous Core Yarn option also continuously detects both missing and off-center cores.
In addition, a new polypropylene (PP) classification offers an overview of PP content, while the Quantum 4.0's Advanced FD classification shows foreign matter below the 5 percent line.
Uster also offers Quantum Expert as part of the product package, which enhances process control and defect prevention via the Total Contamination Control, Ring Spinning Optimization and RSO 3D Value Module.
"Failure prevention is the key to success and tackling issues at source is the way to do it," Hofer said. "Uster Quantum 4.0 plays an important role in this, offering options to strengthen it."
All data collected by the system is handled by Uster Quantum Expert in an intuitive way. According to the company, a new central Smart-Limit button allows an operator to adjust all available smart limits with the simple tap of a button; or, individual limits can be fine-tuned as preferred.
Loepfe Brothers
Switzerland-based Loepfe Brothers Ltd. recently introduced the YarnMaster® EOS for reliable yarn clearing on open-end spinning machines. The device features a newly developed state-of-the-art stable optical sensor that enables accurate yarn clearing tailored to the desired yarn quality. The sleek design of the outer casing allows the device to be used on a wider range of open-end machines compared to its predecessor. Loepfe also created an intuitive user interface to complement the advanced functions. of the EOS clearer.
"This is a must-have for all open-end spinning machine owners — the combination of consistency and efficiency offered by the YarnMaster EOS is unrivaled anywhere on the planet," said Loepfe's Head of Products & Solutions Guido Wieland. "It gives owners greater control of yarn quality than they have ever had before, while ensuring that machine efficiency is optimized for maximum productivity."
The company also offers the YarnMaster Prisma — a new generation of clearers that feature four established sensor technologies fused together in one device: an optical infrared sensor; a mass sensor; an optical RGB sensor; and a triboelectric sensor. The company engineered a way to effectively combine two dominant sensors — optical and mass — into one sensing head for precision yarn clearing with no compromise on quality. This dual measurement or DM sensor technology measures basic yarn faults. The RGB F sensor illuminates the yarn in the full spectrum of light, which enables the smallest shade and glossiness differences to be detected in any type of yarn or color for effective foreign matter detection. The Prisma's triboelectric P4 sensor evaluates electric charge differences created by different raw materials during the winding process, thereby reliably detecting white and transparent polypropylene, according to the company.
The Prisma clearers are available in three versions — Prisma DM, DMF or DMFP — depending on the customers manufacturing requirements.
Most recently, Loepfe announced a collaboration with Italy-based Loptex S.r.l. The two companies aim to improve yarn quality and productivity for spinning mills with an integrated offering. Customers can now buy from Loepfe its YarnMaster Prisma and YarnMaster Zenit+ yarn clearers together with the Loptex Exa and Centra sorters for a complete solution from one supplier.
"We welcome this collaboration which harnesses the strengths of both the Loptex and Loepfe products for our customers," said Loptex CEO Renato Gerletti. "There are many synergies between the approaches of our two companies, not least of these being our dedication to using leading edge technology to deliver great results for spinning mills everywhere."
"Next to our in-house R&D commitments, this is a complementary partnership that puts customer needs first and will deliver a vital combination of top quality and greater productivity to textile mills," said Loepfe's CEO Dr. Ralph Mennicke about the collaboration with Loptex.
"Despite the challenging times in which we are living, Loepfe has remained true to its values and kept on investing in R&D," Mennicke said. "Recognizing the challenges faced by all in the spinning and weaving industry today, our investment in developing the finest Swiss technologies to support our customers continues at full speed."
Loepfe is not alone in this commitment to drive the industry into the future with innovative solutions and creative technologies for the spinning industry, and there is no doubt the industry will see more spinning innovations introduced at the upcoming ITMA Asia + CITME trade show in June (See "ITMA Asia + CITME 2020 On Track For June," TW, this issue).
---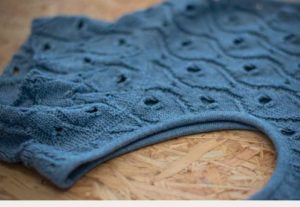 RE.ACT: Exploring Circular Solutions For Denim Recycling
Italy-based Marzoli Textile Engineering recently participated in the denim recycling RE.ACT pilot project. Created by the United Nations Industrial Development Organization (UNIDO) in collaboration with Circle Economy, "The Egyptian Cotton Project" aimed to explore circular solutions for denim recycling in the Egyptian cotton textile industry including market opportunities and technology capacities.
The project was a multi-stakeholder partnership between Egypt and Italy, sharing knowledge, expertise and technology to show that recycling in a profitable manner is possible. Marzoli contributed its technology and advanced know-how to the project and was joined by T&C Garments, which supplied the post-industrial denim; yarn spinner Filmar S.p.A., and weaving and finishing company Albini Group. Post-industrial denim waste was transformed into NE 30/1 cotton yarns that were then used to produce high-quality knitwear and fabrics. Italian fashion designer Marina Spadafora hosted an educational "Knitwear Design for Sustainability" workshop for Egyptian and Italian fashion design students, which produced a knitwear capsule collection.
Circle Economy supported a life-cycle assessment (LCA) on the recycled yarns produced in a scaled-up scenario. The LCA showed that the recycled yarns had a lower impact than virgin cotton with regards to water consumption, total energy demand and global warming potential. The promising results were shared in a report, "Egypt's Market: Environmental and Economic Assessment of Post-Industrial Cotton Waste Recycling."
"We are focused on continuous innovation in mechanical regeneration of fibers," said Cristian Locatelli, Marzoli's general manager. "Developing and adopting green technologies means for us at Marzoli to carefully balance economic with environmental sustainability. Circularity of fibers, thanks to fabric regeneration, is creating a synergistic value chain among all the stakeholders. The new paradigm of a circular fiber supply chain will accelerate learning and development of know-how for all participating stakeholders pushing innovation and opening up to new potentials."
---
March/April 2021