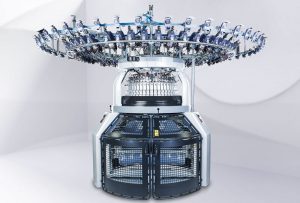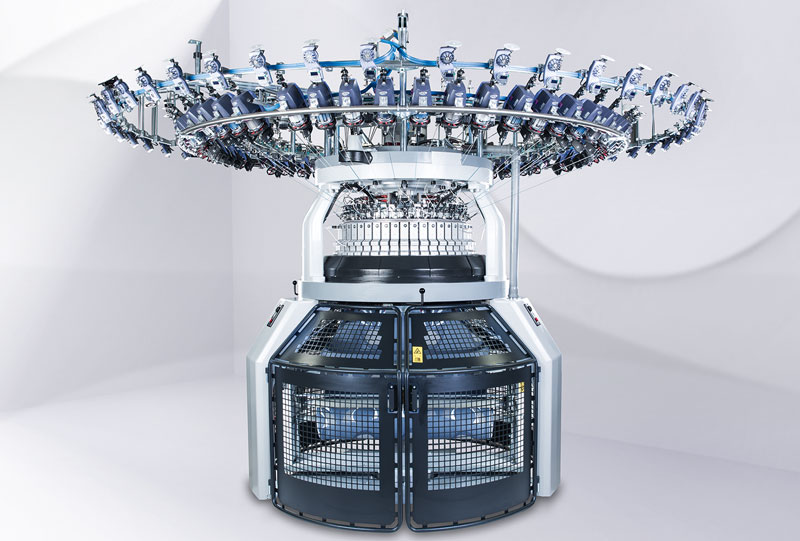 Knitting innovations continue to add value for textile manufacturers during a difficult time.
TW Special Report
Courses, wales, loops, gauge, warp, weft, raschel, jersey, interlock … just some of the terms familiar to people working in the knitting industry. Knitting technology comes in a variety of types and sizes and may be used to make all sorts of products from small vascular heart grafts (see "Prototype Graft Designed To Replace Damaged Heart Vessels Shows Promise In Cell Study", TW, January/February 2021), to shoe uppers and apparel fabrics all the way to large-scale bedding components and anything in between that requires comfort, stretch and seamless shaping, among other attributes.
Since ITMA 2019 — ITMA typically paving the way for new innovations — and despite difficulties in the machinery market because of the pandemic, knitting technology manufacturers are still innovating and helping their customers provide value. Here is a look at a few new products available to knitters.
Mayer & Cie
After completing field tests, Germany-based Mayer & Cie reports its OVJA 2.4 EM circular knitting machine now is ready for the market. The fully electronic model is designed for mattress cover fabrics with high output and a wide pattern variety. This ready-for-market version builds on the model introduced during ITMA 2019 with the addition of a new thread fluctuation control system positioned on every second feeder. A controlled air stream maintains constant yarn tension especially at high revolutions per minute, which helps avoid thread loops and dropped stitches.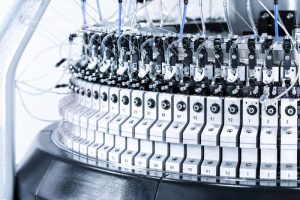 "With a feeder density of 2.4 the OVJA 2.4 EM tallies precisely with the current trend toward higher feeder densities that make higher productivity possible," said Thomas Zizmann, area sales manager at Mayer & Cie. "The OVJA 2.4 EM produces up to 30 kilograms of fabric per hour. That makes it demonstrably the most productive machine of its kind in the world, as shown by its speed factor of 950."
Relatively new to the mattress market, knitted fabrics have taken off over the last 20 years according to Mayer & Cie in part because of their elasticity and flexibility. However, the market is increasingly competitive, and Mayer & Cie. aims to add value for its customers — mostly premium manufacturers in the United States and Belgium in this sector — by increasing the production output of its mattress machines.
Mayer & Cie also offers the OVJA 1.6 EE/2 WT double jersey jacquard machine for multi-colored designs and microstructure elements including tuck structures, spacer fabrics and double-knit fabric with a lay-in thread. The machine features three-way electronic needle selection in the cylinder and two-way technology in the rib dial. When special needles are employed, the machine can knit yarns up to 1,200 denier in gauges as coarse as E16. Applications include mattress covers, upholstery, transportation seat covers, shoe uppers and outerwear.
In keeping with the digitalization trend, Mayer & Cie. also offers a cloud- and web-based digital solution for the knitting industry via its knitlink technology. knitlink records data from each machine and provides operators with a visual record of the data on a personalized dashboard.
my.shop was recently launched in selected countries, and a web shop for spare parts will be widely available in the near future, according to the company. Additional functions also are in development.
Karl Mayer
On the business side, in 2020 Germany-based Karl Mayer Textilmaschinenfabrik GmbH acquired H. Stoll Ag & Co. KG., an established name in the flat knitting arena. The purchase broadens Karl Mayer's product offerings to include both warp knitting and flat knitting solutions. Stoll now operates as an independent business unit within the Karl Mayer corporate group.
In the United States, the Stoll and Karl Mayer North American subsidiaries were consolidated into one location in Greensboro, N.C. An investment at the site, scheduled for completion in March 2021, includes a state-of-the-art textile development and visitor center, which offers demonstrations, training, collaboration opportunities with industry partners, prototyping and an assembly operation for both Karl Mayer and Stoll technologies. Stoll's core team in Greensboro offers business and technical management, textile design and product development, machine programming and customer service.
"With the new development and visitor center and the synergies that come with combining our capabilities, we offer textile producers and all industries that can imagine the use of textiles an extremely strong resource in North America" said Tony Hooimeijer, president of KARL MAYER North America.
The company also has created a Textile Makerspace platform intended to help connect the textile industry with new technologies to encourage innovation. One focus, Textile Circuit, looks at smart textiles and wearables, and projects are underway at the company's headquarters in Obertshausen, Germany. The Greensboro location also offers a Makerspace area with a modified standard machine and competent service technicians, according to the company, where U.S.-based customers can develop and implement ideas for e-textiles with support from Sophia Krinner, textile technology product developer, who was charged with setting up Textile Circuit. "Customers can come to us with their ideas and work with us to try out different ways to make their ideas a reality," Krinner noted.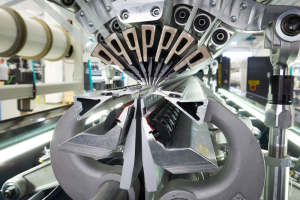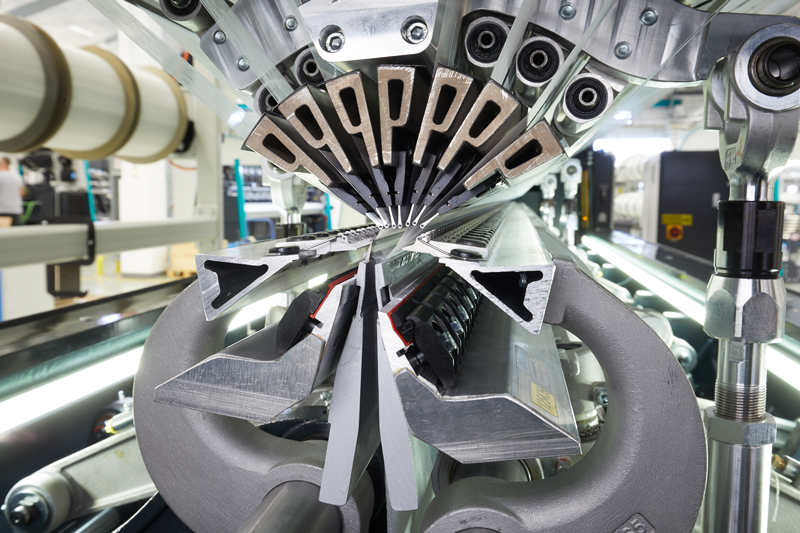 On the technology side, Karl Mayer offers some new technologies for the knitting sector. Its RD 7/2-6 EN double needle bar raschel machine offers up to 30-percent higher speed compared to its predecessor the RD 7/2-12 EN, according to the company. First introduced in 2019, the machine can knit 3D fabrics using a trick plate distance of 2 to 6 millimeters. Its EN pattern drive and maximum shogging movement of 1 inch allow patterning variety with up to 12,000 stitch repeats. The machine is available in working widths of 138 and 77 inches in gauges E 18, E 22 and E 24. Fabrics may be used for footwear, clothing and mattress applications.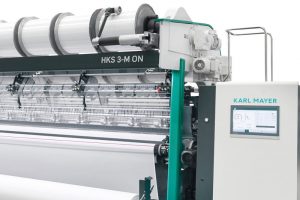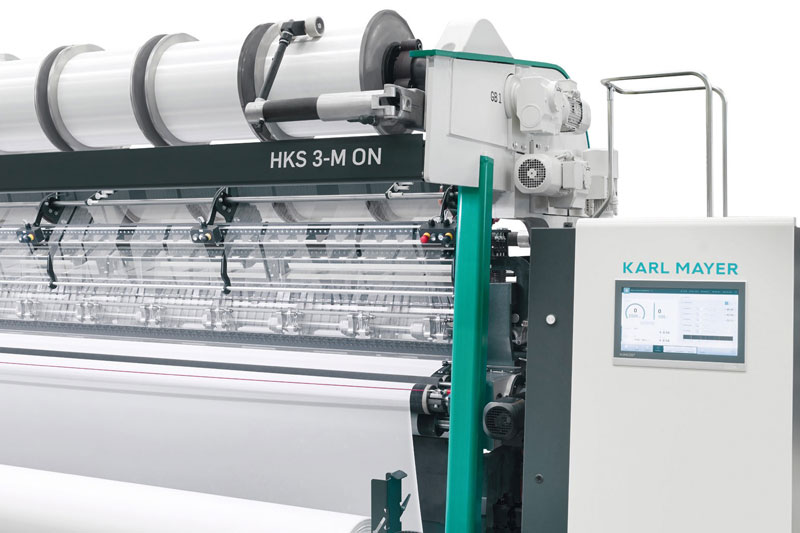 Karl Mayer's HKS 3-M ON was one of the first machines connected with the company's digital solutions. The machine can directly download pattern data from the KM.ON secure cloud and does not need to use pattern disks, which allows for easy pattern changes found with EL gears at the speeds associated with N pattern drives. The machine recently was issued in a wider working width of 300 inches for wider or side-by-side production, and is up to 15 percent faster than its predecessor, according to the company.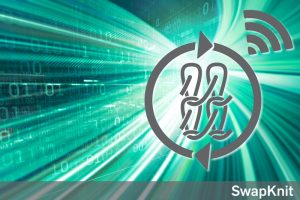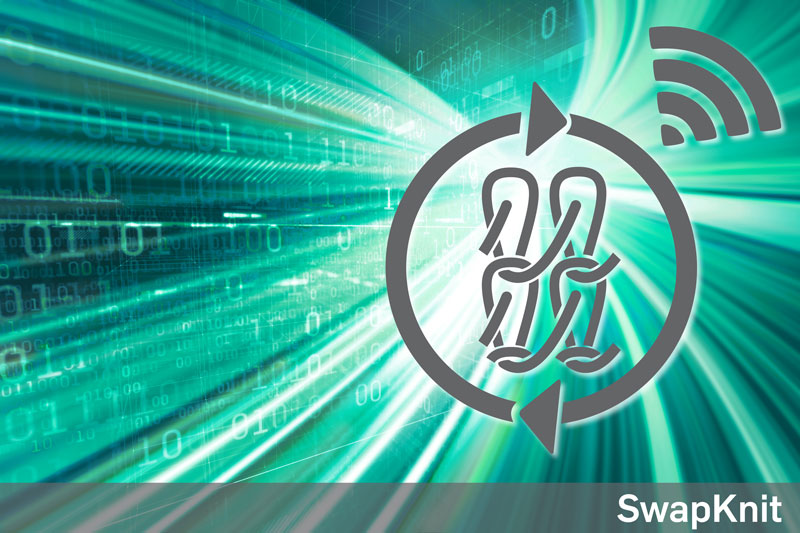 Karl Mayer offers three interchangeable options for purchasing lappings for the HKS 3-M ON — SwapKnit 36 and SwapKnit 36 Flat for designs up to 36 stitch courses; as well as a variant developed for pattern repeats of more than 36 stitch courses. Patterns for the machines are downloaded from Karl Mayer's Webshop Spare Parts and loaded on to the knitting machine for fast and flexible pattern changes. According to Karl Mayer, the hybrid machine combines the patterning possibilities of a typical N and EL pattern drive in a single machine.
Shima Seiki
In the early days of the SARS-CoV-2 pandemic, Japan-based Shima Seiki Mfg. Ltd. released free knitting data for masks that could be produced using a variety of its knitting machines including the Wholegarment® technology. The goal was to help Shima Seiki machine owners who were looking to switch production to masks to alleviate the shortage of surgical masks as quickly as possible. The patterns were for 3D form-fitted masks featuring integral ear loops that could be knit in one step with no further sewing required. The designs are available at Shima Seiki's user website located at shimaseiki.com/user/samplesearch.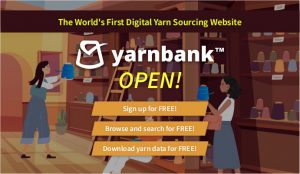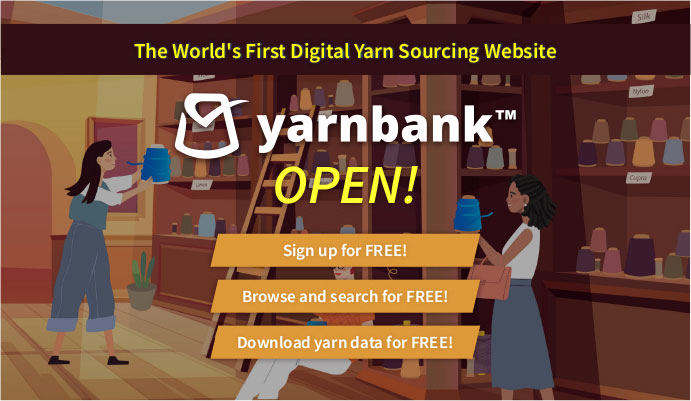 Officially launched in September 2020, Japan-based Shima Seiki Mfg. Ltd.'s yarnbank™ online web service allows users to search and view the latest yarns from a wide variety of companies around the globe, and then download the yarn data for use by fabric simulation and virtual sampling on the Shima Seiki SDA®-onE APEX4 design system. The goal is to give designers the ability to create accurate representations of garments that may be created using yarns that are available for production.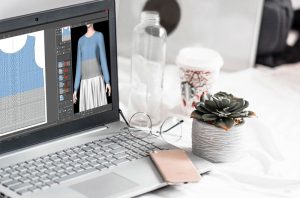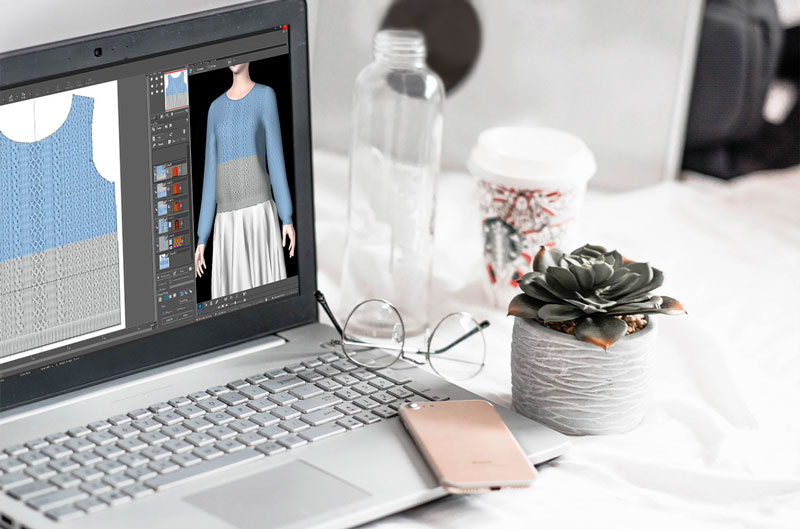 Existing Shima Seiki APEX users can register to use yarnbank free of charge.  In October 2020, the company also launched a subscription-based design software option named APEXFiz™. This offering breaks with Shima Seiki's tradition of offering only all-in-one proprietary hardware and software packages and allows customers to install the software — available in five different configurations: Design Jr.; Design-Standard; Design-Knit; Design-Weave; and Design Pro — on their individual computers. APEXFiz users also have access to yarnbank.
Shima Seiki reports it "has traditionally promoted design simulation and virtual sampling as an essential part of its 'Total Fashion System' concept wherein virtual samples replace physical samples in an effort to reduce time, cost and materials wasted in the sample making phase, further realizing overall efficiency and reduced waste for a sustainable manufacturing supply chain."
Yarn companies can register their products on yarnbank under a number of different plans. The advantage to yarn manufacturers, according to Shima Seiki, is the ability to "present their yarns directly to their customers." The yarnbank technology can save time, costs and materials for yarn manufacturers by reducing the dependence on traditional sample books for product promotion.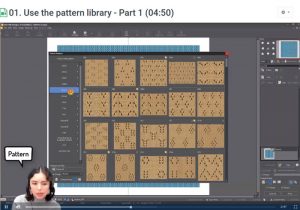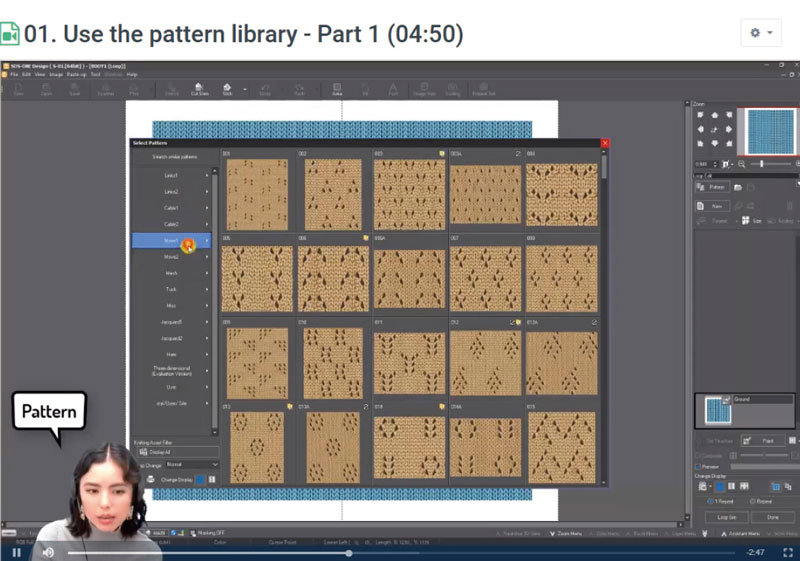 Shima also recently released the SHIMANAVI™ e-learning system that provides online training for its APEX series users. The flexible system offers support at the user's pace when and where it is convenient. Several of the courses are available in multiple languages.
Comez
Some recent technology introductions from Jakob Müller Group company Comez Internationl S.r.l., Italy, include the DNB/600-2B, DNB EL-32 and 800 ACO/EL.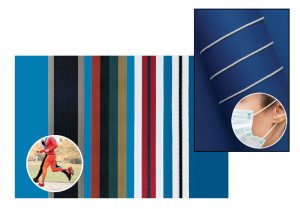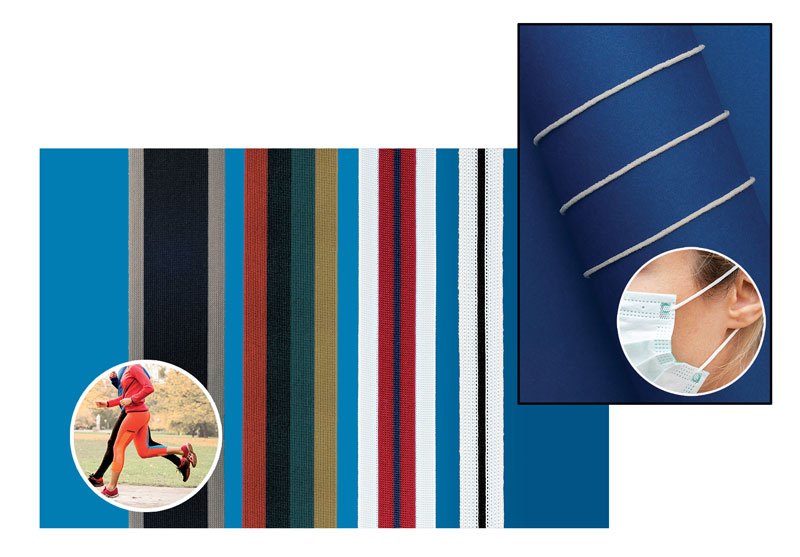 The DNB/600-2B is a high-speed mechanical double needle bed warp knitting machine designed for mass production of items including ear loops for masks and sportswear accessories. The low stitch density required for such articles and high operating speed of the machine equate to very high productivity, according to Comez. Equipped with two mechanically controlled guide bars, the DNB/600-2B can process all types of yarn into double face fabric structures. A compact design and reduced working width result in fast changeovers.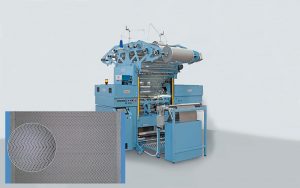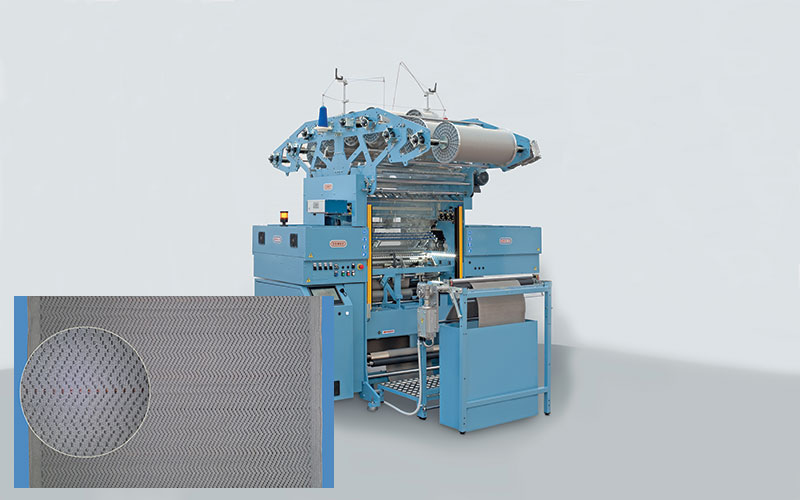 The company's DNB/EL-32-12B, was first introduced at ITMA 2019. The electronically controlled warp knitting machine is designed for sample production using any yarn in all possible gauges on a single, compact machine. Items that may be produced using the DNB/EL-32-12B include technical textiles, medical textiles, shoe uppers and apparel textiles. The machine's 12 guide bars and electronic long-throw device with a maximum stroke of 560 millimeters allow more advanced technical fabrics to be produced such as reinforced fabrics, fabrics with continuous weft insertion and technical furnishing fabrics.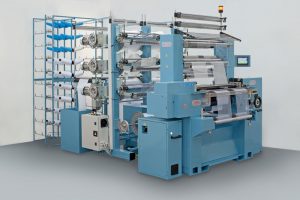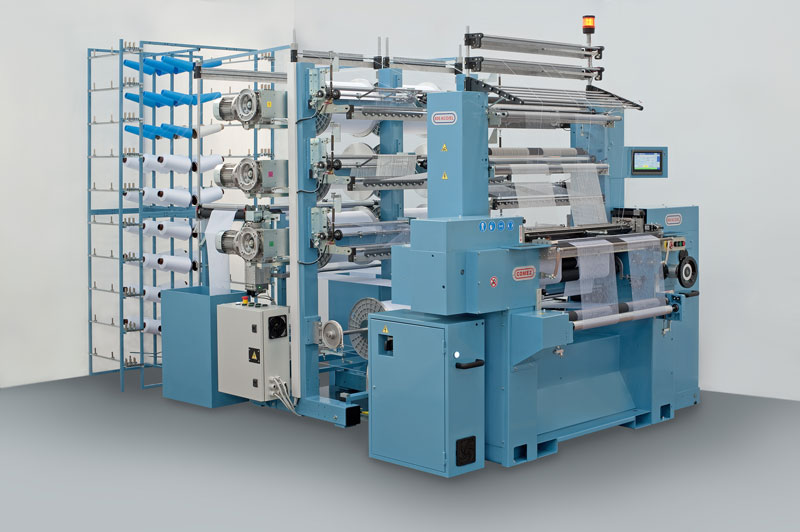 Comez's 800 ACO/EL crochet knitting machine features compound needles, electronically controlled yarn tension and stitch density regulation. Comez reports the machine is suitable for the production of elastic and rigid fabric and tapes, and is ideal for products requiring a lock-stitch structure such as medical and orthopaedic textiles, closed-loop Astrakhan-style fabrics, furnishing ribbons and tapes, and sportwear ribbons, among other articles. The machine is equipped with eight weft bars and is available with an 800-mm working width.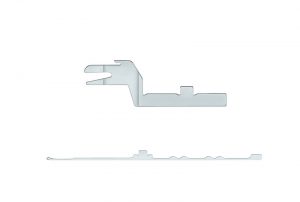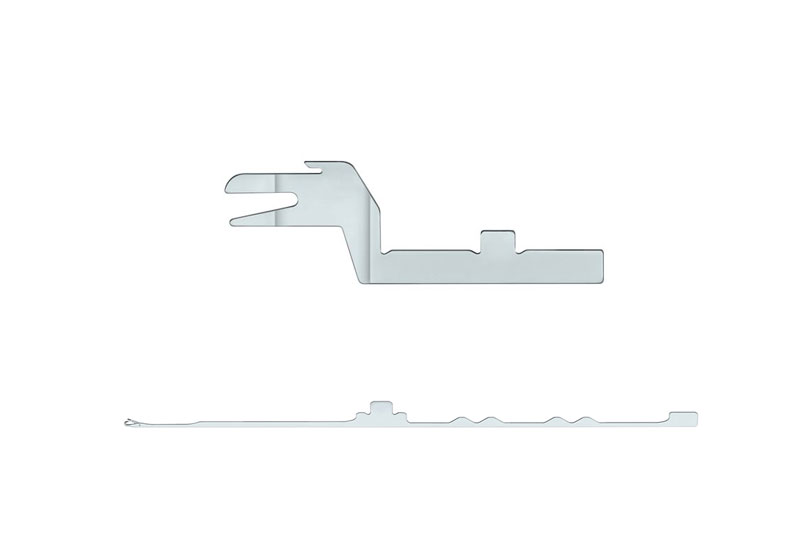 Groz-Beckert
Germany-based Groz-Beckert KG recently introduced the SANT™ SF special application needle and Sinker SNK SF for use when knitting staple fiber yarns with increased fiber fly on large diameter circular knitting machines. In such manufacturing processes, fiber residue, fiber abrasion and dirt can cause deposits in the channels of the needle carrier channel that eventually result in uneven needle seating, tight movement and needle and sinker overheating, which leads to poor quality fabrics and damage to the machine components. The SAN SF needle and SNK SF sinker were designed to reduce dirt accumulation and extend required cleaning intervals to reduce machine downtime.
The staple fiber needle features a closed shank on the back of the needle, and cushions to support the cylinder walls. According to the company, the needle also enhances uniform loop structure.
The sinker has an opening in the front area for lint removal that creates a self-cleaning effect. Use of the sinker reduces fabric defects and wear on machine parts.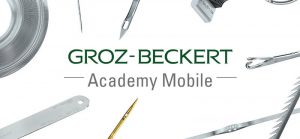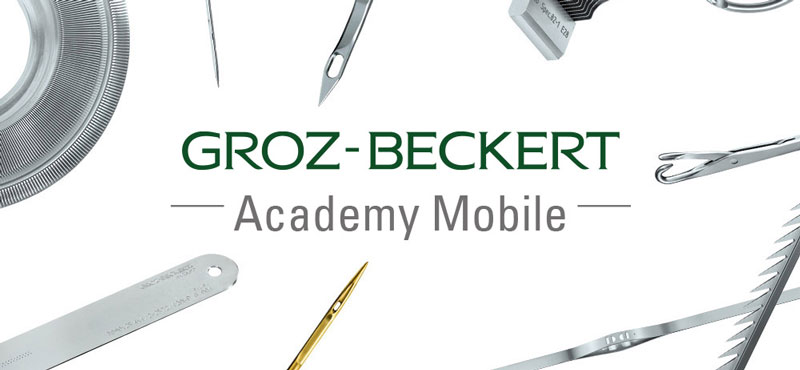 Also new from Groz-Beckert is its Academy Mobile Knitting. The company extended its Groz-Beckert Academy with the addition of online seminars that can be accessed from anywhere.
Currently, a new online seminar is available the second Tuesday of each month. Seminars are live and interactive, and attendees can ask the presenter questions using the chat function. The March seminar is titled "Reduced costs when knitting on large diameter circular knitting machines."  The planned April session is named "Needle handling — Correct cleaning of flat needles." More information about the seminars can be found at the company's website.
January/February 2021