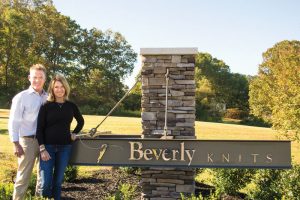 A combination of its traditional business combined with a special PPE project enabled family-owned Beverly Knits to grow year-over-year.
By Rachael S. Davis, Executive Editor
In 2018, more than 30 million small businesses — companies employing fewer than 500 people, according to the U.S. Small Business Administration — operated in the United States, and many of these businesses are family-owned. The textile industry is no stranger to family-owned businesses, with some of these companies owned by the same family over multiple generations. Gastonia, N.C.-based Beverly Knits Inc. is an example of one such family-owned textile business.
The pandemic brought about challenges and changes for many companies and weathering the storm has been difficult for many small businesses. Many had to pivot and rethink their business models, but the flexibility to do so resulted in growth for some companies.
Beverly Knits is celebrating 41 years as a family business this year, and according to Owner Ron Sytz, the company's associates have stepped up to the challenges presented by COVID. "A culture of continuing to work as a tightly knit family business is our focus," Sytz said.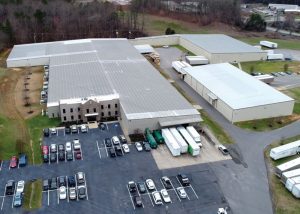 The company was established in 1980 by Bob and JoAnn Sytz as a commission circular knit operation serving the North American textile industry. Today, the business — one of the largest circular knitting companies in the United States — is owned by Ron and Janet Sytz who have expanded the company's capabilities and diversified its customer base. The company comprises Beverly Knits, Altus Finishing, Creative Fabrics and Creative Ticking; and employs approximately 325 associates.
Beverly Knits' capabilities include specialized knitting, dyeing, finishing, and cut and sew operations. The company's products are used in performance wear, athletic footwear, intimate apparel, outdoor products, mattresses and bedding, automotive, and industrial applications as well as medical products including personal protective equipment (PPE).
Knitting machine capabilities range from 8-inch machines up to 60-inch-diameter machines in gauges of 7 to 42 gauge in single knit, double knit, electronic jacquard and specialty knitting machines. Beverly Knits uses a variety of yarns — from natural to man-made, fine deniers to coarse, as well as specialty high-performance yarns — to realize the targeted performance characteristics and properties required by the application. The company works in conjunction with its customers to develop, design and create innovative fabrics.
After knitting, fabrics are processed through Altus Finishing using its state-of-the-art finishing equipment. The performance of the fabrics may be enhanced in a variety of ways from adding tactile aesthetics to antibacterial properties or water and soil repellency.
Creative Fabrics is the sales arm of the company, which sells finished products into a variety of markets including the bedding industry under its own Creative Ticking brand. The Creative Ticking division offers customers a one-stop-shop for bedding components and products via its cut-and-sew operation. Products available from Creative Ticking include pillowcases, sheets and full mattress covers, as well as the more recent addition of face masks and protective gowns in a range of personal protective equipment (PPE)
Textile World recently had the opportunity to speak with Ron Sytz to learn more about the company, the challenges presented over the past 12 months and the company's future outlook.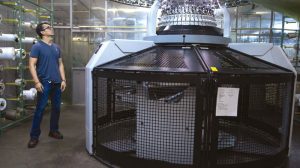 TW: What markets are the most important to the company today? What markets do you see as important in the future?
Sytz: Beverly Knits has long been an important supplier to the performance athleticwear market and, in more recent years, has invested in capabilities to penetrate the bedding industry. With continued de-risking and reshoring of supply chains, most all markets will look to have a domestic resource for a larger portion of their demand. However, we see high performance industrial fabrics — including products that make their way into the auto market via seats, headliners and backing for simulated leather — will provide important growth opportunities . Beverly Knits has made recent investments of more than $1.5 million to develop more capabilities to service this market, including the preparation of fabrics for digital printing.
TW: Are technical/medical textiles important to your business? Is this a growing area?
Sytz: Beverly Knits works directly with high-performance technical yarn manufacturers to help engineer specialized technical and medical textiles, with the objective of achieving specific performance characteristics. With continued advances in yarn and fabric chemistries as well as recent investments in specialized finishing capabilities, we see growth in the development and application of high-tech fabrics designed to address specific needs. Medical textiles will continue to be an important growth area for us, both for PPE and unique applications in post-surgical care.
TW: What did the company look like pre-2020 and how has COVID impacted your business? Have you changed your business model at all, or have you introduced any new products as a result of the pandemic?
Sytz: With steady investments in specialized knitting and the expansion of fabric finishing processing, along with cut-and-sew capabilities, our enterprise has experienced growth during the years leading up to 2020. Demand for our traditional book of business started strong in 2020, but clearly slowed significantly during the second quarter with the onset of the pandemic. However, with consumers spending more time in their homes, the second half of the year saw exceptionally strong demand for bedding products. We also saw initial signs of reshoring of products for multiple market segments, generating volumes which just about made up for the reduced volume of the first half of the year.
Additionally, late in the first quarter, we pivoted very quickly to develop facemask PPE products made using circular knit fabric for the U.S. Department of Health and Human Services. We tasked our own assets and quickly developed a network of more than twenty cut-and-sew operations across the country to supplement our own assembly capabilities that produced more than 20 million masks in three months.  a result, we were able to keep all of our associates employed during the entire year.
In summary, the combination of our traditional business and the special PPE project actually enabled our enterprise to grow year-over-year.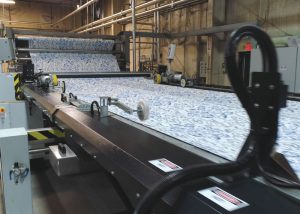 TW: Have you made any recent investments, or do you plan to make any investments in the near future? What technologies are of interest to you to maintain/grow your business?
Sytz: Beverly Knits continues to invest in high efficiency and specialized electronically controlled knitting machines. Within Altus Finishing, we recently invested in an additional finishing line and added state-of-the-art topical application technology that allows us to better engineer fabric performance by employing advanced topicals in addition to the properties of the underlying circular knit yarns. In particular, we are developing enhanced cooling fabrics and have developed products with antivirial and antibacterial technologies to build solutions tailored to today's ever-changing needs.
TW: How do you view the current business climate and how do you see the next several years?
Sytz: We are currently projecting continued growth as we bring on more assets and expand our facilities during 2021. We believe that bedding will continue to provide strength, that apparel supply chains will begin to require more production as they work through inventory gluts from 2020, and that reshoring will gain momentum across all segments. Supply chain managers will continue to de-risk their networks by reshoring more of their critical needs, which will create more opportunities for domestic manufacturing.
TW: What changes have you seen in the knitting industry over the past several years? Are there any particular trends in the United States or particular products in demand?
Sytz: Knitting machine manufacturers continue to advance the technology within their offerings and we have steadily incorporated these capabilities into our fleet. These new technologies allow for faster machine speeds and improved efficiencies for the processing of fabrics for all markets.  Additionally, we continue to see demand for the production of custom engineered mattress covers which lend themselves to the growth of the roll packed bed-in-a-box. There continue to be increases in requirements for the performance enhancements related to the elastification of fabrics to support consumer comfort and fabric recovery. And with the move to lightweight vehicles to increase energy efficiency, more textiles are being incorporated into automotive design and assembly techniques.
TW: Do you have any brands that you promote within the industry? Do you promote any brands at the consumer level?
Sytz: Our Creative Ticking business has developed B2B industry focused brands.
Several years ago, we began to develop and market TioTec® fabrics with technology to help bedding companies to assemble beds faster. The TioTec® technology incorporates the required fire barrier into the decorative cover fabric making it easier and faster to assemble mattresses.
Additionally, we developed and launched Zone 55TM, a performance technology that applies enhanced fabric cooling chemistry to the focused areas of mattress covers that matter most for the consumer to moderate the temperature swings experienced in the bed.
TW: How does your workforce contribute to producing a high-quality product? Do you have skilled workers with a long history at the company?
Sytz: We are fortunate to have a large number of long-term employees, with more than 20 percent having greater than 10 years and 40 percent more than five years with the company.  And we have employees with 20, 30 and even 40 years of service! Over the years, we have trained and developed many experts in circular knitting. This was achieved by giving them the opportunity to play and work on multiple machine types, helping all to be more creative. We have also recruited employees who have many years of experience in the knitting, finishing and cut-and-sew industry. This experience not only helps with the efficient production of high- quality commercial programs, but also supports our product development and prototyping processes.  And we are interested in continuing to build our team with great people that can help us create value.
TW: Over the past decade or so, numerous consumer-driven issues have arisen. For example, issues such as sustainability and full-value traceability have become more important. Are these issues of concern to your company?
Sytz: Initially focused on apparel, we have seen interest in sustainability spread to all markets, including textiles for automotive production. We have always focused on using yarns and fabrics that are environmentally friendly including cotton, wool, and polyester yarns made using reclaimed bottles. We have also helped to develop new fabrics that reduce microfiber shedding. Additionally, as a company we have also attempted to reduce our waste by selling fabrics to recyclers whenever possible. Through this process, fabrics are processed and re-extruded into yarn to be used again.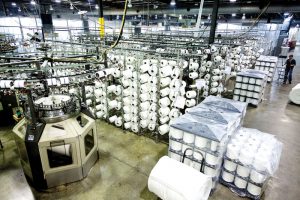 TW: How does the company manage change?
Sytz: With a heritage of commission knitting, we have always knit a wide variety of styles for the market. So, managing change is inherent to our company culture — where we are accustomed to managing the production of a complex mix of products. An important element of managing change is the development of a diversely skilled workforce, where intentional cross training of our associates enables them to back each other up and to more efficiently flex with changes in demand and product mix.
TW: What are the company's biggest challenges?
Sytz: Securing and developing manufacturing labor will be very important, and the companies that do this well will be positioned to grow. We are particularly focused on growing our workforce in order to task our expanding asset base.  And with that, we will look to attract capable leaders with specific skills to help our team grow.
TW: What do you see as the company's greatest strengths?
Sytz: We have developed and attracted technical and operational expertise to support the research and development and the commercialization of custom solutions to our customers' unmet needs.  We also apply this expertise to generate innovative proprietary modifications to our equipment, further enhancing our ability to innovate products for our customers.
TW: Please give a quick synopsis of your company's value proposition. Please tell the readers what makes you special and sets you apart? Please let us know what to expect from your company in the future.
Sytz: Our value proposition is a combination of unparalleled knitting capabilities, tremendous research and development capabilities paired with top notch customer service and fast turnaround times. In a globalized economy, where we compete with companies across the world, we are able to add value through accomplishing what others cannot. In some cases, this means providing faster lead times than can be achieved by foreign competitors, in others it means providing customers with fabrics that can only be manufactured through our proprietary capabilities.
TW: Why do you do what you do? What motivates you?  
Sytz: When Beverly Knits was founded, it focused on developing new fabrics. Our family/team has grown under the creative spirit cultivated by Founder Bob Sytz who was a leader in the industry known for his can-do attitude and ability to create what was needed. The daily challenges are what we use to motivate our team. We believe in creating value and careers for our associates through innovation and manufacturing right here in the United States. We create the opportunity for each of our associates to support themselves and their families and strive to do so with a family environment and strong core values.
January/February 2021