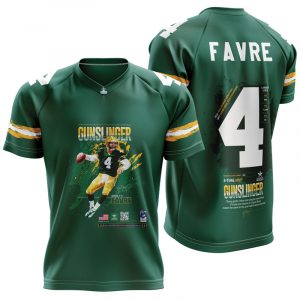 Eco Tek 360 and Authentic Heroes divisions create unique collectible clothing directly from original stage or game-worn items from historic artists and athletes.
TW Special Report
Global Fiber Technologies, Princeton, N.J., is a publicly traded fiber technology company founded in 2016 with the goal of creating repurposed fiber from end of life uniforms. The company operates three divisions: Eco Tek 360, Authentic Heroes and Fiber Chain.
"We utilize trade secrets we developed to treat the articles of clothing with our proprietary formulas before they enter a sequencing process on our textile opening line," said Chairman and President Chris Giordano.
The Eco Tek 360 division has a unique, end-to-end supply chain that recovers the fiber from corporate uniforms at the end of their useful life and uses the recovered fiber to produce new products for their client companies.
The 360-degree concept is working with clients to develop a full circle — cradle-to-cradle — supply chain, reclaiming the fiber and putting it back into the chain. The Eco Tek process works with a wide range of fabric content including natural, man-made and blends.
The recovered fiber can either be used to make the same rejuvenated garment — for example, a polo shirt at the end of useful life is used to make new polo shirts — or the recovered fiber may be used to make other textile products that are required in the clients' business such as tote bags, place mats or furnishings. Clients are not limited to uniform supply companies and also could include institutions and prison systems.
Provenance is a key issue in any supply chain. Knowing the true source of materials in a textile supply chain, all the way back to the fiber level, assures end product quality as well as fabric content and country of origin. It also can substantiate advertising claims related to use of branded fiber or sustainability claims.
Eco Tek Spawns Authentic Heroes Idea
The concept of Authentic Heroes' garments is to share the original game- or stage-worn garment with a broader audience "allowing more fans to own a piece of history."
Understanding the provenance provided by the Eco Tek 360 process, Authentic Heroes sources original game- or stage-worn items directly from athletes or musicians and reclaims the fiber from these authenticated garments. The fibers are then used to create unique, collectible clothing.
Under U.S. patent, the reclaimed fibers from the original garment are treated with a scientifically identifiable process and spun with new fiber to create a reclaimed fiber blended yarn. The blended yarn is then knit or woven into fabric that is used to sew a unique collectible garment with original designs and individual serial number.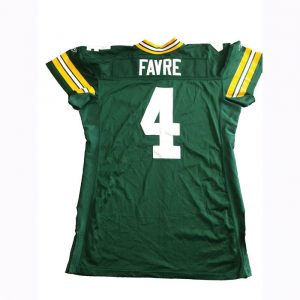 Preserving Authentic Heroes
Authentic Heroes' unique end-to-end supply chain connects more fans than ever with the unique wearable memorabilia of athletes and music artists.
"Our first Heroes are Brett Favre and Warren Sapp," Giordano said. "These football legends will have limited edition series created with reclaimed fibers from game-worn jerseys."
Hall of Famer and former Green Bay quarterback, Brett Favre, shared a jersey he wore in match ups against Atlanta on November 1, 2001, and Chicago on December 9. 2001. "With recovered fiber from Favre's jersey, his commemorative jersey is now a piece of history — authenticated, preserved and shared with Brett Favre fans.
"Fans' ownership is recorded in a database which eventually will be kept in a block chain," Giordano said. "By tracking provenance through strict chain of custody from original through all production, sales, shipping and transfer of ownership of final garments end-to-end throughout their life, the company is able to assure the authenticity of these collectibles."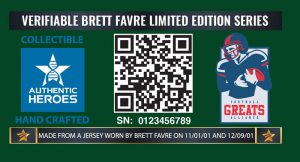 Future Opportunities
"We are excited about the future and the talent we've brought on board with both the Eco Tek 360 commercialization and Authentic Heroes," Giordano said. "On its own, I believe the Eco Tek 360 technology will provide a 360-degree sustainable solution for companies dealing with high volumes of apparel where rejuvenation makes sense. And with Heroes there are opportunities with individual players in multiple sports, but also energetic musical artists with tremendous fan-bases that are a perfect fit for authentic memorabilia.
"With Eco Tek 360, we could even create a commemorative jersey that represents and incorporates an entire winning team's game worn jerseys. So many possibilities …
"Currently we are in negotiations with several popular musical artists and expect to sign 10 more licenses in 2021," Giordano concluded.
The company also recently announced that Eco Tek 360 signed a collaboration agreement with Broadalbin, N.Y.-based Fiber Conversion Inc. to further the commercial viability of Eco Tek 360's rejuvenation technology.
"We are now at the point where we feel confident that we can start making commercial grade repurposed products from what are known as end-of-life fabrics that are headed for a landfill or incinerator," Giordano said. "The collaboration with Fiber Conversion is particularly important because it allows us to see how our process for rejuvenating textile fibers works on a large commercial grade machine in comparison to our pilot line at the facility in Somerset, N.J. Fiber Conversion has a large facility inclusive of two commercial grade recycling lines and a full machine shop which will allow us to start testing our commercial viability immediately."
"The principals of Fiber Conversion have deep expertise in recycling that spans almost 100 years," reported Paul Serbiak, CEO, Global Fiber Technologies. "After recent discussions both parties found it mutually advantageous to take the relationship to another level. There is more work to be done but our most recent in-house results to date are extremely encouraging. We have now moved our sample line to their facility so we can bring efficiencies, cost savings and further know-how to the process and the goal of potentially developing large-scale commercial scale projects together."
September/October 2020