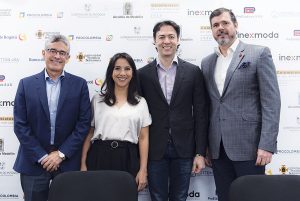 With the slogan "Revolutionize to Evolve," Colombiatex de las Américas 2020 emphasized sustainability as the key for future growth.
By Dr. Virgilio L. González, Textiles Panamericanos' Correspondent
In the presence of Saúl Pineda Hoyos, viceminister of Business Development; Maritza López, secretary of Productivity and Competitiveness of Antioquía; and Daniel Quintero Street, mayor of Medellín; accompanied by Carlos Eduardo Botero Hoyos, Inexmoda CEO, Colombiatex 2020 was inaugurated, as a first line platform for trends and business in the Latin American textile sector.
During the inauguration, Botero Hoyos mentioned that he appreciated the national authorities for supporting Colombiatex of the Américas as the most important fair in Latin America's textile industry. He also emphasized the importance of an environmental approach in an increasingly globalized world as Colombiatex introduced the Environmental Sustainability Route and logo — organized to highlight the sustainability efforts of various exhibitors at the show. "That's why Colombiatex of the Américas 2020 will show how organizations are transforming their business models, improving their chains of supply to reduce environmental impacts, improve efficiency with technology and improve industrial social conditions," Botero Hoyos said.
Botero also recognized the work of Diana Osorio, social manager of Medellín and wife of Mayor Daniel Quintero, who led the Environmental Sustainability project, showing her interest for Medellín's industrial evolution. Osorio pointed out: "It is necessary to add efforts in industry with the purpose to reduce contaminants in the world. This is the result of a lot work that has to be done so a city like Medellín leads innovation, where fashion is a fundamental component because we use it daily and leaves important impacts to the planet."
Medellín Mayor Quintero said: "Colombiatex is definitely the most important fair for the textile industry in Latin America. The environmental sense and the decisions of the buyers that are increasingly concerned in a lot of industries recognize that in this show, there is a very important challenge that also go towards technology and the Fourth Industrial Revolution, through initiatives like internet applied to things that will hit the textile industry."
Show Overview
The show had spaces for education and discussions related to environmental sustainability, with three days for discussing trends, sharing knowledge and conducting businesses.
The fair hosted 546 exhibitors from 21 countries. Colombia represented the largest number of exhibitors with at a total of 328. Forty-six percent were from Antioquia, 44 percent from Cundinamarca, and 6 percent from Valley of the Cauca, among other departments of Colombia. Some 218 international exhibitors came from countries such as India, Brazil and Italy, among other countries. The exhibitors mostly focused on:
Environmental Sustainability — the reuse of plastic, water treatment and reduction of undesirable gases.
Technology — the digital transformation of industry, 3D modeling and robotic arms.
Technical Textiles — intelligent fibers that do not loose shape and using materials friendly to the environment.
Notable exhibitors included Cotton Council International and Epson from the United States; Vicunha and Canatiba from Brazil; Spain-based Jeanologia; Fukutex and others with the Taiwanese delegation; and Fabricato, ENKA and Coltejer from Colombia.
The exhibition was visited by 13,682 buyers of which 12,587 were from Colombia. More than 1,500 buyers were international, coming from Ecuador, Peru and Mexico, among other countries.
The sustainability tour was a successful initiative with more than 57 companies participating, 56 percent of which were from Colombia.
This edition of Colombiatex also emphasized creativity. A collection of 20 Colombian illustrators showed off their talent in the Graphic Market, a joint project between Inexmoda and Artextil aimed to offer market opportunities for the designers.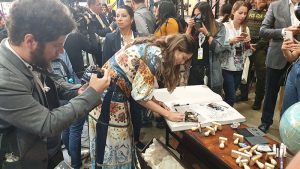 Trend Forums
Colombiatex of the Américas presented fashion trend information for the season Spring/Summer 2020, with displays of textiles and raw materials as well as daily talks on the subject, which gathered nearly 2,000 people during the three-day-event.
The key trends were:
Textiles with blurred or cellophane appearance, melted graphics and ball prints inspired by California.
Ultrafine fabrics, textured, pleated and natural fabrics, as well as granulated appearances like pumice stone, floral watercolor patterns and fruits in retro shape.
Meshes and chains, frosted surfaces, luxurious velvets, printed animal designs and graffiti.
In addition, Inexmoda made a tribute to denim through the Denimm Day, an invitation for people to show their best clothing manufactured using this material.
Knowledge Pavilion
Inexmoda and the University Pontificia Bolivariana-UPB hosted the Knowledge Pavilion, where 28 experts shared their experience and knowledge through lectures and workshops. The topics, mainly covering sustainability and the fashion business, gathered together almost 7,000 people in person and another 7,400 people via streaming. During the Fair, Inexmoda and the UPB celebrated 10 years of collaboration on the Knowledge Pavilion, and reaffirmed commitment to this initiative for future events.
Heimtextil Launch
During Colombiatex, Inexmoda and Germany-based Messe Frankfurt announced their alliance to launch Heimtextil Colombia, a fair that will be a key American event for interiors and home textiles. The show, to be held in April 2021, is expected to boost Latin American textile initiatives to diversify and increase their textile supply to the world.
Contribution To The Economy
Colombiatex of the Américas occupied 11,000-square-meters of exhibition space and at this edition, required 4,700 people and 2,600 vehicles for set up.
Colombiatex also contributes approximately $9.4 million to the local economy of Medellín with a hotel occupation rate of 91 percent. According to market research firm Invamer, business expectations are on the order of the $753 million, of which 56 percent closed during the fair, and the remaining 44 percent to be achieved in the year following the event. Distribution of businesses was as follows: textiles at 43 percent; machinery at 12 percent; chemicals and other raw materials at 11 percent; complete package at 8 percent; and textile fibers at 6 percent.
Colombia And The United States
For most Colombian-manufactured products, including textiles and tailored goods, the United States has become a most important partner. Last year, nearly half of the textile goods exported from Colombia — 49.2 percent — went to the United States. According to Maria Claudia Lacouture, director of the Colombo-American Chamber of Commerce: "Sales increase occurred because rules of the free trade treaty has been clear and followed correctly by both countries. The treaty has taken place, giving Colombian businessmen advantages for export goods to North America."
Approximately $209 million of textile exports went to the United States from Colombia last year, mainly in jeans, swimwear and shapewear. U.S. exports to Colombia last year totaled $91.4 millions dollars, increasing 4.2-percent compared to the previous year.
In summary, it appears Colombiatex of the Américas will continue to be a top show in Latin American textiles and tailored goods. "With the challenge to begin homologating our measure indicators with the international tradeshows, from 2021 we will move from measuring from the expectations and business perspective rates, to the standard data of the world tradeshows, which are tantamount to the numbers dynamizing the economy on a direct way as the investment in mobility, infrastructure and direct and indirect hiring; as well as the city impact coming with the commercial platforms as Colombiatex de las Americas," Botero Hoyos summarized.
March/April 2020