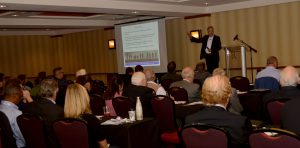 After a successful fall event, SYFA is busy planning its spring 2020 conference, which will return to the renovated Sheraton Charlotte Airport Hotel.
TW Special Report
The Synthetic Yarn and Fabric Association's (SYFA's) 2019 fall conference convened at the Renaissance Charlotte Southpark Hotel, Charlotte, N.C. The change in venue was necessary because its usual location, the Sheraton Charlotte Airport Hotel, was undergoing renovations.
The theme for the fall event was "Textiles Serving America – A Critical Component of Defense," and presentations focused on military and defense topics. SYFA reported the conference was one of its highest-attended events with 152 participants.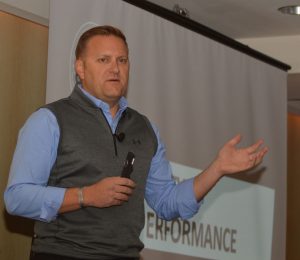 Ron Houle, president of Pivot Step Consultants LLC, talked about the Department of Defense's funding in his presentation titled, "Making (Some) Sense of the DOD Budget." Nicholas Pence, director of sourcing services at Under Armour Inc., spoke about product development in his "Sustainability Driving Performance" talk. Roger Tutterow, professor and Henssler financial endowed chair, Kennesaw State University; and Kim Glas, president & CEO, National Council of Textile Organizations, gave an economic update and trade policy update respectively.
Other presenters came from companies including Wood Mackenzie, Pulcra Chemicals LLC, Burlington, Coolcore, Fiber Innovation Technology Inc., as well as the Textile Protective and Comfort Center at North Carolina State University.
Conference sponsors for the fall event included Gold Sponsor Premiere Fibers Inc.; Silver Sponsor Pulcra Chemicals LLC; Bronze Sponsors Burlington, DAK Americas LLC and Augusta Sportswear Brands; and Patrons & Exhibitors Sponsors Clariant Corp., The Association of the Nonwovens Fabrics Industry (INDA), Jomar Softcorp International Inc., Lumat USA Inc., PolySpinTex Inc., Milliken & Company, National Council of Textile Organizations, Techtextil North America, and Unifi Manufacturing Inc.
SYFA's spring conference will return to the Sheraton Charlotte Airport Hotel April 23-24, 2020. Attendees may register at the association's website, thesyfa.org.
January/February 2020