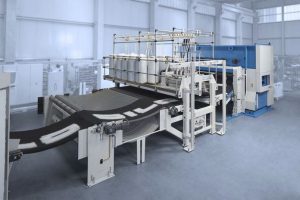 Latest-generation machinery offers nonwovens manufacturers opportunities for sustainable, intelligent production.
TW Special Report
Nonwovens continue to be a bright spot in the U.S. textile industry. According to the Cary, N.C.-based Association of the Nonwoven Fabrics Industry (INDA), "nonwoven materials have made a big impact on raising quality and lowering cost." Nonwoven products find applications in almost all textile sectors from the obvious hygiene and health related end-uses such as in wipes, to less recognized apparel and bedding applications and anything in between.
In the 6th edition of the North American Nonwovens Supply Report, INDA reported that nonwovens capacity in North America increased in 2018 to 5.17 million metric tons, which represented an increase of 3.4 percent over 2017. The majority of new lines that have come online over the past several years in the United States are used to make engineered fabrics for transportation and filtration markets, according to INDA.
Nonwovens technology manufacturers had a strong showing at ITMA 2019, a trade show that emphasized several major themes including sustainability, automation and digitalization/Industry 4.0.
"The sustainability theme was interesting and very relevant," said Dr. Behnam Pourdeyhimi, executive director of The Nonwovens Institute; and associate dean for industry research and Extension, and William A. Klopman distinguished professor of textile materials at The Wilson College of Textiles, North Carolina State University, Raleigh, N.C., after attending the exhibition. "We have become accustomed to the three Rs — Recycle, Reduce, Reuse. A major addition at ITMA was the fourth R, and probably the most relevant for now and the future, and that was 'Rethink.' This is a very elegant way of saying 'design with the end in mind.'
"As we design products, we must also think about their afterlife," Dr. Pourdeyhimi continued. "We must balance that with what the afterlife brings in terms of the greenhouse gases generated. This can impact what we use, how we use them and how we blend different materials. Rethinking how we design products is the way of the future."
Pourdeyhimi also noted that he sees automation as one solution to help fill the skilled labor gap in the United States. "Automation was evident at ITMA in almost all processes from printing to finishing to sewing," he said. "This is a departure from the old school, but timely. With much of the talent and know-how that has been lost over the years, automation can help bring back manufacturing to areas where there is a shortage of skilled labor or where the costs are prohibitive."
Here is a look at just some of the latest nonwoven technologies available to manufacturers. With the global nonwovens exhibition INDEX 2020 on the horizon, no doubt there will be additional technology introductions this year.
DiloGroup
Germany-based DiloGroup has offered nonwovens equipment since the mid 1990s.
Today, the company is comprised of four divisions — DiloSystems GmbH, a general contractor for complete production lines; Spinnbau, a manufacturer of carding machines; Temafa, a specialist in opening and blending equipment for nonwovens; and Dilo Machines, a manufacturer of crosslappers and needlelooms.
The company had a fully functional needling line on display in one of the largest booth spaces at ITMA. The company noted that needle felting, based on the annual production volumes, is the most important web-forming and consolidation process for staple fibers.
DiloGroup, as was to be expected from this long-time player and innovative company, had some interesting new technologies for nonwovens manufacturers.
An "additive" textile manufacturing technology, the 3D-Lofter, was introduced at the show as a concept that is not yet commercially available, but the idea and opportunity it offers is interesting. The 3D-Lofter features a series of individual web forming units to place masses of fiber in specific locations on a base web creating a 3D topology. Placement of the fiber can be controlled for technical parts where stresses and strain may be of concern in a molded part.
According to the company, the 3D-Lofter also may be used to "inversely" fill in thin areas in web mats before the card to produce a more uniform fiber mass distribution in the web as it leaves the card or airlay machine. Dilo's theoretical calculations suggest a 40-percent improvement in uniformity is possible.
In addition, if colored staple fiber is used, the 3D-Lofter may be used to place patterns on the base web, which could be interesting for floor coverings, bedding products, and apparel or shoe production.
"The technology is not yet perfect, but I foresee high potential and the technology may be commercial some time in 2020," said Johann Philipp Dilo, general manager, DiloGroup.
Dilo also exhibited the DI-LOOM H·V Hyperpunch, which moves the needles in a new, elliptical motion. Mr. Dilo stated that this highly efficient, but simple, needle movement can equal costs savings as well as eliminate linear needle lines in the web for a more attractive appearance in the finished product. He mentioned this is good for the automotive industry where linear needle marks are not desirable.
The Hyperpunch also features the 6000X stitching plate that results in a more uniform stitch distribution during preneedling. The 8000X needle pattern further increases the evenness especially in a flat needle felt such as those products used in decorative automotive applications.
All of the machines Dilo had on display during ITMA are now available for trials and demonstrations at the company's Textile Research Centre in Eberbach, Germany.
Trützschler Nonwovens
Germany-based Trützschler can provide manufacturers complete nonwoven lines from fiber opening to final slitting and winding as well as individual components from its product range depending on the customers needs. At ITMA, the company's focus was on tailoring sustainable concepts with individual customer needs with emphasis on biodegradable lightweight webs made using renewable materials.
Conventional wipes typically are made using a blend of viscose and polyester or polypropylene fibers, which do not naturally decompose in the environment. This is in comparison to wood pulp or regenerated cellulose fibers, which are renewable raw materials that are biodegradable. Trützschler Nonwovens offers wetlaid/spunlace (WLS) technology for processing these renewable materials effectively.
In cooperation with Voith, Trützschler Nonwovens also recently introduced a wet-on-wet process that suspends cellulose-based short fibers in water and then uses hydroentanglement to form the web. According to the company, such nonwovens provide the same performance as conventional wipe products, and are strong, soft, economical and biodegradable. The wood pulp and regenerated cellulose fiber wipes have a very soft hand and good feel reported Jutta Stehr, senior marketing manager, which is not usually the case for wood pulp-based products.
Andritz
Austria-based Andritz AG is placing a strong emphasis on sustainability noting that "There is no doubt that the conservation of environmental resources and more efficient production processes will be a definitive innovation factor for the nonwovens industry in the coming years." The company intends to build on recent successes and play a "pioneering role" in sustainability.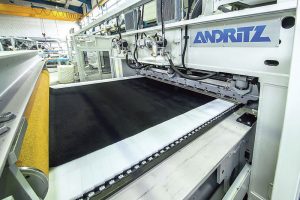 Andritz focused on three main solutions specific to the nonwovens market at ITMA. The first is the SDV single and double velour needle loom designed for car interior applications. The high production capacity machine features a long-lasting brush design to offer customers a high return on their investment.
The second technology highlighted from the company's extensive portfolio was the extension of its neXline wetlaid line for glass fibers. This wetlaid technology encompasses a completely new manifold and diffuser with reimagined former machinery segments to handle the fragile glass fibers in the necessary gentle manner. According to Andritz, the "double diffuser concept ensures uniform fiber distribution with optimal structures during the laying process," which requires fewer fibers and chemicals and thus may reduce raw material costs. The machine features a recycling management system for continuous reduction in the consumption of raw materials as well as water for energy and materials saving.
Lines — that all comprise stock preparation, wet-laid forming, binder application, flat dryer and winder — can be tailored for low to high production volumes. The resulting glass fiber mats find a home in many industrial applications including building and construction, filtration and transportation end-uses.
Andritz also demonstrated its new Metris brand for digitalization and automation during ITMA. Metris encompasses a complete range of digital products and "industrial internet of things (IIoT)" technologies for "the purpose of smarter production and service by networking machine technology, process steps, manufacturers and customers in a meaningful way." Metris improves production systems through Optimization of Process Performance (OPP), whereby large amounts of data are collected and analyzed to minimize production losses and increase profits. Metris also manages and expedites maintenance activities via remote diagnostics using the Internet. In addition, Metris offers augmented reality solutions for machine operation.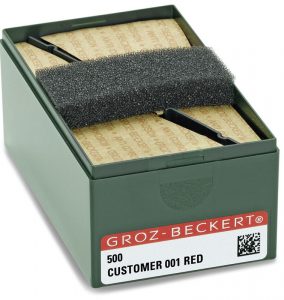 Groz-Beckert
Germany-based Groz-Beckert offers a broad variety of felting and structuring needles to produce the desired end-properties based on the fiber materials processed. The company's latest innovation in needle technology is a new material for its felting and structuring needles called Groz-Beckert dur®. This base material in conjunction with a patented manufacturing process offers increases corrosion resistance and longer service life, according to the company.
As an owner of Bekaert Carding Solutions since 2015, Groz-Beckert also offers card clothing to the staple fiber and nonwovens industries. The InLine card clothing series was developed for the nonwovens industry to increase process reliability in high-performance roller cards. According to the company, InLine card clothing features a standardized rib height of 1.3 millimeters for interlocked and plain rib wire types, more resistant teeth and a scale-free surface. More durable teeth mean an increased lifespan for the clothing; and the scale-free surface maintains consistent function during the clothing's lifetime, which preserves a high web quality over time.
The SiroLock® plus line of worker and doffer wire is available in versions for thermal bonding, spunlace production and needle punching processes. The company reports benefits include reduced fiber fly, more homogeneous web quality, increased resistance to damage for longer life, improved fiber protection, and optimized rib height for interlock card clothing.
Laroche
France-based Laroche S.A. offers fiber processing machines for recycling and nonwovens applications. During ITMA, the company displayed the Flexiloft 2600 airlay machine. Available in widths from 2.4 to 4 meters, the machine can process man-made, natural or recycled fibers, fiber blends, and also fibers blended with solid particles such as foam or wood chips, or plastics. Laroche reports this flexibility allows manufacturers to make products using renewable resources that otherwise may be discarded. Laroche also displayed its Jumbo 2000 high-capacity textile waste recycling machine, which is capable of processing post-consumer clothing and carpet waste; and the ultra-high-speed Nextrim 500, for recycling lightweight nonwoven edge trims either inline or offline. The company also reported additional latest-generation machinery including a new generation fiber blending and dosing line, 3D web forming equipment, automotive waste processing machinery, and decortication and refining equipment for bast fibers.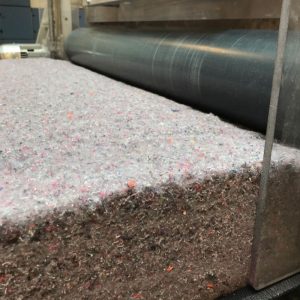 Advance Nonwoven
First-time ITMA exhibitor Denmark-based Advance Nonwoven A/S is focused on upcycling and recycling to produce sustainable products with commercial potential.
At ITMA, Advance Nonwoven debuted its patented web-forming Carding Air-laid Fusion Technology (CAFT) as well as introduced a full airlaid nonwoven production line. CAFT is capable of handling both very short and very long fibers in the range of 1 to 100 millimeters as well as natural or recycled fibers. Varying fiber lengths may be mixed and formed into a homogenous mat of low or high density and different lofts using a low amount of bonding fiber, less air and fewer bicomponent fibers than competing technologies, according to the company.
The company expanded its expertise in selling and installing full turnkey factories since 2014 and now offers a full nonwoven line featuring an oven, cooler, and cutting and stacking unit in addition to its CAFT system and Direct-Applied-Liquid-Technology (DALT) advanced spray system for coating and treating fibers.
Applications include insulation for buildings and machinery, acoustic mats, upholstery, agricultural growth mats, food packaging and hard composition materials.

Ramina
Another relative newcomer to the nonwovens machinery market is Italy-based Ramina S.r.l. The company began its life in 1990 as a producer of industrial machinery, and today offers turn-key plants for nonwovens including lines for polypropylene and polyethylene terephthalate spunbonds, needlepunched products, thermobonded products, airlaid felts, and laminated products. Equipment offered includes fiber opening and blending; batt forming with airlays and air-cards; drum and tunnel ovens; calenders; impregnation machines; powder-coating machines; cutting units with rotating blades, guillotines, band-saws and flying cutters; end-of-line winders for felts, waddings, geotextiles and roofing materials; palletizers for rolls and pads; and packaging machines.
Ramina's patented Airlay-S line is suitable for making felts used in automotive, building, filtration and furniture applications. The system features an aerodynamic web formation process that replaces the traditional carding and crosslapping systems. Airlay-S places fibers along the mat thickness in an S-form to increase the longitudinal strength of the product. Standard weights range from 500 grams per square meter (g/m2); use of an air-card permits lightweight products as low as 160 g/m2 to be manufactured.
A variety of materials — including man-made fibers, natural fibers, shoddy fibers, mineral fibers and other raw materials such as rice husks — may be processed on the Airlay-S. Ramina is exclusively represented in the United States by Greenville, S.C.-based Frankl & Thomas (F&T). "Ramina is an outstanding company that we are proud to represent," said Al Thomas, president (F&T). "They just built a brand new factory where their full lines are manufactured. They also supply individual component machines for nonwovens lines such as calendars, winders, etc."
January/February 2020