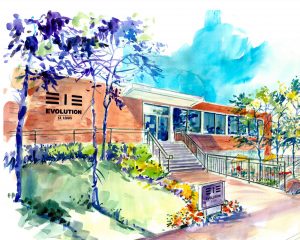 A new high-tech knitting facility is taking shape in St. Louis with an eye on "planting a flag" and growing this industry segment in the United States.
By Jim Kaufmann, Contributing Editor
Reinvent * Recreate * Reignite" are three words prominently displayed on the business card of John Elmuccio, a man who, along with Jon Lewis, is behind Evolution St. Louis, a "high-tech knitting facility" currently taking shape in St. Louis. Both men are industry veterans with broad ranging industry experience who believe strongly that Evolution St. Louis will lead to an industry segment revitalization.
"I've been in the business for a number of years with private label brands, consulting and supply chain management," Elmuccio said. "The day finally came where I wanted to stop chasing the lowest price and started looking for something new," he explained regarding the origins of Evolution St. Louis."Stores and brands have been struggling for a while with how to transition into the realities of the new world business model and I felt we could deliver a better way. Evolution St. Louis is our effort to create that better way."
The company intends to take advantage of the fact that manufacturing technology keeps evolving. "The 21st century supply chain needs to advance in order to keep up and we can certainly influence our corner of that," Elmuccio said. "Quick turnaround, fast, rapid responses and small lots are becoming the norm. And don't forget, the customer and how they purchase keeps evolving as well. We can benefit from that."
Evolution St. Louis will employ cutting edge 3D and seamless knitting technology along with other new design and processing capabilities to produce an array of end products initially focused on apparel applications. "It's been an interesting journey so far," Elmuccio said. "Many brands have heard about us and have been reaching out. They like our concept, 'Made in the USA' and the idea of sustainability linked to a transparent supply chain. There's also the appeal for new designers and emerging brands who might otherwise find difficulties in navigating the sourcing of product from overseas because of its complexities and often the non-friendly scales involved. We'll work with major brands and boutique designers to develop new lines and possibly create our own direct to consumer products."
Reinvent: The U.S. Textile Manufacturing Facility
The first step for Evolution St. Louis is to reinvent the image of textile manufacturing in the United States. Historically, many still think of textile manufacturing as the old sweat shops or the run-down mills in the north or southeast that were hot, dark, dirty and dingy. In contrast, Evolution St. Louis has created an appealing ambiance by repurposing a 32,000 square foot facility located in the Grand Center Arts District of St. Louis into a state-of-the-art flat knit goods design and manufacturing center. "Most people would think of this as an odd choice of location for a manufacturing facility, but the site is intended to be much more than just a 'textile mill,'" suggested Elmuccio.
"Business continues to change dramatically with constant advancements in technology," he continued. "The customer's expectations continue to evolve and become more demanding. Frankly, the traditional configurations of production facilities have really become a hindrance to today's business progress. So, we're making a concerted effort to reinvent it and doing so in a way that is not only effective, but also up to date and attractive. We're developing a first class facility here in St. Louis, a factory of the future if you will, to attract young people back to manufacturing and textiles. We've put a lot of thought into its 'new world' environment and intend to take advantage of technology wherever possible, but we also want people to enjoy working here."
Evolution St. Louis chose the latest in flat-bed knitting machinery from Germany-based H. Stoll AG & Co. KG for its operation. According to Elmuccio, the company looked at different manufacturers, but decided to go with Stoll. "Stoll offers more flexibility and range in their machines," he said. "This allows us broader product offerings to different industries and applications. I was also familiar with Stoll from past engagements and their technology just feels better suited for the new world. The company was responsive from the beginning and our interactions convinced me they had the metrics to make this project a reality. We've really developed a great relationship with Stoll and we feel that relationship will only grow."
The first Stoll machines were installed in St. Louis in September, and have a wide range of capabilities. "We wanted the flexibility to focus on fashion because that's what we know, but other growing markets including industrial, technical and performance driven applications are certainly of interest," Elmuccio said. "We're already doing development work in non-apparel areas, which we didn't anticipate until being further down the road, but the interest in other areas is very positive. The next round of machines will be configured based on how business materializes. We can certainly envision having separate rooms of machines for a variety of product offerings."
Stoll has also helped Evolution St. Louis with the challenges of finding and training people to support its efforts. "We hired Bruce Goldman as director of operations and are focusing on developing staff with technical skills needed for this type of equipment," Elmuccio said. "A big concern is attracting machine programmers who need to have rather different skill sets." Elmuccio expects to employ 15 to 20 people as the business ramps up, which could quickly grow to 50 or more as volumes increase.
The company also has ordered steam tables from Italy-based G. Mentasti S.r.l., which should be delivered during the first quarter of 2020. Other finishing technologies are being considered, but these capabilities likely will be dependent on the needs of the products manufactured. "Part of our challenge is that finishing technology has not kept up with the fabric technology in terms of process development and flexibility, which can lead to bottlenecks," admitted Elmuccio. "We will continue to investigate various options and alternatives as the business evolves."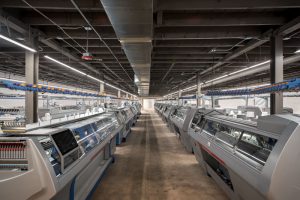 According to Elmuccio, the start-up is going well. "The biggest challenge has been coordinating all the different items involved in getting a facility up and running," he mentioned. "We realize now that some of our initial timelines were too aggressive. You always want to be up and running faster than practical, but we're more realistic now and recent progress confirms that. Several machines are hooked up, so we've begun working on samples and development activities. We'll 'officially' be in the facility by the end of February and expect to be fielding formal development, production inquiries and orders in March 2020."
Recreate: The Traditional U.S. Textile Supply Chain
Recreating the U.S. textile supply chain will not be an easy task, but Elmuccio, well acquainted with the traditional apparel supply chain, felt there had to be a better way. "My love has been supply chain operations and frankly, this supply chain has not been able to keep up with or adapt to the changes in consumer purchasing habits," stated Elmuccio. "We are positioning Evolution St. Louis with adaptability in mind and an eye towards minimizing our overall supply chain constraints.
"The apparel industry is more competitive than ever before and continues to change dramatically," Elmuccio continued. "Established brands remain big and powerful and interested in domestic supplier capabilities, but can be slow to change or implement change.
Elmuccio sees inventive newer brands, especially those created by Millennials, creating opportunities. "Millennial brands are now selling direct-to-consumer and creating very exciting products," Elmuccio said. "Smart technology, custom fabrication and new web-based brands are all creating a blurring of the traditional seasonality and driving towards a new way of business, which necessitates manufacturers to react much faster throughout each level of the supply chain. Couple this with unreasonable minimum quantity requirements from overseas manufacturers, prohibitive shipping costs, and consumers constantly looking for differentiation, and one can understand reshoring efforts in this shifting business climate. Being smart about our supply chain will be critical to Evolution St. Louis' success."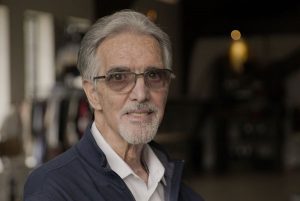 Reignite: St. Louis As A Fashion Center
Why reignite St. Louis as a Fashion Center and location for Evolution St. Louis, one might ask? "We had this business concept in mind and wanted to locate in an area known for high tech manufacturing, but also one that is cost effective," Elmuccio noted. "New York City has always been the center of the U.S. apparel industry, but has become prohibitively expensive. Look at what's happening that's new. It's not really coming from established brands, but from new and less established brands through the digital landscape. So, the actual manufacturing location appears to be less critical. We believe that having the local interest and assorted capabilities necessary to produce with a flexible supply chain is what matters now," he said.
"Jon [Lewis] is from Michigan, so our first inclination was to go to Flint or Detroit because of their history in manufacturing, but neither city felt right," Elmuccio continued. "In meetings, the high-tech nature was understood, but when we mentioned apparel the cities stepped back into that old textile industry image. In November of 2018, we learned of the St. Louis Fashion Fund and began to investigate."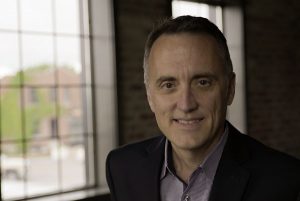 The St. Louis Fashion Fund was created in 2014 and developed an area incubator to reignite interest in apparel manufacturing in 2017. In the 19th and early 20th centuries, St. Louis had been one of the largest textile and apparel centers in the United States, second only to New York City. In the 20th century however the industry went away and today, the St. Louis Fashion Fund aims to grow St. Louis' impact on the fashion industry. "We met with the St. Louis Fashion Fund and presented our concept on creating something new and purposeful with St. Louis as the location, hoping to help rekindle that bit of history," Elmuccio said. "It felt like a perfect fit and since our initial presentation, the fund has become a great partner to work with throughout this process. It was excited about our concept from the very beginning. Its connections to St. Louis' local officials led to the city's engagement as well as additional local investment and incentive opportunities, and it has introduced us to new and existing local designers that we're really excited to start working with."
Even though St. Louis may seem to some as an odd place to locate a textile manufacturing facility, the city itself brings a lot to the table. "St. Louis is an energetic and engaging city where you can raise a family," Elmuccio noted. "It has a relatively low cost of living, good real estate values, a varied population with a strong work ethic and a heritage in apparel. We intend to build on all of that, but also understand that nothing really matters until you're actually producing and shipping product out the door. Our ultimate goal is to 'plant a flag' and grow an industry sector for St Louis." Ambitious goals to be sure, but Evolution St. Louis, its investors and partners certainly appear to be off to a good start.
January/February 2020