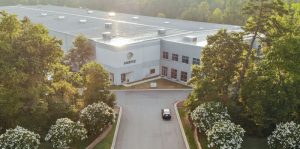 In a global economy, the most effective companies are thinking globally while still acting locally
TW Special Report
SAERTEX USA LLC, located in Huntersville, N.C., takes pride in being a global company, while still having the aptitude to act locally. A wholly-owned subsidiary of SAERTEX GmbH — a Germany-based manufacturer of non-crimp, multiaxial fabrics — SAERTEX USA focuses primarily on the North American markets.
SAERTEX GmbH was founded in 1982 by Bruno Lammers and Gert Wagener in the small town of Saerbeck in northwest Germany. They started with one machine and the belief that lightweight fiberglass-reinforced composite solutions were going to find increasing opportunities as the composites industry took shape and began to grow and expand. It transpired that non-crimp, multiaxial fabrics made from fiberglass rovings were excellent reinforcing materials when used to make composite wind turbine blades where shape is critical to aerodynamics and the light weight of such composites compared to metals allows larger blade sizes to be constructed. Though Wagener left SAERTEX in 2007, the company, led by Bruno Lammers and his family, has grown into a global entity with 15 manufacturing locations in 10 different countries currently, including North and South America, and more in the planning phases to support the global growth of composites in the wind industry as well as other industrial and technical applications.
"The company's strengths come not only from being a global entity, but also from having a local focus at each manufacturing location," offered Wayne Merritt, SAERTEX USA's senior vice president of operations. "Shipping costs keep rising throughout the world and the fabrics we produce are relatively heavy, so we try to maximize loads and ship in truckload or container quantities. Our manufacturing locations tend to be positioned strategically throughout the world to be near that area's customer base minimizing the impacts of logistics and shipping costs. This also allows us to better service customers while at the same time improving our sustainability and reducing SAERTEX's carbon footprint."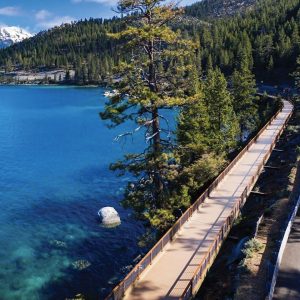 North America Focus
SAERTEX USA was opened in 2001 to service the developing North American wind industry where fiberglass fabrics are used as reinforcing components in the composite wind blades. "Like SAERTEX originally, we basically started with one or two machines in a cramped space at the beginning of the wind industry's prolific growth and have ridden that wave to where we are now" said Kyle Kraus, SAERTEX USA's senior vice president of sales and marketing. "We are a dominant player in the wind industry with the global capacity to meet and support the industry's needs."
There are certainly numerous advantages to SAERTEX USA's Huntersville, N.C., location. "SAERTEX USA benefits from the strong textile industry presence here in the southern United States which helps in finding experienced employees and provides easy access to the local offices of many raw material and equipment suppliers as well as other resources," Merritt said. "In fact, our largest raw material supplier, Nippon Electric Glass (NEG) has three fiberglass manufacturing facilities within a 90-minute drive of our location. The relationships with our glass suppliers are very important since raw materials are so critical to the product's performance, quality and manufacture ability" added Merritt.
Being located close to its suppliers in North America affords SAERTEX USA tremendous benefits. "The savings from being able to ship large quantities of fiberglass locally certainly adds up," stated Mark Oliphant, supplier quality engineer. "And, if we encounter any issues, we can likely have someone in the plant to address the problem within an hour or two. This proximity also improves our general communications with the suppliers as well, which helps to ensure that we're all working towards the same goals. It's really a huge advantage for us, our suppliers and our customers."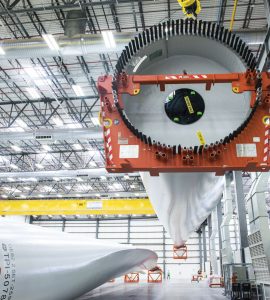 Fabric Technologies
"Non-crimp, multiaxial fabrics, which are sometimes referred to as weft inserted warp knits or stitch bonded non-crimp fabrics, exhibit two unique primary characteristics or attributes," offered Nick Ruane, project engineer. "The first is that the fabric-forming process incorporates individual sheets of roving — for us, typically fiberglass or carbon fiber — where the rovings are presented in straight lines so that there is no crimp or bending. The straight-line positioning of the fiberglass promotes an immediate reaction to directional loads when the fabric is stressed, which is different from crimped or bent rovings, like those found in most woven fabrics. This can result in a delay occurring during stress strain loading when the crimp has to first be straightened out for the roving to be fully engaged which could affect performance."
The second primary characteristic of multiaxial fabrics is that the rovings can be oriented in a number of different directions — 0 degree or machine direction, 90 degree or cross-machine direction, plus and minus 45 degrees, and other directions depending on the machine configuration. "So, where a woven fabric will only have yarns or rovings in two directions — 0 and 90 degrees, or warp and weft — a multiaxial fabric can have rovings in 0, 90, +45 and -45 directions or other combinations," Ruane added. "When each direction has the same relative amount of roving in it, the fabric exhibits near isotropic properties — meaning that if pulled in virtually any direction, it will react the same way."
"Such characteristics are highly valued in many composite structures where it's important to control the reactions to stress and strain forces that the composite structure may be exposed to," stated Seth Carlin, SAERTEX USA's key account manager for Wind Customers. "SAERTEX's design engineers can balance the different axis' characteristics as needed based on the customer's specific product and application design needs.
"For example, wind turbine systems use SAERTEX's non-crimp uni-directional and bi-axial fabrics to make the turbine blades lightweight and more efficient," Carlin noted. "Having the ability to target specific areas with the fiber reinforcement provides designers with more latitude and flexibility in their composite designs. Wind blade requirements are changing as the industry transitions towards larger blade sizes to greatly increase their efficiency. As a result, wind blades are now as technologically advanced as jet plane wings, yet larger. And keep in mind that with multiple blades per wind turbine, each blade must be precisely balanced in both weight and the distribution of weight — moment of inertia — to maximize the system's efficiency."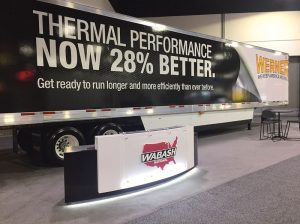 Global Markets And Applications
"The wind markets have been one of SAERTEX's main business segments for years, but we have been working hard to broaden and diversify our product offerings into other market segments," Kraus said. "Today the distribution of market segments we service has seen important increases in industrial, technical and marine applications as we continue to broaden our product offerings here in North America."
"Our location has certainly helped with the focus on diversifying our products," Ruane commented. "NEG's R&D center is an hour away and there are other technical labs and services nearby that are easily available to us, which can be very handy when evaluating new products and applications to support our customers."
Several examples of SAERTEX's diversification into other market segments reflect these development efforts.
Wabash National, Lafayette, Ind., a manufacturer of trailers for commercial transport applications, is using SAERTEX USA fabrics to improve refrigerated trailers, making them lighter in weight, more fuel efficient and aerodynamic. "We've been involved with Wabash from the beginning as they began investigating the benefits of fiber reinforced composites," Kraus said. "Their refrigerated trailer was originally made using steel and aluminum. It's now almost all composite. This change will allow Wabash to reduce the weight of their refrigerated trailer by more than 1,000 pounds and improve thermal efficiencies by 28 percent or more, which will effectively change the industry."
Composite Advantage, Dayton, Ohio, designs and manufactures fiber-reinforced composite structures for infrastructure applications. These include items like pedestrian bridges, pylons and dock pieces, fender guide walls, submarine camels and other unique configurations for technical applications. According to Kraus: "Fiber reinforced composites offer several benefits over traditional steel, wood and concrete for these types of products including high strength to weight ratios, chemical and corrosion resistance, design flexibility, low maintenance costs and an extended lifespan. These attributes have allowed Composite Advantage to build a rather interesting portfolio of sustainable applications."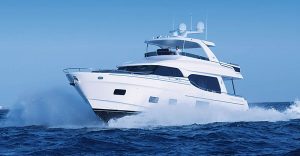 The marine and boating industry was one of the first market segments to embrace fiber reinforced composite structures for boat hulls and structural components, which SAERTEX USA continues to supply. "We work through distributors or directly with the boat builders to supply a variety of products," Kraus said. "Our SAERcore products are used to improve resin flow throughout the molding process while our biax and quad fabrics provide the structural integrity necessary for ocean going boats and larger yachts."
SAERTEX USA is also broadening its capabilities to produce fabrics from a variety of other raw material inputs, including carbon fiber where usage in many market segments continues to grow. "We have a couple of machines specially modified to produce carbon fabrics that are being used in aerospace and other high-performance applications," Ruane said. "We have worked with aramids, basalt and other high-performance yarns and rovings as well. We're always looking for new opportunities."
Local, Family, Community
Along with the renewed focus on customers and new markets, SAERTEX USA has also been working diligently to foster and create stronger bonds with its employees. "There have been a lot of changes here at SAERTEX, but the one constant has been our various efforts to retain our employees," said Stephanie Barrow, director of human resources. "Along with the standard benefits package we offer, we've been working hard to build an inclusive community for our employees. With the local unemployment rate being under 4 percent, it's difficult to find new people, so when someone comes to work at SAERTEX, we want to keep them here."
With many of the workers coming from different parts of the world and different cultures, SAERTEX USA has created a variety of offerings and activities to bring people together. "We offer language classes and interpreters as necessary to make it easier to communicate when English isn't an employee's first language," Barrow noted. "There are various team building and social activities including holiday and recognition meals. And a few weeks ago, we had our first Family Fun day where employees could bring their family to work. We had food trucks, games, raffles, plant tours and even a dunk tank. Everyone enjoyed it and we're planning to make it an annual event."
SAERTEX started out 37 years ago in a small town in Saerbeck, Germany, with one machine as a local family-owned business. It's now grown into a global entity with a global customer base, that is still family owned and still maintains that local family feel at its manufacturing locations. SAERTEX USA is certainly following that model in North America — thinking globally and acting locally!
November/December 2019