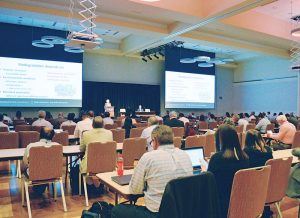 The recent RISE® event facilitated learning as well as building connections for individuals in the nonwoven/engineered fabrics industry.
TW Special Report
The ninth RISE® — Research, Innovation & Science for Engineered Fabrics — conference, attracted more than 170 professionals to the Talley Student Union on the campus of North Carolina State University (NC State), Raleigh, N.C. The event was co-organized by the Association of the Nonwoven Fabrics Industry (INDA), NC State, and The Nonwovens Institute (NWI).
RISE focuses on emerging technologies and ideas with the aim of connecting innovations with real-world applications for professionals in the nonwoven/engineered fabrics industry.
At the 2019 edition, attendees gathered to hear presentations given on topics arranged in three major sessions — Sustainable Additives & Polymers; Circular Innovation; and Market Data & Intelligence Trends. Keynote presentations included "CiCLO Sustainable Textile Technology" by Andrea Ferris, CEO, Intrinsic Advanced Materials; "The U.S. Economic Outlook" by Dr. John Connaugton, Barings Professor of Financial Economics, UNC-Charlotte; and "Biodegradation-Promoting Additions for Plastics — Questions You Should Ask," by Dr. Susan Selke, director and professor, School of Packaging at Michigan State University. RISE also featured a poster exhibition highlighting the work of graduate students presented by NWI.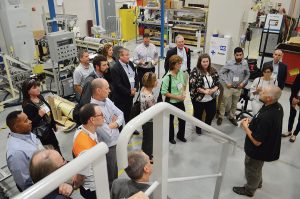 Conference attendees also had the opportunity to attend a reception and guided tour of the 40,000-square-foot NWI on the Centennial Campus of NC State.
"This conference provides valuable new nuggets of information and I always make six to eight strong connections," said Darryl Fournier, vice president, North America, Fibertex Nonwovens.
Innovation Award
During the conference, attendees listened to presentations from each of the three RISE Innovation Award finalists about their products — Surfaceskins from the Nonwovens Innovation & Research Institute (NIRI), England; Reicofil 5 (RF5) Technology from Reifenhäuser Reicofil GmbH & Co. KG, Germany; and the Remodelling™ Compound Hernia Patch from Shanghai Pine & Power Biotech, China — and voted for their favorite innovation. NIRI took home the top honor for its Surfaceskins antibacterial door push pads and door handles, which are designed to kill deposited germs in just seconds between one user and the next one passing through a door to help limit the spread of healthcare associated infections.
"RISE 2019 on the North Carolina State University campus was an energizing event," said INDA President Dave Rousse. "The venue of academia added to the sense of learning from the conference content. With great support from NC State and the Nonwovens Institute, this edition of RISE was described by many as the best RISE event yet. The combination of the campus environment, strong slate of speakers, condensed agenda with lunch on-site, and the Nonwovens Institute reception and tour made for a value-packed two full days. I think we have found the right formula, and we look forward to returning RISE to NC State again next year, with our partner, the Nonwovens Institute."
RISE will return to the NC State campus in September 2020.
November/December 2019