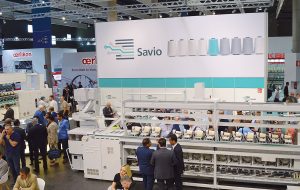 Textile suppliers report ITMA 2019 was a successful event despite trade woes; clear trends seen in digitalization, sustainability.
By Rachael S. Davis, Executive Editor
ITMA 2019 is now in the textile industry's rearview mirror, but for exhibiting companies leads gained, connections made and information gathered during the event are just starting points for future business opportunities and ideas for the next generation of technologies.
Textile World recently interviewed just a small sample of exhibitors that participated in ITMA 2019, held in Barcelona, to learn about their experience and get a sense of the overall market for textile investment especially as it relates to the United States.
Most companies agreed that both the number and quality of visitors seen during the seven-day show was good.
"We welcomed more than 3,500 visitors, representing roughly 1,500 companies, at the Saurer stand," reported Anton Kehls, Spinning Solutions Segment CEO, Switzerland-based Saurer Group. "Visitors hailed from a range of countries — particularly well represented were India, Turkey, Pakistan and Vietnam. We also had very fruitful discussions with guests from Mexico, Brazil and South Africa as well as a number of European countries. The percentage of decision makers among our guests was higher than at previous ITMA shows." Saurer mentioned its Autoairo air-spinning machine, Autocard and Autocard pre-spinning offerings, Autolab laboratory equipment, Sense mill management system and Saurer Academy training portal drew a great deal of interest during the show.
A representative from Italy-based Savio Macchine Tessili S.p.A. reported the company was happy with the quality of visitors at ITMA. "Many important textile groups all visited the exhibition, especially decision makers like owners or very senior executives," the company reported. "The major visits have been from India, Turkey and Italy, but they had many important delegations from Egypt, South America, China, Vietnam, Indonesia, Pakistan, Bangladesh, Russia." Savio specializes in yarn finishing machinery including winding, twisting and rotor spinning machines. At ITMA, Savio highlighted its new Helios open-end rotor spinning machine and the MultiLink solution for automatic winding
Some exhibitors reported seeing a good number of U.S. visitors, however others did not.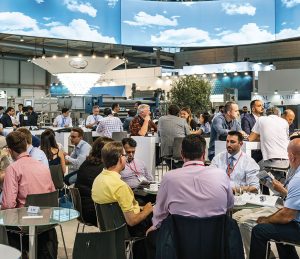 "It was a very good show for Monforts and us, with visitors from just about everywhere," said Alex Franco, vice president and co-owner of Charlotte, N.C.-based PSP Marketing, the North American representative for Germany-based A. Monforts Textilmaschinen GmbH & Co. KG. "There was a strong showing from North America and we were able to speak to many of the major players. In the United States, there's currently a push for the replacement of existing tenter frames — some of which have been in operation for 40 years — not so much for increasing production. There was a lot of interest in the latest features of the Montex tenter and the advantages it can bring, while other U.S. companies in sectors such as furnishings and mattress tickings were particularly interested in the flexibility offered by the Texcoat coating system with its multi-head capability and the potential for the value it can provide. We've had lots of requests for trials after ITMA."
Spartanburg, S.C.-based Zimmer Austria Inc.— a company known for its screen and digital printing, coating and drying machinery — reported a high quality of visitors. "We also had the good luck to close several deals at the show for rotary screen printing machines, as well as digital printing systems COLARIS," said Roland JP Zimmer, vice president sales, North America. "USA visitors quantity was light as expected, but we saw some special interest especially in Zimmer expansive coating technologies such as MAGNOROLL low moisture applications for precoat in digital textile printing and MAGNOJET foam applications. There is definitely more interest in conventional and digital textile printing machinery in the North American market than at the last ITMA."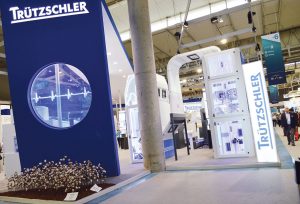 Charlotte-based American Truetzschler said the spinning side of its business was very active during the show with a high quantity and quality of visitors. The nonwovens side of Trützschler's business was slower with fewer visitors from the United States, but this came as no surprise for the company because ITMA was held only shortly after Techtextil North America and IDEA®19. The company did however report a high quantity of European customers with plants in the United States and also high-quality meetings on the nonwovens side.
Italy-based Marzoli reported more than 2,000 visitors from more than 50 countries stopped by its booth during ITMA, while Germany-based DiloGroup noted more than 6,000 visitors from a variety of backgrounds were welcomed into its booth. "Generally, our booth always attracts a lot of people due to the presentation of a fully functional nonwoven line equipped with innovations and developments," said Andrea Wunder, marketing, Oskar Dilo Maschinenfabrik KG. Wunder noted that the company's 3D-Lofter technology and the DiloLine 4.0 were of most interest to visitors.
Industry Trends, Technology For All Sectors
The textile industry is constantly facing pressures to be "more." More sustainable, more environmentally friendly, more nimble, as well as faster while additionally maintaining a high level of product quality. Manufacturers look to technology producers to help them achieve their goals as they address these pressures. ITMA is all about innovation and innovative technology, and some trends emerged during the 2019 edition. As one might expect, sustainability is playing an ever-increasing role and industry digitalization is taking off at a rapid pace.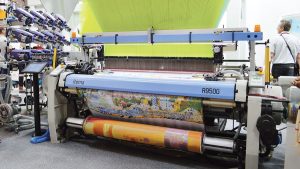 "Visitors searching for increased efficiency in their weaving preparation processes were particularly interested in our SAFIR S60 drawing-in system equipped with our standalone Active Warp Control (AWC) technology," said Ludovic Pitrois, North American Textile Division manager, Stäubli Corp., Duncan, S.C. Stäubli reports a trend towards big formats, which place extreme demands on weavers and their machinery. "Stäubli supports weavers realizing quality fabrics with a broad range capable to weave at highest speeds, and especially with the LXXL Jacquard machine available in formats of up to 25,600 hooks. 51,200 hooks can be achieved by combining two machines," Pitrois said. "Such formats are particularly suitable for high-density, large-format, heavy-duty applications, such as silk fabrics for upholstered furniture, as shown at the stand, but also for one-piece woven (OPW) airbags and apparel fabrics.
"At Stäubli sustainability begins in our production sites respecting water and energy resources and where recycling plays a constant role," Pitrois reported. "Thanks to this the life cycle of Stäubli machinery starts with a relatively low environmental impact. The machines are made of high-quality material, undergo severe quality controls during the production process and incorporate latest technologies, thus they assure long-lasting fabrication lines and machine life cycles. Delving further, sustainability is also linked to the services we proved before and after sales."
Germany-based Karl Mayer introduced a new innovation for processing sustainable denim, among other innovations at ITMA. "We [illustrated] the implementation of our key strategic topics of sustainability and the environment on various islands at the fair, from energy-efficient machines, through processing yarns with the emphasis on conserving resources, to sustainable warp-knitted textiles and end-use concepts," said Arno Gärtner, CEO, Karl Mayer. "It became clear from the ITMA fair in Barcelona that the sector is focusing on digital solutions when it comes to process optimization and customer orientation," Gärtner said. "That is why we are delighted to receive such excellent feedback on the new systems within our software start-up KM.ON."
"With the rise of the smart factory, customers are increasingly interested in automation and digitization," reported Saurer's Kehls. "We have integrated this technology across the breadth of Saurer's offerings. With our mill management system Senses, users can easily evaluate a range of data from all textile machines in their production facilities — this includes machines from third-party manufacturers. Sustainability is an important factor that has informed the design of technologies for many years already. Our E3 — energy, ergonomics, economics — philosophy demonstrates our commitment to sustainability. Our aim is to make our offerings as energy efficient as possible."
"There was a lot of attention paid to the energy and heat recovery and the water savings that can be achieved with the latest Montex tenter, with features such as the new integrated MonforClean system, where the waste heat from the drying process is used to pre-heat the drying air, resulting in a radical reduction in the conventional heat supply required," Franco said. "The further integration of an automatic exhaust air filter washing system, which automatically cleans the module elements also impressed many visitors we spoke with — in the United States that's a serious benefit because the cost of water is so high."
"The main topic of ITMA 2019 has been the digital transformation of the textile and garment industry, and Marzoli is following this new idea of business," said Ilaria Scalvini, Marzoli's marketing department. At ITMA, Marzoli showed its patented software YarNet and MRM, as well as the new Brain Box software for the optimization of the entire spinning mill. "Regarding sustainability, in recent years this topic has become a major trend in the textile industry," Scalvini added. "Consumers are better informed, and they expect sustainable products and solution in the textile industry. Marzoli, as a machine manufacturer, is focused on the optimization of production processes through the monitoring of the machinery performances and the adoption of carefully selected technologies and material. This process grants a constant reduction of machines' energy consumption."
According to Masaki Karasuno, media relations, Japan-based Shima Seiki Mfg. Ltd., sustainability and factory automation were key words mentioned by most visitors, which portrays a definite trend in the industry. "The concept of sustainable manufacturing is especially making an impact in the entire textile industry, and the flat knitting sector to which Shima Seiki caters is no different," Karasuno said. "As a matter of fact, flat knitting has traditionally been able to offer a higher sustainability factor than most other textile manufacturing methods, due to the fact that the technology can 'shape' parts in order to avoid cutting waste as a by-product of cutting parts out of flat panels and sewing them together."
"Focus is no longer on performance only — but also on connectivity, use of big data, waste- and energy-reduction and user-friendliness — not by coincidence the four topics we were also highlighting in our pre-ITMA campaign," mentioned Cyril Guerin, president, Picanol of America Inc., Greenville, S.C. "Sustainability has been a recurring theme in Picanol's story for the past 83 years. This sustainability manifests itself primarily in our products and processes; for example, the use of simulations for the design of more energy efficient weaving machines, the conversion of old iron into high-tech castings, durable mechanical components, and advanced electronics that ensure the optimum quality of fabrics. Nowadays, sustainability is interwoven in all processes and products, from development to production."
Trade Woes
When asked if current trade tensions are affecting investment, comments from exhibitors were varied. Picanol's Guerin had a matter-of-fact approach to the situation. "With regard to the trade tensions, we are operating in a volatile political, economic and financial environment," he said. "But we cannot change it, so we must deal with it the best we can."
Lothar Kaierle, vice president, sales, nonwovens, with American Truetzschler, reported that tariffs are creating confusion for sure, but that they are not affecting investment, at least at the moment.
"There is a lot of turmoil, but our customers are generally optimistic," said PSP's Franco. "Although, I think many are waiting to see what's going to happen in the next election. There's also a move by a number of our customers to bring more manufacturing back to the USA, especially in the Southern states. The trend is to smaller lot sizes and speed-to-market.
"The whole market situation is different in comparison to the last years where investment activity was very active," Pitrois noted. "There are certainly effects on the market from these tensions, but as well, a general decrease in activity due to the very positive near past."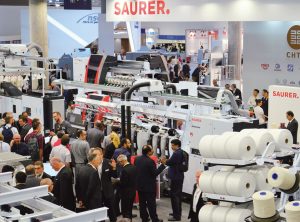 Saurer's Kehls said: "No doubt these tensions and the associated uncertainty are having a big impact on companies' investment plans across the world. We are no exception — Saurer has felt the effects in its key markets, particularly in Turkey, but also in China and India."
"Current trade tensions did play some role for our company as we use some Chinese-made digital ink on the COLARIS platform that has been hit with tariffs," said Zimmer. "However, the Chinese supplier was able to compensate pricing to offset the tariffs.
Certainly, trade tensions aside, industry investment is affected by sector and country. "The global economy is influencing investments of different customers," reported Dilo. "Nevertheless, we do not expect a steep decline in the nonwoven market due to its high variability. The increase in the nonwoven business during the last five to seven years was extraordinarily high and is now coming back to a normal level."
"If the U.S., a major consumer of textile goods, imposes tariffs and regulates trade, then manufacturers that produce and export to the U.S. will be faced with diminishing profits and will naturally think twice about investing in additional equipment," said Shima Seiki's Karasuno.
Forward-Looking Thoughts
ITMA is an innovation show, and as soon as one ends, machinery manufacturers are already looking to the next event and thinking about ways to advance technologies. The next ITMA, to be held in Milan, Italy, in 2023, will certainly build on momentum gained at the 2019 event.
"We are very much looking forward to the next show in Milan in 2023, and have already started the planning and organization process," reported Dilo's Wunder. "Each ITMA is a lot of work for the whole company, but it is worthwhile every time."
Kehls thinks automation and digitization will continue to drive the industry. "Our customers' needs remain our primary focus," he said. "The group's aim is to become a complete solutions provider for the textile industry. We continue to work towards this and look forward to unveiling cutting-edge technologies at the next ITMA."
Shima Seiki sees sustainability as a continuing theme that will reoccur at the next edition of ITMA. "The industry began to focus on sustainability at the Milan ITMA in 2015, and started to slowly gain momentum throughout the West," Karasuno said. "Now, along with sustainable development goals, the importance of sustainability is becoming more important in other regions of the world as well. As the sole provider of flat knitting solutions centered around WHOLEGARMENT knitting, and as a collective group sharing the planet with others, we are looking forward to further emphasis placed on efforts to make the world a better place to live. Milan 2023 should provide even better insight into what is required to accomplish that, and we will be there to spearhead that effort with further innovative solutions."
For Zimmer, a company participating in the digital textile realm, the next ITMA is expected to confirm that digital printing "has finally reached the tipping point and is gaining wider acceptance."
Ten-Thousand-Foot View
"ITMA 2019 was definitely an overall success as far as Zimmer Austria is concerned," Zimmer said.
"One-hundred percent, yes, ITMA 2019 was an overall success for Dilo" Wunder said. "Numerous discussions were very fruitful and involved common projects. Furthermore, we were able to awake an interest in nonwovens for various visitors!"
"Yes, overall ITMA 2019 was a big success for our company," Karasuno said. "Although direct investment in textile machinery is down due to trade relations and other political and economic reasons, we were still able to witness the overall will and interest of our customers towards the latest innovations. Since most of our exhibits were of new machines and new content, there was a large amount of dialogue and a large number of inquiries, which we look forward to materialize as orders in the months to come."
"For Marzoli, ITMA has been a great success," Scalvini said. "Visitors showed a great interest in our machines and innovations. We met all our most important customers and we get in touch with some new potential customers. We also finalized several contracts with major clients.
"Staubli could close up ITMA successfully, Pitrois said. "With regard to costs and effort, one must certainly always ask oneself whether a company supports the ITMA mega-concept in this way or whether events closer to the customer in certain regions are an alternative," Pitrois said. "In this form, ITMA has once again given us the opportunity to show customers from countries where no trade fairs are organized our extensive range of machines at a glance at our stand. Such a presentation gives interested parties and customers a certain security, which they can expect from a manufacturer in terms of finances, service and customer proximity. Stäubli is certain that we will be back in Milan in 2023."
November/December 2019