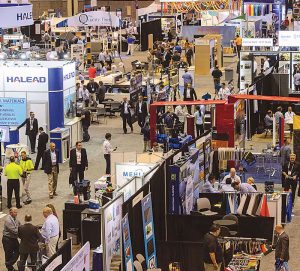 Although smaller than in past years, the 99th edition of IFAI Expo attracted quality attendees.
TW Special Report
IFAI Expo 2019, organized by the Roseville, Minn.-based Industrial Fabrics Association International (IFAI), hosted more than 325 exhibitors at the Orange County Convention Center in Orlando, Fla., and attracted 4,412 verified visitors from 64 countries, according to IFAI. The show floor was complemented by more than 83 educational sessions over 4 days of programming, a keynote address and 28 camp-fire style sessions targeting the Advanced Textiles, Specialty Fabrics and Shade and Weather Protection segments.
"To me, as a first-time attendee, IFAI Expo is a place to meet people, a place to learn more about your own industry and a place to learn more about what else is out there, what are you missing and what is left to be discovered," said Jenn Bradley, Synthetic Resources Inc., Seattle, Wash.
Highlights from the expo included: an all-day behind-the-scenes tour of Walt Disney World; an opening reception offering craft beer and carnival-style games; the Industrial Fabrics Foundation Night featuring a performance by the IFAI-member band Hangin' By A Thread; the expo's first-ever 5K Fun Run/Walk; the Manufacturing for Good demonstration area; and keynote speaker Thom Singer. More than 300 attendees also participated in 14 Market/Division open meetings where IFAI members and non-members came together to talk about challenges, opportunities and new technologies.
Scott Campbell, CEO of Ranier Industries Ltd., Tukwila, Wash., was honored with the rarely bestowed Chairman's Award. Recipients are those deemed to have had an extraordinary and meaningful impact on the association. IFAI Chairman Steve Ellington, president of Trivantage, presented the award to Campbell during IFAI's Annual Meeting that was held during the expo.
IFAI also presented the Outstanding Volunteer Awards recognizing members who generously gave their time to serve on different boards, task forces and committees, judged competitions and provided education and leadership to others in the industry. Additionally, IFAI recognized high-achieving products and designs with the Show Stoppers awards, International Achievement Awards, Industrial Fabrics Foundation Innovation Awards, Advanced Textiles Student Design Competition, and Fabric Structures Student Design Competition.
"The first day was the best day we've had at a trade show in several years — both in quantity and quality of the visitors" said Ted Fetterman, director of sales and marketing, Bally Ribbon Mills, Bally, Pa. "We've seen owners and upper management out here looking at what is new and what's innovative, and that's interesting."
"Although the show wasn't as big, we gathered a lot of leads and a lot of quality contacts," said Brian Kenny, Director of Sales at YKK-USA Inc. "For me, that's what it's about because that quality will translate into revenue. I'm also looking forward to Indianapolis next year. I think it will be a good location for the show."
"IFAI Expo 2019 was a success — attendees, both domestic and international, experienced the newest products and technologies on the show floor and enjoyed insightful education led by industry experts," said Steve Schiffman, IFAI President and CEO. "Overall attendance was up only slightly, but exhibitor comments were very positive. Attendees were highly qualified prospects and very interested in buying. We are pleased with the results and feedback from this year's expo and look forward to our plans for the 100th Anniversary of IFAI Expo in 2020."
Mark your calendars for IFAI Expo 2020, which will be held November 4-6, 2020, in Indianapolis, Ind.
November/December 2019