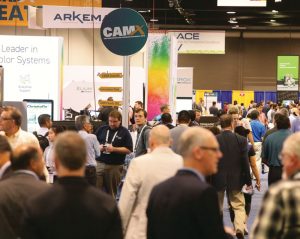 CAMX showcased the variety and depth of the composites industry, as well as hinted at future opportunities.
By Jim Kaufmann, Contributing Editor
CAMX — the Composites and Advanced Materials Expo produced by the American Composites Manufacturers Association (ACMA) and the Society for the Advancement of Material and Process Engineering (SAMPE) — held recently at the Convention Center in Anaheim, Calif., was the equivalent of walking into a big box superstore filled with virtually every aspect of the composites supply chain. The only real difference between the expo and a big box retailer was that one rarely, if ever, had to look for assistance because plenty of knowledgeable representatives, eager to address any questions, staffed each booth.
Numerous examples of molded composite parts and end products were on display in many booths showcasing how broad and varied the composites industry has become, while at the same time hinting at how much more opportunities lie ahead. The CAMX and ACE Awards display areas on the show floor also added to the potential of more new applications and unique opportunities created with composites.
Variety and product selection along with all the "hot topics" — such as Industry 4.0, improving processing speeds and market growth and expansion — were certainly present and lest we forget, there was a lot of business being conducted throughout. "It may not always look like it, but there are a lot of people having a lot of strategic meetings here at the show," said Seth Carlin, key account manager for Saertex-USA, Huntersville, N.C. "I've been in so many meetings, I haven't had a chance to walk the show floor and now doubt that I will."
"It just makes good sense for me to attend these industry shows," offered Lutz Heinig, sales manager, technical textiles business unit for Greensboro, N.C.-based Karl Mayer North America. "It would take me three to five days of travel alone just to see the number of our customers that I can see here in one day."
"CAMX always does a good job with the show set up allowing us easy access to all aspects of the industry, including our suppliers and customers and it's great to catch up with everyone," added Dave Maas, business development manager, V2 Composites, Auburn, Ala.
One of the underlying themes at CAMX was the growing urgency to keep the current momentum in the industry going. As composites usage grows in acceptance, companies now have to show they belong and can match or better traditional manufacturing methodologies in performance, cost and efficiency. "The end users are the key and we all need to somehow get more of them attending these shows to broaden the lines of communications," said Daryl Thompson, business development manager, Hypercomp Engineering, Brigham City, Utah. "I see suppliers talking to suppliers and there are customers here, but it's really the end users who need to understand what each level of this supply chain is capable of." Exhibitor Andreas Martsman, vice president of marketing and sales for Sweden-based TeXtreme, added: "We, as fabric suppliers, need to be taking a much larger part in design and engineering because the flexibility of this technology is huge. Many customers only talk to the pre-preggers, not the fabric manufacturers on infusion and fabric structures. We need to change that reality because we understand that small changes in the fabric's features can greatly influence product performance. We can bring our experience to the table and show them how best to apply it."
As the composites industry continues to evolve, shows like CAMX will keep providing the forum for allowing attendees to keep it moving in the right direction. The next edition of the show will be held September 21-24, 2020, in Orlando, Fla.
November/December 2019