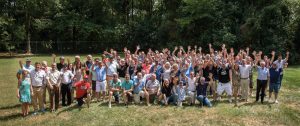 American Truetzschler, U.S.-arm of Germany-based Trützschler GmbH, celebrated its milestone anniversary with an event for employees and their families.
By Rachael S. Davis, Executive Editor
The year was 1969. It was a historic year for the space race, and also a very remarkable year for Germany-based Trützschler GmbH & Co. KG as it opened its first subsidiary company outside of Germany to support its growing business in the United States. Charlotte, N.C.-based American Truetzschler recently hosted a "50 Years of Service" event for employees and special guests to mark its 50th anniversary milestone. Games, food and music were in plentiful supply during the celebration; and the Carolina Panthers' Sir Purr mascot and the PurrCussion drumline also made an appearance.
During the event, Stefan Engel, American Truetzschler CEO, said to the gathered employees, "This is a celebration where we celebrate you, your hard work, your dedication and your commitment."
"It all started with a dream in the Trützschler family," Engel said. "They turned this dream into a plan by taking risks, developing state of the art products, hiring passionate people, and building a strong and honest relationship with customers, suppliers and employees. Once American Truetzschler was successfully established, each of you helped in a unique and very personal way to keep this dream alive. You have unconditionally provided excellent service to our customers, which is the most important pillar of this company."
"Fifty years ago — 1969 — many of you will remember was the year when American astronauts landed on the moon for the first time," said Dr. Michael Schürenkrämer, member of Trützschler's Supervisory Board, during the anniversary celebration. "The year 1969 also played a giant role for the comparatively little world of Trützschler in Germany, as our fathers Hans and Hermann Trützschler founded their first subsidiary abroad far, far away on another continent in Charlotte, N.C.
"Just as the astronauts explored the moon in several missions before they landed, our fathers — with a genetic code from the founder for customers — had previously taken care of the American market extensively," Schürenkrämer added. It was a challenging and big market where Trützschler already had business with, even before the Second World War."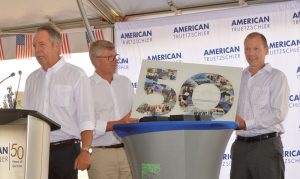 Fifty-Years Of Growth, Changes
Initially, the business opened as a service and repair company. In 1973, American Truetzschler moved into its own building on Performance Road where it remains today — albeit with numerous expansions to the space over the intervening years.
In the early 1980s, the company began manufacturing the first American-built machine, the FBK524 chute feed for carding machines, mixers and cotton cleaners. The feed streamlined production and reduced costs, according to the company. Approximately 2,900 FBK tuft feeders were produced in total, which were mounted onto rebuilt cards in the United States. "The first customers to receive Trützschler equipment made in the United States were Shuford Mills and Highland Yarn Mills," Dr. Schürenkrämer mentioned.
A testament to the health and growth of the U.S. yarn spinning industry during the 1990s was the rapid sales of Trützschler's carding machines during the decade. In 1992, the company sold its 2,000th card to Sara Lee in Mountain City, Tenn. In 1997, the company delivered its 3,000th card to Shuford Mills, which was the company's first Trützschler card purchase. And unbelievably, just two years later in 1999, American Truetzschler marked another milestone when it delivered its 4,000th card in the United States.
Schürenkrämer acknowledged Russell Corp., Parkdale, Hanes, Sara Lee, National Textile, Vintage Yarns — now known as Parkdale Plant No. 25 — Dan Valley, Mayo Yarns and Frontier Spinning as important customers during the 1990s.
Trützschler Supervisory Board Member Heinrich Trützschler personally thanked the company's largest U.S. customer Parkdale Mills. "Mr. Duke Kimbrell and Mr. Andy Warlick purchased roughly 800 Trützschler cards over the years," Trützschler said. "Because Parkdale took over some other mills with Trützschler cards, they had more than 1,000 Trützschler cards in total!"
During the 2000s, American Trützschler introduced card wire products after its parent company acquired the activities of John D. Hollingsworth, and increased production capacity in Charlotte to include large components for nonwovens machinery too.
In 2005, yarn spinner Parkdale took delivery of its 1,000th Trützschler carding machine. The year 2007 saw the company sell its first complete nonwovens line to a customer in the United States. Later, metallic card clothing production and service and flat repair, as well as an additional sales division to serve the bulk continuous filament (BCF) industry were added to the company's capabilities.
"Unfortunately, we had to close down manufacturing of blowroom machines in Charlotte, but the activities still going on comprise the production of card clothing, repair of rolls, electric control cabinets and spare parts stock service," board member Trützschler said.
Today, under the leadership of Engel, the company is organized into four main areas: the card clothing business; spinning business, nonwovens business and BCF business. "American Trützschler at present is small but in good shape; it is lean, powerful and competitive," Trützschler stated.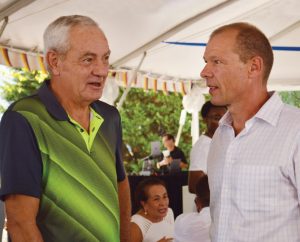 Employee Recognitions
Special guests at the event included American Truetzschler's former CEO Kurt Scholler, who became a Trützschler employee in 1989; as well as former Vice President Detlef Jaekel who spent 52 years employed by the company.
During his speech, Heinrich Trützschler recognized Jaekel's contributions to the company. "[Jaekel] joined Trützschler Germany in 1965, moved to Charlotte in 1975 and grew finally into the top management position," Trützschler said. "In 2017 — after his long and successful career — Detlef retired. Detlef's life was American Truetzschler. He always worked very hard and, in many cases, even day and night and on Sundays since customers would call him anytime when they had a major problem. Detlef never gave up on a problem and finally solved them. He was a fighter for the company. Mr. Jaekel, we are aware of the excellent and outstanding job you did for this company. Thank you very much for your big personal efforts!"
Many other employees were noted by name during the celebration for their contributions to American Truetzschler over the years, but four in particular were honored for their long years of service to the company. The following people were presented with a token of appreciation:
Mark Smith, production manager – 40 years;
Monte Stratton, customer service parts – 43 years;
Wolfgang Naegel, quality control – 50 years; and
Guenter Dohmen, technical service – 55 years.
Engel also was presented with "a symbolic sign of gratitude" for his daily commitment and dedication to the well-being of the company from the supervisory board members.
"On occasion of this 50th anniversary we would like to take this opportunity and express our special thanks to all of our American customers for their great support over those years," Trützschler said. "Without the trust and confidence of our customers we couldn't be successful. We are extremely grateful for these good relationships which we hope to continue in the future."
"Service is the mirror of your dedication, loyalty, trust in the family and its products," Engel offered to the employees during the celebration. "We are all proud and excited about the past achievements, but we are more enthusiastic about the challenges and opportunities lying ahead. Today we celebrate you — the past and the future of American Truetzschler. We have fantastic products, a great organization spread throughout the world, and we have you with the right spirit. It fills me with pride and confidence on our journey to the next 50 years."
November/December 2019