Technology highlights from the industry's largest textile machinery show focused on innovation, Industry 4.0 and sustainability.
By Jim Kaufmann, Contributing Editor
If one hasn't yet been to or experienced an actual ITMA show, one needs to go because it is incredibly difficult to accurately describe in words the sheer magnitude of the event. ITMA — a quadrennial textile trade show owned by the European Committee of Textile Machinery Manufacturers (CEMATEX) and organized by Brussels-based ITMA Services — can be truly awe-inspiring to grizzled veterans and new comers alike. Not only does the show floor cover more than 2 million square feet to accommodate more than 1,700 exhibitors from 45 different countries — many of whom spend lavishly on booths and technology displays — it also effectively showcases every aspect of the far-reaching world of textiles. Being able to see the true size, depth and immense variety of the textile industry on display in one location is certainly something to behold, especially when the show's primary focus is on new trends and technologies guiding textiles into the future.
At the recent ITMA 2019 held at the Fira de Barcelona Gran Via, Barcelona, Spain, approximately 105,000 visitors from pretty much every corner of the world had the opportunity to explore and investigate the technical marvels on display. Throughout the week, whether on the show floor, during press conferences or in any part of assorted gatherings and discussions along the way, the words most used throughout the show were Innovation and Technology, Industry 4.0/Digitalization/Connectivity and Sustainability. Innovation and technology were emphasized by almost every manufacturer while discussing their latest product offerings. It was clear at ITMA that the progression of innovation and technology continues to be absolutely amazing and there are simply no signs of progress slowing down.
Industry 4.0, along with driving digitalization and connectivity in every aspect of the supply chain, was touted by many as a means of getting closer to the customer and vice-versa, as well as establishing better efficiencies all around. Discussions about sustainability were most prevalent in the dyeing, printing and finishing arenas associated with the use of assorted chemicals and waste products, but the topic was also included in many discussions elsewhere throughout the show related to productivity and energy savings.
With so much activity and such a wide array of industry aspects on display, trying to identify and pick out just a few of the truly unique, innovative, eye catching, mind boggling, and in a word, "cool" things seen during the show is completely impossible to do, and of course, everyone's interpretation of cool is different. There were so many interesting products and technologies from so many different sectors of the industry that even though the show ran for a full seven days, it was simply impossible to view everything that was presented. Space also just does not allow TW to mention every technology in a single article.
Definitely look for more in-depth articles on these technologies and many more discoveries from ITMA in coming editions of TW. Also, keep in mind that the next ITMA Show is scheduled for June 8-14, 2023, in Milan, Italy. And to repeat, if you are involved in the textile industry and haven't been to an ITMA show, do yourself a favor and start making plans to attend. It will be worth your time!
Read on to learn about some cool items seen at ITMA 2019 that remain memorable since returning from Spain, discussed in no particular order.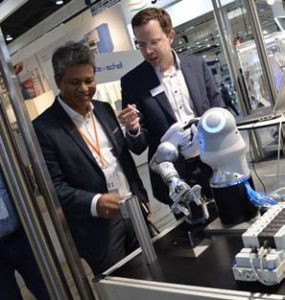 Bionic WorkPlace And BionicCobot Robot Arm, FESTO AG & Co. KG, Germany
Festo — a family-owned business and supplier of pneumatic and electric automation technology — introduced the Bionic Workplace featuring a BionicCobot, a pneumatic lightweight robotic arm concept. It's likely a year or so from commercial availability but was one of the most interesting and memorable discoveries at this year's ITMA. Created to showcase Festo's pneumatic technologies, it's hard to explain in print just how impressive this system was. The BionicCobot is comprised of a wholly pneumatic robotic arm, flexible controlling logic and a graphic interface that was created in such a way as to mimic a human arm. Because of its sensitive movements and flexibility, it actually is able to work in direct contact with real live humans. Through the graphic interface, which was developed in house at Festo, the robot arm can be easily programmed and taught functions directly. Also because of the use of pneumatics and the intelligent operating system, the arm can literally be moved out of the way or positioned into a different location by human hand with ease, which cannot be done with a mechanically driven robot arm. Then, the simple touch of a button sends the BionicCobot back to its previous position. The accuracy displayed by the pneumatic robot arm as well as the movements created to mimic a human arm were impressive considering that all movements are driven by air.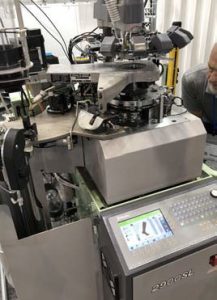 D4S Automatic Sock Toe-Closing Device, Stäubli International AG, Switzerland
When one hears the name Staubli, one thinks about complex jacquard systems or perhaps the robotics that Staubli is well known for and there was plenty of both technologies on display at ITMA. However, given that premise, imagine the surprise when one stumbles across innovative sock knitting machines with the Staubli name attached to them. Staubli's Automation Group has developed the D4S, an efficient, automated toe closing system that rapidly sews perfectly smooth seams in high-quality sports socks. The new system allows for the continuous production of completed socks with rather complex designs and colors while significantly decreasing machine downtime and reducing costly yarn waste. Of course, with the high numbers of people walking the show who had tired feet, the completed socks produced in the demonstrations were snatched up as quickly as they could be finished.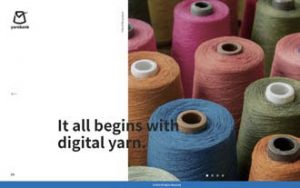 SDS®-ONE APEX4 3D Design System Shima Seiki Mfg. Ltd., Japan
The theme for weft knitting machinery company Shima Seiki's exhibit at ITMA was "KNITify™ the World — Smart Solutions in Textiles." For those of us still trying to figure out how to use our iPhones, its SDS®-ONE APEX4 3D Design System is truly mind boggling. Not only does the latest version introduced at ITMA allow you to design complete products, it can also create high-quality 3D virtual samples with "ultra-high-precision 3D simulation of fabrics including dimensional structures and fuzzy textures." The system connects directly to production faculties so that machine programming data can be generated in real time as the design is being created. To make the 3D simulations even more realistic, Shima Seika is working with yarn manufacturers to create a digital website called yarnbank™, for searching and downloading digital yarn data that can be translated directly into the virtual sample to create a realistic simulation. The hope is to make sampling more sustainable with realistic simulations that can reduce the number of knit samples needed. Yarnbank was previewed at ITMA and is planned to be released soon. All together with its many facets, SDS-ONE APEX series 3D Design System is an impressive system that greatly shortens product development and manufacturing cycle lead-times in a number of different ways as well as proving to be yet another example of how the digital world is transforming textile design and manufacturing.
TexCoat 4G Non-Contact Spray Coating System Baldwin Technology Co. Inc., St. Louis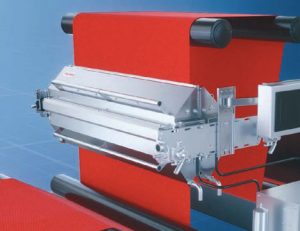 Process automation equipment manufacturer Baldwin Technology Co. introduced the TexCoat 4G at ITMA. This innovative non-contact spray application system — which has its origins in a 35-year-old spray system used in the paper industry — can apply a variety of chemistries in a precise manner to either one, or both, sides of a fabric at the same time. The spray nozzles overlap slightly to ensure total coverage, but using smart technology, are programmed to cycle on and off to avoid overlapping spray that could cause striping. The technology does not employ a pad bath so there is no dilution of the chemistry, which solves the problem tailing out. Also, because the system is totally enclosed, there is virtually zero chemistry waste or contamination. Instead of dipping fabric or padding a coating on, the fabric simply passes through nozzles in a controlled manner which results in a high-quality, uniform and consistent application. Clean up is greatly simplified, and changeovers can be done quickly and efficiently via the fully automatic flushing system that performs a chemistry change in less than 5 minutes. A wide range of low-viscosity water-based chemistries, including water repellents, softeners, antimicrobials and more, have been effectively demonstrated to date with more developments in the works. The sustainability and eco-friendly nature of the technology coupled with its flexibility had several brands showing great interest.
Digital Printing – Advancements Everywhere
First and foremost, it was blatantly obvious, given the number and variety of manufacturers exhibiting and heightened interest of many attending that digital printing of textiles is here to stay. There were so many new and interesting developments in the digital printing sector, that one could fill an entire edition, if not multiple editions of the magazine with articles and still not cover everything from the show. The improvements made in the quality, precision and depth of colors, incredible design capabilities and complexities along with the ease and efficiencies of pattern changes could make a believer out of most anyone, thus requiring digital printing be added to the cool list.
Recognizable names from the printing world, including Hewlett Packard (HP) and Epson, have moved into the textile space with their own technologies, joining established companies like Zimmer, EFI Reggiani, MS Printing Solutions, Mimaki and SPGPrints. There was literally something for every aspect of the digital printing industry and for every application on display at ITMA.
San Jose, Calif.-based Adobe, of Photoshop fame, was a first-time exhibitor at ITMA, there to introduce its Adobe Textile Designer plugin for Adobe Photoshop. The rise of digital textiles gave the company a jolt and it realized many designers were using Adobe tools for textile design, but not in a seamless, easy way. Adobe Textile Designer, currently in a beta release, allows designers to "build and preview repeating patterns, define separations, work with colorways and keep every element editable in Photoshop until a design is print ready." This plugin bridges the gap between the designer and the industry, streamlining the print design process, making the transition from design to production floor more efficient and timely. Adobe also collaborated with Lawrenceville, N.J.-based Datacolor® to pair Datacolor's professional color look up tool, ColorReaderPRO, with Adobe Textile Designer, which allows designers to measure any source of color inspiration and translate the color data straight into Photoshop.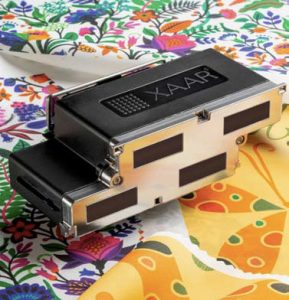 Enhancements in printhead technology have been a key factor leading to significant improvements made in digital printing. Inkjet printhead technology company Xaar Plc, England, introduced its flagship 5601 model printhead to the textile marketplace at ITMA. With an incredible 5,680 nozzles per printhead, AcuDrp Technology and TF Technology ink recirculation, the piezo mems printhead generates excellent print quality, color uniformity, high color resolution and productivity, raising the bar for this industry segment. The Xaar 5601 printhead was demonstrated at the SPGPrints booth for single pass printing at 100 meters per minute.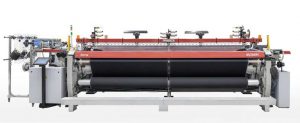 "Discovery, The Loom Of The Future," Itema S.p.A., Italy
Itema, a producer of weaving machines for traditional and technical textiles, has a renewed focus on innovation. At ITMA, the company introduced "Discovery, The Loom of the Future," a prototype machine concept developed by Itemalab™. The machine display was closely guarded and only ran at a few specific times but was described as a "never-before-seen weaving concept" developed on a mechatronic platform with weft insertion technology that combines "rapier versatility, projectile quality and reliability, and airjet ease of use" among other advantages. Technically, it's still in development, but should be fully available in the next year or so with an initial focus on the denim sector. If the hype rings true, expect to see this technology used for a variety of technical fabrics as well.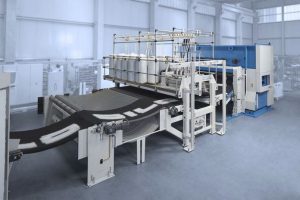 DILO 3D-Lofter, DiloGroup, Germany
Engineered nonwoven systems manufacturer DiloGroup demonstrated a unique additive manufacturing process called the 3D-Lofter designed to work with its nonwoven lines. The technology is still in development, but Dilo sees very high potential and believes the system could be formally introduced in 2020. The 3D-Lofter is essentially a separate sliver feed mechanism that functions in a similar manner to a digital printer. The sliver is fed into an aerodynamic web forming unit, which allows additional quantities of fiber to be placed in specific locations on a fiber web. The added fiber can be placed to avoid thin areas and build up stress points, alter textures, "build mountains or fill valleys" in the base web, and even allows for colored or patterned designs in the resultant web. Initial targeted applications include molded car components.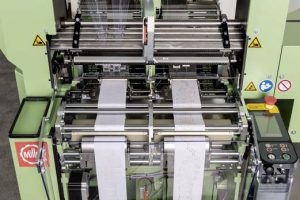 Multi-Directional Weaving (MDW®), Jakob Müller AG, Switzerland
Jakob Müller, the 125-year-old manufacturer of narrow fabric machine technologies, basically displayed something new in every corner of its booth. The company kicked off the show in a rousing manner with its live brass band. Cool stuff, besides the band, included a new softer selvage edge tape process called Velvedge®; the "biggest needle loom ever built" using 1,536 hooks from the jacquard head; and several high-performance needle looms with modular designs that incorporated electronically controlled stepper drives for added flexibility, weaving capabilities, tension control of all thread types, shedding motion options and incredible design capabilities.
However, the coolest introduction was Müller's Multi-Directional Weaving (MDW®) system, which when coupled with any of the new modular weaving machines, provides functional and effect thread placement within the narrow fabric construction. MDW can be incorporated into the base fabric either as individual threads or groupings of threads, presenting a whole new level of fabric design capabilities targeted at technical, functional, smart and fashion-related narrow fabric applications. One application highlighted at the show was a shoe insole manufactured in a single production sequence on an NFM® 53 2/84 MDW loom featuring a conductive copper-nickel thread creating a heating element to keep the wearer's feet warm.

SIM.PLY Spread Tow Impregnation Line, Karl Mayer Textilmaschinenfabrik GmbH, Germany
Karl Mayer, well-known for its warp knitting and beam warping equipment is "spreading" its technology arms even further by introducing SIM.PLY, a high-performance tow spreading and resin impregnation line capable of producing fiber-reinforced thermoplastic tapes in specific widths and thicknesses for composite applications. This is Mayer's first fabric-forming machine that features no needles. Currently available in a maximum width of 800 millimeters, the impregnation line is built in a modular design that incorporates Mayer's next-generation continuous filament spreading system with a new impregnation technology that encompasses heating zones and pressure. The resultant thermoplastic tape exhibits precise fiber alignment and can be used in a number of composite applications in cut to shape layers for molded laminates or combined with other materials in more complex configurations. While spread glass tow was on display at the show, numerous other continuous filament yarns or rovings — including carbon and aramids — can be used with compatible thermoplastic resin systems. And in a nod to sustainability, with the thermoplastics resins that are employed, the materials produced are effectively recyclable since the resin system could be reheated and remolded.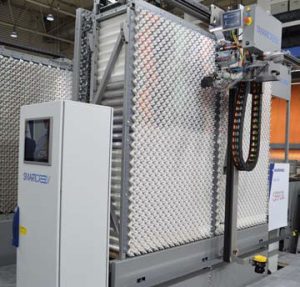 Smart Creel System, Vandewiele NV, Belgium
Carpet and technical textile weaving machine manufacturer Vandewiele displayed an updated version of its Smart Creel System at ITMA. Originally introduced in 2014, this improved Smart Creel system incorporates robotics, yarn winding and splicer technologies with an integrated software system to tie-in and position controlled amounts of yarn in a matrix of unique cells or storage bins for each warp end instead of using bobbins or packages of yarn like traditional creels. It allows each warp yarn position to be replenished automatically in a controlled manner when needed; and also, through the integrated software, allows full warp pattern style changes to be implemented in line on the fly as the previous style is woven out. This innovation greatly reduces machine downtime for style changes, possibly eliminates the need for warp beams, saves space and reduces raw material waste. It appears to be a fantastic system that every weaver of samples, small batches, intricate patterns and multiple style changeovers would want to have and should be using.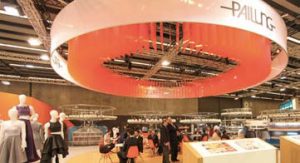 Weft Knitting Machine Technology
Pailung Machinery Mill Co. Ltd., Taiwan Weft knitting machine manufacturer Pailung's website carries the motto "Together we create The Fabric of Innovation," and a few minutes spent at its ITMA booth left little doubt that innovation is indeed the company's calling card. The diversity of weft knit fabrics with striking textures, unusual constructions, varying thicknesses and patterns produced on Pailung's new lines of circular and v-bed flat knitting machines truly is impressive. Sculpted spacer fabrics with varying thicknesses, 4-way extension stretch knits, integrated fleece and jacquard knit layers in one, tri-layered pile knits, a variety of unique configurations for knit shoe uppers, a new ribbon knit flat knitting machine, and more, were on display as well as a multitude of knit fabrics in various colors, textures and thickness that had many a designer's mind spinning.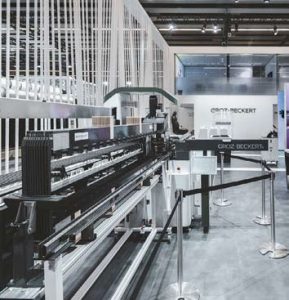 WarpMasterPlus, Groz-Beckert KG, Germany
Groz-Beckert — with its vast range of precision products for many aspects of textile manufacturing including industrial needles, heddles, reeds, card clothing and more — introduced the WarpMasterPlus, a new system designed to speed up the drawing-in of warp beams during weaving changeovers.
Individual lengths of yarn from a single bobbin are used to automatically draw in the drop wires, heddles and reed components off-loom. The individual lengths are secured so that the harnesses can be loaded into the weaving machine when ready. Then a standard tying-in process is implemented to tie-in the new warp beam quickly and efficiently, greatly reducing machine downtime related to beam or style changeovers.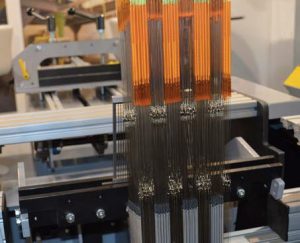 3D Weaving Machine, Optima 3D Ltd., England
Optima 3D, a newly formed weaving machine company based in Northern England, was created with "a clear vision of the potential and possibilities of 3D weaving." At ITMA, the company demonstrated a unique modular design weaving machine that is capable of producing billets and complex structures used in composite applications. Optima 3D's modular design coupled with its "Engineered Fiber Interlacing" software allows for a rapier or shuttle, a jacquard head, and a weft insertion/beat up mechanism that can vertically adjust to accommodate weaving thick 3D fabrics, billets or net shape preforms that traditional weaving machines are not capable of producing. Optima 3D also offers a bespoke service building individual weaving machines to customer defined requirements.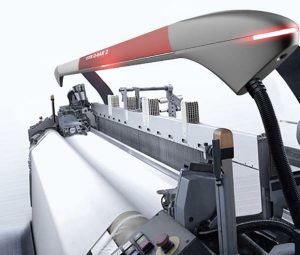 Uster® Q-BAR 2 – On-Loom Fabric Defect Tracking Systems, Uster Technologies, Switzerland
Uster Technologies AG, synonymous with quality control systems for fibers through to fabrics, introduced the Q-BAR 2 for on-loom fabric inspection. Basically, a smart vision system identifies defects, stops the machine and then records and categorizes each defect for tracking. Q-BAR 2 can be easily installed on either weaving or warp knitting machines. The technology signals operators allowing them to react quickly to a defect therefore reducing off-quality production and material loss. A defect map for the fabric roll can be created and also used as a quality tool for analysis. In another nod to Industry 4.0, the Q-BAR 2's information can be viewed on-line in real time by any number of viewers, including possibly the customer.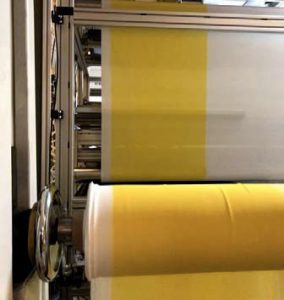 Endeavour Waterless Smart Dyeing System, Alchemie Technology Ltd., England
Alchemie Technology Ltd., a start-up company focused on digital dye applications, held an invitation only event near the show grounds where it introduced Endeavour, a waterless smart dyeing technology launched in April 2019. Alchemie reports it is trying to solve pollution issues, cost and inflexibility in the dyeing process. The Endeavour system is not completely waterless, but according to the company, it reduces wastewater by more than 95 percent, and offers significant savings in energy use, materials and labor costs compared to traditional dyeing processes. The digital application system allows manufacturers to "dye on demand" and offers quick changes and fast runs similar to digital printing — just without the images or patterns. The technology has demonstrated color consistency of +/- 1 percent and excellent wash and rub fastness reports Alchemie. Equally interesting is the VibroJET developmental printing technology capable of depositing powder resins onto fabric in digitally controlled patterns which are then stabilized thermally or via infrared treatments.
September/October 2019