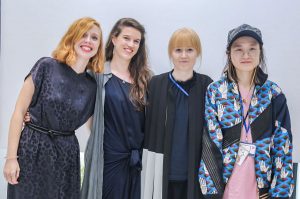 Santoni's exclusive training program aims to drive originality and quality in knitting product development by bringing talented designers together with dynamic knitting solutions.
By Dr. Andre West, Technical Editor
The vision of the Santoni Pioneer Program (SPP) is to further the development of global knitted apparel designers that show special talent or creativity by giving these designers access to the newest Santoni equipment, training, and technicians over a two-month period in Shanghai, China. Providing the designers an undisturbed industrial platform to communicate their design talents and ideas using a wealth of specialized yarn choices as well as access to Santoni's own lab knitting machines and engineers, narrows the communication barriers between the designer and equipment to discover new stitch and garment applications. Speaking of the program, Santoni's Vice President of product development Tiziano Sandonini, said: "The goal is to drive the world of the knitting designer, providing them with breakthrough dynamic solutions distinguished by outstanding equipment at their fingertips with an aim to improve the originality and quality of products to enhance the innovation of the industry and fashion, to conjugate product development to market demand."
Santoni is a 100-year-old company founded in Italy as a sock machine manufacturer. Since its inception, the company has grown to serve the global knitting business in all forms of circular knits. Santoni Shanghai was founded in 2005 as a manufacturing and marketing hub for the Far East in the field of large-diameter sock machines and seamless machines. It is part of the global Lonati brand. The Shanghai, China, plant employs both Italian and Chinese engineers working in unison to produce machines and parts as well as provide training mainly for the Far East market. However, Santoni Shanghai tries to blend the international world of knitwear design with the SPP.
Competitive Application Process
The program began in 2015 with just three designers. Since then, it has grown into a program that invites a small group of designers from around the world twice yearly to immerse themselves in the world of Santoni and technical seamless knitting. Earning a spot in the program is extremely competitive, but the reward is big. Since SPP's inception, 127 designers have applied and only 40 designers from 16 countries have been accepted to the program, and some designers applied multiple times before being accepted. Many of the designers who complete the training progress to work with Santoni customers all around the world. The ninth edition of SPP took place in May and June of 2019, and four designers were accepted to participate — Bettina Blomstedt from Helsinki, Finland; Daniela Becker from Germany currently residing in Switzerland; Hsiang Ju Kung from Taiwan; and Rebecca Marsden from Ireland currently residing in London.
"My recent collection of work at The Royal College of Art in London has focused on performance wear in an aerial dance context," Marsden said. "I was interested to push my work and begin exploring fine gauge machines and seamless knitting technology to enhance my designs and support the body in motion and post-performance."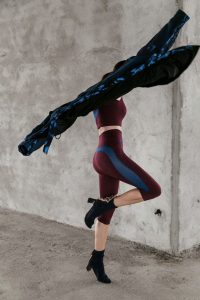 Program Requirements
All the designers have formal training in design with differing levels of knitting and knitwear knowledge, are able to communicate in English and exhibit strong leadership skills as well as the ability to delegate tasks. These are the requirements for the application. Each designer must provide an extensive portfolio of their work and present a concept based on the brief provided by the Santoni Shanghai Team.
The brief for the most recent SPP was as follows: "Textiles have permeated into every aspect of our world but there are still many communication barriers between different parts of the textile industry especially with technology moving at such a rapid pace. This obstacle may exist between the various industries with an industrial chain such as knitted garment manufacture which has to take into consideration the design and manufacture of fiber, yarn, color, knitting, and construction. Or between different cultural backgrounds, or different views of various lifestyles. Modern lifestyle is becoming faster and more complex, which is creating a need for collections to be both functional and emotional benefits at the same time creating a hybrid between activewear and fashion."
Three concept maps were presented to the designers as springboards for their collections:
Active-Inspired Looks — Functional performance is the DNA of active-inspired looks. Structure design and yarn are two engines that take us to the target. How can we push the functional aspects of design further?
Body-Mapped Geo Knit — Geometric construction is combined with engineered body map and seamless knitting technology. This combination of features, such as a second skin brings together a high level of performance.
Eco-Based Innovation — With the innovation of textile material, to use new sustainable fibers is always a requirement from consumers as it can help to create a more sustainable living and have the ability to give excellent wearing experience with high performance.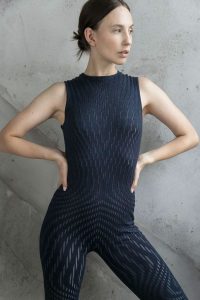 Yarn & Fiber Knowledge
The two months of the SPP was broken into distinct parts. First, yarn and fiber knowledge is shared and the designers are given direct access to yarn suppliers. Most international yarn companies have offices in Shanghai and some have factories on the outskirts of the city. This proximity allows the designers a first-hand view of both the showrooms and the plants. Different manufacturers of natural and man-made yarns introduced their best and newest products to the designers who were left with yarn samples and color cards from many companies. The designers then were allowed to order small quantities from the suppliers later in the program when they had fine-tuned their concepts. Participating yarn establishments included: Woolmark Lab, Südwolle Group, Shaoxing Global Fibre Co., Xlance, Aquafil Group, Dryyarn Polypropylene Yarn, Shanghai Galaxy Metallic Yarn, Lycra Invista, Lenzing, Toray and Nilt. In addition, Santoni's plant is not far from the Donghua University campuses allowing for lectures from renowned university professors in the areas of fiber and yarn.
In-Depth: Santoni Knitting Technology
The second stage focused on a comprehensive view of the knitting process. Santoni's specialized engineers for the various equipment walked the designers through all the nuances of the Santoni range to help them understand the characteristics of large-diameter, socks and seamless machines.
Santoni's knitting technology includes: X-machine, a single-cylinder intarsia shoe/sock machine; TOP2 series single jersey electronic circular body width machine for the production of single jersey seamless garments; SM8 single jersey electronic circular machine with eight feeds; TR1 8 feeds single jersey circular electronic machine with fishnet capabilities; SMDJ machines double knit electronic circular knitting machine for seamless with rib knitting and front and back transfer; large-diameter single jersey machines; Pulsar 2.8 eight lock interlock machine; Atlas single jersey ultra-fine gauge machine without sinkers; as well as a variety of sock machines.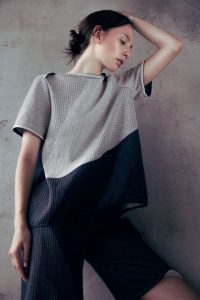 The designers then were left with the task of developing a collection that encompassed as many machines as possible and to make a complete outfit using the vast yarn sample library from many of the companies mentioned earlier. One of the benefits of Santoni equipment is the ability to and the speed at which systems can be cancelled out, which allows for quick yarn changes and concept ideation. Most of the designers wanted to learn circular seamless design. they were given access to an enormous library of original knitted patterns arranged by machine and yarn type extending the boundaries of patterns and textures. Some of the garments were made by previous SPP designers, which gave participants the feeling they were learning from past SPP experience even though these designers had never met one another. The designers saw how the freedom and scope of out-of-the-box thinking in collaboration with cooperative experienced machine engineers could test their wildest ideas.
Designer's Impressions
"The potential for sustainable garment production in this area is very appealing and the Santoni system of garment making allows for garments that can be produced with little to no waste," mentioned one designer. "Working on design development that extends over a long period is extremely absorbing and very rewarding. I come from fashion, not knitting technology with a textiles background, so for me I am eager to learn ways in which I can communicate clearly and how I might use this experience to help others from more fashion focused backgrounds to improve their communications with yarn suppliers, technicians, knitting factories and production houses."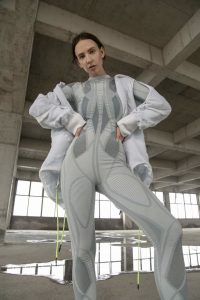 Another designer shared: "Santoni successfully managed to create a comfortable and supportive working environment. Also, this year's group ranged from students and designers in industry to educators. It is a diverse mix that has made the SPP program very compelling. We can draw on one another's experiences and share and support the design process. Communication is what stands out the most. When a designer and a technician communicate there is a language barrier even if they both speak English. When working with a Chinese speaking technician, another layer is added to the language barrier but the love of what we do, and the endless possibilities, drive us both. It may take longer than each party might want, but the misinterpretation can sometimes lead to new discoveries, which can spark another idea."
There are multiple layers of discovery by the designers and the Santoni employees. As individual designers, each participant in the ninth edition of SPP was in the process of establishing their own design style but displayed an independence and confidence that was very apparent. They confided in each other over minute decisions that encapsulated their lives for two months. They were taking in a culture that was new and at the same time blazing a collaborative, but individual trail for the Santoni garments of the future.
---
Editor's Notes: Andre West is associate professor and director of The Zeis Textiles Extension for Economic Development, at the Wilson College of Textiles at NC State University, Raleigh, N.C.
All photographs: Photographer, Kris W.; Garment Model, Aly Muravueva; Location, Santoni Shanghai Cn
---
September/October 2019