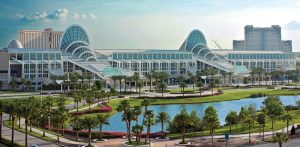 Advanced Textiles Conference returns to IFAI Expo; new features include Leaders Panel and 5K Fun Run.
TW Special Report
IFAI Expo 2019, will be held October 1-4, 2019, at the Orange County Convention Center in Orlando, Fla. Organized by the Industrial Fabrics Association International (IFAI), the event is expected to draw global visitors for "four days of buying, selling, networking, learning and fun — all designed to help participants grow their bottom line," according to IFAI.
IFAI Expo serves all aspects of the industry, and highlights segments targeted to specific markets including specialty fabrics, advanced textiles, smart fabrics, shade and weather protection, military, marine, geosynthetics, and fabrics structures, among other markets.
"IFAI Expo 2019 attendees will enjoy three-and-a-half days of networking, education and exhibits displaying the latest in industrial and specialty textiles," said Steve Schiffman, CEO and president, IFAI. "Numerous education and networking opportunities await attendees on and off the show floor including focused, deep-dive classroom sessions; campfire sessions; and interactive networking designed to help attendees connect and thrive. Plus, IFAI Expo 2019 attendees will discover new features like the Industry Leaders Panel where top experts will share their experiences and insights, a 5K Fun Run/Walk, and the newly redesigned Opening Reception that will feature special experiences to delight attendees."
The opening reception, which is included in all registration packages and is open to attendees as well as exhibitors, will be held from 5 p.m. until 6:30 p.m. onsite at the Orange County Convention Center on level 2, S230.
Orlando, the home of Mickey Mouse and Disney World, offers a unique opportunity for a behind the scenes tour of Walt Disney. Only 20 spots are available for the tour, which will take place on Tuesday, October 1, from 8 a.m. until 3:30 p.m. Visitors will be treated to an insiders look at the Creative Costuming workshop, one of the world's largest laundry facilities, and Central Shops — the engineering services location where skilled craftspeople build set pieces and attraction vehicles — among other experiences. To learn more about the tour and to register, visit the IFAI Expo website.
Show Floor Activities
As always, the expo show floor features a diverse array of exhibitors, as well as equipment workshops and education demonstrations, campfire sessions, Advanced Textiles Lounge, IFAI Hub/Membership Lounge, Fabric Sourcing Center, Testing Demo Zone and Industry Awards Gallery.
New features in 2019 include the Product Showcase located in the IFAI Hub on the show floor, which highlights products made by IFAI members and is designed to provide inspiration; and the "Pet a Puppy Booth" hosted by the Industrial Fabrics Foundation (IFF) and the Pet Alliance of Orlando where puppy cuddles will be for sale with proceeds going to support both organizations.
The 2019 expo will feature opportunities for education on the show floor — Campfire: Shade and Weather Protection; Campfire: Specialty Fabrics; Campfire: Advanced Textiles; an e-Textiles Pavilion that will host discussions; and various open meetings. Organizers report the show floor education opportunities are a great way to pick up business-building tips, learn from experts and share best practices.
The Manufacturing for Good demonstration booth will again be featured on the show floor. This year, IFAI will support A Gift for Teaching, a non-profit organization that helps students in need of school supplies. Member companies are donating expertise and supplies to make pencil pouches during the expo. Attendees and exhibitors are also asked to donate supplies to the effort.
For a complete list of all the events and happenings surrounding the four-day expo, please see the "Schedule at a Glance."
Educational Events, Awards
The expo features an extensive educational conference schedule. First up is the Advanced Textiles Conference, which is making its return to the expo lineup this year. Held on Tuesday, October 1, from 1 p.m. until 5 p.m., the Advanced Textiles Conference requires an "All Access" registration. Included in the registration is an additional 10 hours of Advanced Textiles classroom education held October 2-4. Content focuses on aerospace; medical, safety and protective; smart fabrics; and fabric advancements. During breakout times, participants have the choice of three sessions and are free to move between rooms during the conference. The conference will be followed by a reception for attendees from 5 p.m. until 6:30 p.m.
Education continues Wednesday through Friday with Expo Plus conference sessions running concurrently with the show floor. Wednesday features mostly Shade and Weather Protection sessions, and Thursday focuses on Specialty Fabrics with some Advanced Textiles sessions also hosted both days. Friday hosts "State of the Industry" sessions.
Awards
IFAI will again recognize new and innovative products and services found on the show floor with the Show Stopper program. The annual International Achievement Awards (IAA) — judged by industry experts, editors, architects, educators and design professionals — will honor innovation, technical skill and design excellence. In addition, the four Student Design Competitions sponsored by four IFAI divisions will recognize student talent in Advanced Textiles, Awning and Canopy, Fabric Graphics, and Fabric Structures. The Industrial Fabrics Foundation also will present Innovation Awards in six categories with one achievement honored with the overall top prize.
Keynote Address
This year's keynote speaker will be featured Wednesday, October 2, 2019, from 8:30-9:45 a.m. prior to the show floor opening. All exhibitors and visitors are invited to attend Thom Singer's talk titled, "Connecting with People in a Social Media Crazy World." According to IFAI, Singer "will lead us on a journey of exploration about how we can maximize our brand and reputation in a world where everyone is looking at their electronic gadgets instead of looking other people in the eyes."
---
For more information about IFAI Expo 2019, please visit ifaiexpo.com.
---
July/August 2019