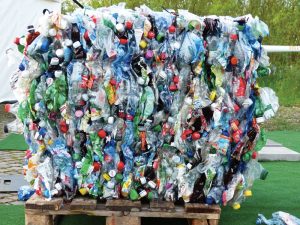 Reusing waste and limiting the introduction of virgin materials are of tremendous economic and environmental value.
By Eric Joo and Jee-Eun Oh
Stemming from stories about the effect of plastic pollution on animals to microplastics in the Marianas Trench1, awareness is growing about the impact of plastic waste on the environment. This, plus awareness of sustainable materials, has led to increased consumer adoption of environmentally friendly products with special attention given to polyethylene terephthalate (PET), also known as polyester. In addition to the waste and pollution aspects of plastics such as PET, the reduction of resources also is driving changes as recycled PET (rPET) saves significant amounts of energy, carbon dioxide, and petroleum resources compared to virgin PET2.
As consumer consciousness evolves and becomes ever more aware of the growing problems regarding plastic waste, major brands and retailers — including Adidas, Nike, Walmart, Ikea and Coca-Cola, among others — have responded by undertaking various sustainability initiatives around PET use and waste in apparel materials and packaging. For example, Adidas has announced that it will use 100-percent rPET in its garments by 20243, Ikea has committed to this same goal by 20304, and Coca-Cola has announced that it will recycle one bottle for every bottle that it sells by 20305. Unilever also committed to 100-percent recyclable plastic packaging by 20256. Clearly, demand is growing, and the use of rPET will continue to increase. But with limited supplies of recycled material, there are significant challenges to meeting this demand.
Primary Issue: Supply Versus Demand
One of the primary issues facing increased growth and supply of rPET is the lack of an available, existing supply. Currently, the majority of PET is recycled using mechanical methods to recycle PET bottles by washing, flaking and melting the material to be formed into textile grade fiber or filament. In addition to mechanical recycling, there are alternatives such as chemical recycling that breaks PET down from a polymer to monomer or more basic chemical components and upcycling, which takes fabrics or old clothes and breaks them down into fiber components for spinning into yarns. The main drawbacks of chemical recycling are the high cost and relatively limited capacity. However, there are various new initiatives for improving and lowering the cost, spearheaded by companies such as Carbios, GR3N, Loop Industries, Resinate Materials Group and Worn Again. The challenge regarding upcycling is that upcycled products tend to be of lower quality and are generally only suitable for use in blends or coarse count applications. As the textile industry uses mostly inputs from mechanical recycling of PET bottles, this article will focus primarily on this source of material.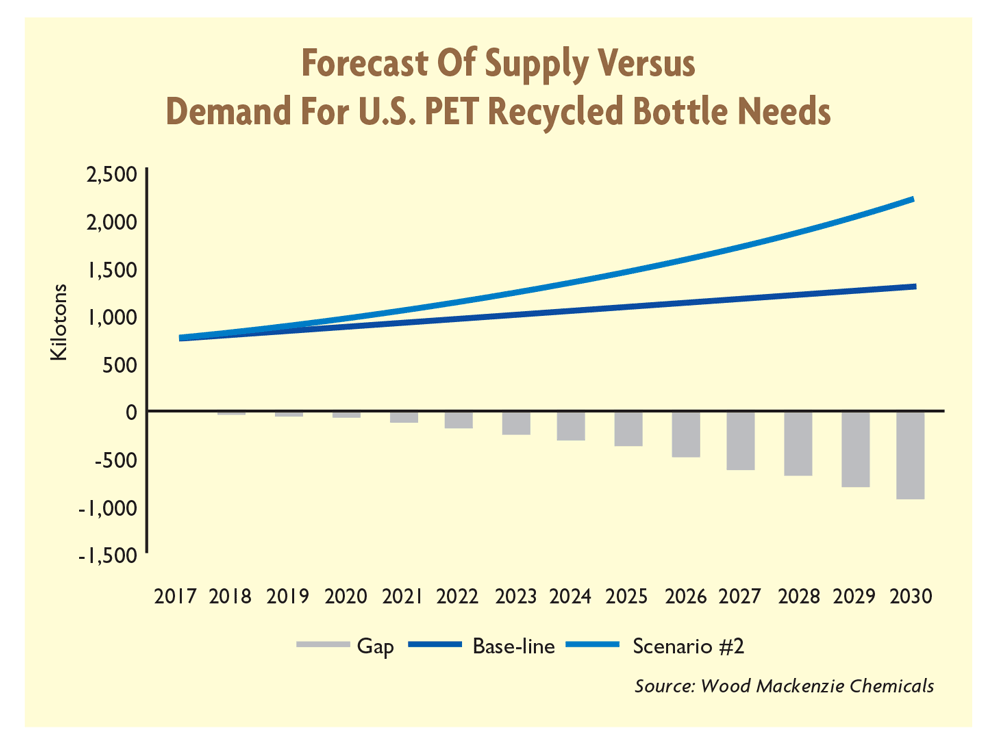 Mechanical recycling of PET is achieved through the reprocessing of primarily PET bottles. Global PET production for 2018 is estimated at 79.3 million tons, of which 55.5 million tons were used in fiber and filament applications. Global collection of PET bottles was only 12.8 million tons and during the process of converting the used PET bottles collected, approximately 2.2 million tons is lost as waste, leaving 10.6 million tons as usable flake7. Of the remaining flake, approximately 56 percent is used in fibers, which means that 5.9 tons is used in fiber applications8 ranging from nonwoven industrial end-uses to automotive, home and apparel textiles. There is only a very limited supply of recycled flake available to meet the growing demand for recycled products across a wide range of industries.
The primary problems that exist on the supply side are with waste stream collection and recovery. Waste stream collection is limited through lack of incentives, piecemeal regulations and inefficient collection practices. On the recovery side, the waste stream is not optimized for recycling, making the processing of waste materials difficult and expensive. There are many opportunities for improving cost and efficiency of recycling with varying degrees of cost and difficulty.
In the United States, only approximately 29 percent of PET bottles are recycled9. The main reason for this low rate is the lack of a uniform incentive system to motivate consumers to recycle bottles. One of the most effective methods of incentivizing bottle collection is through regulations that offer a financial incentive. In states that have implemented container rebate values (CRV), recycling rates exceed 70 percent, but in those states that have not implemented a CRV system, recycling rates are 20 percent or lower10. Other countries, such as Japan, have implemented mandatory recycling and have realized recycling rates of approximately 84 percent11.
Quality, As Well As Quantity
In addition to improving recycling rates, there are additional opportunities to enhance the recyclability of PET materials. During the recycling process, bottles are crushed, washed and flaked. Any contamination or inefficiency of process results in loss of materials and utilization rates in the United States in 2017 were estimated at 79.1 percent for PET bottles12, which means that approximately 20.9 percent was unable to be recovered as clean flake.
Two of the main contributors to flake loss are bottle design and waste contamination. With regard to waste, encouraging practices that enable better recovery such as dual or multi-stream recycling, can lead to higher quality of recyclable materials13.
The way in which the United States collects bottles lacks standardization and results in great variability of materials. Collection practices may range from bin sorting of different materials, single bin recycling and single-stream recycling. This creates difficulties when consolidating materials because the materials are mixed and sorting is needed prior to processing. In addition, practices such as single-stream recycling, while resulting in higher recycling rates, often creates waste material that is cross-contaminated with other materials. Japan has one of the most advanced recycling industries in the world and one of the main contributors to this status is because of regulations in place since 1997 that call for consumers, industry and government to cooperate in recycling and reusing plastic containers14. The result of this regulation has led to an increase in the plastic recycling rate from 46 percent in the year 2000 to 83 percent in the year 201515.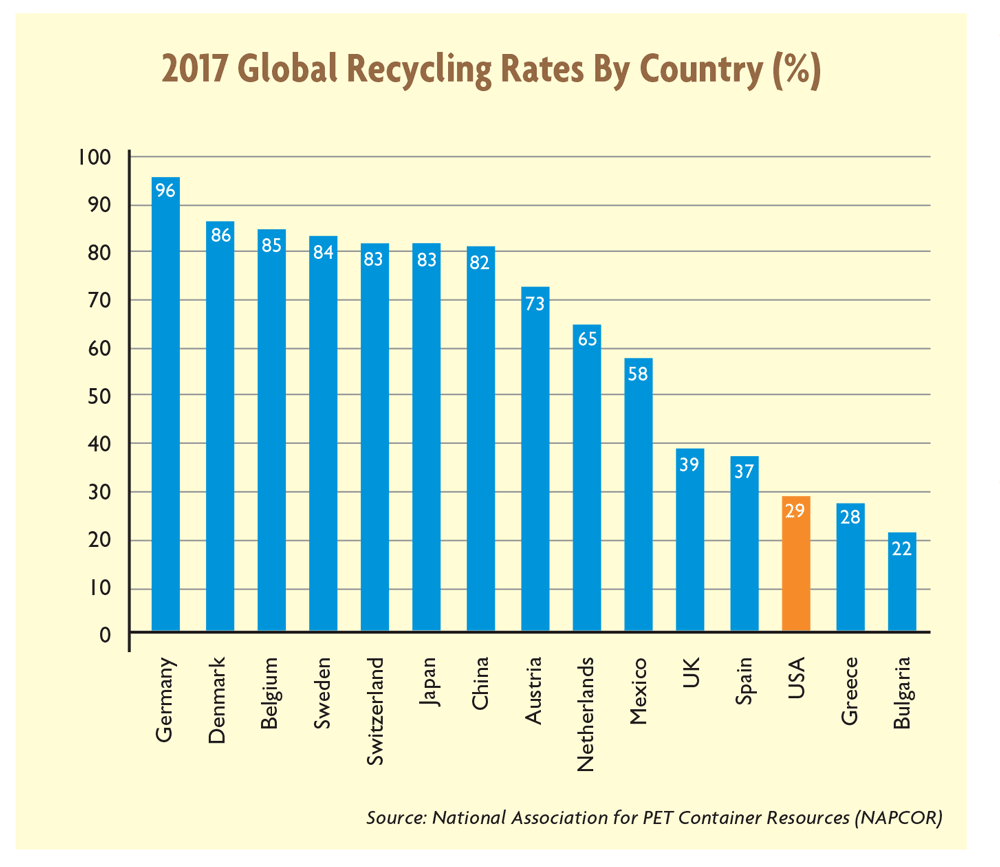 With respect to the design of materials, selecting plastics that are easier to recycle and not combining different materials into the same packaging can lead to a much higher rate of recovery16. Packaging and materials often are designed for ease of manufacture, cost savings or market impact and sustainability is not always considered. In the case of water bottles, these choices lead to designs that may feature different types of plastics, utilize label adhesives that are not easy to wash off, and incorporate colorants that limit the use of the plastic. By designing bottles and packaging for a circular economy and limiting or prohibiting the use of adhesives, colorants, or property altering additives, the recyclability of materials can be greatly improved17.
Solving The Issues
Addressing the limited rPET material supply base will help tremendously in meeting sustainability goals, as well as improving the overall health of the planet. However, gains in only bottle collection will not be sufficient to meet growing demand. Substantial improvement can be made in the collection of bottles, but the majority of virgin polyester production and thus waste18is not used in bottles. Therefore, methods of collection and recycling of items such as clothing, fabrics and carpets will need to be undertaken as well. Mechanical recycling for these types of materials is even more challenging than bottles, and as such, significant strides in the area of chemical recycling will have to be made so the recycling process can break down the polymer, remove any contaminant impurities and convert the polyester component materials back into PET.
Currently, there is no single company that is capable of addressing the limitations of the supply chain with regard to rPET. At this time, because of supply constraints, prices for rPET are higher than that of virgin PET and the processing costs also limit the end-use applications to companies that can support a higher cost structure. There are some brands and retailers that are leading the way, supporting the higher cost and helping to develop the supply chain. However, more effort will be needed in terms of long-term commitments and significant capital investment. To meet the needs of only recycled materials for PET bottles alone for the U.S. market, it is estimated that $3 billion will be required19. With regard to chemical recycling, there is much needed research and development in the technology to realize a cost-effective process that also can deliver the scale required to meet growing demand.
The challenges arising from shifting supply chains to meet changing demand from virgin PET to rPET are significant. However, the benefits of reducing the environmental impact by reusing waste and limiting the introduction of virgin materials are of tremendous value. With the right partnerships and development, the future could be very bright for rPET.
---
References:
https://www.nationalgeographic.com/environment/habitats/plastic-pollution/
https://fashionunited.uk/news/fashion/how-sustainable-is-recycled-polyester/2018111540000
https://apparelinsider.com/report-notes-surge-in-recycled-polyester-use/
http://www.csrwire.com/press_releases/40469-Textile-Exchange-rPET-Commitment-Challenge
https://www.coca-colacompany.com/stories/world-without-waste
https://www.unilever.com/news/press-releases/2017/Unilever-commits-to-100-percent-recyclable-plastic.html
Source: Wood Mackenzie Chemicals estimates
Source: Wood Mackenzie Chemicals estimates
National Association for PET Container Resources
National Association for PET Container Resources
National Association for PET Container Resources
https://napcor.com/wp-content/uploads/2018/11/NAPCOR_2017RateReport_FINAL.pdf
https://www.scpr.org/news/2015/03/31/50682/with-single-stream-recycling-convenience-comes-at/
https://www.japantimes.co.jp/life/2017/06/10/environment/plastic-fantastic-tokyo-recycle-waste/#.XQkQzYhKiUk
https://www.japantimes.co.jp/life/2017/06/10/environment/plastic-fantastic-tokyo-recycle-waste/#.XQkQzYhKiUk
http://www.plasticsrecycling.org/apr-design-guide/apr-design-guide-home
http://www.plasticsrecycling.org/apr-design-guide/apr-design-guide-home
https://fashionunited.uk/news/fashion/how-sustainable-is-recycled-polyester/2018111540000
Source: Wood Mackenzie Chemicals estimates
---
Editor's Notes: Eric Joo is general director of Honduras-based United Textiles of America S. de R.L. de C.V.; and Jee-Eun Oh is an educator based in Los Angeles.
---
July/August 2019