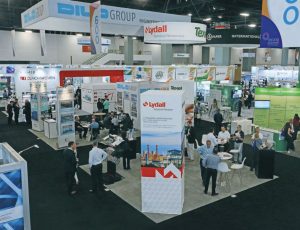 INDA reports larger booths, positive feedback and key decision makers in attendance at triennial IDEA® nonwovens and engineered fabrics event.
TW Special Report
According to show organizer — the Cary, N.C.-based Association of the Nonwoven Fabrics Industry (INDA) — more than 6,500 participants and 509 exhibitors took part in the 2019 edition of IDEA®, the nonwovens and engineered fabrics event. Surprisingly, the final attendee figure came in lower than the number that participated in the last edition of the show held in Boston. Most had expected the figures to be higher given the show's return to its usual Miami location and the fast-growing nature of the nonwovens industry. Theories abound to explain the visitor numbers, but most likely, the packed show calendar was mostly to blame. In a year with many major trade shows in a short space of time, both exhibitors and visitors have to consider time and budgets when choosing shows. Certainly, the amazing warm and sunny weather, and Miami Beach location did not serve as a detractor.
Regardless, INDA was happy with the show numbers and the quality of attendees. "IDEA provided exceptionally strong metrics in leadership presence this year," said Dave Rousse, president, INDA. "The event attracted a high level of key decision makers, a testimonial to the show's importance within the international nonwovens and engineered fabrics industry."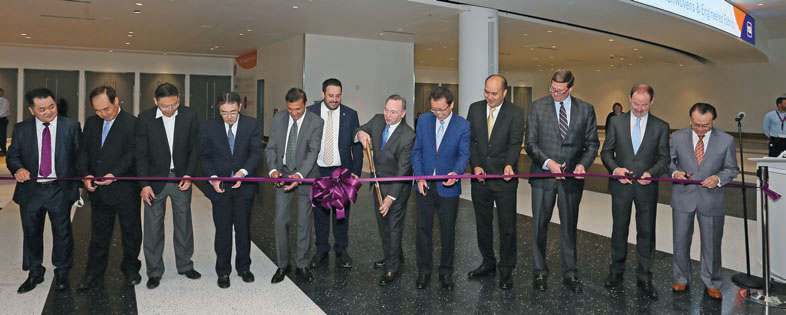 INDA also noted that exhibitors broke a show record occupying 168,600 square feet of exhibit space, which represented a 9-percent increase over the 2016 show. INDA reported that, "… industry participants expressed their business confidence through larger exhibition booths."
INDA used the trade show to celebrate its 50th anniversary. An opening-night reception attracted some 500 people who enjoyed food, drinks and music, as well as a slide show highlighting events and milestones from 1968, the year the organization was founded. Pierre Wiertz, general manager, Belgium-based EDANA, the international association for the nonwovens and related industries; and Lingshen Li, president, China Nonwovens and Industrial Textiles Association, presented Rousse with anniversary gifts to thank INDA for its support and collaboration over the years.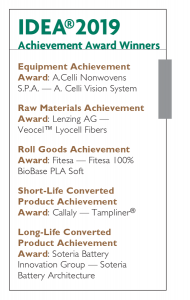 IDEA2019 featured seven new nonwovens training classes; market presentations from China, Asia, Europe, North America and South America; and industry recognitions with the IDEA Achievement Awards (see box), the IDEA Lifetime Achievement Award, and the IDEA Entrepreneurial Achievement Award.
This year's recipient of the Lifetime Achievement Award was Robert Julius, president, Nice-Pak Products Inc., Orangeburg, N.Y., who was recognized for "his lifetime commitment to research, quality, innovation and service." P&G Venture Labs was the recipient of the IDEA2019 Entrepreneurial Achievement Award. The company was recognized for its overall contributions in helping adults perform daily self-care activities and preserving dignity and independence rather than winning for one specific product invention.
More than 260 attendees also participated in INDA's short course and training options available for the first time at IDEA. Training was offered in nonwovens basics, wet wipes, absorbent hygiene and filter media.
Exhibitors interviewed were happy with the show overall. "The IDEA show was a good show for Tietex," said Martin Wildeman, chairman/ CEO, Tietex International Ltd. "We had better than expected traffic and made some good new contacts. We intend to exhibit again in the future."
"I thought he overall ambience was very good, and much better than three years ago in Boston," said Stefan Engel, CEO, American Truetzschler Inc. "The weather and the Miami ambience made this show very pleasant. It offered plenty of customer entertainment possibilities. We saw a great number of visitors, and the first two days were packed with meetings although the last day was slow. I saw a great number of international visitors, and noticed a larger Asian presence of both visitors and exhibitors than previous shows."
"It was great to be back in Miami Beach in a fully modernized convention center," said Dave Rousse, president, INDA. "We received great support for our 50th Anniversary Reception which confirmed INDA's continued value to the nonwovens industry. Exhibitors reported high quality attendees and meetings where much new business was done. Our new 'Short Courses' in various nonwoven topics were well attended. All in, a great event for INDA and for the global nonwovens industry."
The triennial event returns to the Miami Beach Convention Center March 28-31, 2022.
---
IDEA® Gathers Nonwovens Association Leaders From Around The Globe
During IDEA®2019, INDA hosted a strategy meeting with leaders from the global nonwovens industry associations. The meeting was designed to tackle two key issues currently impacting the global nonwovens industry — free and fair trade in nonwovens, and the growing concern about the impact of plastics on the environment.
The International Organization for Standardization (ISO) recently published an updated and uniform definition for nonwovens, which introduces the concept engineered material without reference to "textiles." ISO 9092:2019 defines a nonwoven as an "engineered fibrous assembly, primarily planar, which has been given a designed level of structural integrity by physical and/or chemical means, excluding weaving, knitting or papermaking."
INDA believes this new definition is a first step in advancing free and fair trade in nonwovens.
During the meeting, attendees agreed to encourage adoption and use of the ISO definition in the Harmonized Commodity Description and Coding System to ensure nonwovens and nonwoven products are considered in a more relevant way for tariff classification purposes.
When discussing the plastics concerns, INDA presented an overview of public concern about plastics may impact nonwovens and what the industry can do to manage the issue. Belgium-based EDANA, the international association for the nonwovens and related industries, spoke about the European Union Single Use Plastics Directive and the development of Extended Producers Responsibility.
"The shared vision of our association leaders is to effectively represent, protect, and actively promote common interests of nonwovens and their related industries throughout the world," said Dave Rousse, INDA president. "I believe our initial steps on these two current issues are a good start toward global coordination."
In addition to Rousse, the following people participated in the meeting:
Carlos Benatto, president, Brazil Association of the Nonwovens Industries, (ABINT);
Dr. Hiroaki Kanai, chairman, and Hideo Tsuchiya, secretary general (deputy), Asia Nonwoven Fabrics Association (ANFA);
Masato Miki, vice president, All Nippon Nonwovens Association (ANNA);
Li Lingshen, president, and Eric Zhang, general manager, China Nonwovens and Industrial Textiles Association (CNITA);
Yang Xiang, general manager, China Nonwovens Technical Association (CNTA);
Pierre Wiertz, general manager, and Gil Stevens, external relations & sustainability director, EDANA;
Socrates Ng, president, and Michael Wong, secretary, Hong Kong Nonwovens Association;
C.K. Wong, executive committee appointee, INDA;
Samir Gupta, managing director, INDIA Nonwovens Association;
Billy Hidjaja, chairman, Indonesia Nonwovens Association; and
Steven Chen, chairman, Taiwan Nonwovens Association.
---
May/June 2019