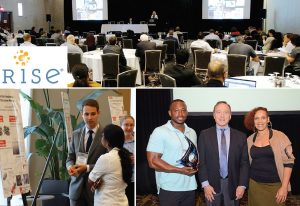 INDA's recent RISE® Conference offered attendees a look at new applications and market segments for nonwovens and engineered materials.
By Rachael S. Davis, Executive Editor

With an arsenal of quality control technologies to choose from, textile manufacturers have all manner of ways to control product quality. But there is one thing that will always remain beyond the industry's control, and that's the weather. Many a meeting, conference and trade show have been impacted by weather-related events over the years — think Techtextil North America 2015 in Houston, CAMX 2017, or the National Council of Textile Organization's 2018 Annual Meeting. Unfortunately, the Cary, N.C.-based Association of the Nonwoven Fabrics Industry (INDA), was the latest group to deal with weather woes, as the dates for its 2018 Research, Innovation & Science for Engineered Fabrics (RISE®) Conference collided with the impending landfall of Hurricane Florence.
However, proceedings for the eighth edition of the conference — held at the Raleigh Marriott City Center, Raleigh, N.C. — suffered only minor disruptions as INDA worked to retool the program and accommodate speaker's and attendees' travel needs ahead of the hurricane. All presentations were given on the first two days of the conference so the third day could be used as a travel day. According to INDA, the weather threat did not significantly impact attendance with almost all preregistered guests participating in the conference as planned.
RISE focuses on emerging technologies and ideas with the aim of connecting innovations with real-world applications. Attendees were treated to presentations on a wide variety of topics including biomimicry, medical nonwoven developments, material science developments, web formation technology, e-textiles and standards, and microfibers in the marine environment.
"RISE is a valuable eye-opener for new applications and market segments," said Paul Latten, director of research and development, SENW – Southeast Nonwovens Inc., Clover, S.C.
During the conference, attendees listened to presentations from each of the three RISE Innovation Award finalists — DiviDiaper Inc., Freudenberg Performance Materials' Evolon® New Generation – Bedding Application; and Suominen Corp.'s Suominen Intelligent Nonwovens™ — and voted for their favorite innovation. DiviDiaper took home the top honor for its divided diaper design created to separate solid and liquid contents for infection and sores reduction and prevention. "We are delighted to win the award," said Tivon Jeffers, inventor and CEO, DiviDiaper.
"With nonwovens being engineered materials that provide solutions for performance challenges that are continuously developing, the RISE conference serves the need to expose industry technology scouts to new approaches and open minds to new concepts," said Dave Rousse, president, INDA. "This year's focus on biomimicry hit that mark, as did our other content. Everyone charged with bringing new thinking to their company's product development activities should have RISE on their 'must attend' list of events.
The next RISE conference will take place in September 2019.
November/December 2018