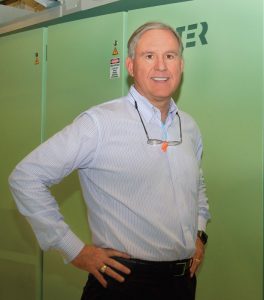 Parkdale's willingness to invest and forward-looking thinking have set the company on a path for the next 100 years.
By Rachael S. Davis, Executive Editor
Cotton has played a large role in the history of the U.S. textile industry, and the U.S. cotton supply chain is one of the most well developed in the world. One of the largest influential players in the U.S. cotton supply chain is yarn spinner Parkdale Mills Inc., Gastonia, N.C., today operating with Chairman and CEO Anderson D. "Andy" Warlick at the helm.
"Parkdale is the largest customer of U.S. cotton and a cornerstone of the U.S. textile industry," said Gary Adams, president and CEO, National Cotton Council. "Over the years, Parkdale has made numerous positive contributions to the U.S. cotton industry and continues to be an active participant in the work of the National Cotton Council."
Parkdale was chartered 1916, and began turning the first spindles in 1918. The first year, Parkdale produced 425 tons of thread in one manufacturing location. Fifty years after the charter, the company opened a second plant, Parkdale Mills Plant #2 in Gastonia, which doubled the company's production capacity. Today, the privately-held company operates 25 plants, in addition to research and development and distribution centers in the United States, Mexico and South America.
Cotton will always play a significant role at Parkdale, but there is a lot more to the Parkdale story than just cotton.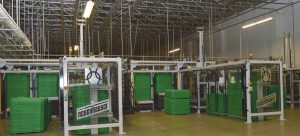 Innovation & Automation, Automation, Automation
Parkdale is committed to technology and adopting innovative solutions to stay competitive. The company is known for seeking technology and driving innovations in yarn spinning.
One example of the company's forward way of thinking is the redesigned sliver can Parkdale uses. The company worked with a supplier to redesign the shape and increase the size of the standard sliver can to increase efficiency by reducing the number of can changes.
According to Rieter America LLC — a Spartanburg, S.C.-based supplier of systems for short-staple fiber spinning — Parkdale has been a very open minded customer, and one that is always open to new products and innovations. "The company actively seeks technology, and is an early adopter of technologies when it makes sense to Parkdale and its customers," said Thomas Kuettel, president and CEO, Rieter America. "Parkdale adapts steadily to changing market trends and requirements to remain one of the market leaders.
"Rieter concentrates in evaluating new market trends, and Parkdale acts as a very important partner," said Kuettel. "We have common interests in developing new products."
One of the biggest reasons Warlick sees for Parkdale's continued success is the company's willingness to adopt automation technologies.
"We are committed to robotics in a way that no other U.S. company is," Warlick said. "We have funded research, we buy prototypes, and have an open door for any type of new automation."
Automation also helps address the increasingly difficult time the industry has in finding qualified, trained employees who are willing to work in manufacturing. According to Warlick, Volvo — a company with name prestige and offering good wages — has a difficult time attracting qualified technical help for a new plant in Charleston, S.C.
"That's why Parkdale uses so much robotic automation today," he said. "To put in a greenfield operation in this country is almost impossible because you cannot find qualified, trained help. It just reemphasizes the fact that we need to automate and consolidate."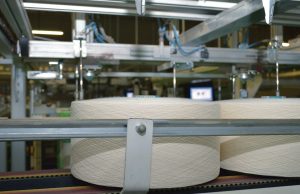 Diversification Versus Verticalization: U.S. Cotton, Blended Yarns
In 2007, Parkdale acquired U.S. Cotton, a manufacturer of cotton health and beauty aid products. This expansion allowed Parkdale to grow, and to leverage its existing cotton supply chain without creating conflicts with its customers.
However, the price of cotton peaked at historically high levels in 2011. This price hike, coupled with competition from ever-improving man-made fibers including polyester, led many spinning companies to change their product mix. Parkdale was not alone in its move to develop blended yarns, and also recognized that polyester yarns and blends are here to stay even as the price of cotton has dropped.
"The consumer today views polyester a lot differently than they did 30 years ago," Warlick said. "If they want it, we will make it."
Sustainability, JV With Intrinsic
"We're focused on sustainability and the environment," Warlick mentioned. "We were one of the first companies to zero landfill, first to offer organic cotton. We have a R&D group working on biodegradable products and polymers that use less water, less energy and fewer dyestuffs."
Most recently, Parkdale Advanced Materials Inc., an innovative fibers and yarns division of Parkdale, announced a partnership with Hayward, Calif.-based Intrinsic Textiles Group LLC. The two companies have formed Intrinsic Advanced Materials, a joint venture company to commercialize CiCLO™ Sustainable Textile Technology.
Intrinsic Textiles Group developed CiCLO as an answer to the plastic microfiber problem as well as to reduce the amount of plastic accumulation in landfills caused by discarded textiles. The U.S. Environmental Protection Agency reports approximately 5 percent of mass in landfills is textile waste. More than 60 percent of textiles produced today are made using man-made materials, which translates into more than 40 million pounds of man-made textiles hitting the landfill in the United States alone, according to Intrinsic. The amount of microfiber pollution in oceans has not yet been quantified, but early studies and mounting evidence suggest it is an issue that requires further study and attention.
The CiCLO technology, when incorporated in man-made materials such as polyester during manufacturing, allows these materials to biodegrade in a way that is similar to natural materials when in wastewater treatment plant sludge, seawater and landfill conditions.
"Parkdale is contributing considerable resources and expertise to enable CiCLO to lead the textiles industry in sustainable solutions," said Andrea Ferris, CEO of the new joint venture and CEO of Intrinsic Textiles. "Their partnership presents a powerful opportunity for us to significantly scale up manufacturing and quickly make product available to customers worldwide, ultimately making the greatest environmental impact."
"The Parkdale team has been working with Intrinsic Textiles Group for quite some time to vet CiCLO technology," said Charles Heilig, president and CEO of Parkdale. "We're confident that CiCLO is the best solution for synthetic microfiber pollution and unrecycled textile waste. The joint venture is a strategic fit, leveraging each company's strengths, and represents Parkdale's commitment to continual innovation for our customers. We couldn't be more excited to help bring CiCLO to market."
Leadership
Warlick has become one of the most respected leaders in the textile industry, after leaving Milliken for Parkdale in 1984 to work for his father-in-law, the venerable Duke Kimbrell.
"Parkdale remains one of the largest cotton spinners in the world, despite the tremendous challenges and obstacles that the U.S. textile industry has faced over the past two decades," said J. Berreye Worsham, president and CEO, Cotton Incorporated. "Andy has done a great job as the leader and successor of a cotton textile legend, Duke Kimbrell."
As a leader, Warlick believes in the inverted pyramid model. "I believe in the upside down pyramid, and I'm at the bottom because if I'm helping everyone else be successful, I'm going to be successful."
He also believes in youth. Warlick was 32 when he was named president and COO in 1988. At that time, Chairman and CEO Kimbrell was 65. "What made us a great team, was the age difference," Warlick noted. "Working with a chairman and CEO who was 65, created a wonderful environment that allowed us to experiment, change and innovate — see the textile world from a fresh set of eyes so to speak, and not accept the status quo just because it was the way we had always done things. Today, we have some plant managers that are in their 20s and 30s, and their job is to keep us from getting complacent!"
As for the future of Parkdale's leadership, the company has a strong team of executives, most with many years of service.
Charles Heilig runs Parkdale Mills and John Nims leads the U.S. Cotton business.
Warlick's own son, Davis Warlick also is learning the family business from the ground up as his father once did. Currently, Davis manages Parkdale International and is responsible for the businesses in Mexico and Colombia.
Washington Engagement
"I view industry leaders as companies that take a cutting edge role in regard to innovation and are quick and responsive in terms of investment, investing even in difficult times when most people would be conservative," said Augustine Tantillo, president and CEO, National Council of Textile Organizations. "But also from a policy standpoint, Parkdale has been a leader in the policy arena for decades. And that comes from an embedded view and understanding that government policy is critical in terms of creating that environment that makes it conducive to manufacture in this country and specifically to produce textiles, and I think it's for that reason that Andy has been a highly engaged member of NCTO. He's a past chairman of NCTO, he serves on our board and he has had no interest in delegating these responsibilities even though he's running a multi-billion dollar business. Because he wanted a hands-on approach to how Washington was viewing our industry and decisions Washington was making in terms of impacting our industry.
"In the arena that I operate in, he's been an outspoken, highly engaged and critical leader with a very hands on approach to the policy making process, that has benefitted not only Parkdale, but the industry as a whole to have that kind of engagement and leadership.
"Andy is a private person, and does a lot of things very low profile, but that doesn't mean he's not intensely engaged," Tantillo said. "I think that's what might confuse some people at first because while we don't see the big press campaign with Parkdale, that doesn't mean that there isn't any lack of intensity.
"It is a very personality driven company," Tantillo continued. "Andy is a very significant personality in the sense that he knows what he wants and he knows the vision for the company. So he has had a major impact on shaping and on the course for Parkdale.
"As an example of his lower key personality, Parkdale celebrated its 100th birthday recently, and you would not have known it. Andy's view is hey, I'm looking to the future. Yep, we're celebrating 100 years, and that's a great accomplishment, but it's the next 100 I'm focused on," Tantillo concluded.
"I think if you're trying to maintain the status quo, then you're going backwards," Warlick said.
An ancient Arabic proverb states: "What is coming is better than what is gone," and this certainly seems to be the case for Parkdale.
---
Warlick's Thoughts On Trade, Challenges Facing The U.S. Textile Industry
President Trump is the first president in my lifetime to acknowledge that the system does not work for American manufacturers. We have lived and died in a system that rewarded us for leaving the United States to manufacture overseas. We as a nation have the lowest duties of any industrialized country in the world. We have opportunities to export if, and only if, we are treated the same at most foreign borders. Twenty-percent VAT taxes and duties on our products and zero percent on theirs? I am not talking about other inequities like currency manipulation or direct government support. This, unfortunately, has been described as "free trade!"
Would we, as a nation, accept that U.S. Olympic athletes had to run a 120 meter race against the world running 100 meters? We certainly would not, yet this ignorance has been accepted and promoted by some of the most respected economists in our country! The world of trade sans the U.S. is a mercantilist trade environment.
One of the great disappointments that I have is that we're not growing this hemisphere as far as output is concerned. The greatest challenge is keeping business in this hemisphere. We do not have the growth in knitting, weaving, or dyeing and finishing to grow in this hemisphere. We need new investment downstream or else we will experience negative growth as a yarn industry.
Yarn plant investments are expensive and a fashion shift from ring spinning to open-end spinning, or from open-end to ring, can strand a lot of capital and cause plant closures.
In addition, energy costs — which have always been one of our advantages — are starting to go up double digits and that's going to continue, taking away competitiveness.
Hopefully, these issues can be addressed in the near future.
---
November/December 2018