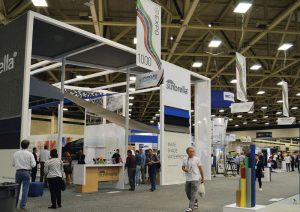 The collocated IFAI Expo and CAMX shows brought the biggest and best of the industrial and specialty fabrics and composites industries to Dallas.
By Jim Kaufmann, Contributing Editor
Another year, and another tradeshow — well, two actually, given the collocation of CAMX 2018 and IFAI Expo 2018 — are in the books. And as an astute textile industry executive once suggested: "The textile industry is the most incestuous industry I've ever been a part of. Your customers are your suppliers. Your suppliers' suppliers may be your suppliers or competitors or customers. Your competitors could be your best allies on any given day, or not! It's crazy! Everyone knows everyone or knows someone who knows everyone else. That six degrees of separation theory is really maybe at most two or three degrees in the textile industry, if that." The recent collocation of IFAI Expo and CAMX 2018 at the Kay Bailey Hutchison Convention Center in Dallas proved to be a further example of the blurring of lines between the textile industry, the applications it serves and how business lines continue to evolve in the 21st century.
IFAI Expo is organized by the Roseville, Minn.-based Industrial Fabrics Association International (IFAI), and CAMX, the Composites and Advanced Materials Expo, is produced by the American Composites Manufacturers Association and Society for the Advancement of Materials and Process Engineering. Together, the events made for a good fit and a rather compelling view of one segment of the textile industry's future. "Being a first time visitor, this was an eye-opening experience for me," noted Jacob Chess, who will soon obtain his Master's in Mechanical Engineering from California Polytechnic State University. "Understanding how companies from all facets of the textiles and composites industries meet to discuss business and share technologies was extremely useful and inspiring for my impending career."
Overall the composites segment of the textile industry continues to expand and prosper and this was evident in the size of the CAMX portion of the show featuring roughly 550 exhibitors ranging from inputs and fabric suppliers to molding components and end-product manufacturers.
IFAI reported more than 800 exhibitors between the two shows, and therefore hosted fewer booths compared to previous independently-held shows. However, it could be easily argued that numerous companies exhibiting on the CAMX side typically were regular participants at IFAI shows.
Regardless of the numbers, Steve Clarke, president of TEAM Inc., Woonsocket, R.I., felt: "CAMX and IFAI both had lots of new companies and products, or at least ones I hadn't noticed at previous shows. Both shows provided plenty of opportunity to meet people, either existing contacts, old friends or new people for the first time."
Both shows also offered the requisite assortment of specific seminars, workshops and informal gatherings and technical sessions throughout the show floors along with numerous industry specific awards targeting a variety of honors. For complete listings of award winners, please visit the IFAI and CAMX websites.
The general consensus of most attendees and exhibitors at both shows was that attendance seemed on the lighter side this year, which could partially be attributed to the weather in Dallas which was cold and raining throughout. But overall, the mood was positive both on the show floor and at the after parties where Texas brisket, music, mechanical bulls and armadillo races — yes, there were real armadillos — welcomed invitees. According to Steve Warner, former IFAI President and publisher of the BeaverLake6 Report covering the technical textiles industry: "Even though this event left me wanting more, the most positive take away was the simple fact that the IFAI and CAMX organizations had the market savvy to get together. It's a natural fit and these shows should absolutely collocate again."
November/December 2018