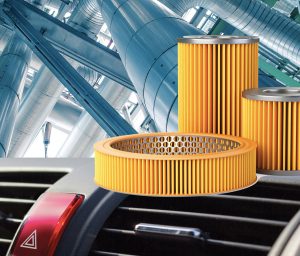 INDA offers a look at the nonwoven filter media market.
TW Special Report
Filtration — a separation process using a filter medium — has become so important that you can find it almost everywhere in your life. The Cary, N.C.-based Association of the Nonwoven Fabrics Industry (INDA), in its triennial North American Nonwovens Industry Outlook report, attempts to quantify the nonwoven filter media used in the many, many filtration processes.
The filtration market is a diverse one with seemingly endless categories. Filters allow us to cleanse the air we breathe and purify the water we drink. Filtration in the food and beverage industry removes impurities and extends the shelf life of the products we consume. Medical filters can safeguard sterile environments like operating rooms by keeping out harmful pathogens and bacteria. Filters in vehicles make them more efficient. These needs, along with government regulations and environmental concerns, have put the filtration market on a path of continued growth.
The Materials
Filters are constructed with filter media that can be either paper, woven including woven metal, nonwoven including glass fibers, microporous membranes, or a combination/hybrid of media. Nonwoven fabrics typically add backup support and/or mechanical strength to the comparatively thin and fragile polymer-based membranes that are produced by directly coating onto the carrier material's surface.
Nonwovens are well suited to the filtration market because the fabric can specifically be engineered to provide the precise porosity and flow rate needed for the particular filtering application. Nonwoven media are different sizes and shapes; may be perforated, folded, pleated or fluted; and may be used in pleated tubes for tube filters and in cartridge filters. Filter media are manufactured from all of the nonwovens processes — airlaid, drylaid, spunmelt including spunbond and meltblown, and wetlaid — from a variety of materials.
In addition to filtering, nonwovens can be engineered to offer benefits for many applications, including the removal of a wide range of contaminants, a uniform structure, tear and puncture resistance, chemical resistance, high retention capacities, high air permeability, excellent abrasion resistance, flame retardancy, the absorption of fats and oils, a high level of flow capacity, and high tensile strength.
The Market
The filtration market is the most diversified of all the nonwoven end-use categories, with more than 30 major market segments. Nonwoven filter needs vary in size from four story filter houses with up to 1,800 filters down to tiny blood filters.
There are numerous drivers affecting nonwoven filter media demand. The over-arching megatrends are demands for purer air and cleaner water, which are both the subjects of ever-more stringent legislation.
Over the past few years, there has been a steadily increasing demand for improved air quality, particularly indoors, whether in private, public or industrial areas. Emissions may come from a variety of sources, such as gases from interior materials, particles which enter a room via the external air supply or processes running within the room. Further complicating factors may be the small size of a room, too many people in the room and the restricted availability of fresh air.
Consumers are increasingly aware of the potential health and aesthetic benefits of water and air treatment systems, and are becoming more willing to invest in these products to improve the environment inside their homes. Media reports about water and air contamination affect consumer perception about local water or air quality and thereby drive sales.
Increasing Demand
Economic and population growth will increase demand, which will require increased production and increases in manufacturing efficiency for industrial products, foods and beverages, and transportation. All of which means an increase in the need for filtration media. As the housing recovery strengthens and consumer spending activity continues to improve, so will consumer spending on water and air treatment systems. Rising home sales will also drive sales, since many consumers purchase or upgrade water and air treatment systems once they move into a new home. As the economy strengthens, consumers should return to replacing their existing filter products closer to the recommended replacement periods. Continued trends toward the incorporation of smart features and complementary monitoring devices indicating filter replacement time and toward specialized, industry-specific filtration media will support unit growth.
The further strength of the manufacturing and industrial sectors, specifically the power generation and hydrocarbon processing segments, will boost filtration demand as well. As manufacturers look to streamline their manufacturing processes, filtration of resources is increasingly being viewed as a way to boost efficiency and reduce carbon footprints.
Nonwoven filter media is used for the filtration of engine air, cabin air, oil and fuel. The increasing demand for vehicles is projected to continue through the forecast period, which in turn, will create the requirement for nonwoven filter media. Better economic situation and shift in lifestyle along with the rising consumer confidence have resulted in the increasing demand for new, fuel-efficient, and technologically advanced cars. Additionally, the easy availability of financing options is also driving people to invest in cars. This will fuel the growth of the automotive industry which is identified to be one of the primary factors driving the growth of this market.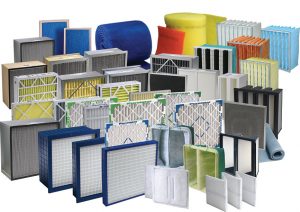 Increased Regulation
Another driver of the industry is new legislation and regulatory controls increasing at local, state and national levels. Enforcement of these regulations by the Environmental Protection Agency and other agencies has increased the demand for products that limit emissions and has increased demand for products that protect people from the effect of emissions. Relatively comprehensive environmental regulations in the United States and Canada continue to drive filter use designed to promote air and water quality.
The market for nonwovens in filtration media is also growing — because of more economical and better performing nonwoven media — by taking share from woven and paper-based filter media.
Nonwoven Material Developments
These drivers and developments have resulted in the North American filtration market consuming an ever greater amount of nonwoven material — 3.1 million square meters, weighing 371,000 metric tons, in 2016. This is an increase of 3 percent annually in square meters and 3.8 percent in metric tons from 2011. The filtration market is forecast to consume 3.6 million square meters, weighing 445,000 metric tons, in 2021 — an annual increase of 3.1 percent and 3.7 percent respectively.
There have been technological advancements in developing new and innovative filter media over the past few years to meet all these demands, some of which were driven by government regulations. Nonwoven producers continually work to improve the efficiency — the ratio of particles trapped by media over total particles upstream of media — of filter media which enhances the removal capability of both particulate and chemical contaminant. This has resulted in filter manufacturers increasing the range of spunmelt nonwoven materials, incorporating nanofiber layers or coatings, using fibers with integrated functional additives in nonwoven filter constructions, and developing hybrid fiber/material composite materials — all while optimizing the media structure and element configuration by computational modeling.
This is in addition to the ever-present demand of sustainability, both in terms of lower energy consumption and renewable raw materials and in the development of economically and ecologically effective disposal/recycling solutions for filters and filtration residue.
---
Editor's note: This article was published courtesy of INDA, Association of the Nonwoven Fabrics Industry. The Cary, N.C.-based organization serves hundreds of member companies in the nonwovens/engineered fabrics industry in global commerce. Since 1968, INDA events have helped members connect, learn, innovate, and develop their businesses. INDA educational courses, market data, test methods, consultancy, and issue advocacy help members succeed by providing them the information they need to better plan and execute their business strategies. For more information on the filtration sector and analysis of the supply and demand balance in the nonwovens industry, contact Brad Kalil, director of market research and statistics, bkalil@inda.org. For more information on INDA, visit www.inda.org, or download the INDA mobile app for immediate updates.
---
September/October 2018